GP3 has seen a remarkable increase in popularity among drivers over the winter as it introduces its first brand new car since the series began.
While there are two or three favourites before the season begins, the number of potential race-winners is huge, and there are many drivers who are good enough to?realistically launch a title bid if their team gets to grips with the new car better than anyone else.
It could be that a just a short?run of good results at the right time could pay dividends, like it did for Valtteri Bottas in 2011 and Daniil Kvyat in 2013, or it might be that Esteban Ocon levels of season-long consistency could seal the deal.
ART Grand Prix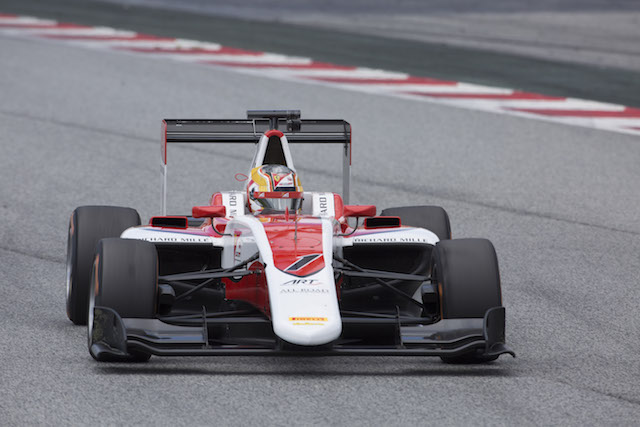 ART can always be relied on to be frontrunners, particularly if there's a new car to get to grips with, but its incredible 2016 line-up will make it hard to beat. They're all new to GP3, but they're all good enough to win races.
1.?Charles Leclerc
Monaco, age 18, fourth?in European F3?in 2015 ??There are plenty of contenders to choose from, but Leclerc starts as a favourite for more than most. He's yet to win a title in cars and only has two seasons under his belt, but led midway through the?European F3 season in a relatively unfancied team. Testing form hasn't been as headline-grabbing as it was when he jumped in the old car in November, but that shouldn't be a cause for concern.
2. Nirei Fukuzumi
Japan, age 19,?fourth?in Japanese?F3?in 2015 ??In a field as strong as this, with just one proper single-seater season to his name, Fukuzumi should not stand a chance. There's something special about him though, defying his inexperience to score a double win in Japanese F3 last year, and he's been on the pace since Honda brought him to GP3. Surely won't have the consistency to fight for the title, but wins are certainly possible.
3. Alex Albon
Thailand, age 20, seventh in European F3?in 2015 ??Albon put the slow start to his single-seater career behind him last year with a fine European F3 campaign, in which he sometimes took the fight to Prema on behalf of?a relatively small Signature operation. In GP3 he'll again be considered a dark horse against higher-rated?competition, but some consistent results could pay off.
4. Nyck de Vries
Netherlands, age 21, third in FR3.5?in 2015 ??In a world of?Max Verstappens and Stoffel Vandoornes, it's easy to feel underwhelmed by de Vries, but?he hasn't done an awful lot wrong so far. He's been very quiet in testing, but it would be a surprise if he's not competing at the very front and fighting for the title. He needs to capitalise on his relative experience though by converting it into some valuable consistency.
Trident
Trident was a popular team in the driver market thanks to its 2015 form with Luca Ghiotto, but without the history of ART,?it can't be automatically relied upon to crack the new car in the same way.?Some similar speed has been shown in testing, though.
5. Antonio Fuoco
Italy, age 19, sixth?in GP3?in 2015 ??This is a big season for Fuoco. He's seen Raffaele Marciello lose his place at Ferrari, and given his erratic form in the two seasons since his Formula Renault title, he's lucky not to have gone the same way. Going up against new FDA recruit Leclerc adds plenty of pressure too. Joining Trident is arguably a gamble, but if the team can get the most out of his potential like it did with Ghiotto, it could be a wise move.
6. Artur Janosz
Poland, age 22, 14th?in?GP3?in 2015 ??Though he was Euroformula Open runner-up in 2014, his lack of experience meant Janosz took a while to get to grips with GP3 last year despite the form of Ghiotto across the garage. Things suddenly clicked later in the year, and although he's now got a new car to learn, he could well spring a surprise or too against much bigger names.
7. Giuliano Alesi
France, age?16, fourth?in French F4?in 2015 ??There's no point hiding it: Alesi's step up from French F4 to GP3 is ludicrous. If Ferrari's decision to sign him?has anything to do with?potential, it's seen something that wasn't clear from his French F4 campaign – aside from the?double win in the opening round that went unrepeated. It would be a big jump in any season, but particularly this year. If he's not in the final five places, he's doing a good job.
8. Sandy Stuvik
Thailand, age 21, 17th?in GP3?in 2015 ? After his two strong seasons in Euroformula Open – scoring the most points in the first and dominating the second – Stuvik's first season in GP3 was a disappointment. Status was struggling though, so a move to Trident should be positive, but he's another who may?not find it easy to make a significant impression in such esteemed company.
Arden International
Arden had an up-and-down time with the previous generation of car, from Daniil Kvyat's title to a tough follow-up season to some impressive race pace with Emil Bernstorff last year. Its 2016 line-up is strong, with one driver having a definite shot at the title.
9. Jake Dennis
United Kingdom, age 20, third?in European F3?in 2015 ? Having beaten him in the European F3 standings last year, Dennis could feel hard done by that most bets are on Leclerc now they're together in GP3. He's had a habit of being second during?pre-season, but that's not necessarily a bad sign. A big part of his Arden deal is about making use of its tie-up with sportscar squad Jota, but he'll be out to show his single-seater career still has legs.
10.?Tatiana Calderon
Colombia, age 23, 27th?in?European F3?in 2015 ??Calderon had a nightmare 2015, conspiring to not score a single point in European F3 with Carlin. Her reputation continues to grow though, and she's deservedly one of the most prominent female racers around. She certainly doesn't shy away from competition, and will hope for a more constructive season even though the level of opposition is high.
11. Jack Aitken
United Kingdom, age 20,?Formula Renault Eurocup/Alps champion?in 2015 ??In what may well have been a politically-motivated move from new backers Renault, Aitken became the first Eurocup Formula Renault champion since Valtteri Bottas to not move up to the 3.5-litre series. Winning?another title in more experienced company might be a big ask, but the same would have been said about Daniil Kvyat, who made the same step with Arden.
Koiranen GP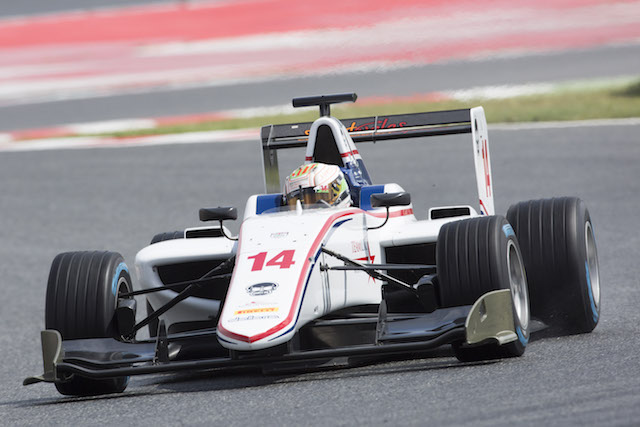 It feels like Koiranen's focus has been mostly on its F4 championships of late, but withdrawing from Formula Renault can only have benefited its GP3 programme. It was almost always competitive with the previous car, and has drivers capable of doing?good things?with the new?one.
14. Matt Parry
United Kingdom, age 22, eighth in GP3?in 2015 ??Parry put some momentum back into his career with a promising first year in GP3 in 2015, putting in some great race drives, and he could have scored more points than he did. Though he's stayed with the same team, the new car means there's little other continuity, so the advantage of a year's experience may be negligible.
15. Mahaveer Raghunathan
India, age 17, 39th?in European F3?in 2015 ??Struggling to keep pace in European F3 last year hasn't put Raghunathan off from making another early step up.?Or does the fact he competed in Auto GP last weekend (scoring two podiums) mean it's not a step up? Regardless, it's impossible to see how GP3 will be any easier for him.
16. Matevos Isaakyan
Russia, age?18, 10th?in Eurocup Formula Renault?in 2015 ??His second year in Formula Renault might not have really fulfilled the potential shown in the first, but Isaakyan demonstrated further promise in two GP3 appearances with Koiranen at the end of last year prior to signing up for a full campaign. He's also competing in Formula V8 3.5, and that may end up taking priority since results will be easier to come by in a smaller field.
17.?Ralph Boschung
Switzerland, age?18, 11th?in GP3?in 2015 ??Boschung had a genuinely impressive season in GP3 last year after making the fairly large step up from ADAC Formel Masters, outscoring?two more experienced team-mates and stringing together a series of points finishes. Joining?Koiranen is a positive move, but taking a step?forward in the standings won't be easy, even if big results are possible on occasion.
Jenzer Motorsport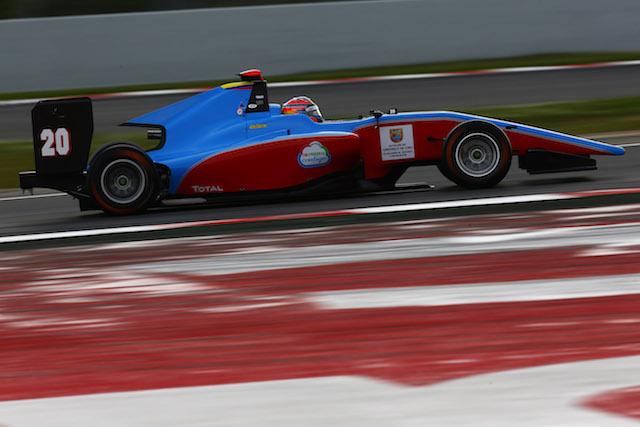 There's no hiding that Jenzer is GP3's least fashionable team these days, unhelped by a lack of wins with the previous?generation?car. The new machine gives it a new start though, and in Oscar Tunjo it has a driver capable of an upset.
18.?Akash Nandy
Malaysia, age?19, second in Austrian F3?in 2015 ? Nandy spent 2015 in the relative wilderness of Austrian F3 – preparing for a European series bid that never came – but he showed promise earlier in his career in Asia and he remains young. This will be a big step up for him, but expectations won't be high either.
19.?Richard Gonda
Slovakia, age 22,?second in Renault Sport Trophy (Prestige/Endurance)?in 2015 ??Gonda is one of two drivers to have made a return to single-seaters via GP3 after competing in the Renault Sport Trophy. He's certainly had an unconventional career so far, but a good?year in the A1 GP-based FA1 series in 2014 could help him to some decent results.
20. Oscar Tunjo
Colombia, age 20, 15th?in GP3?in 2015 ??Tunjo's had a disrupted couple of seasons after the promise of his early career. Just when a shock win at Spielberg last year showed what?he's capable of, he ran out of money. It's good to see him back, and although mounting a title fight with Jenzer seems unlikely, he's certainly capable of a giant-killing or two.
Campos Racing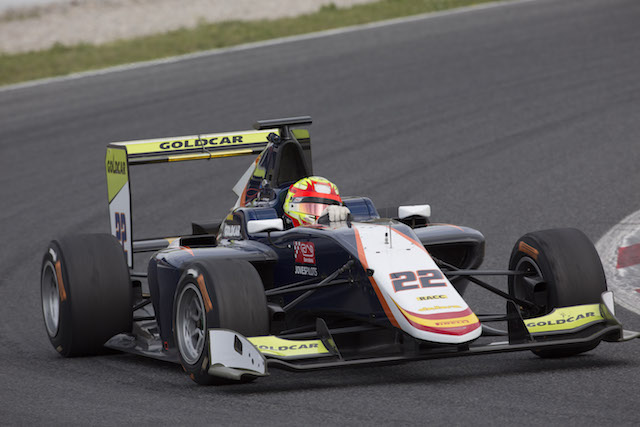 Campos didn't have an easy first season GP3 last year, with lead driver Alex Palou hobbled by misfortune for most of the season. He leads the line again, but the team needs to match the pace of the best for him to stand a chance.
22. Alex Palou
Spain, age 19, 10th?in GP3?in 2015 ??Palou clinched a well-deserved but overshadowed win in the last race of 2015 after impressive one-lap speed through the year. In any normal season, he'd start among the favourites, but the new car and influx of talent makes for a much bigger challenge. Only two years out of karts, he's a huge prospect, but needs to make the most of?every opportunity.
23. Steijn Schothorst
Netherlands, age 21, second in Renault Sport Trophy (Elite)?in 2015 ??Schothorst makes a move that had been more expected 12 months earlier, having spent last season racing with his father. Mentored by Giedo van der Garde (who undertook Campos' initial shakedown) he's shown glimpses of promise before in Formula Renault, the Toyota Racing Series and a podium in a Masters of F3 one-off, but results could be hard to come by here.
24.?Konstantin Tereshchenko
Russia, age 21,?second in Euroformula Open?in 2015 ??Tereshchenko signs up for a full season with Campos after contesting the last three rounds of 2015 alongside his Euroformula Open campaign. Finishing second in that shows he has some speed, but proving it in this company will be an entirely different matter.
DAMS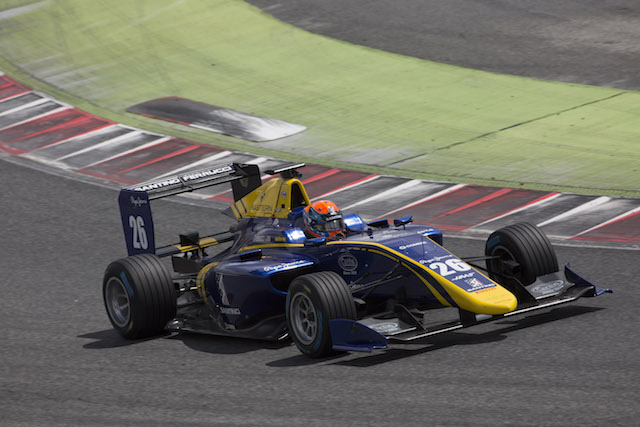 The multiple GP2 champions switch their secondary junior programme from FR3.5 to GP3, and with every team starting from scratch with the new car, there's no reason it can't immediately get on top of it. It's driver line-up is promising, but may lack the combination of speed and experience to win the title.
26.?Santino Ferrucci
United States, age 17, 11th in European F3?in 2015 ??Coming from F3, it feels like Ferrucci has been around for a while, but he doesn't 18 until the end of the month. There are still some rough edges for him to perfect and some maturing to take place, but he's got?plenty of potential, and Haas has recognised he's probably America's next best F1 hope.
27.?Jake Hughes
United Kingdom, age 21, sixth?in Eurocup Formula Renault?in 2015 ??Hughes may well have beaten then-team-mate Aitken to be a double Formula Renault champion last year were it not for an unresolved problem with his car at the end of the year.?Though he's older than some,?contending?for the title here would be punching?above his relative inexperience.
28. Kevin Jorg
Switzerland, age?20, third?in?Eurocup Formula Renault?in 2015 ??Jorg has made very few headlines in his career to-date, but rapid speed in FR3.5 and GP3 tests over the winter show what he could yet achieve. Like his team-mates, if DAMS quickly masters the car, he could upset the bigger names.