BRDC F4 has become British F3, coinciding with the introduction of a much faster second-generation car. We look?at the drivers who will compete for a prestigious title.
Announcing a name change on the Wednesday prior to the opening round of a season wouldn?t be considered ideal planning in anyone?s books, but Jonathan Palmer?s single-seater championship is definitely on an upward curve. This week?s upgrade from Formula 4 to Formula 3 is a clear sign of that.
There?s sure to be plenty of politics involved in the naming matter between series organiser MotorSport Vision, the FIA and the UK?s governing body the MSA, but that the first-named is in a position to make such a positive move on the eve of the season is proof of the steps made with its BRDC-backed championship over recent months.
Its new Tatuus-Cosworth car might be based upon the chassis used in FIA Formula 4 in Germany, Italy and elsewhere ? and therefore look similar ? but upgraded aerodynamics and a more powerful engine mean it?s in another world in performance terms. From that perspective, F3 makes a lot more sense than F4.
Whether it is logical for Palmer?s affordable vision of single-seater racing to carry the same moniker as the considerably more expensive, long-established and rather different concept of F3 used in the European championship is another question (particularly just two years after the FIA?s previous single-seater chief Gerhard Berger tried to clamp down on any variation to the F3 ideal), but it?s not one for BRDC British F3 to worry about.
Long before the name change, the top teams from British F3 of old (Carlin, Fortec and Double R) had already been attracted to run the new car. Between them they?ve signed up some good drivers, and so have the existing squads, with a strong 21-car grid formed for the Easter bank holiday meeting at Snetterton.
Carlin
Carlin tops the list of teams not only alphabetically, but also on reputation and for having signed probably the two biggest names on the driver front. Lando Norris is undoubtedly the star driver in the series, but he won?t start as title favourite. BRDC British F3 forms just part of a 25-weekend race programme for the 16-year-old this year, and a focus on Formula Renault means he?ll skip a couple of rounds. While adding the title to his MSA Formula and Toyota Racing Series crowns is perhaps not impossible, it would require a lack of a consistent rival and that?s unlikely given the strength of the opposition.
It?s his team-mate and former MSA Formula rival Ricky Collard who probably has the most expectations to live up to. He hasn?t had a full winter in the car (after initially focussing his search for a 2016 drive on Formula Renault) but having been fortunate to secure a Carlin seat when it was realised Colton Herta wouldn?t be old enough to start the season, his pace, experience and maturity could make him hard to beat over the year.
Completing the Carlin line-up is Indian driver Ameya Vaidyanathan, who made some impressive progress last year from total racing rookie to stand on the BRDC F4 podium three times. With extra track time from a Euroformula Open campaign combined with a strong team and fast team-mates, he could be quick himself.
Lanan Racing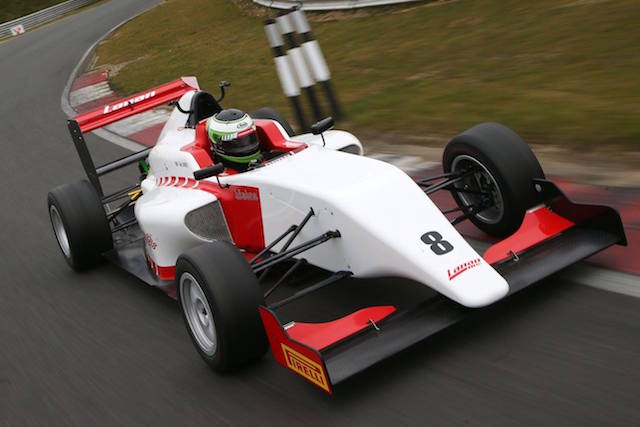 Lanan was the team to beat in the early years of BRDC F4 with top prospects Jake Hughes and George Russell locking out the first two championships. Last year was harder without a driver strong enough to take it to Will Palmer and it hasn?t been a go-to team in this winter?s market, but it has a huge ace up its sleeve in Toby Sowery.
Sowery won the F3 Cup title with Lanan in 2014, and after a 2015 season in which he won the MRF Challenge but was limited otherwise to a partial MSA Formula season, he?s back with the team here. His wide-ranging experience ? including in F3-level machinery ? could stand him in very good stead.
His sole team-mate for now is Akhil Rabindra, who finished 13th with Douglas Motorsport last year but could make a step forward with the move to Lanan and a year?s track knowledge.
Double R Racing
Having struggled, like others, to get a foothold in European F3 in recent years, Double R is focussing solely on the domestic scene this year. It managed to announce all three of its BRDC series drivers within a fortnight of confirming its entry last December, so is better prepared than others.
Matheus Leist steps up from a promising MSA Formula campaign with the team last year, and with experience from Brazilian F3 under his belt from the previous season, he is another expected contender at the sharp end.
His fellow Brazilian Enzo Bortoleto is more of an unknown quantity, after his bid to race in BRDC F4 last year collapsed along with the PetroBall team. Finland?s Aleksanteri Huovinen was the initial pace-setter in the Tatuus-based SMP F4 series last year before being overhauled by others who started the year without experience of the sort he gained from a previous campaign in Formula Ford.
Douglas Motorsport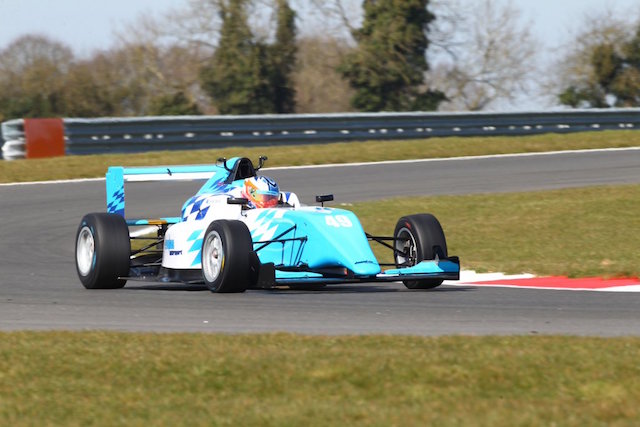 While the arrival of marquee single-seater squads will make it harder for most of the existing teams to be as competitive as before, Douglas Motorsport could actually make a step forward such is the strength of their driving pairing.
To see Enaam Ahmed move up to the series from MSA Formula was not a surprise, but that he chose Douglas was. He?s made positive noises about both the car and the team, however. The 2014 junior world karting champion took time to adapt to single-seaters last year but came on strong later on to become rookie champion in the Mygale-based series and win races in SMP F4?s Tatuus.
Like Ahmed, Thomas Randle is also something of a coup for Douglas. Formula Ford champion in Australia in 2014, he too raced a Mygale last year in his native F4 series, and although he was only second in the standings he shone with hat-tricks on the streets of Surfers Paradise and Homebush. He?s shown his talent against stronger competition in the Toyota Racing Series, and based on his pace in pre-season running, he could be a serious threat.
Fortec Motorsports
A late deal to run the familiar Ben Barnicoat led to glory on the new car?s first appearance in November?s Autumn Trophy, but Fortec hasn?t managed to sign a name to match that for 2016.
Tarun Reddy is its best bet and he?s showing promising pre-season pace, suggesting he could have a much better season than he did in MSA Formula last year, which was a troublesome campaign after the potential shown in Formula Renault BARC.
Al Faisal Al Zubair is the team?s only other driver at this stage and won?t be a title contender based upon his previous record, but a full winter?s preparation with Fortec including the Autumn Trophy could certainly help.
HHC Motorsport
HHC Motorsport took over as the dominant force in BRDC F4 last year with Will Palmer and Harrison Newey securing the top two places in the championship, but although all three of its 2016 drivers have pace, it?s difficult to see a repeat of that this time.
South African Sisa Ngebulana stays with the team after finishing 11th last year, and as another to have contested the Autumn Trophy, he starts the season with more continuity than most.
Omar Ismail shone when he arrived in BRDC F4 midway through last year, winning from pole on his second outing. Such highs were not repeated but a move to HHC could be of benefit.
As Formula Jedi champion, Ben Hingeley comes from off the beaten track, but with a strong karting record and his old car closer to F3 laptimes than MSA Formula, he could be a dark horse.
Chris Dittmann Racing
Without the stature of many of its rivals, Chris Dittmann Racing did a good job to get a full driver line-up signed in time for the start of the season, but the lack of European experience among them means it will be hard to match the three wins of last year.
Quinlan Lall has raced in America?s F2000 Championship Series for the past two years but has been serious about his European ambitions, testing in European F3 and taking part in Koiranen?s F4 winter programme. Kenya?s Jeremy Wahome did his first single-seater races in the Formula BMW-based AsiaCup Series last year.
Indian driver Krishnaraaj Mahadik is signed to the third seat for the season but is unavailable for the opening round, with Dutchman Paul Sieljes making a third appearance for the team in his place.
Sean Walkinshaw Racing
SWR is another team with an all-international driver trio. Jan Jonck is the best-known of the three, the Dane having finished runner-up in his native Formula Ford series in 2014 and then competed in ADAC F4 last year. His best result in the ultra-competitive German series was 12th ? scoring points here should be slightly easier.
Thomas Maxwell follows compatriot Randle into the series after finishing fourth in Australian Formula Ford last year, while South African Eugene Denyssen was seventh in his native Formula Ford category in 2014.