The European F3 season begins this weekend at Paul Ricard with a smaller grid than before, but the field is not lacking in exciting prospects and there might be better racing in store.
Talk about a cap on grid numbers in European Formula 3 for this year became unnecessary in the end, with market forces reducing the?amount of entries from 30+ to 21.
This isn't the crisis that some have labelled?it. It's very much still a healthy?number in the current junior single-seater climate, and on the whole it's the lesser-quality of driver that has?stayed away, perhaps realistic about their chances based on the evidence of last season.
In 2015 the talent on the grid?was 20-deep, and this year the figure?is still close to that despite the reduction in overall numbers. With drivers no longer allowed to do more than three seasons and karters banned from making the step up, most now sit in a happy middle ground of being exciting young prospects whilst also?being prepared for this level.
That factor combined with the more manageable numbers should hopefully lead to an improvement in driving standards after the incidents that marred 2015.
A trend that is a concern is the proliferation of billionaire fathers investing in teams, with three squads now benefitting from such funding. Investment in junior teams raises standards, but it's been cited by smaller teams as a reason for their no-show this year with bosses and drivers alike feeling they just can't compete.
In the short term at least it should mean more drivers are capable of fighting those from Prema for the title, but there is a need to make sure that more teams don't fall by the wayside.
Even if the resources aren't spread around fairly, the driving talent is and if multiple teams are capable of fighting for wins, we could have a fascinating season in store. The vast majority of drivers are ones worth keeping an eye on.
Prema Powerteam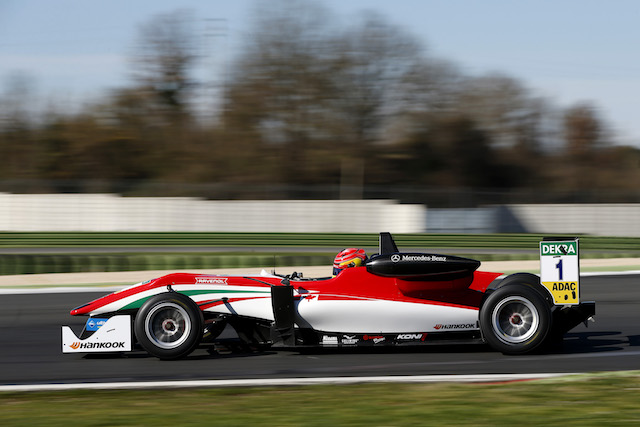 Prema has now been responsible for the last five European F3 champions, and Lawrence Stroll's?investment means they?re just getting stronger. Three of their four drivers start as title contenders, the other a leading rookie.
1. Lance Stroll
Canada, age 17, fifth in European F3 in 2015 -?Stroll made headlines for the wrong reasons last year, but he rebounded impressively from his mid-season struggles, finding both pace and consistency. After his Italian F4 title of 2014 and Toyota Racing Series triumph last year, the European F3 crown is clearly the aim for this year. If he achieves it, he?ll have seen off some strong opposition, including from within his own team.
2. Nick Cassidy
New Zealand, age 21, Japanese F3 champion in 2015 -?Cassidy made use of a long-overdue full-time ride last year in Japanese F3 by winning the title. That?s secured him a factory Lexus deal in Super GT but Prema has handed him a first proper shot in Europe too after his two-round cameo last season, when he proved he could come in and mix it at the sharp end. Missing Spielberg due to a GT clash will make the title difficult but not impossible.
16. Ralf Aron
Estonia, age 18, Italian F4 champion in 2015 -?Aron follows Stroll in stepping up to F3 with Prema after dominating Italian F4. As one of only a handful of drivers on the grid with no F3 experience, it?s unlikely to be an easy rookie season but Aron is highly rated at Prema and has impressed the team with his testing performances.
17. Maximilian Gunther
Germany, age 18, eighth in European F3 in 2015 -?Long considered a top prospect, Gunther shone early in his rookie season last year with some rapid qualifying laps, a podium in Pau and stunning win at the Norisring. When his long-held relationship with Mucke soured he grabbed a Prema seat for the final round and immediately joined Felix Rosenqvist on the front row of the grid. Now he?s got a full season, a title challenge is certainly possible.
Carlin
With Antonio Giovinazzi, Carlin once again provided the sternest challenge to Prema last year but with it now rather?remarkably being out-resourced by other teams, it hasn?t been as appealing to top drivers over the winter and 2016 could be difficult.
3. Ryan Tveter
United States, age 21, 23rd in European F3 in 2015 -?Last year was always going to be difficult for Tveter, stepping into a highly-competitive championship out of Formula Renault with very limited racing experience. Staying with Carlin all the way through the winter and into 2016 should pay dividends in bringing him closer to the front, and based on his pace in pre-season testing, it may well have paid off.
4. Alessio Lorandi
Italy, age 17, 20th in European F3 in 2015 -?Lorandi found the going tough last year after stepping up from karting to F3, with a European campaign that just got worse as it went on after some early promise in Pau. It was on another street circuit in Macau where he showed some progress with a fine seventh. A switch from Van Amersfoort to Carlin is contrary to the recent momentum of the two teams but Lorandi could well be the focus of his new team?s attention.
18. Li Zhi Cong
China, age 22, 37th in European F3 in 2015 -?Having raced for Carlin in British F3 in 2014, Li drove for Fortec last year in a partial campaign. With 19th as a best finish, it?s a sign of the reduction in demand for European F3 seats that he?s secured a return to Carlin this time around. The depth of talent means he?s likely to remain at the rear but he?s good enough that he won?t be miles behind the rest.
19. Raoul Hyman
South Africa, age 19, 21st in European F3 in 2015 -?Carlin are yet to officially announce a deal with Hyman, but he?s looked like a clear candidate for a seat with the team since some strong tests at the end of last year. His 2015 deal with West-Tec was also late but he produced some good results early on, but things became harder as the year went on and he ended up in a one-car team. Things should be better at Carlin but pre-season hasn?t been straightforward.
Van Amersfoort Racing
After arguably fighting above its weight with Max Verstappen and Charles Leclerc, the Dutch team has now joined Prema in having investment from a Canadian billionaire ? Guy Laliberte, father of F4 racer Kami ? and there?s already evidence of it with new facilities?and a switch to Mercedes power.
5. Pedro Piquet
Brazil, age 17, Brazilian F3 champion in 2015 -?Pairing his famous name with two F3 titles in his native Brazil in his first two seasons in cars have only heightened expectations for the latest Piquet to enter the European junior ranks. However, it?s a fairly significant step up in terms of competition if not in machinery, and his own expectations are fairly modest: ?for the second half of the season I aim for top 10 results.?
6. Callum Ilott
United Kingdom, age 17, 12th in European F3 in 2015 -?Ilott couldn?t get close to replicating the efforts of Verstappen as he made the leap from karts to F3 last year and has now split from Red Bull accordingly, but even if his pace was only enough for one podium, he did a fine job to be classified in all 33 races. Moving from Carlin to Van Amersfoort makes sense now, and he could make a huge step forward in his second year.
20. Harrison Newey
United Kingdom, age 17, second in BRDC F4 in 2015 -?Second in BRDC F4 in his rookie season in cars was an impressive result for the son of F1 design guru Adrian Newey, but to step up to European F3 is a huge step for a relatively inexperienced driver. He?s got potential and will learn lots, but while the field isn?t big it is deep with talent and he will probably rank among the bottom few during the early part of the season at least.
21. Anthoine Hubert
France, age 19, fifth in Eurocup Formula Renault in 2015 -?To see Hubert land the fourth VAR seat was something of a surprise, but it was definitely well deserved. He might not have the F3 practice of Piquet and Ilott but has more maturity and racing experience than his team-mates and has looked quick in testing despite limited pre-Christmas running, so could follow fellow Francophones Esteban Ocon and Charles Leclerc as a star Formula Renault-to-F3 convert.
Mucke Motorsport
Mucke was on top of the F3 world at the end of 2014 when it finished one-two at Macau, but a youthful line-up probably cost it a bit of ground last season. It?s lost out in the driver market ahead of 2016 and will start the season with just one car, but it?s full pairing has talent.
7. Mikkel Jensen
Denmark, age 21, ninth in European F3 in 2015 -?As one of four drivers from last year?s top 10 that?s returning, Jensen has the ability to rival the likes of Stroll and Gunther for the title, if Mucke is a rival for Prema. That?s unlikely to be the case, but if the 2014 ADAC Formel Masters champion can repeat his pace from Monza and Spa last year he could win races.
8. David Beckmann
Germany, age 15, fifth in ADAC F4 and fourth in Italian F4 in 2015 -?Beckmann will have to wait until round three at Pau to be old enough to make his debut, and rather illogically he?s not even been permitted to do the official pre-season tests, so he could be in for a tough baptism on the twisty French streets. Given that, the logic of stepping up to F3 this year is questionable, but on the evidence of last year, he?s one of the best prospects in his age group.
Motopark
Against the investment being ploughed into other teams, Motopark?s independence seems to have served it well over the winter with its 2016 quartet including two Red Bull Juniors and a Ferrari Driver Academy member. There?s only one year of F3 between them and VW engines are going out of fashion, but the pre-season speed has been strong.
9. Sergio Sette Camara
Brazil, age 17, 14th in European F3 in 2015 -?After an unsurprisingly quiet start, Sette Camara became a revelation as 2015 went on, taking two podiums in Europe and the fastest lap in Macau. That he stayed with Motopark was not a surprise, that he became a Red Bull Junior a little more so, but if race wins get shared out between teams, he could well pick one or two up and do enough to please his new backers.
10. Niko Kari
Finland, age 16, SMP F4 champion in 2015 -?Out of Red Bull?s eclectic new intake for 2016, it?s probably Kari that has the most star potential; a new flying Finn with a title under his belt from his first season in single-seaters. The step up from a centrally-run F4 series to European F3 is a big one, but he hasn?t shown any problems getting onto the pace quickly. Regardless of that, he needs to be given time to get big results.
22. Joel Eriksson
Sweden, age 17, second in ADAC F4 in 2015 -?Eriksson steps up from F4 to F3 with Motopark ? like older brother Jimmy he?s something of a protege of Timo Rumpfkeil and team, but it wouldn?t be unfair to consider Joel the better prospect. After an impressive run in 2015, he?s been quickly onto the pace in F3 and some top results could well be possible even in his rookie season.
23. Guan Yu Zhou
China, age 16, second in Italian F4 in 2015 -?Zhou?s Ferrari backing automatically bills him as being the best F1 prospect to come out of China, and he lived up to that last year with a decent maiden single-seater season in Italian F4, even if his three wins early on at Monza were his only ones. The depth on the F3 grid means it won?t be an easy season for Zhou but he won?t be off the pace either.
HitechGP
This new team might have only done two race weekends, but start as the squad it?s hoped will take it to Prema this year. That?s down to the funding from?Nikita Mazepin?s father Dmitry being spent well on top engineering services, top engineers and top drivers.
11. Nikita Mazepin
Russia, age 17, 12th in Formula Renault NEC in 2015 -?This is an early step to F3 for Mazepin based on his results in Formula Renault last season, but as world karting runner-up the previous year, he?s got potential as well as backing. He?ll be another who will struggle to get top results this year in this close field, but he?s certainly worth keeping an eye on with a view to future seasons.
12. George Russell
United Kingdom, age 18, sixth in European F3 in 2015 -?Gambling on a move to Hitech is probably Russell?s best chance of taking it to Stroll in the fight for the title this year. After a win on his debut at Silverstone, qualifying form let him down at Carlin last year but he showed what he could do in the races, impressively combining progress through the field with steering clear of incident. If he can overcome the single-lap problems, he?ll be a big threat.
19. Ben Barnicoat
United Kingdom, age 19, fourth in Eurocup Formula Renault in 2015 -?The prospect of top Formula Renault graduate Barnicoat racing for Prema was mouth-watering before that deal fell through, but Hitech is a fine alternative if everything there comes together as hoped. With two years of FR2.0 experience and the NEC title in the first of those, Barnicoat ought to be quickly on it in F3 and a strong contender for top rookie honours.
ThreeBond with T-Sport
While other ?smaller? teams have failed to get onto the European F3 grid for this season, T-Sport?s introduction of the new Tomei-built ThreeBond engine for the Masters and Macau last year has paid off in securing them a good driver.
15. Arjun Maini
India, age 18, 18th in European F3 in 2015 -?Mentored by former T-Sport driver Karun Chandhok, Maini joined T-Sport for Macau after a challenging rookie F3 season with Van Amersfoort and liked what he saw, including from the new engine. He probably could have got a seat at a more fashionable team, so this is quite a gamble, but with the full attention of those around him, it?s a move that could pay off.