The first season of the new Italian F4 Championship begins at Adria this weekend. The series is the first to be introduced according to the FIA's F4 regulations, and takes over as Italy's main junior single-seater category following the decline of its F3 series and Formula Abarth.
With a Tatuus chassis and Abarth engines, 22 of the brand new cars have been entered for the opening weekend – an impressive figure given a relatively short timeframe and a late start to the race calendar that didn't exactly inspire confidence. By way of comparison, the final rounds of Italian F3 in 2012 and Formula Abarth in 2013 had ten and 12 cars respectively.
Nine teams are represented on the entry list, including some of the leading names in junior single-seaters.
Prema Powerteam
The most respected of Italian teams is aiming to add F4 success alongside its F3 and Formula Renault programmes. Prema bring their relationship with the Ferrari Driver Academy to the series, giving their 15-year-old Canadian protege Lance Stroll his first full single-seater campaign. On Ferrari's books since the Canadian Grand Prix week four years ago, he was on the pace in the Florida Winter Series at the start of the year against more experienced competition, with podiums and a pole position.
Stroll is joined by another driver who took part in the Prema-run FWS, Japan's Takashi Kasai. He was not on the same level as Stroll in the pre-season competition, but has enjoyed some success in international karting.
Completing Prema's trio is relative veteran Brandon Maisano. The Frenchman, who turns 21 this month, won the Formula Abarth title in 2010, but after failing to win the Italian F3 title in his two years in the category, he lost his place on the FDA and has been struggling for opportunities since.
Euronova Racing

Vincenzo Sospiri's team enters F4 having previously won Formula Abarth titles in 2011 and 2012 with Sergey Sirotkin and Nicholas Costa. Euronova continue their partnership with the SMP Racing programme by running Russian karting graduate Ivan Matveev.
Also with the team is Leonardo Pulcini, who finished second in the world KF-Junior championship last year and who has looked fast in pre-season testing. Andrea Fontana is the team's third driver, and a graduate of Italian national karting.
Jenzer Motorsport

Best known for their participation in GP3, Swiss squad Jenzer have also had past success in Italian national series and have assembled a four-car line-up for F4.
Bahraini Ali Al-Khalifa steps up from Swiss karting competition, as do his team-mates Alain Valente, Nico Rindlisbacher and Lucas Ayrton Mauron.
Cram Motorsport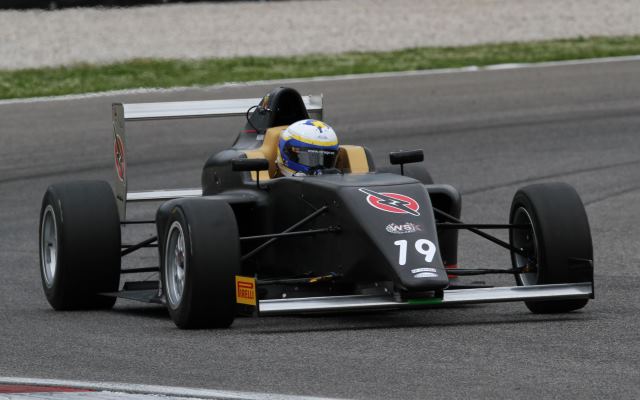 Last year, Cram added to past successes with the likes of Felipe Massa by claiming the Formula Abarth title with Alessio Rovera. Belgian Max Defourny adds a second campaign alongside his Formula Renault 1.6 NEC programme, where he sits third in the standings in his rookie season.
Kosovo-born Edi Haxhiu is the cousin of French F4 racer Gjergj and is working with the Virage Academy that also works with the likes of Giedo van de Garde, Charles Pic and Johnny Cecotto. Mattia Drudi has Italian and European titles in Easykart categories and looked quick in testing, while Adria local Giovanni Altoe completes the team's quartet.
Russian Robert Schwartzman set the pace on the official test day but must wait until he turns 15 in September (when there will be three rounds remaining) before he can take part.
Antonelli Motorsport
Antonelli Motorsport arrive in F4 after success in Porsche Carrera Cup and GTs. Their assault is led by Matteo Cairoli, who is a race winner for the team in the Italian Porsche series this year and last year scored podiums in German F3.
Joining Cairoli is Brazilian Joao Vieira, who beat Dennis Olsen to win the USA SuperNationals event in 2010, and Swiss driver Jonathan Giudice.
Malta Formula Racing
Malta Formula Racing is a new team set up for F4 by the island's motorsport federation, and run by multiple karting champion Danilo Rossi and ex-FR3.5 team Target.
Maltese driver Keith Camilleri, who has experience in karting and hill climbs, is joined by American Zack Dante.
Diegi Motorsport
Former Formula Abarth team Diegi are running a single car at the start of the F4 season for Andrea Russo, a regular in international karting competitions in recent years who went well on the official test day.
DAV Racing

Led by ex-racer Matteo Davenia, Euroformula Open team DAV Racing expands into Italian F4. They too are just running one car at present, for Brazilian driver Gustavo Bandeira, who has past car racing experience from Formula Junior Brazil last year.
Israel F4
Israel F4 is an entry fielded for Bar Baruch, who finished ninth in the Formula BMW Talent Cup last year and also did two races in the MRF Challenge over the winter. The team is supported by Italian outfit Torino Squadra Corse.
Calendar
Adria ? 8 June
Imola ? 29 June
Mugello ? 13 July
Magione ? 3 August
Vallelunga ? 14 September
Monza ? 28 September
Barcelona ? 19 October