Last year the European F3 scene was revitalised, with the rebranding of the Euro Series into the FIA F3 European Championship leading to the grid doubling in size. The quality of those drivers was decent, but this year the amount of talent on display has increased further with a number of very promising drivers joining the field. New engine regulations are set to shake up the established competitive order between the teams.
PaddockScout takes a look at the squads and drivers taking part in the 2014 season.
Prema Powerteam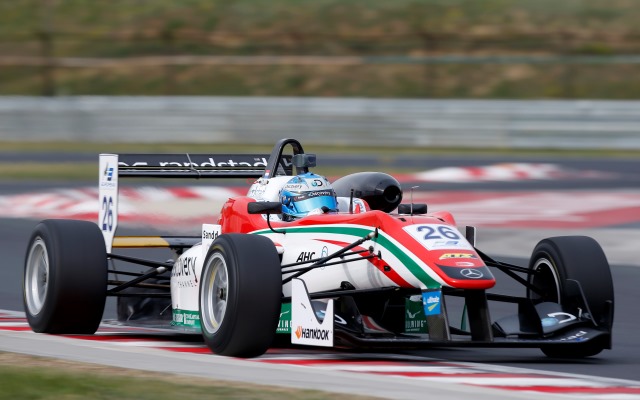 In 2013, Prema drivers won 17 out of the 30 races of the regular season, took the drivers' and the teams' title and won the Macau Grand Prix. However, the off-season hasn't been kind to the Italian team. Despite having signed two exceptionally highly-rated Formula Renault 2.0 graduates, the team came up short on actual established title challengers – with Lucas Auer leaving for Mucke and Alex Lynn blindsinding them with a Red Bull contract and a GP3 switch. Instead, their two experienced names are those who haven't proved they can fight for the title – but it doesn't mean they can't.
1. Nicholas Latifi
Age: 18
Nation: Canada
2013: 15th in FIA F3

Latifi's 15th place in 2013 doesn't really paint an accurate picture of his debut year in European F3 – indeed, while he struggled for consistency and wouldn't exactly match his more experienced teammates, almost all experts picked up on his flashes of frontrunning pace.
Still, whether the deserved a deal with Prema was another question – that is, right until the Canadian joined the Ferrari-run FWS and picked up four victories in 12 races. At this point, the Canadian could very well be Prema's best bet in the drivers' championship. He was solid in the pre-season despite the Mercedes engine's shortcomings and his own car catching fire at the Hungaroring to sideline him for the entire event.
He's still not the most consistent driver around, but given the 33 races this season, there's little doubt that race wins will come Latifi's way.
2. Esteban Ocon
Age: 17
Nation: France
2013: 3rd in Eurocup FR2.0

In his two years in single-seaters, Ocon has become a Eurocup race winner, finished third in the series behind FR3.5 star newcomers Oliver Rowland and Pierre Gasly and built up a reputation as Lotus F1's most promising protege.
Ocon's partnership with Prema is a good move for both sides. It makes sense for the Frenchman because, unlike Rowland and Gasly, he doesn't seem ready for 3.5 yet, still somewhat lacking consistency and struggling to convert his blistering testing pace into actual results. It makes sense for Prema, because there isn't a team in F3 whose lineup wouldn't be strengthened with a driver of Ocon's calibre.
His most realistic goal is probably coming out on top in the rookie classifications, but there's also almost no doubt that he'll be fighting for race wins and showing up series veterans soon enough. He showed a glimpse of what he could achieve when he finished tenth on his debut in Macau after dropping to the back at the start.
25. Antonio Fuoco
Age: 17
Nation: Italy
2013: FR2.0 Alps champion

Anyone who followed last year's Formula Renault Alps season knows that Ferrari protege Antonio Fuoco is, plain and simple, the next big thing in single-seaters.
Despite having lacked any sort of substantial experience in cars (apart from a stint in the Panam GP Winter Series), he took the Alps series by storm, easily seeing off the challenge from his two highly-rated teammates or any Eurocup regulars that made guest appearances in the series. Then, in the off-season, he won four races in the Florida Winter Series, arguably being the championship's most consistently rapid driver.
Ferrari certainly seem to have a lot of faith in the youngster and, as such, have placed him in FIA F3 in the footsteps of Italy's other big hope Raffaele Marciello. Just like Ocon, he'll be aiming for the rookie title, albeit he's probably even more likely to pull off some major upsets against series veterans, given his uncanny ability to adapt to new challenges.
26. Dennis van de Laar
Age: 20
Nation: Netherlands
2013: 20th in FIA F3

Dutchman van de Laar is definitely the dark horse of Prema's 2014 lineup, not having the reputation of the two rookies or the flashes of record pace that elevated Latifi's status.
At the same time, the 20-year-old is definitely no pushover. He was solid in FR2.0 NEC and German F3, he held his own next to his teammates at Van Amersfoort Racing in FIA F3 last year and he won the first race of the Florida Winter Series.
At Prema, a sophomore driver like him will definitely be expected to deliver victories, which may very well happen. However, going by the pre-season test, making the top ten in the standings is probably the most realistic goal he can be setting.
kfzteile24 Mucke Motorsport

German team Mucke Motorsport are almost inarguably the most successful team in European F3 history that still doesn't have a drivers' or a teams' title. And, despite the fact they've gone from four cars to three, 2014 will represent their best chance thus far to correct that particular statistic. Out of the top four finishers in 2013, two have left the series, while two will drive in Mucke's orange colours in 2014.
3. Lucas Auer
Age: 19
Nation: Austria
2013: 4th in FIA F3
Auer's move from Prema to Mucke easily became the main event of the FIA F3 off-season – a driver of championship potential switching from one elite team to another.
The Austrian prodigy hasn't exactly shown any allegiance to particular teams over his single-seater career – before taking fourth in FIA F3 with Prema, he was the JK Racing Asia Series champion with EuroInternational and took runner-up in German F3 with VAR. Despite being a well-recognized talent on the junior ladder, he is also yet to sign with any F1 junior programme.
In 2013, he was obviously quick, but would struggle to find that extra tenth to consistently run at the front. He also had a fair share of incidents, although they were far from frequent enough to overshadow an excellent campaign. Despite both the Merc engines and, to a lesser extent, himself struggling in the pre-season, it's hard to imagine he'll be content with anything but the title in six months' time.
4. Roy Nissany
Age: 19
Nation: Israel
2013: 22nd in FIA F3
Nissany is another driver who has become inseparable from Mucke over the recent years, having spent his every season in cars since 2011 with the German team.
There's little surprise in the fact that the partnership has endured – Nissany, after all, finished on the podium in his very first race with the team in ADAC Formel Masters and would go on to take a respectable 11th in his rookie year. Since then, he hasn't really managed to live up to that standard – he was only 9th in his sophomore campaign in ADAC and, despite scoring one point more than respected teammate Mitch Gilbert, had a generally anonymous first season in FIA F3.
He'll be likely facing another tough year ahead – giving the absurdly strong level of his teammates – but the experience is likely to help and, at the very least, he should be aiming to deliver points on a regular basis.
27. Felix Rosenqvist
Age: 22
Nation: Sweden
2013: 2nd in FIA F3
If his teammate Auer hasn't exactly stuck around with any single team for more than a year, Rosenqvist is the polar opposite – 2014 will be his fourth season in European F3 with Mucke.
Over his three campaigns in the series, the Swede has amassed 15 victories, won the Masters of F3 on two occasions and recorded a best finish of second in the standings. His return to the European F3 series for 2014 was a bit last-minute as opporunities further up the ladder failed to materialize. The 22-year-old, as such, will be the 2014 grid's most experienced driver by quite a large margin.
Rosenqvist has shown, time and time again, that he's remarkably quick and that he works well with Mucke. But, as it goes, nobody will take those factors into consideration if he doesn't take the title on his fourth attempt.
Carlin

In 2013, the addition of Carlin proved to be massive for the rebranded FIA F3 championship, as the British squad were the only ones in the field who were reliably capable of breaking up the monotony of a Prema – Mucke dominance. However, being the proverbial "spoiler" and fighting for individual race successes only is clearly not enough for their ambitions and, during the pre-season, the leading VW-engined team showed just how well they prepared for this year. In addition to fielding three cars under the banner of KFC sponsorship, which formally make up a separate team, Carlin will also run three extremely promising drivers under their own banner.
5. Jordan King
Age: 20
Nation: United Kingdom
2013: 6th in British F3, British F3 champion

Having always been regarded as a serious talent, King still managed to raise his profile big-time in 2013, winning the British F3 series and finishing as the best non-Prema rookie in the regular FIA F3 season.
But, even before his two podiums in FIA F3 and sixth overall in the standings, he finished runner-up in FR2.0 NEC and took a podium finish in the ultra-competitive Eurocup.
Being one of the drivers expected to factor in the title hunt this year, he was expectedly quick in the pre-season, albeit somewhat overshadowed by drivers from Carlin's KFC-sponsored lineup. Still, he's proven he can win races and, given how strong Carlin seems to be, he should mount a serious title challenge.
6. Ed Jones
Age: 19
Nation: United Arab Emirates
2013: F3 Open champion

A graduate of the well-regarded Intersteps championship in 2011, Jones had a difficult first year outside of Britain, only notching up 2 points in a full-time Eurocup campaign with Fortec.
He really got going in 2013, though, notching two podiums in the Eurocup and winning the F3 Open title on his first attempt. In the off-season, he took part in the Florida Winter Series and, despite taking no wins, was on the podium in eight of the 12 races.
His switch to Carlin is a bit of a surprise – his career has been mostly tied to Fortec up to this point – but it seems to have been the correct decision, as he's reliably figured in the top ten in pre-season testing. For his rookie season, a good finish in the standings and potentially a couple of podiums could be reasonable goals.
28. Jake Dennis
Age: 18
Nation: United Kingdom
2013: 4th in Eurocup FR2.0

The fact that Jake Dennis is a huge acquisition for the 2014 FIA F3 grid should be evident right away due to the fact that he is backed by the notoriously selective Racing Steps Foundation.
Apart from that, he also won titles in both of his first two years in cars – InterSteps in 2011 and FR2.0 NEC in 2012 – before taking fourth in Eurocup's famously stellar 2013 grid.
He is a great signing for Carlin, as evidenced by his stellar pace in the pre-season, and should be able to contest podiums and wins on occasion throughout the season. Also, he is eligible for the rookie standings and is likely to seriously challenge the likes of Ocon and Fuoco.
EuroInternational

Seasoned team EuroInternational didn't really have a perfect debut year in European F3 in 2013, fielding only one car for Tom Blomqvist, who did well enough but couldn't really fight for wins or leading positions in the series. 2014, however, is very much looking up – while, given a full-rookie lineup, they probably won't be looking for any title glory, the adjusted goals should allow for positive resuls with what is a very promising trio of drivers.
7. Riccardo Agostini
Age: 19
Nation: Italy
2013: 10th in Auto GP

As of this writing, Agostini is the final champion in the history of Italian F3 and a very much well-deserved one at that, having clinched the title in his first year in the series.
Prior to that, he raced in Formula Abarth with mixed success, while 2013 saw his F3 title allow him to move into Auto GP with Manor. However,? as the Dutch team seemed to struggle, he cut his campain short, despite picking up a maiden podium at Hungaroring.
He's a rather obvious signing for EuroInternational – talented and, well, Italian just like the team. Agostini appeared to be right on the pace of frontrunners in the pre-season and should lead EuroInternational's 2014 efforts – after all, his biggest success thus far came in F3 machinery.
8. Michele Beretta
Age: 19
Nation: Italy
2013: 2nd in Formula Abarth

Another graduate of the Italian Formula Abarth series, Beretta finished runner-up in that championship in his sophomore season, losing out to rookie star Alessio Rovera.
His extensively tested in F3 over the off-season, but a direct promotion to FIA F3 with EuroInternational still came as a bit of a surprise – going from Abarths to the biggest Formula Three series out there is quite a leap.
Understandably, he wasn't anywhere near the front in the pre-season testing, but he hasn't been off the pace, either. 2014 will definitely be a learning season and scoring any substantial amount of points would already be a huge success.
29. Santino Ferrucci
Age: 15
Nation: United States
2013: 5th in F2000 Championship

You won't see Ferrucci on the grid until at least Spa, but that's not because he doesn't have the money or because he isn't ready – it's simply because he is too young.
The 15-year-old made his car debut in the F2000 Championship Series in America last year after a grand career in karting. Despite joining the series halfway through, he finished all his races in the top five and made fifth in the overall standings.
Unofficially linked to F1 team McLaren, he was shockingly impressive in the off-season with EuroInternational, setting the pace in numerous private testing days. The Italian team, therefore, have already announced that he'll be racing as soon as he's eligible and, given his sheer pace, he could make some headlines.
Fortec Motorsports

Strong in Formula Renault at both 2.0 and 3.5 level, Fortec took the fight to Carlin in British F3 in 2012 but couldn't really repeat that form in Europe last season. That wasn't helped by a revolving door of drivers, and so this year the team has downsized to a two car entry.
9. Mitchell Gilbert
Age: 19
Nation: Australia
2013: 23rd in FIA F3

Gilbert's 2013 season was all kinds of disastrous – while fellow German F3 graduate Auer took a race win and numerous podiums, the Aussie languished with Mucke, taking until race 21 to score his first points.
There was little reason to believe thsoe results where representative of Gilbert's actual skill level, as, before that, he was great in karting, finished fifth in his rookie year in FR2.0 UK and wasn't far off of Auer in ATS F3, taking fourth overall.
With Fortec, he has a fresh start in the biggest F3 category and, despite the teams' downsizing, things should surely go better for Gilbert. He was rather inconsistent during the pre-season, but is expected to start racking up points in no time.
10. John Bryant-Meisner
Age: 19
Nation: Sweden
2013: 5th in German F3

There is little doubt that Swedish racer Bryant-Meisner was going to mix it with Auer and Gilbert in the 2012 German F3 season, but an early injury ended his promising campaign after one round.
After a lengthy recovery, he was back to the series in 2013 and finished fifth, picking up two wins along the way. He also made his debut in FIA F3 with Fortec for the last two rounds of the season and managed to make it into the points right away.
He was pretty level with Gilbert in the pre-season and, while Fortec seem to legitimately struggle for outright pace at the moment, the Swede completes a lineup that should get some regular points out of it.
ThreeBond with T-Sport

British squad T-Sport had huge ambitions for the 2013 European F3 season and, while it didn't entirely go according to plan, a streak of late-season performances from guest star Alexander Sims proved the team's immense potential. A lineup of consisting of a protege and a new arrival should help them build on their 2013 success.
11. Richard Goddard
Age: 21
Nation: Australia
2013: 31st in FIA F3

Inseparable from T-Sport since 2012, Goddard took their car to the British F3 National Class title that year and was one corner away from a race win in the series in 2013, just to be narrowly denied by a puncture.
His last year debut in FIA F3 wasn't nearly as successful as he struggled to find consistent pace throughout and didn't wind up scoring any points.
Just like fellow Aussie Gilbert, he'll be hoping to significantly improve on 2013. His pre-season was quiet, but he's got off to a good start in practice at Silverstone and will be hoping to break his dry run of pointless finishes in no time.
12. Alexander Toril
Age: 17
Nation: Spain
2013: 5th in F3 Open

In 2013, Toril was one of the most consistent drivers of the F3 Open grid, finishing all but one race in the points. At the same time, wins proved out of his reach and he didn't get to stand on the top spot of any of his four podiums.
His contract with T-Sport was signed after extensive off-season testing and, as such, he should be very much prepared for the year, having reportedly impressed the team in private sessions.
He seemed pretty level with Goddard in the official tests and will be hoping to add his fair share of points to T-Sport's overall tally.
Double R Racing

Originally founded by Kimi Raikkonen and his manager Steve Robertson, former British champions Double R had a challenging year in their first season in European F3 with an inexperienced driver line-up. They may have slimmed down their continental assault down to just one car this year, but have found a well-travelled driver to fill it.
14. Felipe Guimaraes
Age: 23
Nation: Brazil
2013: South American F3 champion, 4th in British F3

A podium finisher in A1 Grand Prix and GP3 in 2009 and 2010, Guimaraes re-emerged from the relative wilderness last year when he competed in British F3, bagging two race wins for Fortec.
He also notched up the South American title, and in January of this year claimed his second straight F3 Brazil Open win at Interlagos.
He now joins up with Double R, giving them the experience that they certainly lacked last year. However, there have to be doubts over whether a single-car team can take the fight to the larger multi-car outfits to score regular points or better.
Van Amersfoort Racing

Four-times champions in German F3, the Dutch team stepped up to European competition last year. They had a quiet first season but improved towards the end after bringing in Sven Muller, who got them a podium at Hockenheim. They've got an exciting line-up for 2014, promoting one driver from German F3 and bringing in a pair of promising Dutch youngsters.
15. Jules Szymkowiak
Age: 18
Nation: Netherlands
2013: 6th in Formula BMW Talent Cup

Szymkowiak makes the big step up to FIA F3 from the Formula BMW Talent Cup. He won the first scholarship prize for the 2013 intake and took several victories in 'test races' during the year. He could only finish sixth in the all-important grand final event however, after crashing out attempting to take the lead in race two.
Despite his inexperience, he has looked good in testing, benefiting from the competitiveness of the Van Amersfoort-VW package to go particularly well at the Hungaroring with the seventh quickest time on day two.
In his first season in a proper single-seater series he will no doubt find the going tough at times, but his pre-season form suggests that he's got what it takes to shine on occasion. He's advised by and trains with Adrian Sutil.
16. Gustavo Menezes
Age: 19
Nation: United States
2013: 4th in German F3
Menezes steps up to European F3 with Van Amersfoort after a strong season in German F3 last year. He did a respectable job to finish fourth behind the all-conquering Motopark trio, beating them to wins on two occasions.
A strong international karter, Menezes had concentrated on Star Mazda back home in the first two years of his car racing career in 2011-12, alongside selected Formula Renault 2.0 appearances.
Now, he's focussed fully on Europe. He wasn't able to reach the same heights as his considerably less experienced team-mates in pre-season – he'll be hoping that trend doesn't continue into the season and that he can impress.
30. Max Verstappen
Age: 16
Nation: Netherlands
2013: World KZ, European KZ and KF champion

Having won pretty much anything there was to win in karting last year and then stunned in his early single-seater tests over the winter, Verstappen steps straight into FIA F3 for his first full single-seater campaign.
He showed in the Florida Winter Series earlier this year that he could easily hold his own against many of the other FIA F3 drivers, and he's continued to impress in pre-season testing – twice topping a session and regularly finishing in the top five. That's not just down to the strength of the VW engine – his team-mates could manage nothing like that.
Despite his undoubted pace, Verstappen has still got lots to learn about single-seater racing, and is doing so at a far more competitive level than most. But if he can overcome that, he could show up a few of the most highly-rated drivers on the entire ladder. At the same time, it's more important that he develops as a driver rather than just climb the ladder as soon as possible – his father Jos made it to F1 after two years but never fulfilled his potential.
Jo Zeller Racing

The plucky family team was set to continue to run a single car for Sandro Zeller, the son of the team boss. However, it has instead taken on a refugee of the delayed Signature-Renault project for the opening weekend. Zeller has entered two cars for the season, so it's possible that Sandro could return to action.
17. Sandro Zeller
Age: 22
Nation: Switzerland
2013: 27th in FIA F3
Zeller has been racing his father's F3 cars in one form or another since 2009, and this is set to be his third full season at European level. He'll miss Silverstone to let Calderon drive, but the team has two entries so he should appear at some point.
Zeller finished 12th overall in 2012 with a best result of ninth, but the significant increase of competition last year saw him fail to score points. He'll hope that another year's experience will help him to get the better of the rookies, but testing form doesn't suggest he'll be making any big strides up the order should he race.
If he and Calderon can race together at the same time, having two cars with some decent experience behind the wheel should help to drive the team forward.
18. Tatiana Calderon
Age: 21
Nation: Colombia
2013: 32nd in FIA F3
Calderon had been set to race for the returning Signature team, but problems with the new Oreca-built Renault engine has meant that the team has withdrawn from the opening weekend.
Calderon has therefore made a last minute switch to Jo Zeller Racing. She had a tough season with Double R last year with the team lacking an experienced leader in its first season in Europe, but she has proven her abilities in the Florida Winter Series at the start of this year, winning a race against some of the best drivers in this field.
This is far from an ideal start to her F3 campaign however, and she'll probably struggle to make an impression on her own at the small Swiss team, particularly arriving at such short notice.
Jagonya Ayam with Carlin

Sean Gelael's Indonesian backers have helped him trade Double R for Carlin, establishing a separate entry whose name translates as 'masters of chicken' in deference to lead sponsor KFC (Gelael's father runs their Indonesian arm). and bringing in experienced F3 racer Tom Blomqvist to work with Gelael and long-time team-mate Antonio Giovinazzi. With Carlin equipment underneath them and the VW engines looking fast, Blomqvist and Giovinazzi in particular could shine.
19. Antonio Giovinazzi
Age: 20
Nation: Italy
2013: 17th in FIA F3
Giovinazzi emerged as Formula Pilota China champion in his rookie car racing season in 2012. Although he's still relatively under the radar, he coped admirably last year with the big step up to F3.
Having to lead the Double R team in its first season of European F3, his season took a while to get going, but when it did he became a regular presence in the top ten in the final two rounds. Making an impression on the competitive continental grid was tough but he was able to shine in British F3, taking the team back to the front with two wins and finishing runner-up. An impressive feat, even in a depleted competition.
Moving to Carlin thanks to Gelael's generous backers, he should now be able to prove what he can do with a strong package underneath him. With VW's engine looking as strong as it has in pre-season, Giovinazzi could be a dark horse for the title.
20. Sean Gelael
Age: 17
Nation: Indonesia
2013: 28th in FIA F3
Gelael has not been a match for Giovinazzi in their two years together on the junior single-seater ladder, but he's still performed well for his age and lack of experience.
He won a race on his way to fourth in Formula Pilota China and scored podiums in British F3. That's promising aged 15 and 16 respectively, even if his FIA F3 campaign was point-less.
He will learn lots at Carlin, and even though he is unlikely to match either of his team-mates, he will learn from Blomqvist in particular (who is, after all, getting his seat paid for with that purpose in mind) and should make a definite step up from last year. Testing suggests he'll be in the top half of the field, and he should score points regularly if he stays out of trouble.
31. Tom Blomqvist
Age: 20
Nation: United Kingdom
2013: 7th in FIA F3
Blomqvist looked very promising when he won the Formula Renault UK title at 16, but his career has rather failed to kick on in the three years since. However, he can put that down to factors outside of his control.
A lack of funding has seen him with lesser teams for his two years in European F3. His 2012 campaign with Ma-Con was an extremely late deal for driver and team with no testing, while last year saw him in a single car entry with EuroInternational despite support from Red Bull. On his own in a team new to the series, he couldn't match the might of Prema or Carlin.
If you can't beat them, join them. Thanks to the new Indonesian support, he's now got a place in a top team with a full winter's preparation behind him. That should give him what he needs to deliver on his ability and experience. With team and engine looking quick pre-season, he starts as a definite title contender.
Team West-Tec

Having conquered the F3 Open last year with new Carlin recruit Ed Jones, British outfit Team West-Tec expands into the European championship for 2014. The capture of respected ex-Fortec engineer Mick Kouros – who got the best out of Pipo Derani last year and has brought Felix Serralles with him – should help the team to be competitive.
21. Felix Serralles
Age: 21
Nation: Puerto Rico
2013: 11th in FIA F3
Serralles had a tough 2013, starting promisingly enough but going severely downhill after that and ending the year with seven non-finishes from the last nine races, prompting him to withdraw from the trip to Macau.
It was a big shame that he failed to continue the momentum from his breakthrough British F3 campaign in 2012, when he came close to an unexpected title and also shone against European competition at the Norisring and Spa. Fortec struggled in their first full continental F3 campaign however, and Serralles suffered.
West-Tec are unlikely to be able to fight at the front right away, but this move gives Serralles the chance to take a step back and? then make the most out of the challenge of leading a new team. He's looked decent in pre-season – even topping a session – but it remains to be seen where West-Tec sit in the real pecking order.
22. Hector Hurst
Age: 21
Nation: United Kingdom
2013: 7th in F3 Open

Hurst's move into FIA F3 for this season came as something of a surprise given that he had previously announced a second year in the F3 Open (now Euroformula) for 2014. Like Blomqvist, he's managed by Mark Blundell, and although there is little on his resume that immediately stands out, he's shown some glimpses of promise in a slightly unusual career to-date.
Tenth in Formula 2 in 2012 was a decent result for a driver with only one season in Formula Renault BARC under his belt, and he was a regular fixture in the top ten before his season went awry at the end. Last year in F3 Open was a similar tale of starting strongly and then fading, but he was the strongest driver outside of the West-Tec and RP teams.
He's unlikely to challenge the front in his rookie season in such a competitive series, but there are some experienced people in the team and Hurst will hope that this time he gets better as the campaign goes on and the squad finds its feet.
Calendar
Silverstone, United Kingdom – 19-20 April
Hockenheim, Germany – 3-4 May
Pau, France – 10-11 May
Hungaroring, Hungary – 31 May-1 June
Spa-Francorchamps, Belgium – 21-22 June
Norisring, Germany – 28-29 June
Moscow, Russia – 12-13 July
Spielberg, Austria – 2-3 August
Nurburgring, Germany – 16-17 August
Imola, Italy – 11-12 October
Hockenheim, Germany – 18-19 October