Eurocup Formula Renault 2.0 was as competitive as ever in 2015, with Jack Aitken triumphing in an eight-way title decider. David Gruz assesses the campaigns of the leading drivers.
Following a 2014 season that was dominated?by Nyck de Vries, Eurocup Formula Renault 2.0 enjoyed a?close title fight this year, similar to the 2012 duel of Stoffel Vandoorne and Daniil Kvyat, or Pierre Gasly and Oliver Rowland's rivalry from a year later.
This time however, eight drivers were still in contention before the season finale, which shrunk to three after Saturday, when Jack Aitken passed long-time leader Louis Deletraz in the standings.
The Briton had a dramatic qualifying session on Sunday though which forced him to start from the back of the grid, giving Deletraz the chance to be the champion in case he wins the race.
He failed to do so, allowing Aitken to seal the crown, while the top six ended up separated by only 46 points.?Below, we analyse the top ten drivers in the standings.
1. Jack Aitken

United Kingdom, Koiranen GP, age 20
206 points, 5 wins, 6 podiums, 4 pole positions, 3 fastest laps
After ending his 2014 season on a high, Aitken switched from Fortec to defending champions Koiranen to go for the title.
His campaign didn't start well though ? being torpedoed by Martin Kodric at a wet Aragon and contact with Ukyo Sasahara at Spa stripped him of two potential podium finishes and he completed the first two rounds with a best finish of seventh.
Although he managed to rebound by inheriting a Hungaroring victory from the jump-starting Louis Deletraz, he still seemed to be?a bit behind his rival on pace. Then he sustained a back injury in an Alps race, threatening to end his season.
Aitken recovered in a couple of weeks though and returned with improved form, winning on home soil at Silverstone from pole and then at the Nurburgring by passing Deletraz off the start.
He dominated the first two races of the Jerez triple-header to finally take the championship lead and managed to seal the title despite a disastrous final day.
Aitken has shown good pace with leading Formula 3.5 V8 teams Fortec, Arden and Strakka in testing and will do further tests in GP3 before choosing his 2016 programme. Season rating: 9/10
2. Louis Deletraz

Switzerland, Josef Kaufmann Racing, age 18
193 points, 3 wins, 5 podiums, 5 pole positions, 3 fastest laps
Deletraz graduated to Eurocup after two years in Formula Renault 2.0 NEC, continuing his collaboration with Josef Kaufmann?s team. He had shown massive improvement last year by developing from mediocre rookie into a title contender, and kicked off 2015 on an even higher level.
The season?s first seven races saw four lights-to-flag victories from Deletraz and although he lost one of them due to?a jump start, he had built a convincing lead in the championship.
He faced a difficult weekend at Silverstone but was seemingly back on track with a pole at the Nurburgring, only to lose five places at the start after being forced wide at the first turn.
His lead shrunk to a handful of points, which he maintained until the season finale at Jerez before losing out to Aitken and only narrowly salvaging the runner-up spot.
Having taken the NEC title and finished second in Eurocup, Deletraz was the class of FR2.0 2015 alongside Aitken. He has shown significant improvement over the past three years and, still only 18, he surely hasn?t reached his maximum potential yet.
Formula 3.5 V8 will almost certainly be his next step, having made his debut on an off-weekend for the Eurocup at Spielberg. 9/10
3. Kevin Jorg

Switzerland, Josef Kaufmann Racing, age 20
193 points, 1 win, 6 podiums, 1 pole positions, 2 fastest laps
Another driver to show improvement between his rookie and sophomore Eurocup seasons, Jorg returned for a third year as the second highest-placed returnee.
He was unable to keep up with Deletraz as they kicked off the season, but did twice complete a one-two for the team which gave him a strong position?in the standings.
Jorg turned things around after the summer break with a victory at Silverstone, a maiden Eurocup pole at Le Mans and further three second places, which put him in front of his team-mate before the final race of the year.
He needed to take a podium to claim the title but a low starting position forced him to gamble and started on wets,?expecting?rain that never came.
Two victories and one pole position in three years is not an outstanding set of statistics, but Jorg's consistent performances earned him a respectable third place anyway.
He is one of four drivers in contention to become a Porsche junior driver for next year but, should he not win that opportunity, a step up in single-seaters would be deserved. 8/10
4. Ben Barnicoat

United Kingdom, Fortec Motorsports, age 18
174 points, 3 wins, 6 podiums, 2 pole positions, 1 fastest lap
Barnicoat was one of the most impressive karting graduates of 2014 by taking the Formula Renault 2.0 NEC title, mixing speed with maturity and consistency.
Had he possessed the same attributes this year, he might be celebrated as the 2015 Eurocup champion right now, but it?s not the case.
The Racing Steps Foundation-backed driver?s campaign was filled with bumps, coming to a head with a nightmare weekend at Silverstone. He was involved in the horror first-lap crashes of Fortec team-mates Jehan Daruvala and Ferdinand Habsburg in race one, then lost two potential podium finishes
The Briton produced a fine recovery from that point onwards though. Two faultless races earned him two victories, allowing him to stay in contention for the title until the final weekend, only to retire with an electrical issue there. He signed off the year with another win though to head a three-way fight for fourth.
The package of Barnicoat and Fortec was definitely one of the fastest of the year. Clearly ready to move on, he's linked with replacing RSF stablemate Jake Dennis at top Formula 3 team Prema after early tests. 8/10
5. Anthoine Hubert
172 points, 2 wins, 7 podiums, 2 pole positions, 2 fastest laps
The 2013 French F4 champion and top FR2.0 rookie last year, Hubert was always going to be considered as a title contender in 2015.
His consistent form in the first three rounds confirmed that status. It included three podiums, but he couldn?t do better than third on merit – his second place at Aragon was aided by chaos around him.
His Silverstone triple-header was a weekend with ups-and-downs – a dreadful first qualifying ruined race one and race two before a pole was converted into a maiden win on Sunday.
He managed to step on the podium once in every round from that point on, including another victory on home soil at Le Mans. He went into the final round with a realistic shot at the title and with great form, but luck was against him.
Despite being the driver with the most podiums, he was often not being able to bring the best out of himself.
While it would be good to seem him alongside his rivals in F3.5V8, a recent run-out in an LMP3 Ligier means he could have a future with the newly-established ELMS team Panis-Barthez Competition, which runs in collaboration with Tech 1. 8/10
6. Jake Hughes

United Kingdom, Koiranen GP, age 21
160 points, 1 win, 5 podiums, 1 pole position
Despite a relatively quiet debut in Formula Renault 2.0 NEC last year, the 2013 BRDC F4 champion?s move to Koiranen promised a season with lots of success for the Briton.
Indeed, Hughes started the first Spa-Francorchamps race from pole and, despite losing out to Ukyo Sasahara, he claimed his maiden victory on Sunday, completing a near-perfect weekend in the second round of the championship.
He was never able to finish a race in the top two afterwards but, with three further podium finishes in the next four races he was very much in the title fight.
Things started the go wrong at the Nurburgring ? he limped his way home to fifth after damage at the start in race one and could only do seventh in the second one. He was slowed over the final two rounds by an issue with the chassis that went unresolved, and he had to settle for sixth in the standings.
Hughes completed a season with few mistakes and for most of it he was able to match or even beat the pace of his more experienced teammate Aitken, proving his great potential.
His performances in post-season F3.5V8 testing are promising, suggesting he is more than ready for a step up. 8/10
7. Ukyo Sasahara

Japan, ART Junior Team, age 19
116 points, 1 win, 4 podiums, 1 pole position
After a year in Alps and another in NEC, Sasahara graduated to the premier FR2.0 championship and continued to deliver the good results as he had done previously.
While he lost some points through his aggressive style, the same thing allowed him to score a maiden pole and victory at Spa-Francorchamps.
The protege of Taki Inoue came back from the summer break with fourth and third places at Silverstone and second at the Nurburgring, which was followed by consistent top 10 presence in qualifying and races for the rest of the season.
Although he couldn?t do better than fifth afterwards, Sasahara did enough to be the top driver outside the six title contenders.
While his season suggests he could be fighting for the title next year, a driver spending more than three years in FR2.0 happens very rarely and it would probably be the best for Sasahara to move up the ladder. 7/10
8. Dennis Olsen

Norway, Manor MP Motorsport, age 19
101 points, 1 win, 3 podiums, 1 pole position
Following his first two racing seasons, which ended with a second place in the Eurocup, Olsen looked to be as similarly talented an FR2.0 graduate as champion Nyck de Vries, who went on to take third in FR3.5 this year.
Yet having failed to secure a seat in a higher championship, the Norwegian had to return for another year in the Eurocup, switching from Prema to Manor MP.
The goal was obviously the title and he kicked off his season accordingly, with a third place and a win in the chaotic third Aragon race. But while he was dominant at Spa last year, it was all frustration this time around as Olsen left Belgium with a single point and he couldn?t finish higher than 13th at the Hungaroring.
He somewhat recovered from that disastrous form by taking sixth twice at Silverstone and after another unsuccessful weekend at Nurburgring he was back on the podium at Le Mans.
It was a disappointing season but that doesn't undo his previous results, and his talent has been recognised by Porsche as a candidate alongside Jorg for junior status in 2016. He also made his F3 debut in the Zandvoort Masters with T-Sport, setting up a potential switch to the category. 6/10
9. Ignazio D'Agosto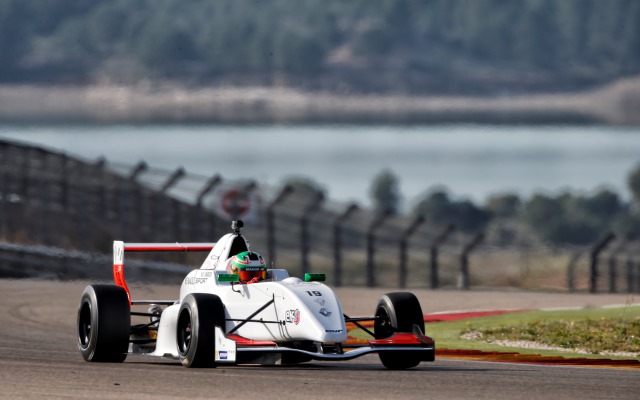 Italy, Manor MP Motorsport, age 21
94 points, 3 podiums, 1 fastest lap
D?Agosto was a late addition to Manor MP?s FR2.0 roster, joining Olsen and Sorensen at the team.
Having only missed two rounds from the previous three Eurocup seasons, the Italian continued where he left off last year and he nearly made it to the podium at Aragon if not for Kodric?s safety car incident.
Having started third, the first Hungaroring race saw him again lose out on a potential podium place due to contact with another car and he had further three retirements in the next five races.
His bad form did not last until the end of the season though, and D?Agosto took fourth at Le Mans before a hat-trick of podium positions at Jerez.
The fact he ended the year often beating 2014 runner-up Olsen and falling only seven points short in the standings makes his season a successful one?but D?Agosto is still yet to finish higher than eighth and, with four years under his belt, he has surely reached his limit.? 6/10
10. Matevos Isaakyan
87 points, 2 podiums, 2 fastest laps
One of the most promising FR2.0 newcomers of 2014, Isaakyan graduated to the Eurocup and continued with JD Motorsport.
The Russian, backed by SMP, was a close rival to F3 star Charles Leclerc last year but he couldn?t quite fulfil the high expectations this year.
The beginning was fine ? twice fourth at Aragon and then a podium at Spa from eighth on the grid was enough to put him fifth in the standings.
He lacked the pace to be a regular point-scorer afterwards though, only starting two of the next nine races from inside the top 10 until the season finale. He managed to convert one of them into a third place at the Nurburgring but apart from that only one point was added to his tally prior to Jerez.
Two sixth places and a seventh in Spain could not prevent him from dropping down to 10th in the standings.
The major problem in Isaakyan?s season might have been lack of track knowledge, not only at his end but also at JD?s as well, given the Italian squad was making a full-time return to Eurocup.While the team had guest appearances at Jerez, Aragon and Spa in 2014, which were the tracks Isaakyan did well this year, the other ones left them struggling.
Considering his young age, another year in Eurocup would do no harm but Isaakyan has impressed with Pons in F3.5V8 post-season testing, which could prompt a step up. 6/10
The rest

18-year-old Martin Kodric?s Eurocup debut was overshadowed by a serious collision at Aragon but the Croatian went on to improve and become a regular point-scorer in the second half of the season, which was highlighted by a second place at the Nurburgring.
Twice Formula Ford GB runner-up Harrison Scott and Darius Oskoui (back after two years out of racing) ended up as the top FR2.0 rookies, both bagging a podium finish with Scott taking second on home soil at Silverstone and Oskoui securing a third place in the chaotic wet Aragon race.
The Swiss driver finished that race ahead of Fortec?s Callan O?Keeffe, who was never in contention for a podium afterwards and pulled out with two rounds left.
JD?s second full-time entry Thiago Vivacqua and Tech 1?s Simon Gachet were unable to keep up with their teammates Isaakyan and Hubert respectively with the Frenchman ending up as the lowest-placed podium finisher.
James Allen?s second year in the category saw him scoring once at Aragon, while French F4 graduate Valentin Hasse-Clot, forced to switch from Strakka to Manor MP after the season opener before moving over to Fortec after two rounds, raced for more teams than he scored points, with the second switch yielding his best finish of ninth.
Entry-level stars Anton de Pasquale and Lasse Sorensen ended disappointing campaigns early,while Matthew Graham scored twice in the opening round but took no further part.
Amaury Richard and Hugo de Sadeleer ended up as the only full-timers to not score points.
The series welcomed 22 guest drivers for at least one round but only three of them – Force India junior Jehan Daruvala, BRDC F4 champion Will Palmer and top NEC rookie Max Defourny – managed top ten finishes.