Germany is the latest nation to adopt the FIA's Formula 4 rulebook, with ADAC F4 replacing the Formel Masters category that produced a number of star champions such as Daniel Abt, Richie Stanaway, Pascal Wehrlein and Marvin Kirchhofer.
The new series has proven to be extremely popular before a wheel was turned in anger, with 41 drivers on the entry list before the opening round at Oschersleben this weekend.
Intriguingly for a nation with manufacturers present in most areas of motorsport, the car being used is an entirely Italian affair, with a Tatuus chassis, Abarth engine and Pirelli tyres. That's exactly the same package that was successfully introduced in the Italian series last year.
The field includes some of last year's Formel Masters frontrunners, drivers arriving from other single-seater categories and a host of karting graduates, many with impressive achievements.
There's been plenty of attention thrust onto one driver, Mick Schumacher, but at PaddockScout we'll be covering all the races and all the winners. Here's our quick guide to the enormous grid.
Neuhauser Racing
Neuhauser had been a frontrunning team in Formel Masters for some years but found another step last year to beat the bigger Mucke and Motopark teams to take the title with Mikkel Jensen. It also took Tim Zimmermann to a highly impressive third as a rookie, and the German now returns for a second season in this environment. Should Neuhasuer get to grips with the Tatuus as well as it had done with the Dallara, Zimmermann must start as a favourite.
Despite its success last year, Neuhauser sticks to a two-car format. There's even more experience in the second entry, with Kim-Luis Schramm joining after two years with Mucke in Formel Masters. He only finished 14th and ninth in those two seasons but has compared very favourably to new team-mate Zimmermann in pre-season testing.
Mucke Motorsport

Feeding into its now five-strong European F3 programme, Mucke's F4 team has five drivers signed up. It might have strength in numbers, but the sum total of single-seater experience in Mucke's quintet is just six races. That comes from Russian Robert Shwartzman, a former top karter at European junior level who gathered some early F4 experience in Italy at the end of last year.
There's another KFJ ace in Mucke's ranks – David Beckmann. Part of the same Infinity management stable as George Russell, Dennis Olsen and Dan Ticktum, he was fifth in the European KFJ championship last year. Not 15 until Monday, he'll have to miss the opening round but will at least get experience in the Italian series before his ADAC debut.
Benjamin Mazatis steps up to a race seat as a Mucke protege having signed for a testing programme last year, much like Maximilian Gunther before him. Mike Ortmann moves up the ADAC ladder after several years competing in its Kart Masters categories. Austrian Thomas Preining has a strong record in Rotax Max karting, winning the Junior Euro Challenge last year and the SKUSA SuperNationals in 2013.
Motopark

For all its success in previous seasons, Motopark had a tough final couple of years with the Formel Masters car but its usual strength in junior single-seaters mean it should be able to bounce back in F4. Keeping on Joel Eriksson, Motopark's strongest driver from last year in P5, should no doubt help it. He's had a strong winter of testing and looked very quick to boot.
Michael Waldherr is new to the ADAC arena but arrives with a strong record, having finished third in the Formula BMW Talent Cup in 2013 and then taken second in the Sepang-based AsiaCup series last year. Jonathan Cecotto adds a familiar name to the grid, as the younger brother of Johnny Jr, while Jannes Fittje steps up after a strong 2014 in karting as the runner-up in ADAC Kart Masters KFJ and with eighth place in the European championship.
Van Amersfoort Racing

The vast majority of attention on the inaugural ADAC F4 season will be on one of Van Amersfoort Racing's cars, but all three of the Dutch team's drivers are worth watching. Having taken Max Verstappen to stardom last year, VAR now takes on the challenge of Mick Schumacher. The son of Michael moves up to single-seaters after finished second in the World, European and German junior karting championships last year.
Australian Joey Mawson might be the driver in VAR's trio without a famous surname, but he makes the move to ADAC F4 after finishing fourth in the French championship last year and has looked very fast in testing. Harrison Newey, son of Adrian, is only doing ADAC F4 as a secondary programme alongside his main focus in the BRDC series, but has looked good in single-seaters so far.
Jenzer Motorsport
Jenzer has a big advantage over the other ADAC F4 teams in that it ran the car in Italy last season, but it lacks any big name drivers.?Marek Bockmann leads the quartet, and makes the switch from Formula Renault 2.0 where he finished 20th in Alps for Jenzer last year.
David Kolkmann joins Jenzer after doing Formel Masters last year, finishing 14th in the standings. Moritz Muller-Crepon joins from the V de V championship, while Ricardo Feller steps up from Swiss karting, finishing second in Super Mini in 2013 and eighth in KFJ last year.
SMG

Swiss Motorsport Group is a new name but the team previously competed in Formel Masters as JBR. Despite running a livery that seems to pay tribute to the 2014 Sauber, SMG could well be frontrunners, particularly thanks to star signing?Mattia Drudi. Drudi finished runner-up to Lance Stroll in Italy last year, and his experience of the car could allow him to do more giantkilling this year.
Joining him is Giorgio Maggi, who has two years of experience from Formel Masters with Mucke to call upon, and Nikolaj Rogivue who did F3 races in the Austrian and German series last year.
HTP Junior Team
HTP Motorsport has become a leading team in GT racing in recent years, this year running Bentleys in GT3 series. Expanding into single-seaters and F4, it has secured a strong lead driver in?Marvin Dienst. The Formula BMW Talent Cup winner in 2012, he has finished in the top five in Formel Masters for the past two years and undoubtedly starts among the favourites this year.
Alongside Dienst is another driver with good experience and results in single-seaters already, Janneau Esmeijer. The Dutchman has competed in Formula Renault 1.6 NEC for the past two years, finishing third in 2013 and then being a title contender last year before slipping to sixth.
Lechner Racing

Lechner Racing was a fairly late addition to the ADAC field, arriving after the Formula Renault 1.6 European series was canned. Best known for sportscar success, Lechner only returned to single-seaters last year but were the dominant team in FR1.6.
Florian Janits finished third in that series and joins the team for their F4 switch. Marcel Lenerz makes a similar move, having been 13th in FR1.6 last year and contested a couple of Formel Masters rounds the year before.
Race Performance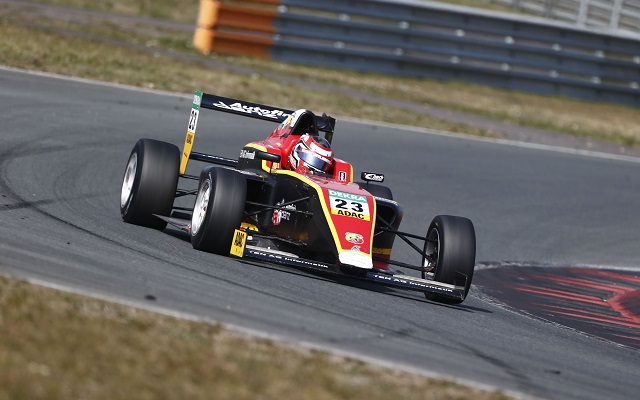 Another team entering ADAC F4 with sportscar pedigree is Race Performance. While its LMP2 programme is on hold for this year, it expands into single-seaters.
The team has a strong lead driver in Alain Valente, who finished fifth in Italian F4 last year for Jenzer. Alongside him is Marylin Niederhauser, partner of ex-GP3 and Race Performance racer Patric, who steps up from karting.
Team Timo Scheider
Two-time DTM champion?Timo Scheider has established a single-seater team for the arrival of ADAC F4 and has promoted one driver from his existing karting squad, Leon Wippersteg.
Joining him is Mauro Auricchio, who makes the move over to Europe after competing in F3 Brazil last year, and Russian Yan Leon Shlom, stepping up from KF karting after comping third in the Trofeo Industrie and eighth in the Trofeo Andrea Margutti last year.
Piro Sports

The Piro family makes the switch over to F4 from Formula Renault 1.6 together, with driver Cedric Piro having finished tenth in his rookie single-seater season. He was previously the ADAC KF3 champion in karting.
The team's other two drivers step up to F4 from ADAC Kart Masters, with Toni Wolf and Carrie Schreiner having finished fifth in the KZ2 and KFJ classes respectively in 2014.
RS Competition
Run by?Danish-German Robert Schlunssen, who was runner-up in the 2003 Eurocup Formula Renault 2.0, RS Competition arrives in ADAC F4 after success in Danish Formula Ford.
Jan Jonck moves across having finished runner-up in FFord, and also having competed in the Italian F4 Winter Trophy at Adria. His team-mate Glenn Rupp moves up from karting after finishing second in the German Rotax Senior class last year.
Other entries
Dutch squad Provily Racing makes a late switch from Formula Renault 1.6, bringing single-seater Job van Uitert with it. Van Uitert competed in Mazda MX5s in the Netherlands last year.
Luca Engstler, the son of touring car veteran Franz, makes his single-seater debut and is run by the family team.
Michelle Halder races as a privateer, graduating from karting after taking third in the ADAC Kart Masters X30 Junior category.
Also under a privateer entry is Robin Brezina, fourth in last years? national Rotax Max Challenge in the Junior class.
Completing the field for the opening round are two entries from leading Italian F4 squad Prema Powerteam, and the only date clash existing between the two series is their final rounds in October. Estonian Ralf Aron was runner-up in the NEC and Nordic FR1.6 championships last year, while China's Guan Yu Zhou arrives in cars as a member of the Ferrari Driver Academy.
Calendar
Oschersleben ? 25-26 April
Spielberg ? 6-7 June
Spa-Francorchamps ? 20-21 June
Lausitz ? 4-5 July
Nurburgring ? 15-16 August
Sachsenring ? 29-30 August
Oschersleben ? 12-13 September
Hockenheim ? 3-4 October