Our annual countdown of the best junior single-seater performers begins with drivers that include star GP2 and GP3 rookies, some Formula 4 aces and a trio of US standouts
50. Alex Palou
Spain ? age 18
10th in GP3
Max Verstappen wasn?t the only single-seater rookie to finish third in a pan-European series for Formula 3 cars last year. His former karting team-mate did it too ? albeit in Euroformula Open.
The latest protege of Alonso-spotter Adrian Campos, Palou?s next move was into GP3 with his manager?s new entry.
He defied a serious lack of experience within the squad to immediately show frontrunning one-lap pace. He qualified on the second row five times and only once outside the top eight.
Races were a different story. Technical woes, bad starts, contact and extreme tyre wear all ruined good grid spots. It wasn?t until his worst qualifying of the year in Spa that he finally scored points.
That marked an upturn and after a fourth place in Sochi, he won from reverse-grid pole in Abu Dhabi.
With funding tight (incredibly, Palou was the only full-time Spanish junior single-seater driver this year) the lack of results could easily have derailed his promising career, but that final flourish should propel him into 2016.
49. Nico Jamin
New entry
France ? age 20
USF2000 champion
Ex-French Formula 4 and Formula Renault 2.0 racer Jamin claimed a dominant title in his second season in the United States.
It wasn?t an easy feat, given that his competition came from drivers who finished third and fourth in 2014 (in Jake Eidson and Aaron Telitz), when Jamin had only managed ninth.
Jamin?s speed was devastating though, topping qualifying at every round bar the first, when Eidson swept St Petersburg.
A double win on the Indianapolis road course in May allowed Jamin to snatch the points lead from Eidson, and although he was beaten by his rival in the next two races, Jamin then went on a six-race winning streak to see out the season and seal the title in some style.
Jamin?s title was the fifth won by a Frenchman in six years of the Mazda Road to Indy and sets him up for a successful career stateside, starting with an assault on Pro Mazda in 2016.
48. Vitor Baptista
New entry
Brazil ? age 17????????????
Euroformula Open champion
Last year Pedro Piquet made this list after dominating Brazilian Formula 3, but while he stayed at home for a second season, former team-mate Baptista proved himself in Europe.
He had won the Lights title in Brazil last year for 2001-spec chassis, and was the only other driver to win more than one race outright.
Euroformula Open was a good route into Europe and he was immediately fast and into a title duel with second-year driver Konstantin Tereschchenko.
Throwing himself out of a first-lap lead in Austria created a 26-point deficit, but Baptista responded magnificently. Race two victory was the first of four straight wins, taking in a Spa double and the Monza opener.
By the end of that weekend he?d built a 32-point cushion, allowing him a low-key Barcelona finale.
His 2016 plans are unclear, with quite a step up in budget needed, but just today he's started testing with his RP Motorsport team in Formula 3.5 V8. Hopefully he can make the step after such a strong maiden European season.
47. Nobuharu Matsushita
New entry
Japan ? age 22
Ninth in GP2
At the time, Honda?s decision to put its Japanese Formula 3 champion straight into GP2 seemed brave to put it mildly, given his predecessor in the seat Takuya Izawa had struggled despite years of single-seater experience.
Matsushita was a revelation though. Yes, he benefited from the work of Stoffel Vandoorne and ART to make the team?s package one of the most competitive, but to qualify on the front row for his first race was outstanding.
Race results took a little while to come but after a Spielberg sprint podium he was running second ? ahead of his illustrious team-mate ? in the Silverstone feature race when a mechanical issue struck. A reverse-grid win ? in which he drove away from Vandoorne ? followed in Hungary.
His run-in was scrappy but he provided a reminder of his quality to finish second in the Bahrain feature race.
A lot of top drivers could return next year but with this season now under his belt, Matsushita could move himself right into contention. Going quickest on both his post-season testing days was a warning shot.
46. David Beckmann
New entry
Germany ? age 15
Fifth in ADAC Formula 4, fourth in Italian Formula 4
Beckmann wasn?t even old enough to contest the inaugural ADAC F4 event but ended the season as the rookie champion and fifth in the standings ? some achievement in a competitive and large field.
He won on his first single-seater weekend from a reverse grid, and a third Italian win came from a qualifying pole. He was in contention for the runner-up spot but when the final rounds of the two series clashed, he opted for the German series.
That paid off, taking his first ADAC win in his best weekend of the entire year, leaping from eighth to fifth and just one point behind his more experienced team-mate Robert Shwartzman.
The spotlight in year one of ADAC F4 was on Mick Schumacher but Beckmann upstaged his fellow rookie, just as he did to win the German junior karting title in 2014.
He looks a great prospect, which could be confirmed by coming back to win an F4 title next year. He?s tested frequently in F3 with Mucke however, even though he?ll miss the first two rounds on age grounds.
45. Ed Jones
Re-entry (39th in ?13)
United Kingdom ? age 20
Third in Indy Lights
Jones stunned the Indy Lights paddock when he and Carlin rocked up at the start of the year and won the two races in St Petersburg and the one in Long Beach.
The Dubai-born 2013 F3 Open champion had headed to the US with Carlin after an injury-hit campaign in the FIA series with the squad.
Those early wins would be the only wins, and his title bid gradually faded as a result, but the three victories alone made his campaign a success.
After that, some ragged races cost him points, most notably when fighting with Jack Harvey over the win at Mid-Ohio.
His pace remained good though for a rookie driver in a rookie team, even proving himself on an oval with second at Iowa.
Jones confirmed a second campaign back in October and with plenty of off-season preparation time and a full year?s experience for both driver and team, they could be hard to stop in 2016.
44. Joey Mawson
New entry
Australia ? age 19
Third in ADAC Formula 4
After his promise on the international karting scene, Mawson demonstrated his potential in French F4 last year and stepped that up a level with his performances in the German series in 2015.
He had single-seater experience and the ADAC F4 car was new to almost everybody, but Mawson was also unfamiliar with all of the circuits, unlike the two series veterans that finished up ahead of him.
While Mawson was always a title outsider, he and the top two were the dominant drivers and his five wins stacked up well.
Four of those were from reverse grids, but that proved an ability to come through the field when he wasn?t right at the sharp end and put him just two points short of Joel Eriksson, who had the speed to dominate three of the eight rounds.
Unfortunately, like for most promising Australians, funding to race in Europe is hard to come by and he?s relied upon the support of the national federation CAMS. Van Amersfoort may give him the chance to stay in F4 next year though at least, in which case he could be difficult to beat.
43. Jack Harvey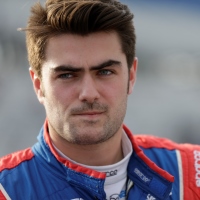 Re-entry (27th in ?13, series not covered in ?14)
United Kingdom ? age 22
Second in Indy Lights ?????????????????????????????????????????????????????????????????????????????????
Finishing second in a series for years running is never a good thing, but Harvey was unfortunate not to go one better than 2014, when he missed out on second-place countback.
The title slipped away on a strangely low-key final weekend as rival Spencer Pigot swept both races, but Harvey had also lost a lot of points from being twice taken out of a lead earlier in the season.
The new generation of car meant Harvey didn?t start the year with much of an advantage, and he had to play second-fiddle to rivals Jones and Pigot during early races.
A win did come on the Indianapolis road course and then again on the oval to take the points lead, which he held until the final round, but a six-point margin over Pigot wasn?t enough.
Despite his failure to win the title, Harvey?s rated by his SPM team and there?s been optimism over a possible IndyCar deal. He?s proven over a seven-year junior career that he?s good enough for that level.
42. Dean Stoneman
Down 32 ???????????
United Kingdom ? age 25
Sixth in Formula Renault 3.5
Stoneman?s deal to replace champion Carlos Sainz as a Red Bull Junior in the DAMS Formula Renault 3.5 squad didn?t work out as planned.
It started pretty decently. There were three podiums in the first four races including a fine second on his first ever time racing in Monaco.
But after running champion-to-be Oliver Rowland close in the Spielberg opener, things took a turn for the worse and he was never on the podium again. He was still on course for a quite respectable third in the final standings as top rookie, but a nightmare final round relegated him to sixth.
A ridiculous number of first-lap incidents contributed to his downfall, but a poor qualifying record undoubtedly played its part in that too.
Red Bull deals, particularly at Stoneman?s age, are a ?use it or lose it? opportunity and he?ll probably have to go his own way again next year. But, based on what we saw in GP3 in 2014 after fighting back from life-threatening illness, he undoubtedly deserves a professional career in racing.
41. Niko Kari
New entry
Finland ? age 16????????
SMP Formula 4 champion
The first SMP F4 grid was filled largely by youngsters backed by the Russian bank of the same name, but the first driver unveiled was one supported by the other body behind the Koiranen-operated series ? the Finnish federation ? and he would be the star of season one.
Previously a frontrunner in international karting, Kari trailed more experienced car racer Aleksanteri Huovinen over the first two rounds before taking charge, and a hat-trick at the penultimate round at Moscow secured him the title.
His won seven times and finished in the top two in 19 of 21 races.
Gauging the strength of a new series is hard, but Kari?s seven closest rivals had either raced single-seaters before or were engaged in multiple programmes.
His performances earned him a place on the Red Bull Junior Team for a European F3 campaign in 2016. It will be a big step but Kari has what it takes to be the next Finn flying towards F1.