To conclude our countdown of the top 50 junior single-seater performers of the year, here is the top 10. There's no prizes for guessing number one…
Earlier parts: 50-41, 40-31, 30-21, 20-11
10. Spencer Pigot
New entry
United States ? age 22
Indy Lights champion????????
America?s Road to Indy is a proper junior ladder with a clear structure and Mazda-funded scholarships, and this year it produced a home-grown champion at its top level as Pigot claimed back-to-back titles.
He arrived as Pro Mazda champion but was up against the 2014 Lights runner-up Jack Harvey, plus Carlin showed up and won its first three races with Ed Jones.
Pigot took solid podiums at those early street circuits though and then dominated at Barber to take the points lead.
Ground was lost after a tough trio of races at Indianapolis, and a second pair of wins at Toronto preceded another three low-scores, but he was just six points behind Harvey going to Laguna Seca, where a third weekend lock-out coincided with his rival faltering.
Pigot wasn?t consistent, but six wins was twice as many as anyone else and he topped the poles table too.
So far he has a deal for three 2016 IndyCar races with a good team in Rahal Letterman Lanigan, but deserves more.
9. Sergey Sirotkin
Up 27
Russia ? age 20
Third in GP2
Sirotkin enhanced his previously-mixed reputation with a fine rookie season in GP2, his third place bettered only by Stoffel Vandoorne?s 2014 among rookie campaigns in the Pirelli era.
It was Sirotkin who put a stop to Vandoorne?s dominance of feature races in 2015. After a quiet start, the Russian made the podium in Monaco and followed that with second in Austria.
He then produced a fabulous performance at Silverstone with pole, victory and fastest lap, all the more remarkable for the fact that he?d never driven the circuit before practice.
It would be his only win and two third-places in Hungary would be his last podiums, but Sirotkin remained a frontrunner. He beat Vandoorne and the rest into La Source at Spa but a brake problem sent him deep, and he led in Monza before being hit by Lynn. He continued to race into top-five results from unfavourable grid positions thereafter.
The Formula 1 talk of 2013 was far too soon and his Formula Renault 3.5 stint inconclusive, but Sirotkin proved this year he?s good enough to make the top class one day.
8. Felix Rosenqvist
Up 24
Sweden ? age 24
FIA F3 European champion, Macau Grand Prix winner
Rosenqvist extended his Formula 3 career for another year after securing a seat with Prema, and saw off some tough competition to become the team's fifth straight European champion.
His combination with Prema was unrivalled in pace terms, taking pole for more than half of the 33 races.
Technical infringements, half-point victories, being crashed into by a team-mate and a couple of off-colour weekends meant he didn?t lead the championship between races one and 26, but a late-season winning streak wrapped up the title with a round to spare and gave an exaggerated feeling of year-long dominance.
Of course he always should have won the championship ? and retained his Macau Grand Prix title ? but nothing is ever that straightforward and both were fine achievements regardless.
His placing below his rivals here is not because Rosenqvist did anything wrong, but because they stood out more by giving him a hard time. He?s always been good, and maybe the profile generated by his 2015 success will finally create the higher opportunity he?s long deserved.
7. Antonio Giovinazzi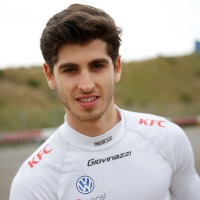 Up 18
Italy ? age 22
Second in FIA F3 European Championship
Giovinazzi was beaten by Rosenqvist, wasn?t mistake-free and hardly a Formula 3 rookie, but that doesn?t tell the whole story.
Carlin was never really a match for Prema, at least not in qualifying. Giovinazzi took its only four poles (to Prema's 23) and was regularly way clear of some pretty decent team-mates.
Magnificent consistency over the opening rounds made him the early leader, and after losing out through a few non-scores, he was back on top with fine Zandvoort and Spielberg weekends.
He couldn?t match Rosenqvist all the way to the end but it was still a strong campaign, and Trevor Carlin was certain he?d have won in Macau had he not been harshly penalised for a racing incident.
Giovinazzi might have had three years in F3, but his prior cars experience consisted of six weekends in Asia and one at Monza at a time when Rosenqvist was already well-established in F3.
He convinced Audi to give him a DTM debut as a substitute in the summer but not to alter its conservative approach to its line-up for 2016, and so it?s unclear whether he'll get the chance he deserves next year.
6. Matthieu Vaxiviere
Up 40
France ? age 21
Second in Formula Renault 3.5
Vaxiviere reached a new level in 2015 as he pushed overwhelming favourite Oliver Rowland hard for the Formula Renault 3.5 title.
He had shown well late last year after an injury lay-off, and was very quick in winter testing, but to be the thorn in Rowland?s side that he was showed a significant step forward in Vaxiviere?s game.
After an audacious final-sector move to get his first win at Aragon, he matched Rowland?s victories at Spa and Spielberg too.
He might have been able to continue that form without the scrapping of the rule enforcing low-downforce setups for Saturdays, which he and the Charouz-run Lotus squad had focussed on in testing.
He never backed down, even though there were moments when his tenacity got the better of him.
If there was any justice he?d get a crack at GP2 next, but his post-season has consisted only of his usual Andros Trophy ice racing plus shakedown and coaching work with new 3.5 team owner Amato Ferrari, even though the latter might open up more endurance outings.
5. Charles Leclerc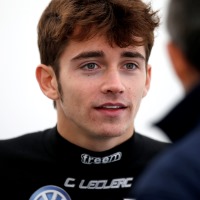 Up 13
Monaco ? age 18
Fourth in FIA F3 European Championship, second in Macau Grand Prix
Leclerc shone immediately upon his arrival in Formula 3 at the start of the year. He had replaced his former karting rival Max Verstappen at Van Amersfoort, but his early form was more akin to that of fellow Francophone Esteban Ocon, with two wins and six other podiums from the first nine races.
More success at Spa put him into the championship lead, but after another winning weekend at the Norisring, he incredibly didn?t finish on the podium again.
That left a cloud hanging over his season, until an incredible Macau debut in which he pushed Rosenqvist hard until the end.
To have rivalled vastly more experienced drivers ? themselves near the top of their games ? showed his talent, and despite the pressure to keep performing, there were also no notable errors beyond contact at the first green-flag corner of the season.
A GP3 campaign is up next, and he fired an ominous warning shot in his first tests. Oh, and there?s the small matter of a rumoured place in Ferrari?s academy too, a particularly significant step for this protege of not only Nicolas Todt, but also of Jules Bianchi.
4. Luca Ghiotto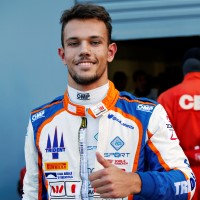 Re-entry (45th in ?13)
Italy ? age 20
Second in GP3
Ghiotto wasn?t considered a title contender when he made the full-time switch to GP3 after a low-key FR3.5 campaign, but the Italian and his Trident-run machine in perfect harmony was a potent combination and a joy to behold.
He was so devastatingly quick, it sometimes looked like he was driving a car from another category. In addition to five poles from the first six events, that was best highlighted by his charge from sixth to pass Esteban Ocon for the lead in Sochi within less than a lap.
That day made Ghiotto look invincible, but eventually Ocon did defeat him. The finale showed a potential mental weakness, but that wasn?t really where he lost it.
His stall at Monza and subsequent retirement was critical, but it did set up another stunning drive on Sunday with a charge to third from the back.
He had to settle for second in the end, but Ghiotto can hold his head high for having taken one of the most exciting drivers around down to the wire and marking himself out in spectacular style.
3. Esteban Ocon
Down 2
France ? age 19
GP3 champion
Now Ocon has back-to-back European F3 and GP3 titles, it?s crazy to think how uncertain his future looked last winter.
GP3 was certainly not ?Plan A? but Ocon and ART seemed like a match made in heaven and when he won on debut, you?d have been forgiven for thinking that was that. Somehow, he never won again.
Instead, he went on an unbelievable run of nine straight second-places. When he let a race-one win slip, there was frustration and a trademark glum expression, but that was replaced by delight at charging through to the same position in race twos.
Those reverse-grid drives were crucial, none more so than in Sochi just hours after his defeat by Ghiotto.
He did it the hard way, but sometimes all that matters is that you do it. Regardless of reputation, Ocon and ART weren?t a straight match for Ghiotto and Trident, and nothing other than consistency would have got the job done.
At the very least he seems to have a future with Mercedes, but that really ought to include F1 one day too.
2. Oliver Rowland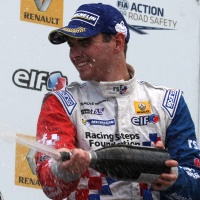 Up 7
United Kingdom ? age 23
Formula Renault 3.5 champion
Much like Carlos Sainz and Kevin Magnussen before him, the always-promising Rowland came of age in 2015 to win the Formula Renault 3.5 title in convincing fashion.
Rowland broke their records however, with eight wins during the year and 10 in the series in total.
Though the pre-season favourite failed to achieve his goal of a crushing double win, he demonstrated his dominance in a different way by winning once at every full race weekend.
The only circuit he didn?t win at was Monaco after first-corner contact from behind, but instead produced perhaps the most stunning drive of the season to come back to sixth.
If there?s any doubt over the quality of the FR3.5 grid, Rowland showed how he stacked up against the GP2 field in a pair of outings with MP Motorsport in the summer, overtaking Stoffel Vandoorne at Silverstone to enforce the Belgian's only non-score and qualifying alongside him on the front row at Spa.
With the support of Derek Warwick and the Racing Steps Foundation, Rowland has matured into a top racer and now a champion.
Like Ocon he?s been in this top 10 for three years now, and don?t be surprised if he?s here again after his first full GP2 campaign.
1. Stoffel Vandoorne
Up 2
Belgium ? age 23
GP2 champion
Vandoorne concluded an outstanding junior career with one of the most impressive GP2 campaigns ever, breaking a number of series records along the way.
Having been runner-up in his rookie season in 2014, he was a comfortable pre-season title favourite but his dominance was still outstanding.
Four consecutive feature race wins at the start of the year pretty much put him out of sight, together with working his way through to second in each of the sprint races with the (understandable) exception of Monaco.
He only won at one of the next five rounds ? on home soil at Spa ? but remained a consistent frontrunner and made good on his supremacy by wrapping up the title with two rounds still remaining, and not just one?
With that weight off his shoulders, he took another pair of commanding wins in Bahrain and Abu Dhabi to sign off in style.
His seven wins in a season was a record, as is 11 wins in total, and they were achieved despite being the least experienced champion of the last six seasons.
Vandoorne looks as complete a driver as you're ever likely to see at junior level. We must wait to see him in Formula 1, but it should be worth the wait.