The penultimate instalment of our end-of-season rankings, with those who just missed out on the top 10.
20. Richard Verschoor
New entry
Netherlands?? age 16
SMP Formula 4 champion
Spanish Formula 4 champion
A win in his first major car race (in front of the Formula 1 teams in Sochi), combined with his strong karting resume, earned Verschoor an immediate place on the Red Bull Junior Team – just days before a certain other?Dutch teenager won the next grand prix.
Initially, Verschoor struggled to perform in his new colours, with poor starts a particular issue. But he ended a tough two weekends on home ground at Zandvoort with a win, and he couldn't be?stopped after that.
He achieved a run of five consecutive?hat-tracks across the SMP and Spanish series over the summer on his way to both?titles, and he took another two in Spain before the year was out. He won all but three of the 20 races in the Spanish series, and a further 11 in the SMP category.
He went up against tougher opposition in outings in the German and Italian series, but made the podium on his sole appearance in the latter and was quickly a top-six fixture in two rounds in the former, with the disadvantage of being on unfamiliar tyres.
F3 might have seemed like the natural next step for Verschoor (who only turned 16 last week), but he will instead head for Formula Renault in 2017 with MP Motorsport, the team that engineered his move into, and success in, F4.
19. Joey Mawson
Up 25
Australia?? age?20
ADAC?Formula 4 champion
MRF Challenge leader
Having come third last year, anything other than winning the ADAC F4 title would have been a surprise from Mawson, but he got the job done in impressive style, largely dominating a deep?and competitive field.
Two wins and a second at the opening round set the tone,?but in Mick Schumacher he had a friendly rival (the pair were team-mates in 2015) who kept him on his toes, cutting the Australian?s lead to just three points with his?double win at Lausitz.
Mawson was undoubtedly the class of the field though, and took at least one ?feature race? win at each of the remaining five rounds.?Some damage and penalties incurred in the pack stopped him from running away with it, but he put the title out of Schumacher?s reach with two races to spare.
While it's true that he was older and more experienced than his competition, he's clearly very talented also.
He is now targeting the step up to Formula 3 with Van Amersfoort, which rates him, is well off?for budget and has given him several tests, but needs to be allowed?a fifth entry in order to run him.?That he matched?Joel Eriksson so closely in ADAC F4 in 2015 is a sign of what he could be capable of.
In the meantime he's chasing another title in?the MRF Challenge, which he leads after the first two events.
18. Max Defourny
New entry
Belgium?? age 18
Third in Eurocup Formula Renault
Second in Formula Renault NEC
Impressive in his rookie season in 2015 and rapid in winter testing, Defourny began the season as a title favourite in Formula Renault and was the man to put up the biggest fight against Lando Norris.
He began perfectly with a win from pole in the Eurocup opener at Aragon, but that would somehow prove to be his only win in that series all season.
That certainly wasn't for a lack of speed, or a lack of effort, with Defourny providing a highlight of the entire racing season as he duelled?Norris for victory at the Red Bull Ring.
Consistency kept him in touch with Norris until his home circuit of Spa, where he had an erratic pair of races when he had the speed for so much more. At Estoril he charged from 11th to challenge Norris on the last lap, where contact cost him the championship runner-up position he deserved.
He did get second place in the NEC, where he was a three-time winner, including one occasion?where he did get the better of Norris in a straight fight at Assen.
The results weren't always what he wanted but his speed, particularly in race-trim, was superb, and he deserves credit for being the one to trouble Norris the most. He's sampled Formula V8 3.5 and GP3 ahead of his next move.
17. Luca Ghiotto
Down 13
Italy?? age?21
Eighth in GP2
Ghiotto proved in his step up?to GP2 that his superb GP3 form of last year was no fluke.
Making that move within Trident – a team without a strong GP2 record – was never going to be ideal, but he was competitive throughout the season, and after a rocky start in terms of results, he became a consistent frontrunner.
He came close to a feature race podium in Austria, pushed hard for the sprint race win at Silverstone and was second to the fortunate Sergey Sirotkin in the Hockenheim feature. There was a further?podium in the Spa sprint, and may have been another in the Monza feature were it not for?the safety car bungle.
His Sepang sprint win was well-deserved, and it was significant?that it came through keeping Raffaele Marciello at bay, since he did what his compatriot couldn't last year by taking Trident to victory.
Fifth overall was in reach before his least competitive showing of the year in Abu Dhabi, and although Antonio Giovinazzi has redefined what was possible for a GP2 rookie, Ghiotto did nothing to suggest he?couldn't do similar to his compatriot?given the same opportunity.
His ride?next year could indeed come with the Jagonya Ayam scheme, but instead of getting a plum seat at Prema, he will likely have to try and bring Arden back to its best. Based on his efforts this year, he's capable of that.
16. Raffaele Marciello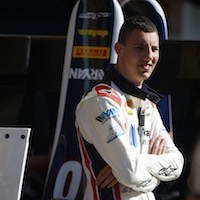 Re-entry (21st in 2014)
Italy?? age?22
Fourth?in GP2
Marciello ensured he didn't disappear from public consciousness after departing the Ferrari Driver Academy last winter with a good?third year in GP2.
He managed to remain in title contention until the final round, a fine effort against the rapid Prema pair in a Russian Time car he couldn't place on the front row all year. Scoring points in all bar three races, his consistency was beneficial in a season of widespread inconsistency.
However, for a second year, he went winless, and it wasn't from a lack of opportunities. He led the feature races at Baku, Spielberg, Hockenheim and Monza (all as a serious win contender, not just out of sync on strategy), but he couldn't convert any of them.
Having decided there's nothing to be gained from carrying on in 2017, Marciello's time in GP2 will go down as an enigma.
How could his magnificent triumph over Stoffel Vandoorne in the wet at Spa in his rookie season be his only win? And how did the man who won 13 times on his way to the European F3 title aged 18 not even come close to making it to F1? These are questions not so much for Marciello as for Ferrari, which tasked itself with developing one of Italy's best prospects.
15. Antonio Fuoco
Re-entry (23rd in 2014)
Italy?? age?20
Third in GP3
This was more like it from Fuoco, who has struggled to demonstrate?the same brilliance that took him to a Formula Renault title in his first season in cars three years ago.
He was able to maintain a title challenge all the way to the final round, even though it never really looked as if he would beat his new Ferrari Driver Academy stablemate Charles Leclerc to the crown.
With his three team-mates proving to be nowhere near his level, Fuoco had to single-handedly keep?Trident competitive with the new car, up against a four-strong ART super-team.
Accordingly, qualifying was a struggle, never making the front row of the grid, but Fuoco raced well and got on top of the Pirelli tyres, with his wins at Silverstone from sixth on the reverse grid and in the Hockenheim opener from fourth the clear highlights.
His great form from the first half of the season couldn't be repeated in the second, and?his title hopes effectively ended?with an erratic race from reverse-grid pole in Malaysia.
With ART, Fuoco may well have fought Leclerc closer. Or he might have cracked under that?pressure. There'll be nowhere to hide from that next year, when he steps up to GP2 alongside him at Prema.
At a time when Ferrari has rightly signed up?Giovinazzi as a proven?Italian talent, it's a chance for Fuoco to show – in the very same car – that it's been backing the right horse?all along.
14. Callum Ilott
New entry
United Kingdom?? age?18
Sixth in FIA F3 European Championship
Dropped by Red Bull after being unable to 'do a Verstappen' after it promoted him from karts to F3, Ilott quickly showed Helmut Marko what he was missing when he won on his first weekend as an independent at Paul Ricard.
He was a winner again at the Red Bull Ring, where he emerged as Lance Stroll's biggest challenger on track and in the standings, but next time out at the Norisring he ruined a superb fightback from an engine-change penalty by crashing into Joel Eriksson, handing Stroll victory on a plate.
His challenge faded thereafter, not helped by?Van Amersfoort showing a similar drop-off in pace to 2015.
With two rounds to go he was within five points?of third place, but his last six races consisted of one podium, another lost to a technical infringement and several incidents, and he slipped to sixth.
Ilott proved his talent and his progress in Macau though, a year on from his?fast but crash-filled debut. He was a pacesetter from the start and led through the first corner of the main event, even though the sort-out at Lisboa and a lack of balance left him fifth by the end.
Next year he will team up with Prema,?where he could thrive and become the team's next F3 champion.
13. Sergey Sirotkin
Down?4
Russia?? age?21
Third in GP2
It was a frustrating season for Sirotkin, and he wasn't afraid to show it.
Stepping into Stoffel Vandoorne's shoes at ART, the pressure was on the Russian, and at times it showed, most notably with his spin and crash in Barcelona and Monaco respectively while chasing Norman Nato for victory, leaving him point-less until a double podium in Baku.
Still, in a team that had lost its engineering?guru Guillaume Capietto to Prema over the winter, Sirotkin frequently proved his sheer speed, claiming three pole positions and being the only man capable of troubling Pierre Gasly and Giovinazzi on a regular basis.
His first win in the Hungaroring sprint race was long-awaited but brilliant, charging from sixth on the grid. The victory that followed in the next race at Hockenheim – where he pitted twice yet?finished 13 seconds clear – was lucky but still a magnificent drive.
His second place in the sprint put him into the championship lead, but he would be left rueing a ragged run-in just as much as his?dreadful start to the year, with poor weekends at Spa and Monza quickly dragging?him out of touch.
Sirotkin's weaknesses?are nothing a season with?Prema wouldn't sort out – particularly given that his most impressive?campaigns have been with Italian teams – but it remains to be seen whether he will race at all next year, with the best GP2 seats already secured. A continued role with the Renault F1 team looks a possibility, alongside a future in the SMP Racing LMP1 project that will operated by ART.
12. Jake Dennis
Up 2
United Kingdom?? age?21
Fourth in GP3
This was a make-or-break season for Dennis' single-seater ambitions, coming with the insurance policy of maiden sportscar forays through Arden's new partnership with the Jota LMP2 squad.
Though it did indeed?prove likely to be his last year on the F1 ladder, it was far from a failure.
As an F3 convert, Dennis has to?be compared with Leclerc and Alex Albon, and to begin with he was well in their shadows as he struggled to extract any performance from the Arden package.
During the summer break he was only ninth in the standings, but in the second half of the year he scored more points than anyone else, notching up 110 of his final tally of 149.
Arden's superior tyre preservation began to?shine through with Dennis going from 13th to second at Spa, and it then began to nail qualifying too, enabling him to win the first race at Monza. He also claimed the Sepang sprint.
Dennis, whose height costs him a couple of tenths, proved his class with that run, even though?it wasn't enough to justify further single-seater expenditure from?the Racing Steps Foundation. A good career ought to await him elsewhere.
11. Jack Aitken
Up 4
United Kingdom?? age?21
Fifth in GP3
The way Aitken grabbed?two Formula Renault titles at the end of last year was impressive, but his 2016 efforts were arguably even better.
He ended the GP3 season as easily the championship's top 'true rookie' – that is, discounting those to have made the insignificant step up from European F3 – thanks to an incredible run of form at the end of the year.
That was in stark contrast to the beginning of the season, when he was unable to break into the top eight in the?Saturday?race?during the first four events.
When he finally did this in Germany, a reverse-grid race podium followed, and he capitalised on Arden's upturn after the summer break to win at Spa, from 14th to fifth on Saturday and fourth to first on Sunday.
He followed team-mate Dennis home for second at Monza, then finished on the podium across all four 'flyaway' races, only denied a race one?win in Abu Dhabi by contact from an understandably desperate Alex Albon. By this point he was outperforming F3 convert Dennis.
Further strong showings came at either end of the year with RP Motorsport, initially in Euroformula Open with two wins from two events, later in Formula V8 3.5 where he qualified in the top three for all four races but didn't get in enough start practice to take a strong race result.
Fast over one lap and even better in race trim, Aitken showed his Renault Sport Academy status should be more than just a token gesture for being Eurocup champion, and he would have been?worthy of?a top-10 place in this list.
He'd also be worthy of step up in machinery for 2017, but he seems keen?on boosting his reputation further with a GP3 title bid, potentially with ART.