Recently, Eurocup Formula Renault 2.0 has been everything we love in junior single-seaters ? the close racing among some of the best talents on famous European circuits has never failed to be entertaining as well as to be a perfect stepping-stone for up-and-coming drivers.
After failing to triumph two years ago, Nyck de Vries returned to the series for a third season in 2014 and for a driver of his talent with such experience, it was no problem claiming the title. As expected, the McLaren protege now moves up to Formula Renault 3.5 alongside other Eurocup regulars such as Bruno Bonifacio, Egor Orudzhev and Aurelien Panis.
Alex Albon meanwhile took the same path Esteban Ocon did this time last year and switched to FIA European F3.
For 2015, we have another high-key returnee in last year?s runner-up Dennis Olsen. Although he has the talent to dominate the field, other experienced drivers and some of the cream of the crop from the 2014 Formula Renault 2.0 NEC and Alps will surely make his life difficult.
Koiranen GP
Having been the top Eurocup team and four-time race winners in GP3, Koiranen enjoyed a lot of success last year. Their forthcoming season will also include running the FIA-compatible SMP F4 series but they will continue to have a strong presence in Formula Renault 2.0 racing. They will team up with one of the form men from the end of last season, while two entry-level champions have also joined their line-up.
1. Anton de Pasquale
Australia, age 19
2014: Formula Renault 1.6 NEC, champion
De Pasquale is one of three drivers who make their competitive debut in Formula Renault 2.0 cars this weekend, as the other newcomers to the class took part in either the NEC or Alps season opener two weeks ago. Formula Renault 1.6 graduates had a tough time adapting last year but the Australian might just be able to do the opposite this time around.
In 2014, De Pasquale absolutely nailed his European racing debut by winning Renault?s entry level championship in a dominant fashion, taking full advantage of the Formula Ford experience he gained in his native country Australia. Although his title granted him free entry to NEC, he decided to join the top-level FR2.0 championship instead.
Having joined the defending teams' champions to race alongside two experienced drivers, he can easily end up fighting for points from the get-go. However, as last year?s best Formula Renault 2.0 rookie Anthoine Hubert was only 15th in the standings, expectations should not be too high.
2. Jake Hughes

United Kingdom, age 20
2014: Formula Renault 2.0 NEC, 8th; Eurocup guest driver
After putting himself on the map by being the first-ever BRDC F4 champion, Hughes had a learning season last year as he raced in NEC and was also selected to be part of BMW?s GT Junior Programme.
Signing with Mark Burdett Motorsport before switching to ART Junior Team for the final two rounds, Hughes featured in the top ten regularly. His first and only podium of the season, a third place, came at Silverstone, while he also took his second-best finish there, showing he could be at the sharp end with some experience.
Although in the Eurocup he will again spend most weekends learning new tracks, with a year's experience in the car, he can easily end up fighting for victories from the beginning.
3. Jack Aitken

United Kingdom, age 19
2014: Eurocup Formula Renault 2.0, 7th
Despite taking third in Intersteps and second in NEC, the first two years of his career saw Aitken under the shadow of Matt Parry, with whom he shared the same career-path. They were again teammates in Eurocup last year but the tables turned and it was Aitken who started to score podiums regularly, including a victory at the Hungaroring.
After failing to get a better result than 17th in the first two weekends, Aitken became one of the fastest drivers of the field by the end of the season. He deservedly secured a seat with Koiranen where they will expect him to lead.
His pre-season form has been more than promising as he ended all three days of testing in the top three. He also became the 2015 Pro Mazda Winterfest champion by winning three out of five races, indicating he is in the same great form he ended 2014 with.
Fortec Motorsports
The British team had a somewhat disappointing campaign last year as they were struggling with the car in the first half of the season. They seemingly sorted out the issues for the final rounds and led by Aitken, they eventually ended up third in the teams? standings. For the third year in a row they promoted a NEC champion to lead their Eurocup assault, and being joined by three other drivers, Fortec will kick off as the team with the biggest line-up in the field.
5. Martin Kodric

Croatia, age 17
2014: Formula Renault 2.0 NEC, 18th; Formula Renault 2.0 Alps, 19th
Kodric enjoyed a successful karting career but his first car racing season in 2014 was no more than a learning experience. The Croatian completed a total of 41 races last year, 27 of them in a Formula Renault 2.0 car.
He took part in both NEC and Alps as a full-timer with the latter being prioritized on one clashing occasion. Kodric ended up around the same place in both series but his standout results were in Alps ? taking an impressive fifth on the streets of Pau and seventh at Monza.
While the previous season was about the rather big jump from karting to driving Formula Renault 2.0 cars, now is the time for Kodric to prove himself. He was just outside the top ten in pre-season testing so being a regular point-scorer is probably not too much to ask.
6.

Ben Barnicoat

United Kingdom, age 18
2014: Formula Renault 2.0 NEC, champion; Eurocup guest driver
2014 saw two star karters moving into Formula Renault 2.0 to have a fantastic debut ? Charles Leclerc and Ben Barnicoat.
Being backed by Racing Steps Foundation, Barnicoat did not disappoint as he became the first karting graduate who won NEC. Barnicoat showed maturity from the get-going and did just enough to claim the title.
He now moves up to Eurocup, following the footsteps of previous champions Jake Dennis and Matt Parry. Although none of them managed to win a race in their respective seasons, Barnicoat?s testing pace and the fact he still has potential to improve indicates he could be able to break this pattern.
7. Callan O?Keeffe

South Africa, age 18
2014: Eurocup Formula Renault, 16th; Formula Renault 2.0 NEC, 7th
In 2013, a low-key ADAC Formel Masters campaign saw O?Keeffe dropping out of Red Bull?s junior programme. However, he soon found support from Lotus and took on a double campaign of Eurocup and NEC with ART Junior Team.
He was quickly on pace in Eurocup, taking fourth at Spa and fifth as Moscow but he was unable to finish higher than tenth for the rest of the campaign and he ended up 16th. In the less competitive NEC field he showed more, taking a dominant victory at Assen as well as two second places at Silverstone and Hockenheim respectively.
The silly season was not easy for O?Keeffe as he lost his Lotus-backing but the South African secured a deal with Fortec regardless. He forms a strong duo with Barnicoat and he should be at the sharp end.
8. Luke Chudleigh

Canada, age 20
2014: Formula Renault 2.0 Alps, 12th; Eurocup guest driver
Chudleigh will take on his third season in Formula Renault 2.0 cars, switching from Tech 1?s Alps squad for Fortec?s Eurocup line-up after two years.
After a learning year in 2013, the 20-year-old had a much better sophomore season in Alps. Being a regular point-scorer with a best finish of fourth at Spa, he became the best Tech 1 driver of the field and took 12th in the standings.
He spent the pre-season testing in the bottom-half of the timesheets, suggesting he will need some more time to show his best.
ART Junior Team
Following the success they enjoyed with Esteban Ocon two years ago, the French outfit had a decent 2014 campaign with a competitive driver trio. Despite beginning the season with numerous top five finishes, good results came more and more rarely towards the end. They had a quiet silly season, even missing the first two days of the testing, but they eventually recruited two drivers.
9. Ukyo Sasahara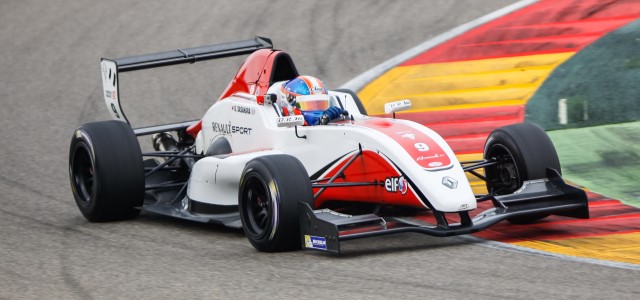 Japan, age 18
2014: Formula Renault 2.0 NEC, 6th
One of few Japanese talents of the European junior single-seater scene, Sasahara continues to participate in FR2.0 for the third year in a row. Thanks to Taki Inoue?s mentorship, Sasahara has been working with Euronova in the past two years.
However, as the Italian team switched focus to other categories, the Japanese youngster?s move to Eurocup saw him joining ART. He started with Alps and, being a car racing novice, he did well to be a regular point-scorer. He then switched to NEC where a maiden podium was followed by an even more consistent run, which saw him take sixth.
He started the new season returning for the NEC opener, where he collected his maiden victory in car racing. He seems to be in good form and his consistency will be crucial for a good Eurocup campaign.
11.

Darius Oskoui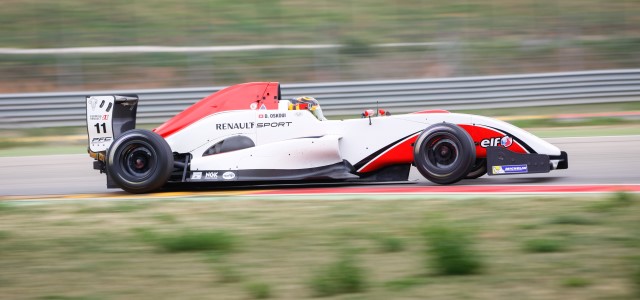 Switzerland, age 17
2014: -; last previous result: 2012 French F4, 6th
After impressing in French F4 at the age of 14, Oskoui was set to join ARTA?s FR2.0 squad for two years in a row but he was sidelined both times. For the third attempt however, the Swiss driver will debut in the series.
In fact, he?s already past his FR2.0 debut, taking part in the NEC season opener at Monza where he grabbed a promising fourth.
Oskoui, who is still only 17, has been testing the car regularly in the past two years but he?ll still have to shake off the rust, having been away from racing since 2012. Once he is over that, his talent and a more experienced teammate in Sasahara could do wonders.
Josef Kaufmann Racing
After the collapse of Formula BMW, Josef Kaufmann established his team as a top Formula Renault squad by winning the Eurocup with both Robin Frijns and Stoffel Vandoorne. This was followed by two seasons with less success and one victory altogether. The German team opted for continuity and experience for 2015; their Swiss duo together have four years of FR2.0 experience.
14. Louis Deletraz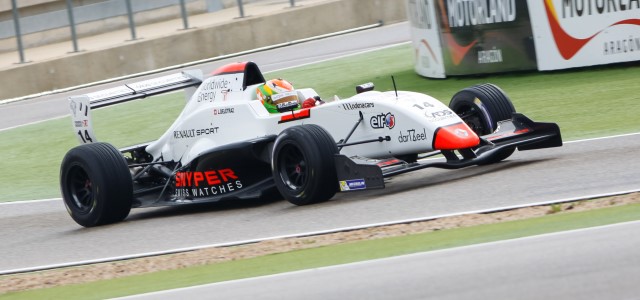 Switzerland, age 18
2014: Formula Renault 2.0 NEC, 2nd; Eurocup guest driver
Deletraz will begin his third year with Josef Kaufmann Racing, but this will be his first full Eurocup season. Deletraz, son of former F1 driver Jean-Denis, showed massive improvement over his first couple of seasons, improving from 19th to runner-up in NEC.
He will spend another year in the NEC, but his priority will be the Eurocup this time around and his experience and speed ought to mean he's a frontrunner.
Having leading pace in testing and being the fastest driver of the NEC season opener, which featured several Eurocup regulars, makes Deletraz a contender for victories if not more.
15. Kevin Jorg

Switzerland, age 19
2014: Eurocup Formula Renault 2.0, 6th
Similarly to his teammate, Jorg has also been racing in FR2.0 since 2013 but, unlike Deletraz, this is going to be his third season in Eurocup as well.
Jorg has other similarities to Deletraz?s career as the former Formula Abarth contender?s sophomore season in Eurocup saw him turn from a backmarker to a race winner and regular point-scorer. He stood on the podium on two occasions only though, and he was found outside the top ten a bit too often to be considered a real threat.
Being another mature driver, Jorg would only need to be at the sharp end a bit more often to become a title contender. Teaming up with Deletraz could result in a great duel, bringing out the best of both of them.
Manor MP Motorsport
The Dutch outfit will take on their fourth season under this name and, as usual, they focus on experience over rookies in their line-up. After ending up on the losing side of the 2013 title fight with Oliver Rowland, they collected two victories with fourth-placed Andrea Pizzitola a year later. Their line-up for the season opener consists of three drivers to watch ? the highest-placed returnee, the most experienced driver and the most anticipated rookie.
17. Dennis Olsen

Norway, age 19
2014: Eurocup Formula Renault 2.0, 2nd
In most cases when a driver takes the runner-up spot in a championship, it means he is ready to take the next step in his career, as was expected of Olsen. However, the Norwegian driver failed to get the necessary budget together in order to move on and returns to the series for an obvious title assault.
As a karting graduate, Olsen finished just behind Matt Parry and Jack Aitken in NEC only to jump ahead of the British duo as well as the rest of the Eurocup field bar Nyck de Vries in his maiden Eurocup run. Although he finished second in the standings, his rookie campaign was far from perfect.
His track knowledge from NEC proved to be crucial as he took two victories, a second and a fourth place at the tracks he had raced on before. Apart from that, he was merely a consistent point-scorer with a best finish of fifth.
Olsen will no doubt enter as the title favourite but it?s never easy in junior single-seaters to live up to expectations like that.
18. Lasse Sorensen

Denmark, age 18
2014: French F4, champion
The French F4 champion is traditionally surrounded by anticipation during his first FR2.0 season and it?s no different with Sorensen either. Although it might seem he will be behind his teammates due to lack of experience, Sorensen has actually been racing for longer than Olsen, with the Dane spending two seasons in Formula Ford Denmark prior to French F4.
Sorensen, younger brother of Marco, triumphed in perhaps the strongest French F4 grid in its history. One of his strengths were his impressive race craft, overtaking cars one-by-one and making it look easy.
He was already close to Olsen in the pre-season testing but, being part of a hugely experienced team, Sorensen should not need much time to get up to speed and challenge his teammates.
19. Ignazio D?Agosto

Italy, age 20
2014: Eurocup Formula Renault 2.0, 10th
D?Agosto joined Eurocup in 2012 and has been a part of it ever since. He became a race-winner during his sophomore campaign, which he ended in eighth. For his third season he joined Koiranen but the Italian was unable to keep up with De Vries. After a slow start, his first of two podiums came in the fourth weekend, ending up tenth in the standings.
Until the last minute it seemed like D?Agosto would be out of a job for 2015, but Manor offered him a seat just before the start of the NEC season at Monza. He took this chance with both hands, taking a second place in the first race of the weekend, beating both Olsen and Sorensen.
With this, he earned himself a ride in Eurocup?s season opener as well. While the team is keen on keeping him throughout the season, budget issues could interfere with this plan.
Tech 1 Racing
Tech 1 have been part of the series since 2010, opening with the teams? title in their maiden season. Four years later they triumphed once again, courtesy of champion Pierre Gasly. They were set for another good season last year with Egor Orudzhev and Anthoine Hubert. Things did not go as planned though, and their previous season went by without scoring a victory. For 2015, the Toulouse-based team is back for better results, fielding the two best French drivers in the field.
20. Hugo de Sadeleer

Switzerland, age 17
2014: Formula Renault 2.0 Alps, 16th, Eurocup guest driver
Having his first taste in single-seaters in Formula BMW Talent Cup?s 2012 edition, De Sadeleer entered Alps last year, which effectively served as his first competitive single-seater campaign.
The Swiss racer did not need much time to impress, having scored a podium at Pau after surviving a race full of carnage. He was back on pace once again at Mugello where he scored points on two occasions. He otherwise had a quiet season though, having spent the rest of the rounds fighting at the back of the grid.
In Eurocup, De Sadeleer will have another learning season as he is the teammate of two potential title contenders. Focusing on another season in Alps might have been more rewarding but long-term wise he could improve as a driver a lot more in Eurocup.
21. Simon Gachet

France, age 21
2014: Eurocup Formula Renault, 19th; Formula Renault 2.0 Alps, 5th
Gachet had a relatively late debut in racing as he was already 18 during his first season in 2011, when he immediately grabbed the V de V Challenge title. He then moved on to French F4 and impressed once again, taking third in the national series.
His FR2.0 move was now inevitable and Gachet entered Alps with ARTA to be the team?s sole full-time entrant. After a quiet debut, Gachet?s sophomore run in the series was good, taking fifth behind the top quartet of Nyck de Vries, Charles Leclerc, Matevos Isaakyan and George Russell.
His 2014 season also included a full-time Eurocup campaign where he finished 19th with ten points altogether. In testing he was constantly present at the top positions. With this, and seeing how much he improved between his two Alps seasons, Gachet can really make a name for himself this year.
22.

Anthoine Hubert

France, age 18
2014: Eurocup Formula Renault 2.0 15th
Taking 15th in Eurocup might strike as nothing more than a decent performance, but it was actually a pretty good maiden season for Hubert, having finished as the highest-placed FR2.0 newcomer.
Hubert began his season as a regular point-scorer as he finished inside the top ten four times in the first five races. It turned into a bit more quiet after that with no points until the penultimate round, while he ended his campaign by repeating his best result of sixth.
He seems to be in a good form, having scored his maiden FR2.0 victory two weeks ago in Alps. Moreover, he ended all six of testing sessions in the top four. The aforementioned statements can understandably make Tech 1 hope to see Hubert repeating Gasly?s results from 2013.
ARTA Engineering
ARTA have been Eurocup regulars since 2011 but they are still yet to take their maiden victory and they only managed two podium finishes, both of them achieved by William Vermont. They are still an established FR2.0 team though, usually having successful campaigns in Alps. There is some continuity in their new Eurocup line-up which could result in some good results, but a race victory might again be out of reach.
25. Amaury Richard

France, age 17
2014: French F4, 9th
Richard is one of three drivers who enter the series after racing in French F4 last season. After a decent debut in 2013, the Frenchman spent a sophomore season in his native country?s entry-level series, hoping to get more noticeable results.
The ultra-competitive field made his job difficult but he started well, finishing inside the top five in at least one race in the first three rounds. For some reason things went wrong from that point on and Richard was unable to score a single point on the following three tracks. He somewhat salvaged his season by taking a maiden podium in his 40th French F4 race at the season finale.
Being a young FR2.0 rookie without any standout results, Richard may well struggle and his main goal should be to beat his more experienced teammate. In that aspect he showed promise in the pre-season testing, going faster than Allen two times out of three days.
26. James Allen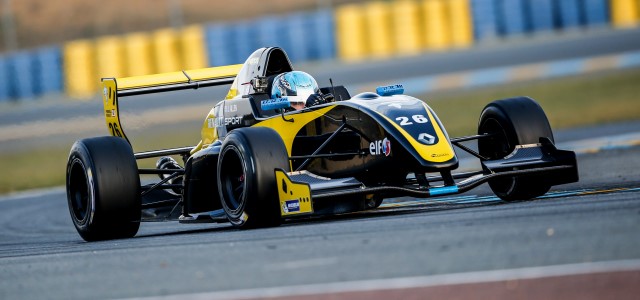 Australia, age 18
2014: Eurocup Formula Renault 2.0, 27th; Formula Renault 2.0 Alps, 23rd
After collecting lots of trophies during his karting career in Australia, Allen moved to Formula BMW Talent Cup in 2013, and his Grand Final performance was promising as he finished fifth overall with a podium.
He then joined ARTA?s FR2.0 line-up for a dual programme of Eurocup and Alps. Having little experience in racing, there were no big expectations towards him in terms of results, however, his year looked difficult even with that in mind. He showed some improvement throughout his Eurocup campaign but that only meant he was able to break into the top 20 towards the end. He had better positions in Alps, managing to score two points at the Red Bull Ring.
This year Allen will have to show his good Formula BMW showings were no fluke and he is able to do well. His pre-season pace showed improvement but he still looks unlikely to score points on a regular basis.
AVF
Adrian Valles? outfit still counts as a relatively new team to the series despite first appearing in 2013?s season opener. Last year, the Spanish squad was present for most of the rounds with several drivers and even managed to score a point with Matthew Graham. They are present in the season?s first round with two drivers eligible for points. AVF-tied Inigo Bikuna had been announced to do Eurocup but he is missing from the first round of the season.
27. Harrison Scott

United Kingdom, age 19
2014: Formula Ford GB, 2nd
Scott is one of the last drivers to represent Formula Ford GB in a higher step on the junior single-seater ladder, as the reputable series has ceased to operate having been replaced by MSA Formula.
After a successful karting career, Scott showcased his talent over his two years in the aforementioned Ford series, finishing as the runner-up in both cases. While in 2013 he was no match to the champion Dan Cammish, his sophomore season saw an exciting, closely-fought title fight with Jayde Kruger, which he eventually lost.
Still, he proved enough to earn a Eurocup seat and there would be no surprise see him fighting for points from the get-go. Scott?s testing performance has been encouraging, having finished every day as the quickest AVF driver.
28. Matthew Graham
United Kingdom, age 18
2014: Formula Renault 2.0 NEC, 12th; Eurocup Formula Renault 2.0, 22nd
Although it?s no surprise to see him continue with the same team he raced for last year, Graham was only a last-minute addition to the season opener?s grid. Taking fourth in BRDC F4, Graham joined AVF for a full-time NEC programme as a driver with big promise.
Similarly to other British drivers, he took his best result at Silverstone and that fourth place was almost repeated a couple more times. He was also part of AVF?s Eurocup line-up for three rounds, which he started with an impressive tenth place at Aragon.
Being a late signing, Graham did not take part in the pre-season testing which will make things tricky. Still, considering he managed to score a point at Aragon as a rookie last year, he might go on to have a successful start to his season.
Strakka Racing
Strakka expanded from Formula Renault 3.5 to the FR2.0 level for this year in order to complete their junior ladder which starts in karting and ends with their sports-car team. They were already present for two rounds at the end of last year with Jake Hughes and Matthew Graham, with Hughes recording the fastest lap in their only second race. 2015 will mark their first full-time campaign in Eurocup.
31. Charlie Eastwood

Ireland, age 19
2014: BRDC F4, 10th
2014 marked Eastwood?s debut in single-seaters following a series of top results in karting. The 19-year-old Irishman improved significantly throughout the BRDC F4 season, which he ended with a double-podium at Snetterton.
He did not look bad but it?s his Toyota Racing Series campaign that makes him one to watch. Facing against an experienced field, he kicked off with a podium finish and was more often on the pace of the frontrunners than not. A series of bad luck left him with no good results over the bigger part of the season but for the final two rounds he was back to score another two podiums.
Eastwood seems to have enough talent to have a decent rookie season in Eurocup but it won?t be easy, being still relatively new to car racing.
32. Valentin Hasse-Clot

France, age 19
2014: French F4, 10th
Eastwood?s teammate for the season opener will be Hasse-Clot, the third French F4 graduate in the field. Hasse-Clot joined French F4 as a national karting champion and his maiden car racing season wasn?t a disappointment.
He fought for points from the beginning but something just clicked in the fourth and fifth rounds where he finished every race in the top seven, including two reverse-grid podiums.
Although he wasn?t announced until quite late, his participation in the pre-season testing makes it unsurprising to see him racing in Eurocup. He wasn?t exactly at the sharp end in these sessions but his real strength seems to be his race craft, having scored a well-fought podium finish in his first FR2.0 weekend in NEC two weeks ago.
JD Motorsport
Seven-time teams? champions, JD Motorsport will make their full-time return to the series after their departure in 2006. The Italian squad raced in the first three races of the 2014 season with Russian duo Matevos Isaakyan and Denis Korneev and the former started to deliver pretty quickly, taking three consecutive top ten finishes. The first version of their three-car line-up came together pretty quickly, but one of the participants, Mathias Kristensen withdrew before the start of the season and retired from racing altogether. Regardless, JD will start the season with three entrants.
35. Matevos Isaakyan

Russia, age 17
2014: Formula Renault 2.0 Alps, 3rd; Eurocup guest driver
At 15, Isaakyan impressed in French F4 as a car racing newcomer by taking fifth. It was no surprise to see him graduating to FR2.0 last year, even if he was forced to miss the opening Alps round due to age limitations.
Isaakyan was on pace from the very beginning of his campaign, having taken second in his first race and a double victory in his second weekend at the Red Bull Ring. He continued to be one of the biggest challengers of champion De Vries for the rest of the season and finished between FIA F3?s new star rookies, Charles Leclerc and George Russell, in the standings.
This year might be his first full-time Eurocup season but a lack of experience never seems to have troubled him before. He was at the front in the pre-season testing, ending one of the days fastest.
36. Thiago Vivacqua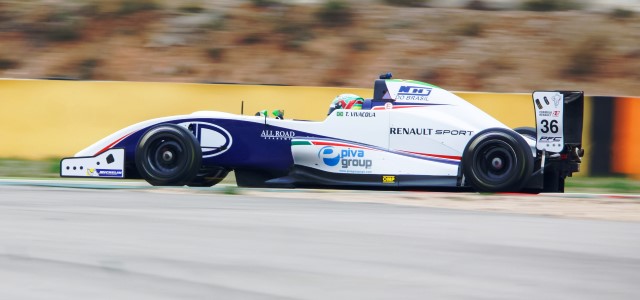 Brazil, age 18
2014: Formula Renault 2.0 Alps, 26th, Eurocup guest driver
Vivacqua is another driver to have spent his maiden full-time single-seater season in FR2.0 machinery last year. His choice was to race in Alps, joining Fortec?s massive team.
The 18-year-old Brazilian does not have much to brag about from that season, having been one of three full-timers who were unable to score points. He finished most of his races inside the top 20, but his best finish was only 14th.
Despite the quiet season, being Isaakyan?s teammate this year could have a really positive effect on his performance, having been in the top ten in two of his three testing days.
37. Amaury Bonduel
Belgium, age 16
2014: karting
Kristensen?s replacement is the sole driver in the field with no experience in car racing whatsoever. Bonduel enjoyed a great karting career, having collected several trophies in Belgian and French championships as well as taking third in the IAME International X30 Junior Final in 2012.
During the winter, Bonduel announced his intentions to enter GP3 for this season. He also took part in the post-season testing days of that series, improving step-by-step and ending up 19th in the final day.
While that plan seemingly failed, his Eurocup move came out of nowhere, suggesting he might not be in for the full season yet. Either if he is or not, his races in Eurocup will be about learning as much as possible, maybe challenging Vivacqua after a couple of rounds.