Formula Ford GB may have been absolutely dominated by Dan Cammish last year, but the addition of front and rear wings and a move to the support package of the increasingly-popular British Touring Car Championship has helped breathe new life into the series.
15 drivers are set to take part in the opening round at Brands Hatch this weekend, a considerable improvement on last year when entries were as low as nine on some weekends.
Without wishing to take anything away from Cammish's achievements, much of his dominance could be put down to the fact that the majority of his rivals were rookies, at least to the series if not to single-seaters entirely. It's no surprise to see many of those drivers returning for more in 2014, hoping to claim the limelight. The grid sets up the prospect of a far less one-sided season.
Falcon Motorsport
Harrison Scott was second-best to Cammish for much of 2013, took the runner-up spot overall and claimed the Scholarship title for karting graduates. The 18-year-old starts his second season as a title favourite and stays with the Falcon squad, where he is joined by two rookies.
Ricky Collard is known for being the son of British Touring Car Championship racer Rob, but had a strong karting career in which he was backed by the Racing Steps Foundation alongside Ben Barnicoat so starts as favourite for Scholarship class honours. Completing Falcon's line-up is Chris Mealin, who had a lower profile period in karting but is also tipped to go well.
JTR
JTR is confident that its 2014 driver trio will keep them on top this year. It has recruited Jayde Kruger, who was an experienced and successful racer in his native South Africa before arriving in the series at round four last year with Jamun. The 26-year-old was immediately a podium regular and should be a definite title contender this time, but will he make as big a step forward as some of those that were completely new to cars last year?
Sam Brabham finished fourth overall last year after making his single-seater bow at round two, and so the the third-generation racer has to be considered another contender. He's been gaining extra experience in the MRF Challenge over the winter.
Joining him is Max Marshall, who replaced Cammish for the final two rounds of 2013 and promptly claimed a triple pole at Silverstone, even though he struggled for actual race results.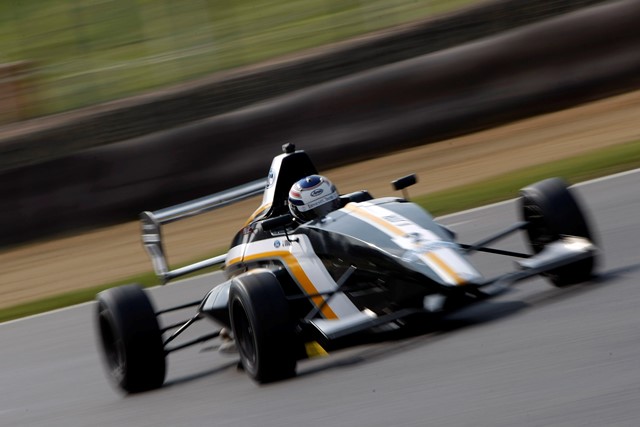 Jamun Racing
Jamun claimed seven straight titles between 2005 and 2011, but has struggled over the winter to get drivers in place. It initially re-signed its lead 2013 driver Juan Rosso but that deal then fell through. The team has now made an exciting late signing in the form of Jack Barlow. He may be new to Formula Ford, but was a title contender in BRDC F4 in his maiden car campaign last year and most of his rivals have now moved on to Europe. Although he is a one-man team at the moment, he has the benefit of a very experienced and successful team focusing its efforts entirely on him.
Radical Motorsport
Last year's third-placed finisher Juan Rosso made a surprise move to the Radical operation – best known for their sportscars – having previously announced he would stay with Jamun. The Argentine won three races at the 2013 finale at Brands Hatch, but it remains to be seen whether he can be just as competitive in his new surroundings.
Rosso joins James Abbott, son of the team owner, who enjoyed a solid run to fifth last year, scoring points in every race. He should benefit from Rosso's presence.
Meridian Motorsport
Meridian joined the series last year with karting graduate Connor Mills, managing a best result of seventh from four weekends. The former Rotax Mini Max champion will aim for a step forward in his first full season, which will be helped by the team expanding to a two-car squad.
Filling that extra seat is Ashley Sutton, who enjoyed a successful bow in single-seaters in 2010 in Formula Vee, but has been out of action since as the result of a road car accident.
SWB Motorsport
SWB ran a single Sinter chassis for several different drivers during the course of 2013 but have secured two drivers in time for the coming campaign – from two different ends of the age spectrum. 16-year-old James Webb will become the youngest ever driver in the championship's history, and made a late call to switch into single-seaters for 2014 having competed in Ginetta Juniors last year.
Meanwhile, 28-year-old Greg Holloway has gained experience in his native Australia and in the United States in recent seasons, but like Webb arrives as a fairly unknown quantity.
Richardson Racing
This family team took the fight to some of the big boys on occasion last year with Andy Richardson behind the wheel. Its full plans for this year are still to be firmed up, but the squad will field two cars on the opening weekend.
One of these will be for Louise Richardson, who like brother Andy has a history in Ginetta racing and took four class wins from five races in the marque's GT Supercup last year. Joining her is Ben Constanduros, best known for his television commentary and presenting exploits, but with some Ginetta racing experience of his own under his belt.
Calendar
Brands Hatch – 30 March
Donington Park – 20 April
Thruxton – 4 May
Oulton Park – 8 June
Croft – 29 June
Snetterton – 3 August
Knockhill – 24 August
Rockingham – 7 September
Silverstone – 28 September
Brands Hatch – 12 October