Photos: Chris Schotanus
A preview of the 2013 season of the Formula Renault 2.0 Northern European Championship, which begins its jaunt across the north of the continent at Hockenheim this weekend.
While the 2012 season of Formula Renault 2.0 NEC couldn't quite boast the grid to match the levels of the Eurocup and Alps, it still produced solid racing and showcased some very promising talent. The year saw nine different winners and, in the end, it was RSF-backed Brit Jake Dennis who escaped with the title, prevailing with a season-long battle against compatriots Jordan King and Josh Hill.
It looks like this year is set to follow a similar pattern for the series – the Alps grid is stronger, no doubt, but with support from the likes of Fortec, Josef Kaufmann Racing and ART, the NEC series is looking as strong as ever. With a planned 40-car grid and a season spanning seven rounds across Europe, this will be one of the main events in the Formula Renault programme. The main feature , however, is, as always, the teams and drivers that will contest the prize this year.
Josef Kaufmann Racing

One of the major forces in the junior levels of Formula Renault racing, JKR will expand their programme in NEC this year, from the usual three driver participation to five. The first three drivers are made up of the team's Eurocup lineup for the year and, as such, will only do part-time NEC campaigns. Promising Dutchman Steijn Schothorst will run in the number one car, having already taken two wins in the series last year on his way to fifth. He will surely be a major contender for wins in standalone rounds, especially considering the upward trajectory of his development, after Steijn enjoyed a spectacular Toyota Racing Series campaign in the beginning of the year.
The Dutchman is joined by Gustav Malja in the part-timers category, who will be making his Formula Renault debut after graduating from ADAC Formel Masters. The Swedish youngster was very impressive in that, nearly clinching the title in his second year but ultimately losing out in the last round to Marvin Kirchhofer. While Malja will need some time to adapt to the competitive grid of the Eurocup, he should be a podium contender in this, having plenty experience for NEC level.
Oscar Tunjo is the final JKR part-timer in the list, having joined the Lotus F1 driver development programme this year. Despite being 17, he is very experienced in Formula Renault categories, being a race-winner in the Eurocup and Alps and a podium finisher in this very series. If this weren't a part-time campaign, he'd be a sure-fire bet for the title, but, as it stands, with him already scheduled to miss the first round, expect him to rack up multiple wins on his appearances.
Alongside their Eurocup lineup, JKR will also field two drivers only in the NEC series for a full-time campaign. Dennis Olsen is the first one – a promising Norwegian kart driver making his debut in single-seaters this year. He looked good enough in this year's Toyota Racing Series but will no doubt need a couple of years to adapt to the new racing class.
Swiss 15-year-old Louis Deletraz (son of Jean-Denis) will also make his maiden Formula Renault appearance in 2013. His career highlight up to this point has been was a triple pole and a win in the grand final of the Formula BMW Talent Cup in 2012, but NEC represents a different level.
Inter Europol

The Polish team will, on the contrary, decrease their level of participation in FR2.0 NEC, going from three cars to just one. Local driver Jakub Smiechowski will be the only driver fielded by the team, entering his fourth year of the championship. He's finished seventh in the series in 2010, but couldn't quite repeat that feat in the two subsequent years and, with the team less involved in the championship, is probably not going to challenge for podiums or wins
Fortec Motorsports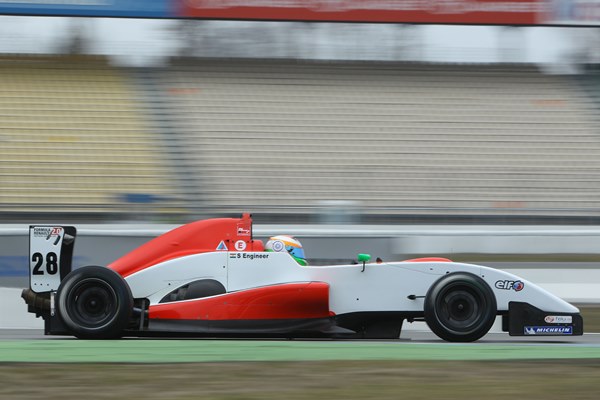 British squad Fortec has opted to give maximum support to the NEC series, entering eleven drivers over the year. Eight of those will be registered under "Fortec Motorsports" and include three of their Eurocup drivers (who, just with Josef Kaufmann Racing, will most likely run part-time). Title holder Jake Dennis will be returning to the series for the second year and, albeit his Eurocup campaign is sure to carry much more importance, the current champ will definitely contest individual race wins.
Same most definitely goes for 17-year-old Finn Mikko Pakari, who made his debut in single-seaters last year and immediately made an impression with two poles in the NEC series and a Eurocup podium in his maiden year.
Finally, alongside an F3 Open campaign and a Eurocup campaign, UAE's Ed Jones will contest certain rounds of the series, after running in it full-time last year. His pace in the F3 Open Winter Series has been great and he's looked good in testing, making him a likely candidate for podiums.
Indonesian rookie Patric Armand will be making his debut in Formula Renault NEC with Fortec. At 16, he only has one single-seater outing to his name (in Formula Renault BARC), so this very much will be a learning year. Shahaan Engineer, one year older, will also be fielded by the British team, although his experience level is far greater as he has made his way to seventh in the series standings last year. He will certainly be hoping to improve on that result and, out of the full-time drivers, seems to be one of the likeliest candidates for the title.
The two Brits besides Dennis who will run under Fortec Motorsports in the series are Matt Parry and Jack Aitken. Both graduate from the InterSteps series, which was won by the Caterham-backed Parry last year, who took an astounding 13 wins in 23 races and could be a notable force in the NEC series. Meanwhile Aitken, who lost out to Parry in the series, finishing third, also took part in the Formula Renault BARC Winter Series, finishing second behind BRDC F4-bound Seb Morris.
Finally, the Fortec Motorsports roster will be rounded out by Corinna Kamper, who will move from Daltec for her second year in the NEC category. She only managed twelve points over her maiden year, but was a race winner in Formula Lista Junior and would certainly be expected to significantly improve her points tally.
Fortec Competition
The remaining three Fortec-run cars will be participating under the banner of Fortec Competition. After his debut year with van Amersfoort, 24-year-old Roman Beregech will be returning to FR2.0 NEC. Despite his above-average age for the category, he is relatively inexperienced even on this level and, as such, performed reasonably in his first season in 2012, with 48 points. A similar result could be expected this year.
Joining Beregech is Alfonso Celis, Jr., another Formula BMW Talent Cup graduate on the grid. Celis was fairly successful in the series, scoring two podiums in the grand final and taking fifth, but has been even more impressive this year, with some very strong outings in the Panam GP Winter Series.
Finally, 2013 will see Ryan Tveter make the switch to European single-seaters, after a fairly capable rookie campaign in Star Mazda Championship last year. Apart from the part-time Star Mazda run, though, he is almost a complete single-seater rookie and will need some time to learn.
SL Formula
The German outfit will continue to run two drivers, this time opting for an all-Swiss pairing. Cedric Freiburghaus will be replacing his brother David at the team, at least for the opening rounds, having finished fourth in Formula Lista Junior in 2012. Meanwhile, the other Swiss driver, Simon Stoller, will make his debut in international single-seaters, having stayed largely off the radar since his outings in ADAC Kart Masters in 2010.
ART Junior Team

French squad R-ace GP will adopt a new name in 2013 – ART Junior Team – to reflect its connection to the prominent ART squad on the higher levels of junior single-seaters. With the name change comes a bit of an expansion, as the team is planning to run five cars as opposed to last year's three in 2013's NEC season.
The first three drivers also make up ART's Eurocup lineup and two of them will most likely run at select events only. All Road Management's Alex Baron will take the first seat after a spectacularly successful campaign in French F4, which saw him completely dominate the series on his way to the title. Even at this level, Baron is quite obviously a huge talent and, while he has been largely in the midfield during testing, that is understandable given his relative lack of experience at this level.
Another man who will do both the Eurocup and NEC in 2013 is Esteban Ocon, who recently secured a spot in the Lotus junior programme. The French 16-year-old is already an accomplished driver in Formula Renault, having finished seventh in last year's Alps and bagging a podium in the Eurocup. However, the real breakthrough might come this season, as he has been absolutely dominant in testing. While his main goal will be the Eurocup title, he will be a surefire contender for wins in every NEC race he does.
Andrea Pizzitola will also run simultaneously in the Eurocup and in FR2.0 NEC, but, unlike his two teammates, he is poised to be a full-timer in the latter. A French F4 vice-champion, Pizzitola already took part in select NEC series events last year (scoring multiple podiums) alongside his primary Eurocup campaign. He will try to do both this year and should be a considerable force, especially in the NEC series.
French F4 graduate Nicolas Jamin will start his Formula Renault career in the NEC series. He scored four podiums in his maiden single-seater season and will hope to expand on that but is almost certain to be outperformed by his considerably more experienced teammates.
Finally, the only non-French driver registered by the ART Junior Team is one Tanart Sathienthirakul from Thailand. For him, this will be his second year in the NEC category, after the 20-year-old scored 60 points for Manor last year. He's looked decent in the 2013 Toyota Racing Series season (which marked his second foray into the championship), but is unlikely to be the team's main challenger due to Pizzitola's apparent full-time duties.
RC Formula
The Luxembourg team's 2013 NEC campaign is likely to be little more than fishing for experience. They were set to only field one car in three rounds for Aurelien Panis, son of ex-F1 driver Olivier. The 18-year-old Frenchman has seasons of French F4 and FR2.0 Alps behind him and will be ultimately focused on his Eurocup efforts. His Eurocup teammate Roman Mavlanov has joined him at short notice for Hockenheim.
Mark Burdett Racing

After a moderately successful NEC campaign in 2012, Mark Burdett Racing will return to the series with a completely new lineup. In it, the team brings two relatively inexperienced drivers to the series. Firstly, we have Andres Mendez – a Star Mazda graduate from Colombia who hasn't really raced in single-seaters apart from 2012. Mendez is certainly promising enough from what his maiden season on the Road to Indy suggests, but the NEC series might prove quite challenging for him – expect him to be a regular points contender, but no more.
Same goes for Raoul Owens – the Briton also made the full-time switch to single-seaters in 2012 and, despite racing in Formula Renault BARC and competing in two NEC races, will come into the series as a complete rookie.
KEO Racing
Danish squad KEO Racing will run two cars in their first year in the category, with the first one allotted to Erik Johansson. The 16-year-old racer hasn't had any major single-seater outings so far, his main achievement coming in 2012 when he enjoyed a clean sweep of the Formula Monza championship – eight wins in eight races.
JD Racing
The highly-reputable JD Motorsport single-seater team will be entering the category in 2013, also running two cars. Being a team that spans across multiple series, they will have a chance to attract drivers they've already worked with – a chance they utilised with Venezuelan Juan Branger. Branger made his single-seater debut in 2012, run by JD in Formula? Abarth on his way to 11th in the standings.
Another debutant from 2012, albeit not previously run by JD, is Jakub Dalewski. The Polish driver spent 2012 in ADAC Formel Masters, where he enjoyed a decent enough maiden season in the series with Lotus, even picking up a win in a highly competitive grid, which makes him a very exciting prospect for this NEC season.
JTR Racing
The team started by the late Joe Tandy – brother of Porsche racer Nick – expands into Formula Renault for 2013 with a one-car entry into the NEC. In the driving seat is Ecuadorian Julio Moreno, who the team ran to fourth in British Formula Ford last year in his rookie season. 2013 will likely be a learning year for both him and the team.
PositiOne
Having enjoyed a pretty good year with Leopold Ringbom in 2012, PositiOne continue in the NEC series, fielding another Finnish driver this time. This year, their compatriot of choice is Miika Laiho. The young Finns karting record is pretty impressive, but 2013 will represent his debut in single-seaters, so his chances in the series are unclear.
AV Formula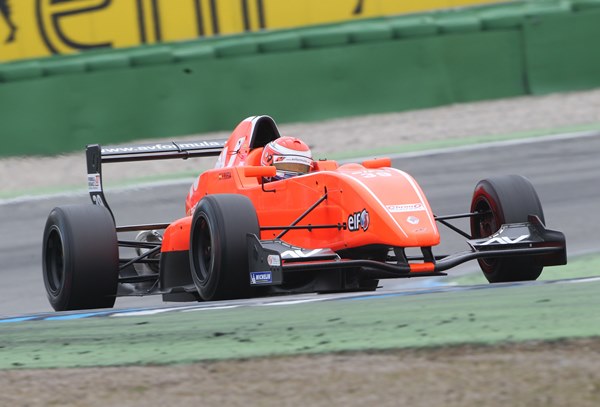 Closing out the series regulars is the new Spanish squad AV Formula, run by Adrian Valles of Superleague Formula fame. For their first year in NEC, the team opted to go with two French F4 graduates – Frenchman Victor Sendin and Spaniard Fran Rueda. Both made their single-seater debuts in 2012 – and while Rueda, at 16, finished 13th in his maiden year, Sendin managed to take fifth overall, racking up two wins. It seems both could be regular points contenders but, as for many other drivers on the grid, this will be, first and foremost, a learning year.
KTR
Belgian squad KTR wasn't expected to do any series alongside the Eurocup but their full Eurocup lineup has, rather unexpectedly, showed up in full force for the first round of the NEC, possibly with the intent of doing more rounds. Heading it is Ignazio D'Agosto, an 18-year-old Italian youngster, who made his debut in car racing last year with Eurocup and NEC campaigns. It is safe to assume that he won't be doing the full NEC schedule this year as it overlaps with the Eurocup but the Italian could very well be a contender for individual victories, especially considering his great form in the Toyota Racing Series earlier this year.
D'Agosto will be partnered, just like last year, by Yu Kanamaru. The Japanese driver's single-seater experience is also extremely limited, but that did not prevent him from taking a shock victory in the NEC championship last year. His first season, overall, was quite decent, and he could very well build on that with individual NEC podiums or even add to his tally of wins.
The duo retained by the team from last year will be joined by Alex Albon, who lost his Red Bull Junior Team spot after a very under-the-radar first year in cars. Still, having been a very promising driver in karts, Albon could very well manage to adapt to Formula Renault this year – as such, he also could be a potential victor.
MP Motorsport
Just as the Belgians at KTR, their Dutch neighbours from MP have made a rather surprising appearance at the first round of the NEC with their Eurocup lineup. RSF-backed Oliver Rowland will kick off his third year in Formula Renault, having been second in the UK championship and third in the Eurocup. NEC's first round will be his debut in the series and he is quite likely to mark that occasion with a win.
Brazilian talent Felipe Fraga is another one to look out for, coming off the heels of a stellar maiden season in cars that he marked with Eurocup and Alps podiums. While matching his teammate could be a tough ask, should something go wrong for Rowland, Fraga will probably be among the first to capitalise on that.
Finally, the MP lineup is closed out by Javier Merlo, the reigning FR2.0 Argentina champion. His first year in Europe will very much be dedicated to adapting but his triumph on his home soil easily proves he is no quick enough to be here.