Photos: F3 Open
This weekend sees the beginning of F3 Open's new season. We take a look at the drivers taking part in the increasingly popular championship.
The 2012 season saw an exciting battle between Niccol? Schir? and Gianmarco Raimondo with a chaotic title decider in Barcelona, where Schir? clinched the title with only a five-point margain. Although the 19-year-old champion had planned to step up to Formula Renault 3.5, he had recently signed a deal with Porsche to drive in International GT Open. Although Schir? and Raimondo couldn't step up to stronger single-seater championships, there are other graduates. Copa champion Kevin Giovesi and Mans Grenhagen have already started their season in GP2 and European F3 respectively, moreover, Argentinian Facu Regalia will race in GP3 with ART.
RP Motorsport
After employing huge Italian talents like Kevin Ceccon, David Fumanelli and Niccol? Schir?, 2013 is the first year in the team's history when there is no Italian in the lineup. They raced with not only Schir?, but his rival, Raimondo. ?Naturally, the Italian squad could smoothly win the championship with them, however, it will be extremely tough to repeat that.
A Class (F312 chassis): Four RP Motorsport drivers will participate with F312 chassis. Possibly, the biggest potential comes with Uruguayan Santiago Urrutia, who spent his debut year in Formula Abarth last season, with finishing fourth and having three impressive victories. In case he can adapt to the car fast enough, he can easily be one of the biggest title contenders. Urrutia has two teammates with one year experience, 21-year-old Alexandre Cougnaud finished third in Copa class last year, now he's aiming to do at least the same thing in Class A. Although he is five years younger, Alex Toril possess the same amount of experience as Cougnaud has in the series. The 16-year-old Spaniard finished seventh in the Copa class, he still has lots of learning ahead. The fourth member of the team with F312 chassis is Thai Sandy Stuvik, former Asian Formula Renault champion, who graduates from Formula Renault NEC after a quite difficult season. Stuvik had a promising start in the F3 Open Winter Series with finishing fourth and fifth respectively.
Copa Class (F308 chassis): Despite karting graduate Andrea Cicconetti being officially confirmed by RP Motorsport as their Copa driver, the Venezuelan has been replaced by Saud Al Faisal, who is effectively a newcomer but did make one appearance at Brands Hatch in 2011.
EmillioDeVillota Motorsport

Although the former F1 driver's team had no real chance to win any titles last year, they reached their best result with Mans Grenhagen, who finished third. 2013 is a fresh start for the Madrid-based team with six rookies from all over the world.
A Class: British Hector Hurst, after two learning seasons in Formula Renault BARC and Formula Two, switches to F3 Open. His pre-testing results were quite impressing, and seeing him on the podium in the Winter Series at Paul Ricard proves we might see him at the front many times. Israeli Yarin Stern graduates from Villota's Junior Team after competing in the Catalan Formula Libre last year, making his first appearance in F3 Open in the last round of the 2012 season at Barcelona. 27-year-old Alexey Chuklin will also race as a rookie. Despite his age, the Russian doesn't count to be a very experienced driver (at this level), as he has only two years of racing, both of them spent in Formula Renault NEC. After a successful career on the American continent, winning a race in the Formula Panam GP series, Guatemalan Andr?s Saravia moves to Europe for the first time in his career.
Copa Class: South Korean Che One Lin?is not the youngest in the field, aged 28, but he only started his single-seater career in 2011, and has never raced in Europe before.?His Copa teammate is Igor Urien. Despite being the youngest member of the team, the 18-year-old Spaniard has already claimed several victories in Spanish Prototype Open and FIA Radical Masters Euroseries.
Campos Racing

Two-time champions Campos returned to the series in 2012, after missing two seasons. The team's comeback was rather promising with three victories at the end of the season. In 2013, the team expand their line-up to three cars, all of them with the F312 chassis.
A Class:?Russian Denis Nagulin continues his collaboration with the team for another year after spending a difficult season in 2012, only scoring points twice. One of Nagulin's teammates will be Venezuelan Valeria Carballo, who finished right ahead of Nagulin in the points last year. The last member is a newcomer, Artur Janosz, who is the first Polish driver in the championship.
Team West-Tec F3

The always expanding British team enter the championship with the biggest line-up. They field nine cars, five F312s and four F308s. Moreover, they have a great chance to be the champions with many talented and competitive drivers.
A Class:?If we called Team West-Tec the title-favourite, it would be because of Nelson Mason and Ed Jones, since they won the two races of the Winter Series. After Raimondo, Mason could be the second title-contender in a row from Canada. As he set the pace in the pre-season tests, won at Paul Ricard and finished second in Barcelona, there is no doubt, Mason is in a great form. The other race-winner, Ed Jones has a double campaign, also racing in Formula Renault 2.0 and missing the first two rounds of F3 Open as a result. Jones' replacemant at Paul Ricard is an American rookie, Spencer Pigot, who finished second in the first part of Mazda Road to Indy, in USF2000 in 2012. The 19-year-old talent could be be the next rising American star after Alexander Rossi and Conor Daly. Another driver, who is expected to have great results is Roberto La Rocca. The Venezuelan driver had finished tenth last year and had a move to GP3 confirmed before making a U-turn back to F3 Open. Italian fashion designer Luca Orlandi is also part of West-Tec, like he was in the last couple of years. His real motivation could be only to have fun, just like Giuseppe Cipriani does in Auto GP.
Copa Class:?Team West-Tec's second, also impressive, lineup contains four Dallara F308s. Cameron Twynham, Liam Venter and Sean Walkinshaw?all graduate from the InterSteps championship. Any of them have never raced in the series, so the question is, how fast can they get familiar with their cars. The last member is Chinese Huan Zhu, an Audi R8 LMS China graduate, who hasn't raced in single-seater cars since 2010.
DAV Racing

Just like in 2012, DAV Racing start the 2013 season with two Dallara F308 cars. Last year, Felice Davenia's team had great results with Kevin Giovesi, who ended up as the Copa champion.
Copa Class:?17-year-old German racer Nicolas Pohler spent his debut year in ADAC Formel Masters last year. He probably will have to face another tough season, as he decided to step up, despite finishing only 18th in ADAC Formel Masters. His teammate is a Mexican, Gerardo Nieto, who also graduates from another championship (from Formula Panam GP), however, he does have stronger results than Pohler. Nieto spent four years in Latam Challenge Series, and he won eight races during these years. In 2012, he moved to Formula Panam GP where he finished third as a rookie. Thanks to his great results, Nieto has some connections with Ferrari Driver Academy.?Both of them raced in the Winter Series with moderate results.
Corbetta Competizioni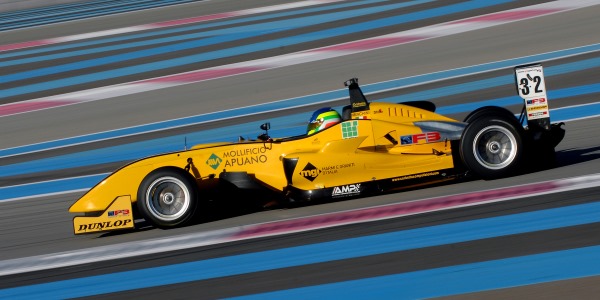 After Corbetta won the 2011 championship as a rookie team with Alex Fontana, a rookie driver, the 2012 campaign was more than disappointing with zero points in the teams' championship. This year, the Italian team is trying to bring back their 2011 form with three rookie Italians.
Class Copa:?20-year-old Tommaso Menchini did not race anywhere last season, however, he had some strong results in Formula Renault 2.0 Italia before that. Menchini has two teammates, both at the age of 16. Lorenzo Paggi finished in a promising sixth position in his first single-seater year in Formula Renault 2.0 Italia. Damiano Fioravanti will actually spend his debut year in F3 open, after showing his potential many times in karting.
BVM Racing
This winter, BVM have gone through lots of changes. After the collapse of Italian F3, they were forced to leave the series. They did the same thing in Formula Abarth, while, Zeta Corse bought up their Formula Renault 3.5 squad. However, the team didn't quit single-seaters, they have started an F3 Open and a Formula Renault Alps campaign. In F3 Open, the Lugo-based squad will race with two experienced drivers.
Class A:?Probably the most famous member of the grid is Vicky Piria, who has already spent four years in single-seaters, most importantly, she was part of the GP3 field last year. Although she finished 26th with no points, the experience she gathered may have a big advantage on her side. Her partner in the team is 19-year-old Mario Marasca. He graduates from Italian F3, where he ended the year in a great shape with three podiums in a row.
Top F3
The French team has been part of the series since 2010, however, 2012 was the first year when they had a full-time driver. This man was Alexandre Cougnaud, whose best result comes from Monza with a fifth place. This season, the team founded by Fournier Laroque begin with one Dallara F312, to be driven by karting graduate Mattia Vita. The 16-year-old Italian had some good karting results, racing in the CIK-FIA KF2 World Cup last season and finishing 16th.
Drivex School
Just as Corbetta, Drivex School have also seen better seasons than in 2012. They actually had no full-time driver, and scored no points. This they have hired one driver, Slovakian Richard Gonda, who did only a partial campaign in Formula Renault NEC last season with little success.