Part two of our end-of-season look at the best junior single-seater drivers of 2016, featuring those in positions 40 to 31.
See also:?50-41
40. Leonardo Pulcini
New entry
Italy ? age 18
Euroformula Open champion
Pulcini was dominant in his second season in Euroformula Open.
Despite the potential he showed in Italian F4, when he was one of the closest to Lance Stroll, he had struggled to make a strong impression in his first year in the F3-based category with the DAV Racing team.
A switch to Campos for year two paid dividends, with Pulcini the man to beat from start to finish. He won once in all of the first four events, and came second in three of the other four races.
Colton Herta challenged his supremacy with a Red Bull Ring double as he came on strong in the second half of his rookie campaign with Carlin, and both the American and Ferdinand Habsburg demonstrated the improving strength of the Euroformula Open field, but Pulcini always had the legs on them.
He wrapped up the title in style with a victory in the penultimate weekend at Jerez, but his real crowning moment came one round earlier at Monza, where he pulled off a phenomenal double home victory, passing Habsburg for the second win around the outside of the Parabolica for the final time.
For that alone, this talented and young Italian deserves to make the next step, which is most likely to come in GP3.
39. Matheus Leist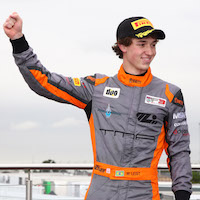 New entry
Brazil ? age 19
BRDC British F3 champion
Leist only led the inaugural BRDC British Formula 3 Championship after the final round, but that didn?t stop his title from being wholly deserved.
Some inconsistency in the early rounds cost him ground ? a charging race two win at Snetterton came after only a 10th in the first (a result not even good enough for him to benefit from the reverse grid), and a win from pole in the first race at Brands Hatch was followed by a pair of retirements ? but it was great consistency from there onwards that was key.
Rival Ricky Collard won more often over the subsequent rounds, but Leist was never outside of the top six in all of the remaining races, and could well have taken a double win at Silverstone had the final ? for which?he was on pole ? not been rained off.
Even after the penultimate round back at Snetterton ? where Carlin?s Collard pipped Double R?s Leist to poles by the narrowest margins and went on to win both main races ? his deficit was only 15 points, and winning the first race of the decider as Collard crashed out swung the title in his favour, as he demonstrated coolness in the heat of battle.
They?may have been overshadowed slightly by Lando Norris in MSA Formula last year, but both Leist and Collard are great drivers, and the Brazilian?has at least some of the same?sparkle as?his famous?compatriots who?also won British F3 titles.
Taking that trophy back home this winter will only help when it comes to raising support in a tough climate as he bids to step up to GP3.
38. Ben Barnicoat
Down 11
United Kingdom ? age 19
Ninth in FIA F3 European Championship
Barnicoat had the ingredients to be the next rookie star of European F3 in 2016 ? even after an unplanned move to Hitech rather than Prema ? and he very much started out along those lines.
He got into the wars a little at Paul Ricard, but proved his class next time out at the Hungaroring with a race three win. Yes, it came after team-mate George Russell collided with Maximilian Gunther fighting?for the lead, but Barnicoat did well to capitalise in tricky conditions.
He was again in place to take advantage when Lance Stroll made a hash of his getaway from pole in the very next race in Pau. Having qualified alongside the man who would be king, Barnicoat became the first double winner of the year. At this point he was right among the leading contenders in the standings.
Sadly, that was the peak. There would be just one further podium finish ? again in the wet, at Spa ? and even the rookie podium became hard to reach. At circuits that were unkind to Hitech, Barnicoat suffered much more than Russell. His qualifying record worsened, and in the mid-pack he got into incidents as he tried to recover. He complained of a lack of balance in the heat, and of a lack of power.
Barnicoat is maybe not yet as?rounded as some of his peers and that has cost him, but this karting rival of Max Verstappen and Charles Leclerc and rookie car racing champion is too talented a driver not to be supported?further. Sadly, things have been very quiet since the season ended. A move into GTs may be more likely than another year in F3.
37. Nick Cassidy?
Down 3
New Zealand ? age 22
Fourth in FIA F3 European Championship
Having struggled for so long to earn the international breakthrough that his talents deserved, Cassidy has really been making the most of his opportunities in recent years; with a Macau podium taking him to a professional Super GT ride in just over a year via the Japanese F3 crown.
He would have to admit however that he didn?t make the most of his European F3 season with Prema ? his first full campaign in Europe.
Things started promisingly ? he led the championship after the first weekend at Paul Ricard, but the circumstances behind his hat-trick of seconds would set a tone.
One lap into the season he handed over a hard-earned lead to Lance Stroll, in race two he lost the lead to a genuine mistake, and in race three he came up short after banging wheels with Maximilian Gunther at the final corner.
In Hungary he had a nightmare with the tyres, in Pau he was taken out by contact, and he had car issues in Austria and at the Norisring. At Zandvoort he was superb, but his win there would be his only one; he only made it back to the podium once (in a Hockenheim Prema whitewash) in the final 12 races.
Cassidy had to play a supporting role to Stroll, had to focus on (and travel for) his Japanese efforts and had an unfair share of bad luck. Particularly given that, fourth in the championship was not a bad result at all, but he showed too rarely what he?s truly capable of.
36. Nyck de Vries
Down 18
Netherlands ? age 21
Sixth in GP3
Really, this was always going to be a difficult year for de Vries. Effectively taking a step down in terms of car performance from Formula Renault 3.5, he needed to make an impression in GP3, but he needed to do so up against Charles Leclerc.
That did indeed prove to be too big an ask, but the thing that will really disappoint him will be his standing compared to another ART team-mate, Alex Albon. The pair were the closest of rivals in karting, and de Vries was way ahead in Formula Renault, but now at this point, it?s Albon who?s developing into?the better performer.
De Vries? season was better than it looked. It was a slow burner, but had his car not developed a problem that left him stranded on pole position in Hungary, he could well have finished in the championship top three, and his status versus Leclerc and Albon would thus be much healthier.
The Hungaroring was the only time he qualified on the front row though, with nailing the perfect lap a clear weakness of his season within?a team where?performance was stronger over one lap than in races.
De Vries remains a driver of clear ability, but even at a time when there?s a vacancy for a reserve driver at McLaren, it?s hard to see it single-handedly funding?a move into GP2.
35. Nirei Fukuzumi
New entry
Japan ? age 19
Seventh in GP3
Fukuzumi came to GP3 with an air of anticipation around him, as a double winner in his one season of Japanese F3 in 2015 and off the back of fellow Honda protege Nobuharu Matsushita?s strong arrival in GP3.
Really, he didn?t disappoint. OK, so he was the lowest scoring driver in his team and the only one not to win, but it?s a credit to Fukuzumi that ART was considered to have four top drivers, not just three.
His most impressive result was third on his debut, in the opening race at Barcelona. Unlike there ? where he got to test beforehand ? he arrived at most other circuits with no prior experience, and it?s no coincidence he returned to the podium at Sepang and Abu Dhabi, where he didn?t have a disadvantage in this regard.
There was a bit too much contact in the middle of the year, notably coming together with Leclerc at Monza, but this was less him living up to the stereotype of ?banzai? Japanese racer and probably more just a lack of experience in close combat.
With a year under his belt with the car, with the team and with the tracks, Fukuzumi could be a real threat next year, and topped his only two sessions of post-season testing to that effect. We said the same?about Matsushita 12 months ago, but ART is much less likely to lose its supremacy of GP3.
34. Harrison Scott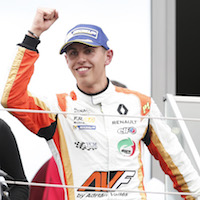 New entry
United Kingdom ? age 20
Fourth in Eurocup Formula Renault
Scott was firmly a leading contender in Formula Renault this year, despite two significant disadvantages.
For one, he contested only the Eurocup and not the NEC, meaning he had half the track time of his rivals, before any testing deficit to better-budgeted drivers is also factored in. Secondly, he was driving for AVF, a team that had never even won a Formula Renault race before, even if it had displayed decent pace with the right drivers.
Scott was as strong a rival to Lando Norris as Dorian Boccolacci and Max Defourny were, taking as many wins as they did combined, with three. These came in a particularly purple patch in the space of four races in middle of the season across Monza, the Red Bull Ring and Paul Ricard.
He had a poor end to the year (when his track time deficit would have been at its most pronounced) and without that he could well have ended up as best of the rest behind?the unbeatable Norris.
Scott has appeared in Formula V8 3.5, European F3 and Euroformula Open machinery over recent weeks, and it would be great to see him get a full opportunity in one of those next season.
33. Marcos Siebert
New entry
Argentina ? age 20
Italian Formula 4 champion
Siebert caused a bit of an upset to beat Mick Schumacher to the Italian F4 title.
The Argentine, contesting his second season in the series with Jenzer Motorsport, was not as quick as his rival, but was not as incident-prone either.
Indeed, he won the title with a fifth place in the penultimate race, passing Schumacher once the German damaged his front wing battling for the lead up ahead.
Siebert was absolutely capable of a turn of speed though. He won once at all of the first four rounds, including leading Schumacher home at Imola.
When Schumacher tore off into the distance in the opening race of the Monza finale, Siebert charged his way through from 11th on the grid to second, minimising the damage and proving he was every bit a worthy champion.
Something of a Jenzer protege ? he made his European debut in Formula Renault with the Swiss outfit in 2013 ? GP3 is the obvious next step for Siebert. Funding is limited, but Argentina wants a new F1 hero and there?s been plenty of attention back home for the young man from Mar del Plata, in Fangio?s part of the world.
32. Max Fewtrell?
New entry
United Kingdom ? age 17?
British Formula 4 champion
Fewtrell succeeded Lando Norris by winning the British F4 (as it became known mid-season) title in his first full year in single-seaters.
Consistency was key, with him winning only three of the 30 races, but this is something to be celebrated in a rookie, not used against him.
Fewtrell was on the podium 16 times, five more than anyone else?in a competitive series where six drivers fought for the title and all of the top 10 won races.
Going to round seven at Knockhill, Petru Florescu and Devlin DeFrancesco appeared to have more speed than Fewtrell, and the trio were split by eight points at the top, but his team-mates clashed on track and then off it,?and were never a challenge again.
An off-colour penultimate event at Silverstone cost Fewtrell the points lead to veteran Sennan Fielding, but he proved his pace?when he needed it most, claiming a double pole for the Brands Hatch finale and turning the second of those into a calm and crucial victory in the deciding race.
Fewtrell's decision?- along with Infinity Sports Management – to head to Formula Renault with Tech 1 Racing for 2017?(when other drivers may?have been tempted by F3) is a further sign of?his level-headedness.
31. Jordan King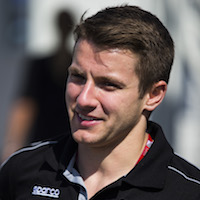 Re-entry (37th in 2014)
United Kingdom ? age 22
Seventh in GP2
King?s second year in GP2 was shaping up to be a good one, but he ended it rightly disappointed with his performance.
He got his first wins ? two within a week of each other at the Red Bull Ring and Silverstone ? but they were both from reverse-grid poles. Out front he had an impressive turn of pace, yet this speed was rarely seen in qualifying, only once getting him onto the front two rows (in Monaco, where he then crashed out of second). As a result, he only made a feature race podium once.
Contrast that with his new Racing Engineering team-mate Norman Nato, who was inconsistent but on his day would prove the performance in the car, and scored nearly twice as many feature race points.
At the end of the year, King?s role with the Manor F1 team escalated into two Friday practice drives, but that these were followed by a point-less weekend in Abu Dhabi ? leaving him seventh in the standings when he had a shot at third ? doesn?t help them to look merited.
King says he wants one of those Manor seats next year, whilst?admitting he?s got more to prove in GP2. To be among the frontrunners as he?s been this year makes him a good driver, but if you want to earn a place in F1, you?ve got to be doing more.