In the final part of our top 50, we reveal our top junior single-seater performers of 2016.
See also:?50-41?40-31?30-21?20-11
10. Louis Deletraz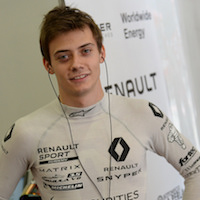 Up 6
Switzerland?? age 19
Second in Formula V8 3.5
Deletraz came?within one bad race of becoming the first rookie champion of the series formerly known as?Formula Renault 3.5 since Robin Frijns in 2012.
The series was certainly?not as strong this year as it used to be, but while?the entry list?lacked excitement, it didn't lack?experience, so?to impress as a Formula Renault 2.0 graduate was not necessarily any easier than before.
Deletraz looked as if he might?walk it when?he triumphed in the Aragon opener, but a repeat took a while to come, and by the time it did at Paul Ricard, he'd lost ground to consistent veteran Tom Dillmann, and followed it with his worst weekend of the year at Silverstone.
He didn't win again in the run-in, but he was frequently on the podium, and that was enough to catch and overhaul?a well off-the-pace Dillmann.
He brilliantly passed the Frenchman in the opening Barcelona race to double his margin from three points to six, and got one hand on the trophy when he put his car on pole on Sunday morning.
From there, he somehow contrived to lose the title, but there's little?shame in being outfoxed by a rival?who began racing single-seaters when he?was only seven.
GP2 will provide a tougher challenge for him, but he's got enough ability that Formula V8 3.5 bosses should have something to shout about from its class of 2016 in the years to come.
9. Maximilian Gunther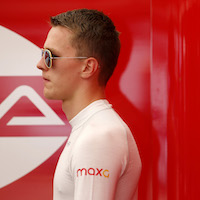 Up 23
Germany?? age 19
Second in FIA F3 European Championship
Gunther had the awkward position of having to be Lance Stroll's strongest team-mate during the Canadian's title bid, but although the German couldn't maintain a proper season-long challenge, he did end 2016 with a bigger reputation than he started it with.
His speed was unrivalled early on, with five poles from the first six races, but he only converted two of these into wins. That he still led the standings at this point – but only by four points over Stroll – showed what could have been with a bit more consistency.
At this point he firmly lost any upper hand he had within the team, and this seemed to have an effect on his speed and Stroll pulled an 86-point gap in the next three events. Gunther?picked things up again in the following three events, keeping Stroll?on his toes both on track and in the championship picture.
He therefore?went to Imola with a good chance of keeping things alive until the final round, but?the event was an extreme example of?the mental differences between the two, with Gunther crashing in practice to set off a dreadful zero-score weekend, while Stroll serenely wrapped up the title out front.
Repeating a championship would?rarely be advised for a driver that comes second in a series, and Gunther would know that better than most as a two-time runner-up in ADAC Formel Masters. Yet for him in 2017 it?makes?complete sense.
With Stroll out the way he can tap into Prema's expertise?to smooth?those rough edges, marry his speed with consistency and?do wonders for his career by winning the championship for?Mercedes.
8. Joel Eriksson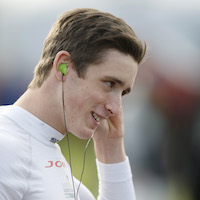 Up?32
Sweden?? age?18
Fifth?in?FIA F3 European Championship
Masters of F3 winner
Eriksson had a marvellous rookie season in F3, bettering Stroll's 2015 benchmark for a graduate of FIA Formula 4.?Arguably, he was?the 2016 championship's star turn.
Last year's ADAC F4 runner-up was quick from the off in F3, finishing his debut weekend with a podium and adding two more in his second event.
He had to wait for his first win though, with his fellow newcomers?Ralf Aron, Ben Barnicoat and Anthoine Hubert all grabbing theirs first.
It should have come at the Norisring, where Eriksson pulled off an incredible overtake on Stroll for the lead, but was later innocently wiped out by Callum Ilott. He was understandably?furious.
The victory did eventually come at Spa, which he followed with glory?at the Masters at Zandvoort. He was a firm frontrunner for the rest of the European season, with five podiums in nine races, a first pole position, and second only to Stroll in terms of points scored. He was surprisingly poor in Macau, but that wasn't enough to detract from the talent he showed during the season.
Next year he'll probably stay with Motopark – where he and brother Jimmy are part of the family – but on his form at the end of the European season, there's no reason why he can't?be a title contender. BMW is lining him up for a future DTM seat, but he might be too good for that.
7. George Russell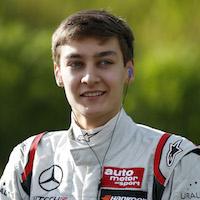 Up 12
United Kingdom?? age?18
Third?in?FIA F3 European Championship
Russell went to Hitech for his second season in F3 with hopes of rivalling Stroll and Prema for the title, but although a serious challenge never materialised, he was rightly satisfied to be?'best of the rest' in third.
Hitech appeared to be at its most competitive at the start of the season, when bad luck hampered Russell,?with?a qualifying exclusion at Paul Ricard, tyre problems in Hungary and a grid penalty carried over to Pau that was arguably harsh.
After over a year's wait he did get his second F3 win in race two in Pau, but it wasn't until Spa four rounds later that he was in a position to win another. An engine failure and subsequent penalties at Hockenheim prevented top results, but did provide a reminder of the searing racecraft he showed so often last year. That there was less of that this year was maybe?a sign that he improved in qualifying to put the car where it ought to be on the grid.
His qualifying performance of the year came in Macau. He?had been denied?a debut there in 2015 while in the process of switching from Carlin to?Hitech, but that made his pole position there – claimed in the dying moments?with rain starting to fall – all the more impressive.
Carlin had the last laugh in the race as Hitech struggled for pace, but Russell had already provided a reminder of his talents, which had previously felt somewhat?underrated by many.
A week later though he was in Abu Dhabi as a?guest of Mercedes with a driver development role?reportedly already in his pocket, and a few days after that he was topping the GP3 test with ART, setting down a marker for 2017.
6. Alex Albon
Up 24
Thailand?? age?20
Second in GP3
A breakout season from Albon, who built upon a promising season in F3 in 2015 with a superb campaign in GP3, continuing his remarkable progress from a Formula Renault also-ran to now being a serious F1 prospect.
Against the odds, Albon provided?not only the closest challenge to team-mate Charles Leclerc, but a proper season-long one.
The reverse-grid win in Barcelona was innocuous, but he followed it with a pair of second places in Austria, then a win from pole at Silverstone and a reverse-grid victory in Hungary, which gave him the championship lead.
He only had one really poor weekend, at Spa, triggered by a qualifying error, and that proved costly versus Leclerc. But after beating his rival off the line to win in Malaysia, he then took pole at?the Abu Dhabi decider and was on course to cut Leclerc's gap to just eight points.
A misjudgement trying to keep the faster Jack Aitken behind ended his chances, but he was right to push for the win having put himself in a position to seriously?challenge for the title.
Albon?still ended the year with more wins than anybody else and nearly as many poles as Leclerc, who was outstanding over one lap.
Having gone quickest on his second day in ART's GP2 car in the Abu Dhabi test, he may provide a similar challenge next year.
5. Pierre Gasly
Up 20
France?? age?20
GP2 champion
The first part of Gasly's season was so disastrous he was lucky to see it out, but he did so as a deserving champion.
Though he was joining a team new to GP2, the combination of the always-rapid Gasly with French engineer?Guillaume Capietto (fresh from winning with Stoffel Vandoorne at ART) promised much and they qualified on pole first time out in Barcelona, but the win went begging. Monaco was a disaster, and?when presented with the Baku sprint race win on a plate, Gasly handed?rookie team-mate Antonio Giovinazzi a double win on the last lap.
At the Red Bull Ring he got ahead of Giovinazzi to lead, before he slipped off into the gravel as rain fell.?Having not won a race?in anything for more than 33 months, to do that at his backers' home circuit was embarrassing to say the least. Helmut Marko has certainly axed juniors?for less, but clearly appreciated?Gasly's value.
Next time out at Silverstone he finally broke his duck, and he added?further feature race wins in Hungary and at Spa, and would have had another at Monza without the?botched safety car intervention.
A poor start from pole in Malaysia cost him the points lead to Giovinazzi, but a strong Sunday race limited?the deficit to?seven. That kept his chances in his hands, and given his previous form at Yas Marina, that he pulled it off was no surprise.
The Gasly from before July might have screwed it up. Having?the best car in the field and an experience advantage over his team-mate was a benefit in his improvements, but his progress was also clear to see, and came despite a road accident on the way?Silverstone that gave him a broken vertebra and put?his mother in hospital.
It's not insignificant that?Gasly has followed Vandoorne's career path from French F4 to GP2 champion, one year behind, and although he made much harder work of his?title than the Belgian, he was three years younger. The trend should continue with a move to Super Formula next year, and into F1 in 2018.
4. Lance Stroll
Up 16
Canada?? age 18
FIA F3 European champion
Pre-season favourite Stroll didn't make an ideal start to?his European F3 title bid, but ended it as the dominant driver in a field that wasn't as large as in 2015, but where the talent ran just as deep.
Perhaps the greatest credit to his season was that once he was announced as a Williams F1 driver for next season, his abilities were defended by so many on the basis of his 2016 performances, despite the undisputed fact that his billionaire father had bought the seat.
In reality, it's unlikely that he would have been?hired to an F1 seat at such an early stage on merit alone – certainly not to as big?a team – and GP2 would be?a more sensible step for him as a driver to make for 2017. But with the level of preparation he's been able to afford, and the qualities he has shown in his short career so far, he could do well.
His most impressive quality, and the one that allowed him to show such superiority over the F3 field, is his maturity. Stroll was not necessarily naturally any quicker than the other frontrunners, but he was able to extract the maximum from himself in a way his rivals were not equipped to do.
This, combined with the excellent Prema package underneath him, meant that once he got past a shaky first three rounds, he was very hard to beat, and he progressed to the point of taking a hat-trick at the final round when the title was already wrapped up.
The one question mark was his racecraft. He couldn't fight his way to the front from lower grid positions in the early races,?and in the middle of the year either started out front, had his route?there eased by his team-mates or lost out in some?tentative defending. Prior to?Hockenheim he hadn't genuinely fought his way to a victory, but without a points lead to protect, he certainly did that there.
3. Lando Norris
Up?18
United Kingdom?? age 17
Eurocup Formula Renault champion
Formula Renault NEC champion
Toyota Racing Series champion
Never has a driver racing below F3 level been this high up these rankings, but never in recent times has a driver achieved so much in one season at that level.
Norris was?fortunate enough to have the funds to contest multiple programmes, and the track time he gets from that is beneficial, but his results this year transcended that advantage. By the end, observers (including this one) were left convinced of his ability, which may be greater than anybody else on the junior ladder's.
He could of course have stepped up to European F3 after winning the MSA Formula title last year, but he and his management decided an intense programme of races at a lower level would be more suitable, and he made the most of it.
That he won the?Toyota Racing Series title was not a surprise, but his dominance – based on a record of eight out of 10 poles – probably was. In Formula Renault he took on older more experienced opposition, but led?the Eurocup from the first weekend and also took?the NEC crown with a string of wins. He also scored four wins from 11 starts in BRDC British F3, scoring at a rate that would have made him champion there too.
Norris' immense?speed over one lap helped throughout, but he also added great racecraft to his game, evidenced in the battles he won with chief Formula Renault rival Max Defourny.
Perhaps the greatest sign yet that Norris is the real deal came at the Macau Grand Prix, in his second FIA F3 event, where he was among the leading runners from the start of the weekend, and fought from the back to 11th in the main event.?It also left?little doubt that he will be at the sharp end when he moves full-time into F3 next year.
He only turned 17 last month, but Norris is already developing into a well-rounded driver, as acknowledged with his McLaren Autosport BRDC Award win. From that he'll test for McLaren next year and become an official simulator driver, and it's hard to imagine?it?will let him go when that deal concludes.
2. Charles Leclerc
Up?3
Monaco?? age 19
GP3 champion
Leclerc's GP3 triumph was not unexpected, but it was nonetheless impressive, particularly given the pressure he was under.
For one, he began the season as a clear title favourite, yet?he was up against possibly the strongest field in junior single-seaters. Also, he was in his first season with?the?Ferrari Driver Academy, status?that has appeared to be as much a burden as a benefit for others in the past.
When he made a successful start to the year, he would then have?had to deal with the demons of 2015, when he led the European F3 standings in the middle of the year?and conspired to not even make the podium again.
After all, he was yet to win a single-seater title, and yet he was driving in F1 free practice sessions surrounded by?media talk that he could make that step next year, but only if?he won GP3 in order to collect the necessary superlicence points.
Through all of this, Leclerc remained calm and quick. His qualifying record was exemplary, and though he didn't convert every pole into a victory, his strong Saturday scoring?was key. He raced well on some Sundays too, even if he was a little conservative in others.
Leclerc was the driver closest to Max Verstappen in karts, but he could hardly be more different, on and off track.
You can?hardly imagine Verstappen happily conceding places like Leclerc seemed to do?at Monza, knowing his car wasn't the quickest in race trim?and that he was still outscoring his title rivals.
Out of the car he's confident but quiet, and with manager Nicolas Todt he's building?his career?one step at a time. That means that rather than?F1 next year, he'll be in GP2 with Prema, and the reward could be back-to-back titles.
1. Antonio Giovinazzi
Up 6
Italy?? age?23
Second in GP2
A ridiculously brilliant season from Giovinazzi, who came closer than anybody ever has to winning a Pirelli-era GP2 title in his rookie season. And he did so not as a graduate of F3.5 or GP3, but of F3.
Making it even more incredible was that 12 months ago, it was unclear whether he would be racing at all this year. Had it not been outlawed, he'd probably be back in F3, but long-time supporter Ricardo Gelael instead made a GP2 seat with Prema possible.
This quickly gave Giovinazzi the most competitive package, but for a team-mate he had the quickest driver of all in Gasly, who he challenged in qualifying all season long.
It was in races where he was at his best though. He was quickly on top of the tyres – with Prema's help, as Gasly improved here too – and he produced?sublime racecraft that helped him to all five of his victories.
His Baku double was incredible – he had fallen?off the back of the pack on the first lap with an engine issue. The Monza win was lucky, but it still required Giovinazzi's brilliance to pass on the last lap. His triumph over Sergey Sirotkin in Malaysia was also marvellous, and gave him the points lead for the finale.
Abu Dhabi wasn't his greatest weekend, but it was never going to be easy there against Gasly, and things could have been better?without traffic in qualifying. He ended up only eight points behind – the smallest ever gap between first and second in GP2 history, even under the old points system. And that was a representative difference, because Giovinazzi gained no real advantage during?Gasly's early struggles due to?issues of his own.
Now, he deserves his F1 chance. Having denied him a second stab at GP2 by taking up both Prema seats for 2017, Ferrari has rightly rewarded him with a third driver role. There's no justice if he doesn't get a race chance soon, though.