Photo: Richie Stanaway
The Lotus F1 Team and Gravity Sports Management are working together to develop Formula 1 drivers of the future…
Following the launch of their new car and their rebranding for 2012, the Lotus F1 Team has launched a new driver development programme. They are working in collaboration with Gravity Sports Management, the firm run by Gerard Lopez and Eric Boullier, chairman and team principal respectively of the F1 team.
Called the iRace Professional Programme, the scheme will help to develop the drivers through a number of areas: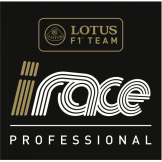 Driving skills
Physical Fitness
Health Education
Nutrition Consultation
Mental Development
Social Development
Business Ethics and Principals
PR Training
For the past two years, the Enstone team's driver programme had been made up of well-funded drivers or those with commercial benefits, such as Fairuz Fauzy, Jan Charouz and Ho-Pin Tung. However, the new iRace Professional Programme consists of five talented youngsters from Gravity's stable of drivers:
Kevin Korjus – At the spearhead of the 2012 intake to the programme is 19-year-old Estonian Korjus. After winning the Eurocup Formula Renault title in 2010 he moved onto Formula Renault 3.5 in 2011, where he became the series' youngest ever race winner. He then went onto test for the Lotus Renault F1 team in Abu Dhabi at the end of the year. This year he remains in FR3.5 for a title challenge, and is one of our 12 to watch in 2012.
Richie Stanaway – Joining Korjus in FR3.5 this year as well as in the iRace programme is 20-year-old New Zealander Stanaway. Stanaway dominated the German F3 Cup in 2011, and also won on his debut in the GP3 Series at Spa. He moves onto FR3.5 after an impressive performance in post-season testing, and is also one of our 12 drivers to watch in 2012.
Oscar Tunjo – 16-year-old Colombian Tunjo is a new addition to the Gravity ranks this year, though has been attracting the interest of the management there for some time. He burst onto the scene as a 14-year-old in Formula BMW Pacific, finishing his rookie car season as runner-up. He moved onto Eurocup Formula Renault in 2011, and remains in the series for 2012, racing on the World Series by Renault package.
Esteban Ocon – Despite only being 15, France's Ocon has enjoyed the support of Gravity for a few years. 2012 will mark his first season in cars, racing in Eurocup Formula Renault. He has had an accomplished karting career, winning the French KF3 Championship last year and also finishing second in the WSK Euro Series in the same category.
Dorian Boccolacci – Also hailing from France, Boccolacci is the youngest member of the programme at just 13 years old. Despite his age he has already won titles in the cadet class, and will contest the KF3 class in 2012. He also finished runner-up in the junior class of the ERDF Masters Kart event at the end of last year, up against some of the top karters in Europe.
For more on the iRace Professional Programme, visit lotusf1team.com