All photos: FIA F3 European Championship
With the season starting at Monza this weekend, we take a look at the 30-car grid for the revamped category, full of quality young drivers.
Whether Gerhard Berger's European F3 project will improve the state of things across the Formula Three category remains to be seen, but it's hard to argue against one thing – the European F3 grid for 2013 assembled some of the most promising young drivers in single-seaters. With championship contenders from last year's F3 Euro Series returning to have a go at it once again and plenty of talented youngsters coming in from other F3 categories, the 30-car grid looks as impressive as ever.
While the continuation of the lineage set by the F3 Euro Series is clear (as the newly-rebranded European F3 will run mostly as a support series for DTM and will continue the very commendable practice of live online streaming), the championship underwent some drastic changes. Among the most important is the disappearance of reverse-grid races, as all three races in a round will now yield the same amount of points and will be formed via more direct methods.
Here's the driver-by-driver look at the 2013 European F3 season, ahead of the first round that'll take place this weekend at Monza.
Prema Powerteam

Raffaele Marciello
Age: 18
Nation: Italy
2012: Third in Formula 3 Euro Series
It comes as very little surprise that Marciello was retained by Prema for the 2013 season and, perhaps, even less of the surprise that he inherited the coveted number "1" in the team that claimed the title last year with Dani Juncadella.
Joining the Ferrari Driver Academy as he graduated out of karting at the start of 2010, Marciello worked his way through Formula Abarth and Italian F3, finishing third in both. However, it is 2012 that put Marciello on the map as the Italian joined Prema in the F3 Euro Series for a campaign that would see him unexpectedly challenge for the title. He won three races in the first two rounds; another three victories would follow and, despite not being able to finish some of the races due to aggressive driving in the series, he ended the season a very strong third.
Throughout testing, he has confirmed his top form so far, often being fastest on the grid and proving his immense one-lap pace. With the reverse-grid races gone (and Marciello wasn't too great at those), he is surely the main championship contender, and while the competition has got tougher, don't bet against him replicating Juncadella's feat.
Alex Lynn
Age: 19
Nation: United Kingdom
2012: Fourth in British Formula 3
The rest of Prema's powerhouse four-car lineup is entirely rookies, led by Lynn. Rightly considered by many as one of Britain's best upcoming single-seater drivers, Lynn, quite frankly, surpasses even that definition by being one of the most adaptive and quick drivers of the massive European F3 grid.
He claimed the Formula Renault UK Winter Series title at the end of his first single-seater season in 2010, and was virtually untouchable when he stayed in the category in 2011, taking the title by a country mile. His upward trajectory in junior single-seaters continued in 2012 when Fortec gave him a seat in British F3. Lynn finished the season in fourth, gaining massive momentum by the end of the year to start challenging for poles and wins, with his maiden victory at the penultimate round serving as proof of development. He then took pole and a third-place finish on his Macau debut.
That weekend he signed a deal with Prema to race in European F3. It'll be the first time in his career that Lynn will part ways with Fortec, but, going by his frontrunner pace in testing, that doesn't concern him much.
Lucas Auer
Age: 19
Nation: Austria
2012: Second in German Formula 3
He might be the nephew of the ex-F1 man Berger, but Auer's speed would get the recognition it deserves even without that factoid. 2011 saw Auer's first stab at single-seater racing and it was a grand rookie campaign that saw him win the JK Racing Asia series title, narrowly beating the vastly more experienced Afiq Ikhwan by seven points.
After his Toyota Racing Series campaign in early 2012 (marked with one podium and two poles), Auer joined van Amersfoort in German F3. With two wins over the year, he snatched away second place during the last few rounds and finished as the series vice-champion.
Auer made a return to Toyota Racing Series yearly this year and was a major title contender, but, with a penalty at the last round, ended up third behind Nick Cassidy and his European F3 teammate Lynn. He hasn't been quite as quick as Alex in the testing, but the step-up Auer is making is quite a bit bigger, so expect him to start winning by the end of the year.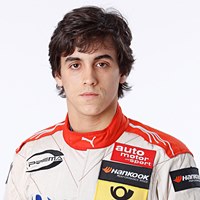 Eddie Cheever, Jr.
Age: 19
Nation: Italy
2012: Second in Italian Formula 3
The son of American ex-F1 driver of the same name, Cheever, Jr. completes the Prema lineup, graduating to their European F3 squad from the now-defunct Italian F3.
He started his single-seater career with seasons in Swiss Formula Renault 2.0 and Formula Abarth, finishing tenth in both. Another promotion a year later and Cheever was in Italian F3, raising the result to three podiums and finishing ninth. Unlike Marciello, Cheever stayed in the category for 2012 and was a major title contender. He finished second in both the European and the Italian classifications, after nearly snatching the title away from Riccardo Agostini – however, he was among a number of post-race disqualifications at the end of the last round and so only managed second.
It's hard to tell what Cheever can achieve throughout the season as his results during pre-season testing were fairly inconsistent and he lacks the experience at the level that most of the series frontrunners have. However, he should be a regular points finisher and could be a podium contender, should a race go particularly his way.
Mucke Motorsport
Pascal Wehrlein
Age: 18
Nation: Germany
2012: Second in Formula 3 Euro Series
Mucke's top man of 2012, Pascal Wehrlein, will move on to Merc's DTM squad, replacing Ralf Schumacher, this year after finishing runner-up to Juncadella in the F3 Euro Series his rookie year. Still, he isn't completely done with F3, as he will make an appearance at the Monza round of the series.
After making his single-seater debut in ADAC Formel Masters in 2010 and running away with the series title in 2011, Wehrlein stunned the racing world with his first F3 year, as he took a win and multiple podiums on his way to a very strong second in the standings, with a super-consistent second half of the year.
He would've surely been a title favorite had he stayed in the series, showing some very strong results in testing and coming off of a fantastic rookie year. However, a DTM seat is not something he could refuse, but it will be nice to see him fight for the win at Monza at the very least.
Felix Rosenqvist
Age: 21
Nation: Sweden
2013: Fourth in Formula 3 Euro Series
For Felix, another man out of the 2012 Mucke lineup, this will be his third season in European F3 and, just like last year, it's hard not to imagine him at the front of the grid.
Rosenqvist began his single-seater career in 2007 and raced in various local Formula Renault categories until 2009, winning titles in Asian FR2.0 and Swedish FR2.0. He graduated to German F3 in 2010 and was fifth with Performance Racing with two wins against a very competitive grid. In 2011, he joined Mucke in the Euro Series and did exceptionally well in his rookie year, finishing fifth and winning the prestigious Masters of F3 race.
He entered the 2012 season as one of the main title contenders, but had a pretty weak start to the season and let Juncadella and others run away in the standings. His form returned by the end of the season and, rather ominously for 2013, winning four of the final six feature races on the way to fourth before finishing second at Macau. He wasn't exactly quickest in testing but, with Rosenqvist's experience and fantastic end of last year form, he will surely add to his win tally in 2013.
Mitchell Gilbert
Age: 18
Nation: Australia
2013: Fourth in German Formula 3
Malaysian-born Aussie Mitchell Gilbert is another promising German F3 graduate on the 2013 European F3 field, with Mucke expanding their contingent in the series from two to four cars.
18-year-old Gilbert began his full-time single-seater career in 2011, entering the hyper-competitive Formula Renault 2.0 UK field, in which he finished an impressive fifth, behind major names in the junior ladder. That success could not have gone unnoticed and, in 2012, Gilbert switched from Fortec to Performance Racing and German F3. Alongside Auer, he fought for wins against far more experienced drivers and was fourth at the end of it, with two victories to his name.
While he hasn't been a regular top ten man in testing so far, it's easy to forget that his experience is extremely limited, compared to some drivers on the grid. As such, with this year serving as preparation for a further foray to the top of the ladder, consistent and regular finishes with a handful of points and takeaway noticeable results would already be a massive achievement.
Roy Nissany
Age: 18
Nation: Israel
2012: Ninth in ADAC Formel Masters
The fourth driver in the Mucke lineup is Roy Nissany, the son of ex-F1 tester Chanoch and a Mucke man since 2011. Nissany made his transition from karting to single-seaters in 201o, with a Formula Lista Junior campaign that saw him finish eighth in the Swiss series. He transferred to the German stepping stoner series ADAC Formel Masters in 2011 and, joining Mucke, finished eleventh in his rookie season with two podiums.
Last year saw Nissany continue in ADAC FM, where he finally took his maiden win in the series and ended the season in ninth. With an early deal it can be assumed he has a large budget like his father, but, for an ADAC FM graduate with not that much experience, he has been placing solidly in the lower half of the top 20 in testing.
Carlin

Harry Tincknell
Age: 21
Nation: United Kingdom
2012: Fifth in British Formula 3
With British F3 reduced to four events, Carlin made the necessary full-time transition to the European series and their front man Harry Tincknell went along with them.
After two years in Formula Renault UK, over the course of which he amassed four wins and a Winter Series title, Tincknell joined Fortec in British F3 in 2011 and, with a maiden win, took eleventh place in the standings. He was expected to fight for the title with Carlin in 2012, but it didn't quite work out as he never had quite the speed to challenge the leading trio. However, with his remarkable consistency and a mastery of reverse-grid races, he finished a commendable fifth, with four wins – all of them achieved outside of feature races.
There will be no reverse-grid races in European F3, but, with his grand pace during testing, it looks like he might do fine without them. It's hard to expect Carlin to go a year in F3 without wins and Tincknell might just be the one to deliver them.
Jordan King
Age: 19
Nation: United Kingdom
2012: Second in Formula Renault 2.0 NEC
The three people lined up by Carlin alongside Tincknell are quite a bit les experienced than he is, but can be expected to make a substantial impression this year. Jordan King is, perhaps, the most likely driver to rival Carlin's veteran Tincknell – especially after his 2012 performance left a lot of people impressed.
King switched to single-seaters full-time in 2011, joining Manor in Formula Renault 2.0 UK for its final season. He finished an impressive eighth in his rookie season, before making his graduation to the Eurocup and NEC the next year. He scored a maiden podium in the primary FR2.0 category, while in NEC he was challenging fellow Brit Jake Dennis for the title, although ultimately had to settle for second place. King also had some very impressive performances overseas, taking the MRF Challenge title in 2011 and finishing second in the 2012-2013 championship.
King was surprisingly on par with Tincknell throughout the testing, both of them setting quite impressive times, so don't be surprised if his name makes a couple of headlines during his rookie year.
Nicholas Latifi
Age: 17
Nation: Canada
2012: Seventh in Italian Formula 3
One of the less experienced drivers on the grid, 17-year-old Toronto-born Latifi could very well be an interesting man to watch this year.
He made his debut on the European single-seater scene in 2012 with an Italian Formula Three campaign. With a Vallelunga win and three other podium finishes in the latter half of the season, he finished seventh overall, with a significant spike in his results after he switched from BVM to JD Motorsport. He then joined Giles for a TRS campaign, finishing ninth in a field of F3's best.
His testing results have been encouraging so far and with the pace he's been showing, he will easily make it in the top 15 at the end of the year.
Jann Mardenborough
Age: 21
Nation: United Kingdom
2012: Sixth in British GT
While most fresh faces on the grid should be classified as European F3 rookies, Mardenborough falls in the category of, in general, single-seater rookies.
Winning the Nissan GT Academy for Playstation gamers in 2011, Mardenborough completed his transition to a full-time racer in 2012, joining British GT and finishing sixth. It was quite a surprise, however, to see him join the TRS field in the beginning of 2013 in order to prepare himself for the main season – perhaps even more of a surprise that he actually did really well against F3's finest, finishing tenth with a front row start to his name.
He's also been on-pace in testing, and while a further single-seater career doesn't seem to figure much in his goals, he'll probably do well enough throughout the season.
Fortec Motorsport

Felix Serralles
Age: 20
Nation: Puerto Rico
2012: Third in British Formula 3
With Fortec doing the same as Carlin and switching from British F3 to European F3, they were also in a need of a proven frontrunner? and it seems, with Felix Serralles, they have one.
Serralles started his career in the US, taking third in the Skip Barber National Championship in 2010 along the way. He transitioned to Europe in 2011, taking 14th in the Eurocup Formula Renault with Fortec in his rookie year. Continuing with the team, Serralles moved to the British F3 series and was in the title fight against Carlin's Jack Harvey and Jazeman Jaafar until the very last round, finishing third at the end of the year.
Fortec's form in testing is a bit suspect, but Serralles certainly looked as their best driver. Fighting for the title would probably be a long shot, but he's very likely to contend for individual race wins.
Pipo Derani
Age: 19
Nation: Brazil
2012: Eighth in British Formula 3
Derani, like Serralles, is moving up from British F3 with Fortec, after being a race-winner in the series in 2012. He started his single-seater career in 2009 with a foray in FR 2.0 NEC, where he finished seventh.
Derani moved to F3 in 2010, taking tenth in the German championship, before joining Fortec in British F3. He was 15th in his rookie season with a maiden podium, while the second season saw him move up to eighth.
The Brazilian has been reasonably quick in testing, not quite matching the pace set by Serralles, but being close enough. With his massive F3 experience, he should be able to fight for individual podiums.
Josh Hill
Age: 22
Nation: United Kingdom
2012: Third in Formula Renault 2.0 NEC
Son to one F1 World Champion and grandson to another, Josh Hill will be making his debut in European F3 in 2012.
Hill, 22, has been a junior single-seater regular since 2009, starting his career off with two seasons in UK Formula Ford with Jamun. He won five times in his second year, finishing fifth in the standings, before moving up to Formula Renault 2.0 UK with Manor, where he finished seventh. In 2012, he progressed to FR 2.0 NEC, where he finished third, behind fellow Brits Dennis and King, with five race wins.
Hill hasn't gotten quite up to speed in testing so far, but he's completely new to F3 machinery and it may take him some time to adjust. With Fortec behind him, he can be expected to perform well in the latter half of the season.
Dmitry Suranovich
Age: 17
Nation: Russia
2012: No points in GP3
Belarus-born Russian youngster will be making a bit of a step down from GP3 this year, but at 17 it's quite understandable.
Suranovich started his foray into single-seaters in 2010 with a part-time Formula Abarth campaign with Euronova. He made quite a step up to GP3 in 2011 and actually did fairly decent for a complete rookie, despite failing to score points, with a best finish of eleventh.
He hasn't been particularly quick in testing so far, but, again, it's completely new territory for the guy and he can probably start fighting for the points by the end of the year.
Double R Racing
Tatiana Calderon
Age: 20
Nation: Colombia
2012: Ninth in Formula3 Open
After racing in the Star Mazda championship (which is part of Road to Indy over in the US) for two years, scoring two podiums in 2011, Colombian racer Calderon made a switch to European single-seater racing. She got the season off to a great start last year, with a podium in the European F3 Open Winter Series, and went on to participate in the series full-time, finishing ninth in the main championship.
In early 2013, she prepared for a future European F3 foray by running in the TRS, where she finished twelfth with ETEC. She got signed by newcomers Double R shortly after they announced their switch from British F3 and did all the pre-season testing with them. Going by her performance in that and taking into account the team's relative inexperience, she will probably fight for the occasional points finish.
Antonio Giovinazzi
Age: 19
Nation: Italy
2012: Formula Pilota China champion
After impressive karting results in 2011 (with a third place in the KF2 World Cup), Giovinazzi made an impression on the single-seater world right away with his 2012 debut. He joined Eurasia Motorsport in Formula Pilota China and went on to take the title by a landslide, with six wins over the season and overall 13 podiums in 18 races. He also made a one-off appearance in Formula Abarth and took two wins and a second place against series regulars in very difficult weather conditions.
Giovinazzi isn't particularly well-funded so his seat with Double R is a pleasant surprise and he'll surely produce a great result or two for the team throughout the season, even though he's making such a massive step-up. Even though wins might be pretty far down the line, he's surely a man to watch – particularly considering his outright excellent pace in the final pre-season test.
Sean Gelael
Age: 16
Nation: Indonesian
2012: Fourth in Formula Pilota China
Just like Giovinazzi, Sean Gelael made his debut in single-seaters in 2012 in Formula Pilota China and also had a quality rookie year with Eurasia Motorsport, finishing fourth in the standings with one win over the course of the year.
He was supposed to join Double R in British F3, but after the calendar was reduced, him and his FPC teammate were moved to the European series. Unlike the Italian, Gelael is pretty well-funded, with his native sponsors also funding Giovinazzi as well. He's done very decent for a 16-year-old rookie in testing so far and could very well match Calderon throughout the season.
ma-con Motorsport

Sven Muller
Age: 21
Nation: Germany
2012: Sixth in Formula 3 Euro Series
Another ADAC Formel Masters graduate on the grid, Sven Muller was set to retain his Prema seat for 2013, but was replaced in the end. Thankfully for the championship, the very talented German found a seat with ma-con and will surely be one of the outside title contenders during the year.
Muller started his single-seater career in 2010, joining Eifelland in ADAC FM, finishing ninth in his debut series. He stayed in the series for a second year, joining ma-con with which he took four wins on his way to third in the championship. Muller joined Prema for the F3 Euro Series in 2012 and was, for a bit, the most impressive rookie on the field. He was passed by Wehrlein after a couple of rounds, but was also improving quite a bit, culminating in a double pole at Zandvoort and a maiden win at Hockenheim.
Consistently in the top five in testing, Muller looks like a possible title candidate and, while that might prove a bit challenging with a smaller team, he'll surely add to that maiden win of his.
Andre Rudersdorf
Age: 17
Nation: Germany
2012: German F3 Trophy class and Austrian F3 champion
Graduating from karting in 2011, Rudersdorf joined Krafft Walzen in ADAC Formel Masters and finished 18th overall, placing highest in his team. In 2012, he was signed on by his current team, ma-con, to race in the Trophy class of German F3. The season saw him win that by a huge margin as well as taking the Austrian F3 title.
European F3 will surely be a huge step-up from the Trophy class of German F3, but he's done surprisingly well in testing so far. With Muller as his teammate and a fairly noticeable learning curve, Rudersdorf might just start fighting for points by the end of the season, though, with the step up he's making, that's quite a bit to ask for.
Threebond with T-Sport

Will Buller
Age: 20
Nation: United Kingdom
2012: Fifth in Formula 3 Euro Series
While Buller's aptitude on-track is unquestionable, his possibly greatest asset in F3 in 2013 will be his massive experience at the level, as the Brit is rivaled by pretty much only Rosenqvist when it comes to Formula Three record.
At 20, Buller already has a long junior single-seater career behind him, dating back to 2008 and Formula BMW Europe, where he finished 12th and tenth in two seasons with Fortec. 2010 saw Buller switch to British F3 with Hitech, finishing eighth in the standings. He entered 2011 as one of the title contenders, rejoining Fortec, yet was only fourth in the end. Last year, Buller entered into the F3 Euro Series, joining Carlin. He was a major title contender for a big part of the season but ultimately was only fifth due to a late-season slump in form. He also took a race win in an otherwise disappointing GP3 campaign.
With T-Sport and their Nissan engine seeming quite quick in testing, Buller should have all he could need to take the fight to the title yet again. He probably doesn't have the outright pace to match the likes of Marciello and Lynn, but his consistency and experience should definitely make him a factor.
Spike Goddard
Age: 20
Nation: Australia
2012: British Formula 3 National class champion
While Goddard might be the same age as his teammate, it is an obvious fact he has nowhere near the levels of experience possessed by Buller and, as such, this will be very much a learning year for the youngster.
The Aussie graduated from karting in 2009 and spent two years racing in local series before joining British Formula Ford in 2011. Entering the series with Jamun Racing, Goddard finished tenth in his rookie year, with a season best finish of fifth. He joined T-Sport in 2012 for a British F3 campaign in the lower "Rookie" class, which he won with relative ease, only having one main competitor for the majority of the season.
European F3, as such, might seem like a pretty huge step and the testing has confirmed that thus far, as Spike has been generally on-pace, but not exactly troubling the top ten. It's very likely that his season will go along those lines with an occasional points finish being a very realistic target.
Van Amersfoort Racing
Dennis van de Laar
Age: 20
Nation: Netherlands
2012: Ninth in German Formula 3
Another German F3 graduate, van de Laar is also one of the less-experienced drivers on the grid, but whatever predictions could be made about his season were quite skewed by his and his team's pace during testing.
Van de Laar, 19, started his career in 2010 with third in the Formido Swift Cup, taking a win and four additional podium finishes along the way. He joined Van Amersfoort in 2011 for a campaign in Formula Renault 2.0 NEC, where he was seventh at the end of the year in a massive grid. The next year saw him graduate to German F3, continuing on with the same team – not quite matching his teammates Auer and Rene Binder, he did, nonetheless, achieve one podium finish on his way to ninth.
Again, you could say that the step up van de Laar making is huge and he'd be expected to struggle, but his pace in testing so far has been quite solid and, should he keep it up, he can surely be a consistent points finisher, maybe even scoring a podium or two in his rookie year.
Mans Grenhagen
Age: 19
Nation: Sweden
2012: Third in Formula 3 Open
Grenhagen's signing with Van Amersfoort came a bit out of the left field, yet, after the Swede has topped a day of testing and has been consistently up there with the expected contenders, it's hard not to believe the team made a right call.
His single-seater career started off in 2009, when he was eighth in the Swiss-based Formula Lista Junior. In 2010, Grenhagen joined Jenzer in Formula Abarth, but raced part-time only, scoring some points in the eight races out of 14 he took part in. He then missed 2011 but made quite a triumphant return in 2012's F3 Open. He was the main title contender up until the half-point yet, with his main rivals gaining ground, he went through a bit of a slump in form, falling to third at the end of the year.
After putting himself on the map in 2012, the sky's the limit for this year, and it seems Grenhagen is approaching it with full intention to make the best out of the opportunity. With him and his teammate very quick in the testing, Mans might well fight for the title and will probably do so, provided he ironed out the mistakes that plagued him in F3 Open.
Romeo Ferraris

Gary Thompson
Age: 20
Nation: Ireland
2012: Fourth in Japanese F3 National class
The number 22 seat at Romeo Ferraris was always going to be a last-minute decision, with American Michael Lewis seemingly on pole for it after testing with them at Barcelona. However, it was Irish F3 veteran Thompson who snatched up the spot at the end, at least for the first round at Monza.
Thompson kicked off his single-seater career with a second in Formula BMW Pacific in 2009, losing out on the title to GP2 man Rio Haryanto. He then joined KCMG in Japanese F3's national class, where, over the three years, he finished fifth (twice) and fourth in the standings, taking two wins in the process.
He hasn't had a chance to test before the icy Monza so the pace remains a bit of a mystery, but it will certainly be a tough challenge, as Thompson hasn't raced the F312 before.
Michela Cerruti
Age: 26
Nation: Italy
2012: 30th in Formula 3 Open/15th in German Formula 3
Despite being the oldest out of the drivers on the grid, Cerruti is also one with the least single-seater experience. Having raced in different categories of racing before (with wins in the Italian GT Championship and the touring car Superstars Series), Cerruti only tried single-seater racing in 2011, debuting in the Toyota Racing Series and then partaking in part-time campaigns in German F3 and F3 Open.
As such, the step up to European F3 will certainly be huge and, going by the testing, Cerruti will mostly be at the back for the opening races at least. Whether she can get up to speed or not remains to be seen, but, with her previous touring car successes, you shouldn't rule that out.
EuroInternational

Tom Blomqvist
Age: 19
Nation: United Kingdom
2012: Seventh in Formula 3 Euro Series
The Red Bull Junior Team newcomer will continue in European F3, switching to the EuroInternational team that's just entered the championship.
At 19, the son of rally driver Stig Blomqvist has achieved multiple successes in junior single-seaters. He finished third in Formula Renault 2.0 Sweden in his debut year and, switching to the UK series in 2010, won the title ahead of the now-former Red Bull Junior Team driver Lewis Williamson. In 2011, he finished sixth in an injury-curtailed season with Peformance Racing in German F3 before embarking on a full-time campaign in European F3 with ma-con, while simultaneously joining EuroInternational for a part-time schedule in German F3 – he was seventh in the first and fifth with five wins in the second.
He's been notably quick in the testing so far, topping one of the Barcelona sessions and generally being near the top, so Blomqvist will surely be one of the guys to beat. He'll certainly get his maiden series win at that point, but a top five finish overall is more than likely. He should have a teammate in time for Silverstone.
Jo Zeller Racing

Sandro Zeller
Age: 21
Nation: Switzerland
2012: 12th in Formula 3 Euro Series
Son of team owner Jo Zeller (a 12-time Swiss F3 champion), Sandro will remain the only driver supported by the team after his last year teammate Andrea Roda left for Auto GP.
At 21, Zeller has multiple years of F3 experience behind him. He started single-seater racing in 2008, joining Formula Lista Junior and scoring his maiden pole position. He was fifth in that very series in 2009, and also moved on to F3 with his father's team. In 2010, Zeller joined German F3, finishing 17th. He raced a part-time campaign in the F3 Euro Series in 2011, while simultaneously securing the Austrian F3 title for the first time. Last year, he was the only driver in the Euro Series to race an old-spec F308, yet still finished 12th, beating his teammate.
With a switch to F312s, Zeller could finally be a points contender and yet his pace as of yet is unclear due to him missing a couple of tests.
URD Rennsport

Lucas Wolf
Age: 18
Nation: Germany
2012: 11th in Formula 3 Euro Series
Rounding out our preview is another promising German youngster in Lucas Wolf, who will continue with URD for another year.
Wolf made his debut in single-seaters in 2010, scoring a maiden podium in his rookie season of ADAC Formel Masters. He finished eighth that year and stayed on for another year, repeating his results in the standings, albeit now having taken a victory. Family-run URD Rennsport brought Wolf over to the F3 Euro Series in 2012, where he finished 12th overall. He scored a podium in the very last round at Hockenheim, after turning in a strong streak of decent finishes.
Wolf has shown decent pace in testing so far, but, with the increased amount of participants, it might be a bit hard to replicate his 2012 result. Still, as he's shown decent improvement over the year, he might very well surprise us this year.