Eurocup Formula Renault remains a crucial part of the junior landscape. Here's our guide to some exciting drivers lining up in 2016.
Despite not really being part of the FIA's ever-changing vision for a single-seater ladder, Formula Renault 2.0 remains a highly-relevant category and the Eurocup series is still one of the most important junior championships around, with Renault pushing it hard as part of its revamped, Formula 1-led motorsport programme.
In recent seasons, large grids and a low turnover of drivers each year has meant that experience had become quite important, but with all of last year's top 10 having moved on, there will be new drivers at the front in 2016 – a mixture of last season's promising rookies and some exciting newcomers.
Josef Kaufmann Racing
In the absence of Koiranen, Kaufmann's team is the one to beat, particularly after signing a very strong trio of drivers over the winter. Lando Norris is a Formula Renault rookie, but with his titles?in karting, MSA Formula last year and the Toyota Racing Series at the beginning of 2016, he very much starts as a contender. That's only reinforced by his testing form, where he's often been unbeatable. Qualifying is key in the Eurocup, which will play to his strengths.
Jehan Daruvala is the team's relative veteran after a promising rookie season last year with Fortec, spent mostly in the NEC but with encouraging showings in the Eurocup too. Second to his former karting team-mate Norris in TRS, Daruvala's form in testing as not been as strong as that of his team-mate, but the Force India protege should be there or thereabouts.
Robert Shwartzman's deal came together relatively lately after initially focussing his winter testing efforts on Formula 3, and so the SMP-backed driver could be playing catch-up at first. A rival of Norris in karting, he was a frontrunner in German and Italian F4 last year so has the ability to compete with anyone here.
Fortec Motorsports
Ben Barnicoat's wins last year showed Fortec can be a force in the Eurocup with the right drivers, but it's difficult to see any of its 2016 line-up fighting for the title. On paper?Ferdinand Habsburg could well be its strongest driver, but after some promise at times last year he hasn't looked as quick in a Formula Renault since his massive aerial crash at Silverstone in September that effectively ended his season.
Vasily Romanov is now into his third season in Formula Renault and continues to get quicker after a slow start, while Bruno Baptista is probably better than a difficult maiden?European campaign last year suggested. Yet?it wouldn't be a surprise if the team's rookie Nikita Troitskiy actually emerged as Fortec's?strongest contender following a fine run to third in the MRF Challenge after stepping up from F4.
Tech 1 Racing
Though limited on Formula Renault experience, Tech 1's line-up is a strong one. Leading it is Dorian Boccolacci, whose step down from F3 is quite a sensible one. Having not tested at the end of last year he seems to have had a slight deficit to the leaders in testing but he can make up for that with the experience gained from an ultra-competitive F3 season.
As well as the most promising French F4 graduate of 2014, Tech 1 snapped up two of the most exciting drivers from last year's crop in Sacha Fenestraz and Gabriel Aubry. Fenestraz impressed with how quickly he got up to speed in single-seaters last year and was a quick adapter in Formula Renault testing too, but it's Aubry?who has looked the strongest of the pair more recently.
Hugo de Sadeleer completes the Tech 1 quartet and will hope to capitalise on his experience in his third straight FR2.0 season with the team.
R-ace GP
The team that was known as the ART Junior Team for three seasons returns to its former name for what could be its strongest campaign?to date. Keeping hold of Max Defourny after his fine run to fourth in the NEC last year has been critical to that, because the Belgian has dominated large parts of winter testing and perhaps?starts as the biggest favourite of all.
Will Palmer joins the team full-time after?running inside the top 10 on a one-off appearance at Silverstone last year. As the dominant?BRDC F4 champion who was also eyeing GP3 and F3, a title bid may have initially been anticipated but his pre-season pace has simply not looked good enough for that.
Julien Falchero is something of an unknown after graduating out of the V de V championship, but he's been impressively frequent inside the top 10 during testing.
AVF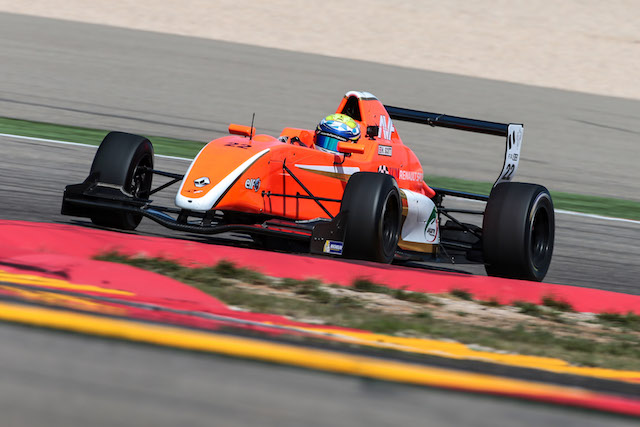 By retaining?top 2015 rookie Harrison Scott, AVF has the highest-placed driver from last year who's returning. After missing much of the post-season testing, it's taken him a little while to get up to speed again relative to the opposition but he certainly starts among the leading contenders.?Rather than his unfancied team, Scott's biggest disadvantage might be the lack of a dual campaign, something that seemed to hurt Ben Barnicoat and Anthoine Hubert last season.
AVF also signed the driver that finished directly behind Scott in last year's standings – Darius Oskoui – but that deal appears to have since fallen through. Henrique Chaves is showing some promising testing pace ahead of his second season with the team. Things may be tougher for rookie Nerses Isaakyan but the?Russian has at least some of his twin Matevos' speed. Very little is expected of Julia Pankiewicz, who didn't come close to points in Italian F4 last year despite beating her sister to the 'Woman Trophy'.
The rest
JD Motorsport?probably didn't quite live up to expectations in its second season with Matevos Isaakyan last year, and lacks a driver that can repeat his top 10 placing this time around. The links to SMP continue with the arrival of Alexey Korneev, who was a multiple race-winner in F4 last year before building up some early Formula Renault experience.
Australian James Allen joins JD for what will be his?third season at this level, which will hopefully bring an improvement in competitiveness over the previous two.
With the demise of the Alps series, Cram steps up to the Eurocup but will be having a quiet season based on this initial driver line-up. Peru's Rodrigo Pflucker was runner-up in South American F4 last year but this is a big step up, as shown by 2014 champion Baptista last season. Canadian David Richert, 33, has a full season in the NEC under his belt but may struggle for competitiveness.
Boosting numbers are a couple of single-car teams. With Technorace, Alessandro Perullo did a couple of years in Formula Abarth before some Alps appearances last year. He's roughly on the pace, as is American David Porcelli with MGR Motorsport despite his?lack of European experience.