The 2015 GP3 season was dramatic and closely-fought from start to finish. In his season review, David Gruz recaps the campaigns of the leading 20 drivers.
GP3 enjoyed a season-long rivalry between Esteban Ocon and Luca Ghiotto this year, which was not only close, but also provided some of the best performances in the championship?s history.
Even though he couldn?t repeat his victory in the season opener, Ocon displayed brutal consistency to collect 14 podiums out of 18 races including nine consecutive second places, which was enough to add the GP3 title to his already impressive CV.
His job was far from easy though, thanks to an impressive campaign from Ghiotto, who was a dominant force in qualifying and entered the final round as the championship leader.
The duo was closely followed by Marvin Kirchhofer and Emil Bernstorff, who both put on results which would have been enough for a title shot in an other season.
1. Esteban Ocon

France, ART Grand Prix, age 19
253 points, 1 win, 14 podiums, 3 pole positions, 5 fastest laps
The 2014 European Formula 3 champion had been expected to move up to GP2 but funding issues forced him to make more of a sideways move to GP3, albeit with support from Mercedes.
Ocon needed no time to be on pace, winning on his Barcelona debut. After a qualifying mistake he saved his Silverstone weekend with a race two podium, and never failed to finish within the top three from there on.
Yet a second victory eluded him. He crossed the line first at Spa but lost a place due to a virtual safety car penalty and was overtaken in the main races at Monza and Sochi, too.
He entered the final round second in the standings and the pressure maybe got to him when he lost a lights-to-flag win for track limit abuse, but he kept a cool head on Sunday and an aggressive start saw him pass his rival to secure the title, his second in two years.
He was officially confirmed to be Mercedes-bound during the same weekend and will graduate to either DTM or GP2 in 2016. Season rating: 9/10
2. Luca Ghiotto
Italy, Trident, age 20
245 points, 5 wins, 8 podiums, 5 pole positions, 9 fastest laps
With his results in Formula Abarth and Formula Renault 2.0, Ghiotto has always been considered a good driver, but endured a dreadful 2014 when his only real success amidst a struggling FR3.5 campaign was a GP3 pole on his debut.
He returned for a full season this year and the Italian soon started to exceed all expectations.
Ghiotto ruled the field in qualifying with five poles in the first six rounds. However, he could only convert two of them into victories, which was mainly down to poor starts ? he fell behind Ocon at both Barcelona and Spielberg even though he fought back in the latter, lost several places at Spa and stalled at Monza. He compensated with a victory-earning flying start at Sochi from sixth on the grid.
Ghiotto entered the final round with the championship lead but ended up behind Ocon in both races.
In 2015, Ghiotto transformed into a driver worthy of an F1 future and his performance did not go unnoticed with rumours of Red Bull interest. He?s eventually not been picked up though, which raises questions over his future. 9/10
3. Marvin Kirchhofer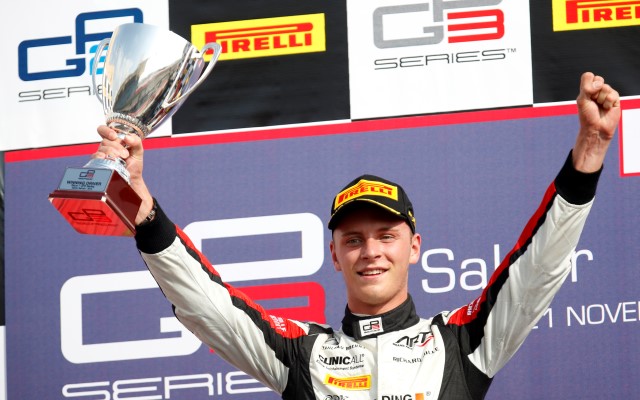 Germany, ART Grand Prix, age 21
200 points, 5 wins, 8 podiums, 1 pole position, 1 fastest lap
Kirchhofer has been one of the highest-rated German talents since his back-to-back dominant ADAC Formel Masters and German F3 titles and an impressive international debut in GP3 in 2014 maintained that reputation.
He came into 2015 in a promising position, kept on by ART for another year. He started the season a step behind rookie Ocon but good racecraft saw him take a reverse-grid victory in Barcelona and a second place at Spielberg.
He had the upper-hand at Silverstone with a lights-to-flag main race win but found himself just behind his teammate at the Hungaroring and Spa.
There was another victory at Monza on Sunday but he became an outsider in the title race after being left down the order in a drying Sochi qualifying session, and wins in the final two weekends were only enough to keep third place overall.
Kirchhofer ended the campaign well and probably could have had a realistic shot at the title until the very last race if not for some unusually strong campaigns from those who finished ahead of the German.
While it would be a shame to see him leave single-seaters, Kirchhofer considers DTM as his ultimate goal. 8/10
4. Emil Bernstorff
United Kingdom, Arden International, age 22
194 points, 2 wins, 7 podiums, 1 fastest lap
After a highly-positive rookie year, Bernstorff could only secure a late deal with Arden and, although a step up to GP2 would have been deserved, a sophomore season was an understandable choice, too. It turned out to be an excellent one as the Anglo-Dane driver was among the frontrunners from the very first weekend.
Bernstorff excelled in qualifying, even though he was never quite able to achieve a pole, and that consistency was present during the races as well, especially in the feature races where he finished on the podium seven times out of nine and took fourth on the other occasions. His worst reverse-grid race finish was sixth, too.
However, he was hit by three consecutive Sunday race retirements in the middle of the season, which tempered his excellent feature race victories at Spa and Monza.
He excelled in both tyre management and race craft which was the perfect combination to make several late overtakes throughout the year.
Bernstorff put in a convincing season but whether 2016 will take him to a well-deserved but costly GP2 move is questionable. 8/10
5. Jimmy Eriksson
Sweden, Koiranen GP, age 24
118 points, 1 win, 3 podiums
Following a disastrous maiden GP3 season, Eriksson saved his reputation by finishing fourth with two victories last year and while he had the right momentum to move up the ladder, he decided to stay for another year.
His season did not go accordingly though as the Swede failed to match the pace of the frontrunners from the get-go.
He took a reverse-grid race second place at Barcelona before spending the Silverstone and Hungaroring rounds between fourth and sixth and, while that alone would have been enough to give him a certain amount of disadvantage in the standings, a mistake at Spielberg and a post-race penalty for serving a drive-through during a VSC stint at Spa forced him out of points, deepening the issue.
He never failed to be outside the top ten afterwards but a reverse-grid lights-to-flag victory at Sochi and a third place at Abu Dhabi were his only podium appearances.
Eriksson could not challenge the top four but ended up as the best of the rest, which gives him enough credit for a GP2 switch. 7/10
6. Antonio Fuoco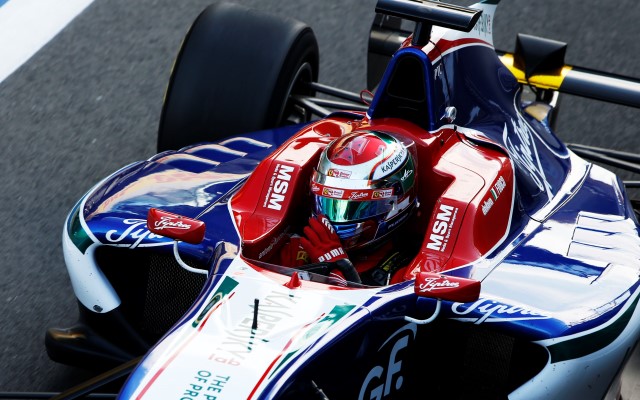 Italy, Carlin, age 19
88 points, 2 podiums
Fuoco did not return for a second European F3 run, switching instead to 2014 team champions Carlin?s GP3 squad to be one of the high-profile newcomers.
He kicked off in Barcelona in a promising but ultimately unrepresentative way as he fought his way up to eighth from 21st on the grid only to lose out on a potential sprint race victory with a mistake at the start.
He retained his great race pace for Spielberg but a better qualifying result allowed him to take second place, only to have his weekend overshadowed with a crash with a team-mate on Sunday.
He had furthers incidents at the Hungaroring from the reverse-grid pole, as well as at Spa and Monza.
He ended the season with three consistent rounds, including another podium.
Fuoco?s season was fairly similar to his F3 campaign, as he was again outshone by Ocon and threw away some potentially great results with mistakes.
He plans to return to GP3 next year but he needs to mature if he wants to go for the title, which is certainly a realistic shot considering his potential. 7/10
7. Kevin Ceccon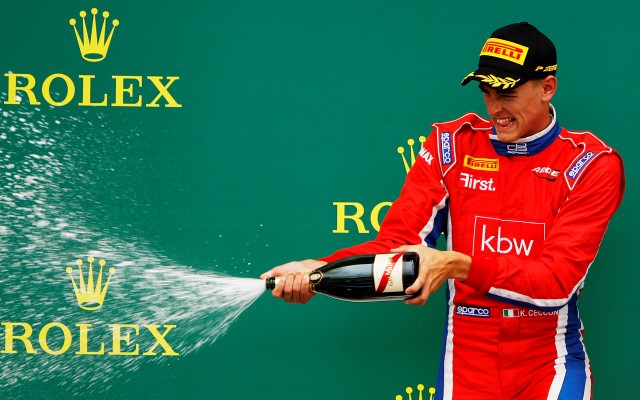 Italy, Arden International, age 22
77 points, 2 wins, 3 podiums, 1 fastest lap
Ceccon has been racing on F1 support races since 2011 but only once could he complete a full-time campaign when he finished ninth in GP3 in ?12. That was between part-time GP2 seasons, and the second of those was followed by a step back to GP3 for eight races last year, which then expanded into a full-time seat in 2015.
He lacked some pace before the summer break, especially to his teammate Bernstorff, but converted two out of three front-row reverse-grid starts into victories.
His qualifying performance skyrocketed from Spa onwards and he was never lower than fifth, but he could not quite capitalize.
Although he took a fine podium on home soil, that was between a puncture in Belgium and a stall in Russia. He had no race pace in Bahrain and lost a potential win in Abu Dhabi to a car failure.
While Ceccon salvaged as many points as possible during his slower season start, his campaign as a whole feels like a lost opportunity given the amount of trouble he hit from high grid positions.
He certainly showed enough promise, especially in the end but a seventh place in the standings is probably not eye-catching enough to make the crucial sponsor-seeking easier. 7/10
8. Matt Parry
United Kingdom, Koiranen GP, age 21
67 points, 3 podiums
In 2014, Parry?s reputation took a blow after a struggling Eurocup campaign but the step up to GP3 proved to be the right move for the former Caterham junior. He joined regular frontrunners Koiranen and wasted little time in delivering.
He was sixth in the Spielberg qualifying which saw the start of six consecutive top ten grid positions but he fell back significantly during the race to complete the season?s first two rounds with only two points.
His home weekend saw him achieve breakthrough results with a maiden podium in the main and fifth in the sprint race, which were his same finishing positions at the Hungaroring as well, only the other way around.
He returned from the summer break with a complete change of luck, suffering retirements because of an overheating engine, alternator failure and being hit by a loose tyre, as well as losing fourth in the Monza feature race as his car was found underweight.
He scored another podium in Bahrain and usually made it to the top ten for the rest of the season.
Parry was one of the top rookies of the season and the already confirmed return for another year with Koiranen promises a lot more than eighth in the standings. 7/10
9. Jann Mardenborough
United Kingdom, Carlin, age 24
58 points (7/9 rounds), 2 podiums
The Nissan protege continued to focus his career on junior single-seaters for the third year in a row as the Briton returned to GP3 for a second season, switching from Arden to Carlin.
Mardenborough showed his great endurance skills in the beginning of the season by finishing fourth and fifth from the outside of the top ten at Barcelona and Spielberg respectively thanks to great tyre management, something Carlin seemed to be one of the best at.
He even bagged a podium in the Spanish sprint race and could have done the same in the following round but he was torpedoed by teammate Fuoco on the opening lap.
That accident saw the start of a bad run which lasted for three rounds, including two main race retirements and no points.
He moved up to GP2 for Monza to fill Carlin?s free seat but after an anonymous performance he was back in GP3 for Sochi where he found himself back on pace, finishing fifth and third.
Mardenborough did not show significant improvement compared to 2014 as he only shone on limited occasions and struggled with qualifying.
His season ended a round earlier due to a commitment in sportscars, which might be where his future is headed. 7/10
10. Alex Palou
Spain, Campos Racing, age 18
51 points, 1 win, 1 podium, 1 fastest lap
One of our star single-seater newcomers of 2014, Palou had a thoroughly impressive maiden campaign in Euroformula Open and he graduated to GP3 with debuting team Campos.
Just like last year, Palou wasted no time to show his pace but the Spaniard suffered one of the unluckiest seasons imaginable.
A clutch sensor issue and a stall ruined his first two main races at Barcelona and Spielberg respectively and, although he managed to start the race at Silverstone, a gearbox problem forced him into another retirement.
Taken out by another driver at the Hungaroring, he needed to wait until after the summer break to have a main race free of problems.
He took seventh at both Spa and Monza which meant front row starts in the reverse-grid races and while he took fifth in Belgium, an engine issue ruined his start in the latter.
He made it to fourth at Sochi but lost out on another potentially good result in Bahrain after throttle sensor issues.
He did manage to sign off on a high note with an impressive lights-to-flag victory in the season finale at Abu Dhabi, and is expected to return next year. 7/10
11. Ralph Boschung
Switzerland, Jenzer Motorsport, age 18
28 points, 1 podium
Boschung was the driver graduating from the lowest level of single-seater racing, as he joined from ADAC Formel Masters and given he was only seventh there last year with the struggling Motopark team, a low-key rookie season would have been understandable.
However, even though his season opener was ruined after he was taken out in the main race, he was noteworthy by finishing eighth at both Spielberg and Silverstone, grabbing reverse-grid poles on those tracks.
He couldn?t keep up with the frontrunners and dropped down to eighth in Austria but next time around he managed to stick with the position he settled in after the start, a third place.
He couldn?t repeat the same results in Hungary but he returned from the summer break by recovering from qualifying ruined by engine issues to finish ninth twice. He continued his season-long consistency but lost a little bit to find himself just outside the top ten for most of the following rounds.
Having come from entry-level racing, Boschung adapted quickly to the Pirelli tyres and he kept delivering a pace which was enough to be around tenth.
Should he get quicker next year, possibly to fight for the higher point-scoring positions, he has the consistency to have a great 2016. 7/10
12. Alfonso Celis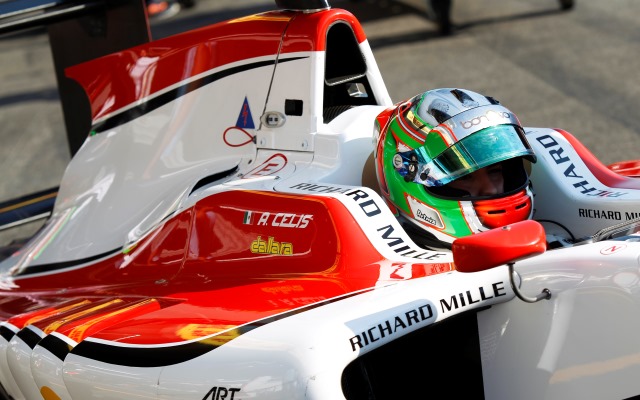 Mexico, ART Grand Prix, age 19
24 points, 1 podium
In 2014, Celis spent a barely noticeable rookie GP3 season alongside Richie Stanaway and Nick Yelloly and the Mexican was expected to have more of the same this year as he joined Esteban Ocon and Marvin Kirchhofer at ART.
He had a positive start at Barcelona though and he was running ahead of his German teammate before dropping down to tenth and salvaging one point in the season opener.
Celis couldn?t maintain form like that and, with a bit of bad luck added, he failed to finish within the top ten until Spa where he first took a sixth place in the carnage before securing his first podium on Sunday in third.
He had another weekend within the points at Bahrain by taking eighth twice.
Even though he couldn?t be a regular point-scorer, his occasional standout results both in GP3 and Formula Renault 3.5 show some level of ability as the Mexican prepares for a second year in the latter in 2016.
Money is not an issue for Celis, which is shown best by his recently announced ties with Force India but he is still far away from being considered a talent worthy of F1. 6/10
13. Matheo Tuscher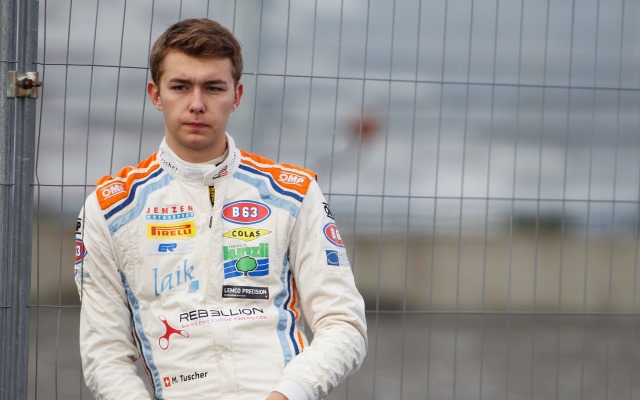 Switzerland, Jenzer Motorsport, age 18
22 points
Tuscher was a sensation when he was the F2 runner-up at the age of 15 but a year on the sidelines and an average rookie GP3 season stalled his momentum.
He was still considered as a possible title contender this year but his start was ruined by tyre issues his whole team seemingly suffered from.
He then lost another point-scoring finish with a technical disqualification in Austria and damaged his car in Silverstone qualifying, only to make big progress during the race and finish tenth.
Tuscher recovered from another mistake, this time a crash during a VSC phase at Spa to take an impressive fourth from 20th on the grid.
He scored twice more at Monza and grabbed a brilliant second place in the Sochi qualifying in difficult conditions, only for a broken driveshaft to prevent him from getting away.
Tuscher completed a disappointing season with a mixture of bad luck and lack of consistency. He was only able to match the pace of the frontrunners a few times and he could never show that in the feature races.
He joined the Rebellion LMP1 team for the final two races of the World Endurance Championship suggesting he has a future outside single-seaters. 6/10
14. Artur Janosz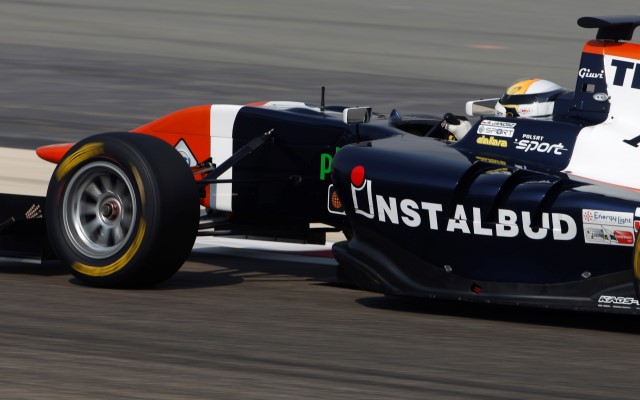 Poland, Trident, age 22
20 points
Janosz was one of the biggest surprises of 2014 when he became the Euroformula Open runner-up in his second year in cars, improving significantly from his rookie season.
The Pole earned a shot in GP3 but there were doubts over his chances given how former EF Open graduates failed to make an impression in previous years.
He teamed up with Ghiotto and Tunjo, both coming from Formula Renault 3.5 and his first two main races were ruined due to damage.
He took a step ahead at Silverstone where he outqualified Spielberg race winner Tunjo and finished ninth to score his first points, which was repeated at Spa-Francorchamps.
After an unlucky round at Monza, Janosz began the final three rounds with only four points under his belt but he started to deliver on a consistent basis, making it into the points four times including a fifth place at the Sochi sprint race and sixth in Bahrain.
His choice of Trident proved to be a perfect one as the Italian squad looked like one of the strongest teams, Janosz completed a positive rookie GP3 season.
He tested for two days in his current team?s GP2 car but a sophomore GP3 campaign would surely produce more eye-catching results. 6/10
15. Oscar Tunjo
Colombia, Trident, age 19
17 points (2/9 rounds), 1 win, 1 podium
After a disrupted 2014, in which he left the stillborn Renault F3 project before securing an FR3.5 seat, Tunjo was then forced into another change of plan at the start of this year when a supposed two-year deal with Pons fell through.
He instead sealed a place in Trident?s GP3 line-up, and wasted little time in delivering.
His unfamiliarity with the Pirelli tyres left him with no points in Spain despite being eighth on the grid, but the following round saw him do the opposite and take ninth from a low starting position.
Although he just missed out on a reverse-grid pole he carved through the field to win regardless. He spent the Silverstone round around the top ten and then was forced to leave due to more financial issues.
Despite only contesting six races, Tunjo made a big impression and, considering his teammates? good seasons, he would have been going for further top results if he?d stayed on. It remains to be seen if he can secure the necessary funding for a full-time return to a junior series next year. 7/10
16. Alex Fontana
Switzerland, Status GP, age 23
16 points
Having made his GP3 debut in 2011 and completed two full-time campaigns in 2013 and 2014 respectively, one of them with ART, Fontana opted to have another shot in the series.
He assumed the team leader role at Status, joined by two rookies, and Fontana had a consistent start, scoring points in three races of the first four races. No luck at Silverstone or the Hungaroring meant the first half of the season passed by in a quiet manner but he returned with nine points at Spa and Monza.
At Sochi, Fontana suffered one of the biggest crashes of the season in practice and he was never inside the top ten afterwards.
Fontana became the most experienced GP3 driver of all-time during 2015 yet it was his least successful campaign, the first in which he didn?t stand on the podium.
He was probably not helped by the fact Status was back on 2013 form and last in the teams? rankings. He was still the top driver in the team, scoring more points than his teammates combined, even though he finished just ahead of them in the standings.
Fontana spent two days of testing in the GP2 post-season, one with Status and one with Rapax, which suggests he is looking to move up next year. 6/10
17. Sandy Stuvik
Thailand, Status GP, age 20
7 points
Stuvik was one of the most dominant champions of 2014 in Euroformula Open and despite some GP2 tests he made the reasonable move to GP3.
He had a promising start, making up eight positions to finish tenth at Barcelona only to be penalised for overtaking under the safety car.
He then went on to take seventh in both qualifying and the main race at Spielberg but he lost out on a great opportunity from second on Sunday?s grid after being taken out on the opening lap.
He had to wait until Monza to fight for points again where he added one more to his tally.
Following two successful Euroformula Open campaigns, scoring seven points and finishing behind his 2014 rivals Palou and Janosz might look disappointing but the Thai racer was on a level with his teammates and was the one leading the team at Spielberg where it had its best pace all season.
He could become a regular pointscorer in 2016 with a year under his belt but a chance to return to his old EF Open team RP Motorsport in Formula 3.5 V8 might be on the cards too. 6/10
18. Seb Morris

United Kingdom, Status GP, age 20
6 points
A long-time prospect in British junior racing, Morris finally entered the international scene last year and, after a decent NEC campaign, he joined GP3.
It took time for the Welshman to get adjusted to the demanding series and his season started with a retirement after causing a collision at Barcelona.
It looked like the Austrian round won?t see an improvement either after finishing only 19th in the feature race but suddenly he found pace on Sunday and at the end of a convincing recovery, he crossed the finish line seventh which turned into fifth following post-race penalties.
He couldn?t push on from that, failing to score again, although he was disqualified from a tenth place at Monza due to technical irregularities.
Morris had a quiet rookie season and, despite being the top qualifier at Status, he ended up as their lowest-ranked driver in the standings. The tendency to be involved in race ending incidents remained an issue too.
A sophomore season would be beneficial for his reputation, since he showed more talent in the past than his four points would suggest. 6/10
19. Pal Varhaug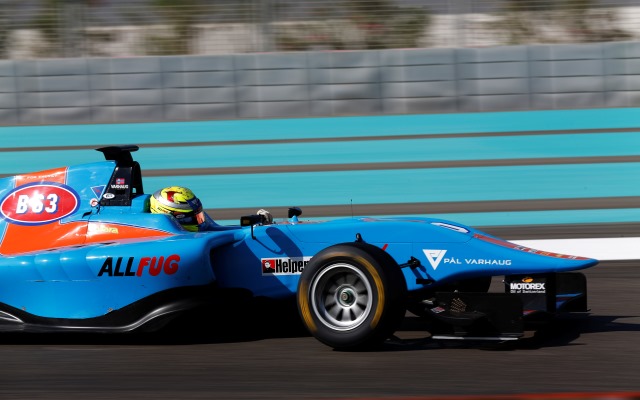 Norway, Jenzer Motorsport, age 24
5 points
Having not raced full-time in 2013, Varhaug returned to his roots last year to race in GP3 with his old team Jenzer.
The season went by quietly and it looked like it could have been Varhaug?s last in single-seaters but the first-ever GP3 race winner returned for a second consecutive campaign in 2015.
He was ninth in the season opener qualifying, which turned out to be his best starting position of the year and as such, one of his big chances to get a good result.
Jenzer?s tyre wear struggles left him down the order though but, after two quiet rounds, he again showed better form at the Hungaroring, spending the weekend within the top ten and scoring four points.
His next four events were ruined by being an innocent victim of crashes in the main before signing off with another point in Abu Dhabi.
Although his bad luck made it impossible to achieve a decent season, his overall performance doesn?t suggest he improved much from last year. 5/10
20. Alex Bosak
Poland, Arden International, age 22
4 points
After three years in Formula Renault 2.0 Alps, Bosak moved up to GP3 and lined up alongside the experienced duo of Bernstorff and Ceccon at Arden.
His season started in a decent manner considering expectations, as he stayed clear of trouble in the first half of the year, often making up several positions in the main races including a best result of 14th at Silverstone.
That was followed by his highlight weekend at Spa-Francorchamps where he took advantage of the carnage to claim his first and only points in eighth.
He started the reverse-grid race from pole but suffered a puncture and heavy crash Blanchimont.
Bosak had no further opportunities to finish near the top ten, mainly down to qualifying performances that saw him never higher than 20th throughout the whole season.
Given he needed three years to score points in Alps, Bosak could have expected nothing more than a learning year, which he accomplished. Seeing him back for a sophomore season would make sense. 5/10
The rest
Matevos Isaakyan joined the field with Koiranen for the final two rounds and grabbed two points at Abu Dhabi, joining the list of 22 pointscorers, which was rounded out by Carlin?s Mitchell Gilbert.
Adderly Fong failed to score on his third year in GP3, as did Porsche graduate Zaid Ashkanani, who came really close to the top ten in his debut race, which happened to be his best result of the year.
Ashkanani was the second full-timer at Campos alongside Palou, with the third seat shared between Samin Gomez and Konstantin Tereshchenko for the majority of the rounds, with Prema F3 refugee Brandon Maisano and Christopher Hoher also making one-off appearances.
Tunjo's Trident car went to Beitske Visser at Spa and Amaury Bonduel at Monza before Michele Beretta took over for the final three events.