Stoffel Vandoorne had control of the 2015 GP2 season but there were great performances throughout the field, assessed in depth in Peter Allen's review.
GP2 in 2015 was the story of one man, as Stoffel Vandoorne lived up to the expectation of both observers and backer McLaren by winning the title in dominant style.
However, that one driver finished up way ahead of the rest should not be taken to mean that the rest were no good.
The amount of promising drivers on the GP2 grid has improved year-on-year over the past few seasons, and where the front of the field was filled in the past with seasoned veterans, less-experienced drivers came to the fore in 2015.
While there were strong campaigns from series regulars Alexander Rossi, Rio Haryanto and Mitch Evans, rookies like Sergey Sirotkin, Alex Lynn and Pierre Gasly were also regular frontrunners.
1. Stoffel Vandoorne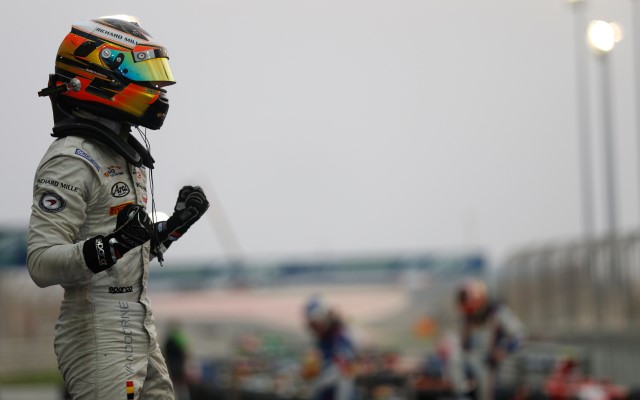 Belgium, ART Grand Prix, age 23
341.5 points, 7 wins, 16 podiums, 4 pole positions, 5 fastest laps
The pressure was on for Vandoorne to be champion and in convincing fashion, but he delivered on both counts.
An outstanding early run of form meant no other outcome ever looked a possibility, with four straight feature race wins from the start of the season ? three of which were paired with sprint-race second-places.
There was then only one victory from the next five events – but that was the one he really wanted, on home soil at Spa. Everywhere else he remained a frontrunner, and did enough to have the title wrapped up with two rounds to go.
With that off his shoulders, he was able to ram home his superiority with a pair of dominant wins in Bahrain and Abu Dhabi.
Even with DRS, a double win never came, but charging his way through the order Hamilton-style has never really been Vandoorne?s way. Instead, he produces seemingly effortless efficiency.
Really, there?s nothing more he should have to do earn an F1 seat, but McLaren?s sending him on a year in Japan?s Super Formula while he waits for a vacancy. Season rating: 10/10
2. Alexander Rossi
United States, Racing Engineering, age 24
181.5 points, 3 wins, 7 podiums, 1 pole position
After several years toiling with Tony Fernandes? often uncompetitive junior teams, Rossi came close to ending his F1 ambitions last winter, but he made good use of a chance with Racing Engineering to land a debut in the big league before the year was out.
Strong consistency made Rossi the nearest man to Vandoorne through the first half of the season ? and he ended his pole-streak in Monaco, his ability around the street circuit shining through amidst an otherwise unremarkable qualifying record.
A lack of a headline-grabbing win though meant the media talk of the summer was that he hadn?t done enough to get a place at America?s new F1 team, Haas.
When the season resumed, Rossi quickly silenced doubters, and after back-to-back wins at Spa and Monza he?d secured a five-race F1 stint for Manor. He won again on his GP2 return in Sochi.
Like many in the class of 2015, the fact he wasn?t in Vandoorne?s league doesn?t make him worthless. He?s performed well in the junior ranks when in a good team, and showed well in his early F1 races too. They shouldn?t be his last. 8/10
3. Sergey Sirotkin
Russia, Rapax, age 20
139 points, 1 win, 5 podiums, 1 pole position, 1 fastest lap
Sirotkin had showed some promising testing form as he made the move into GP2 from Formula Renault 3.5, but then he failed to score in his opening two events.
However, a podium in Monaco was the first of five within seven races. He was second to Vandoorne in the Spielberg feature race, then halted the Belgian?s streak with a fine victory in his first ever time at Silverstone.
After a double podium in Hungary he seemed to be mounting a strong challenge for the runner-up spot, only to never make the top three again while Rossi started picking up wins.
Sirotkin did very briefly lead at Spa only for a long brake pedal to send him straight on at the first corner, then again at Monza before being crashed into. After that there were some strong drives into the top five even though Rapax reverted to past qualifying struggles.
He needs to win more races if he?s to turn his fine rookie season into a title campaign in 2016, but he?s close to an ART deal that could allow him to do just that. 8/10
4. Rio Haryanto
Indonesia, Campos Racing, age 22
138 points, 3 wins, 5 podiums
After three all-too-quiet seasons, Haryanto finally enjoyed a strong GP2 campaign befitting of a driver that followed a Formula BMW title with GP3 victories earlier in his career.
He immediately delivered with Campos, matching Vandoorne?s results of second and first in Bahrain.
That wouldn?t be repeated, with his qualifying and feature race form dropping off as the season wore on, but he would take another two sprint race victories at Spielberg and Silverstone. He was unlucky not to add another in Sochi, with a race-ending safety car called just as he moved for the lead.
A point short of third place flattered his speed and he ranks only seventh among feature race scorers, but even in a fourth season you have to have a certain level of ability to mix it with the quality of drivers Haryanto rivalled this season.
That doesn?t mean he?s good enough to make F1 on merit, but his 2015 improvement has provided the impetus for a literal bid from the Indonesian government to make him a Manor driver. 7/10
5. Mitch Evans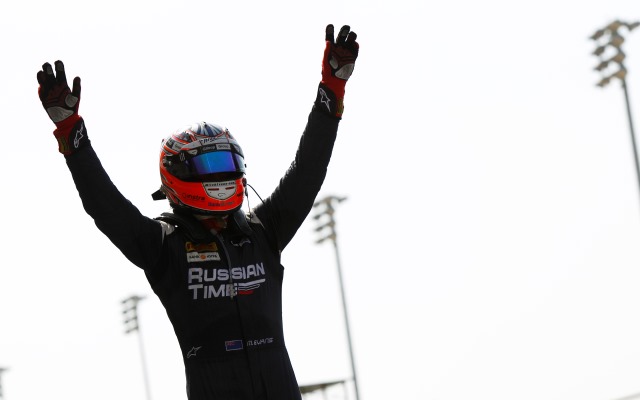 New Zealand, Russian Time, age 21
135 points, 2 wins, 7 podiums, 1 fastest lap
The statistics show Evans wasn?t as strong as in 2014 but he was stymied by a poor run of performance from his car in the middle of the year.
In both Barcelona and Monaco it refused to even get him to the grid of the sprint races, and the team?s pace was poor at Silverstone and the Hungaroring.
The issues had been preceded by another change of personnel at Russian Time over the winter, and once iSport engineer Gavin Jones returned for Spa, the Evans of old was also back.
Back on the podium in Belgium, he produced a stunning weekend at Monza with third in the feature race following a qualifying exclusion, then a sprint race win.
Those results were repeated in Bahrain, and if the season finale wasn?t cancelled, he might have done it again in Abu Dhabi and thus claimed third in the standings.
A driver is perhaps not 100 per cent blameless when problems strike ? Evans was winning in the same car last year ? but he proved he could be Vandoorne?s closest match when on song.
He could be champion if he repeats that form next year, when he?ll instead drive for Campos courtesy of Sean Gelael. 8/10
6. Alex Lynn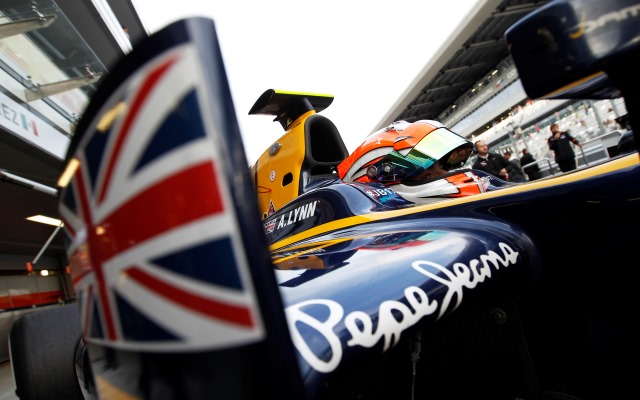 United Kingdom, DAMS, age 22
110 points, 2 wins, 4 podiums, 2 pole positions, 3 fastest laps
Like Sirotkin, last year?s GP3 champion Lynn seemed to be mounting a bid for Rossi?s second place going into the summer break after an increasingly impressive start to his rookie campaign.
Third in qualifying for his debut race, he was a reverse-grid winner in his fourth, and a feature race victory later followed from pole in Hungary. He should have had two more from the next three events.
At Monza he was bidding for the lead when he clattered into Sirotkin, then worse followed at Sochi when he comfortably led from pole but crashed on his own before the end of a shortened distance.
They were surprising mistakes from a driver that had long-impressed for his maturity, and now added undoubtable pace too.
However, with Lynn capable of cutting out those errors and DAMS capable of reverting some surprising race-pace issues from the last couple of rounds, the continuity of team and driver makes Lynn a favourite going into 2016 and well-placed to follow Vandoorne as a second-year champion. 8/10
7. Raffaele Marciello
Italy, Trident, age 21
110 points, 4 podiums, 1 fastest lap
A switch to Trident was never going to make Marciello a serious title challenger in his second GP2 season, but he never really came close either to repeating the two wins the team scored last year with Johnny Cecotto.
In 2014, Marciello had been brilliant at his best but wildly inconsistent, scoring in just six races. This year he scored 13 times, but there wasn?t really one spark of brilliance.
For a driver who only qualified outside of the top 10 once, he was pretty anonymous in feature races for most of the year, mustering no better than sixth up until the final couple of rounds.
He was provided with a number of good starting positions for sprint races but failed to capitalise, most notably in Monaco.
There was a marked upturn in the final two events in Bahrain in Abu Dhabi, culminating in a fine second to Vandoorne at the latter.
By this point it was known he?d be parting company with Ferrari. Too little, too late, or a lifting of pressure that had suffocated him all this time?
It would be nice to see him back in 2016 but it remains to be seen whether he can make a deal happen without the Scuderia status. 7/10
8. Pierre Gasly
France, DAMS, age 19
110 points, 4 podiums, 3 pole positions
Staggering winter testing pace ultimately set the bar too high for Gasly?s first full season in GP2.
Despite having a few races from last year and a campaign in FR3.5 under his belt, he was regularly second best to team-mate Lynn during the first half of the season.
Once he started racing on circuits he?d been to in GP2 before he started to show the speed that testing had promised, with an impressive three poles from the last four events.
None were convered into victory though ? he was stopped by a mechanical issue at Monza and slowed by poor DAMS race pace in Bahrain and Abu Dhabi.
With a very similar career path, it?s easy to want to compare Gasly to Vandoorne and thus criticise his rookie GP2 campaign, but it?s worth remembering that he?s four years younger.
With no wins in two years with Red Bull, he?s fortunate to be retained by Helmut Marko, but it?s wise for the Austrian to keep hold of a driver who could yet easily slot in at Toro Rosso in 2017.
A budget cut seems to be forcing Gasly to series newcomer Prema, but he can still impress by getting the most from his equipment in a way he took too long to do this year. 8/10
9. Nobuharu Matsushita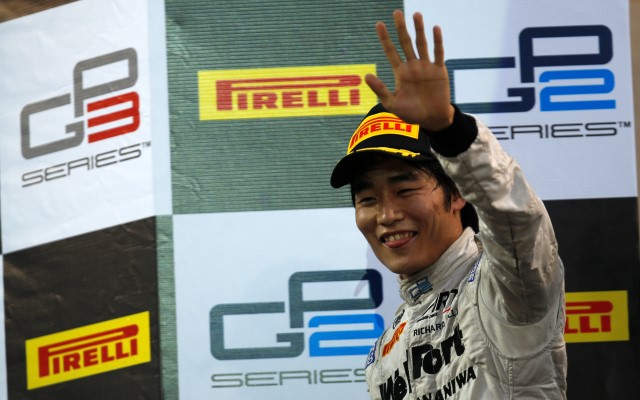 Japan, ART Grand Prix, age 22
68.5 points, 1 win, 3 podiums

Expectations were low for a driver that was making the step up from Formula 3 to GP2 and travelling from Japan to Europe at the same time, but Matsushita left a strong impression.
To join team-mate Vandoorne on the front row for his debut was outstanding, and it was perfectly reasonable it took until round four at Spielberg for him to make the podium.
Another competitive showing at Silverstone was halted by a mechanical issue, but Matsushita made the top step next time out in Hungary when he drove away from his team-mate and the rest of the field in the sprint race.
A bit of an erratic spell followed, but there was another fine result before the end of the season on the return visit to Bahrain with second place.
He ended the year by topping both of the test days he did in Abu Dhabi, and there?s little reason why he won?t have the pace to lead the field on a regular basis next year. There might be too many rough edges for him to win the title, though. 7/10
10. Richie Stanaway
New Zealand, Status Grand Prix, age 24

60 points, 2 wins, 2 podiums, 1 fastest lap (9/11 rounds)

Stanaway was given another chance to show his talents by Status Grand Prix, this time in GP2, and once more he took the opportunity to prove his class.
The new Status GP2 operation was not a consistently competitive force and that often left Stanaway languishing down the order, but he made the most of the good days.
One such day was that of the reverse grid race in Monaco, winning on just his sixth start in the category.
After further strong showings at Silverstone, where he qualified third, and Monza, where he twice finished fourth, another victory came on Sunday in Sochi.
That would be his last race, with the team opting to take on Oliver Rowland for the final two rounds, but the FR3.5 champion?s struggles only emphasised the great job Stanaway did in a Status car.
To finish 10th overall and win twice after stepping out of GP3 would be a fine effort in any circumstances. There?s no doubt Stanaway?s one of the best drivers in the field, and it would be great to see more of him alongside Aston Martin sportscar commitments. 7/10
11. Arthur Pic
France, Campos Racing, age 24
60 points, 2 podiums
Pic had put in the best season of his career to-date to finish seventh as a rookie in 2014, showing Vandoorne-rivalling pace late in the season, but his second campaign didn?t come close to matching those highs.
He was heavily outscored by new team-mate Haryanto, and although neither car showed strongly in qualifying, Pic couldn?t make the same sort of progress in races.
He was also unable to convert some of his better grid positions into strong results, denied by contact in Bahrain, a penalty at Silverstone and slow pitstop in Hungary.
A couple of second-places ? in the Spa feature race and Monza sprint ? salvaged something from his season, but to end up outside of the top 10 was not something he had in mind at the start of the year.
Now moving on from Campos, it wouldn?t be a surprise to see Pic look elsewhere such as sportscars, but there may also be a chance of a GP2 return with another frontrunning team. 6/10
12. Jordan King
United Kingdom, Racing Engineering, age 21

60 points, 1 podium

Formula 3 graduate King had shown great speed behind the wheel of GP2 car in tests at the end of 2014 and demonstrated it again to finish a fantastic fourth in his first race.
For much of the season that would be his best result, but he took second in the Spa sprint race, when only the efforts of team-mate Rossi stopped him turning reverse-grid pole into victory.
Although big results were few and far between, King was a regular in the top 10, including on his first visit to Monaco where other top rookies struggled.
When qualifying didn?t go his way, there were often some impressive charges, most memorably at Silverstone where contact from Pic denied a sixth place.
Given he had started third, King would almost certainly have scored the points needed to take P10 in the standings had the finale not been cancelled, and such a result would have been a fine effort.
It?s not surprise he seems likely to remain with Racing Engineering next year, and wins should be well within his reach. 7/10
13. Artem Markelov
Russia, Russian Time, age 21
48 points, 1 podium

There was always a hunch that Markelov?s tough 2014 GP2 baptism was unrepresentative of his ability and just the product of making a big step up from German F3, and there were enough glimpses from the young Russian this year to confirm that.
He suffered from the same Russian Time instability as Evans, but demonstrated his great race skills to claim fifth-place finishes at both Barcelona and Spielberg before the team?s form really dipped.
As soon as things improved again, he scored a maiden podium in the Spa feature race from 22nd on the grid ? a fine drive even with a large slice of luck on the strategy side. Another great charge followed to take fifth at Monza.
Qualifying was still a definite weakness and it took until the final round for him to start a feature race inside the top 10. He was running second and in with a shot at a podium when his car ground to a halt.
Markelov?s another who?s capable of winning races next year, but he and those around him need to ensure Russian Time remains a competitive force if that?s to happen. 6/10
14. Julian Leal
Colombia, Carlin, age 25
38 points (8/11 rounds)

Leal remained with Carlin to begin his fifth season in GP2, but finally called time on his career in the series with three rounds remaining, having not added to his tally of four podiums from 102 starts.
Carlin struggled to be competitive post-Felipe Nasr, with the talented Marco Sorensen struggling in the sister car.
Leal had decent double-scoring weekends in Bahrain and Monaco, while there was a fourth place in the Spa feature race.
But having scored only six times from 16 races and thus not made progress on 2014, he opted to call it a day to shift his career focus elsewhere.
He has tested in LMP2, and if he continues to be well-backed, he could become a valuable driver in the discipline. 5/10
15. Sergio Canamasas
Spain, MP Motorsport/Lazarus/Hilmer, age 29
27 points, 1 podium, 1 fastest lap (10/11 rounds)

Canamasas joined MP Motorsport for the start of 2015 and soon produced the best weekend of his career.
As in 2014, the Spaniard?s aggressive style paid dividends in Monaco and a bold move on Pic gave him third in the feature race, before progressing from sixth to fourth in the sprint race.
However, no sooner had he done that, did his deal with MP collapse on the eve of the Spielberg weekend.
He spent most of the rest of the season driving for Lazarus ? aside from a one-race switch to Hilmer for Hungary ? and with the Italian team not as competitive as MP, he scored on just one further occasion.
Canamasas has a rough reputation after some questionable driving during his time in GP2, but his Monaco performance was proof of a quick driver underneath, which he might be able to show more of if he switched his focus away from single-seaters. 5/10
16. Nathanael Berthon
France, Lazarus, age 26
27 points, 1 podium, 2 fastest laps (10/11 rounds)

A podium in the Bahrain sprint race suggested Berthon?s second season with Lazarus would be considerably better than his first, but it was a false dawn.
With the team continuing to struggle for results as it completed its final season in GP2, Berthon would only go on to score eight more points, with a pair of sevenths at Spa and a 10th in Abu Dhabi.
While funding has probably played its part in Berthon getting a Formula E drive for 2015-16 with Aguri, he?s also probably a much better driver than his four-year GP2 career has suggested.
He scored twice as many points in his first season in 2012 with Racing Engineering than in 2015, his next best campaign. His team choices since have worked against him. 5/10
17. Robert Visoiu
Romania, Rapax, age 19
20 points, 1 fastest lap (9/11 rounds)

Visoiu sat sixth in the standings after his debut GP2 weekend ? six places higher than the best of his three years in GP3.
The surprising fifth and seventh places he scored in Bahrain would prove to be unrepresentative, though.
The pendulum at Rapax swung Sirotkin?s way, and Visoiu had to make do with just three further points finishes, before he withdrew from the final two rounds with injury.
His initial move into GP2 came after previously planning to step back from racing, but if he wants to return, he?s good enough to make progress over multiple seasons. He?s still young too. 6/10
18. Norman Nato
France, Arden, age 23
20 points, 1 fastest lap
Making the switch to GP2 after a couple of up-and-down years in FR3.5, Nato was immediately on the pace, qualifying seventh in Bahrain.
He was up to third place after the start, but didn?t make himself popular by manging to take out compatriots Gasly and Pic as well as Marciello in one go a few laps later.
In Barcelona he led the sprint race from pole but fell back to seventh, and then went through four consecutive rounds with poor qualifying form.
At the last of those in Hungary though, he managed to charge from 22nd on the feature race grid to take sixth place in Sunday?s race.
At Monza he would have taken a podium but for a pit-lane speeding penalty, and the sixth place he ended up with were his last points.
Nato?s 18th in the standings was certainly not representative of his speed on occasion, but the pace was inconsistent, and he was a bit too incident-prone. This ex-Formula 4 rival of Vandoorne?s is capable of much better in 2016. 6/10
19. Nick Yelloly
United Kingdom, Hilmer, age 25
19 points, 1 fastest lap (6/11 rounds)
In March, Yelloly was poised to move into sportscars but that fell through and come May he was making his GP2 debut in Barcelona, then testing a Force India F1 car a few days later.
Both had come about through doing simulator work for the F1 team, and Yelloly wasted no time in getting up to speed in GP2, qualifying ninth on his debut.
He put past Monaco experience to good to use to be two places further up there, and scored two top 10 finishes.
He remained competitive and in the points through Spielberg and onto his home round of Silverstone, where he battled frontrunners to take a seventh and a fifth.
Come Spa he?d been left on his own at Hilmer and chose to race on home soil in FR3.5 rather than continue with the team.
Yelloly returned to GP2 for three days of testing with MP, and deserves a full season in a competitive seat in 2016. 6/10
20. Andre Negrao
Brazil, Arden, age 23
5 points

Negrao came into 2015 sticking with Arden for a second season, seemingly a good move after a rich vein of form at the end of his rookie campaign had lifted him to 12th in the standings.
However, there was no continuation of that run.
He was in the points in the first two races of the year in Bahrain, but he then went through a drought that lasted until the final race in Abu Dhabi, in which he was ninth.
The lack of results inbetween can easily be put down to poor qualifying performance, having not once started a feature race from inside the top 10.
A switch to Rapax seems likely for 2016 after Negrao spent all three days of the Abu Dhabi test with the team, and this time he was frequently inside the top 10. 5/10
The rest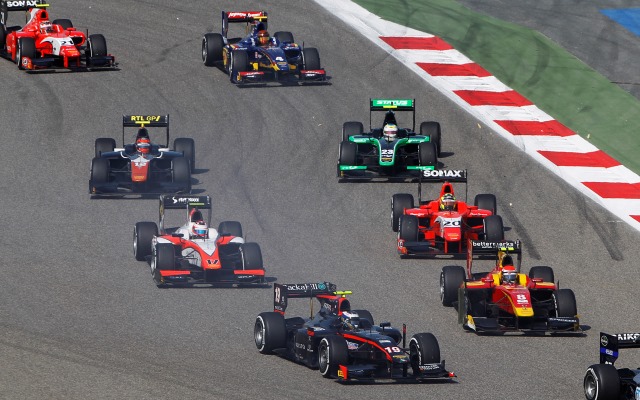 Formula Renault 3.5 champion Oliver Rowland stacked up well against the GP2 field in appearances with MP Motorsport at Silverstone and Spa, scoring points twice at the former before joining Vandoorne on the front row at the latter, only to collide with Matsushita at the first corner. He struggled in two later appearances with Status, but could star in a competitive car in 2016.
Fellow Briton Dean Stoneman also charged through to the points from towards the rear of the grid on his debut with Carlin at Sochi, going from 18th to ninth in just 15 laps, but didn?t manage to score in his other five starts.
Rene Binder went pointless for much of the season with Trident but scored in both races at Monza after switching to MP.
Going in the other direction was fellow 60+ race starter Daniel De Jong, who managed one point in Hungary before a frightening shunt at Spa. He made a swift recovery from fractured vertebrae ? so swift MP had already signed two drivers for the final two rounds and he had to join Trident instead.
In the ex-Binder Trident car at Spa was Gustav Malja, who scored a point in his debut race and later returned to do the final two rounds with Rapax in place of Visoiu.
The one driver not to score points from a full season was Marlon Stockinger, 11th on his debut being his best finish for Status.
Marco Sorensen joined Carlin after a race-winning stint with MP last year but left after four torrid events to focus on a more successful World Endurance programme with Aston Martin.
Initially replacing him for Silverstone was Johnny Cecotto. His experience also got him two rounds with Hilmer and two with Trident, despite threatening to retire due to a lack of government support.
In Sorensen?s Carlin seat for five of the final six rounds was Sean Gelael, who will do a full year with Campos next year.
Like Rowland, Stoneman, Malja and Gelael, Nicholas Latifi did GP2 rounds alongside a full FR3.5 campaign and is highly likely to score points next season after joining DAMS following four outings with MP.
Zoel Amberg moved over from FR3.5 to start the season with Lazarus but health issues (triggered by following two Monaco shunts with the Le Mans 24 Hours) repeatedly stopped him, even on a testing return in December.
In Hilmer?s ultimately unsuccessful attempts to see out the season it called upon GP2 racers-turned sportscar regulars Simon Trummer (for Spielberg and Monza) and Jon Lancaster (Silverstone).
A particularly busy weekend of international racing meant three new faces for Monza: Jann Mardenborough stepped up from GP3 to fill in for Gelael at Carlin, ex-GP3 driver Patric Niderhauser got a shot with Lazarus in place of Berthon and Meindert van Buuren linked up with MP after de Jong?s injury.