It feels like its share of the limelight is being increasingly taken by rival championships, but GP3 continues to be a very effective junior series as it enters its sixth year.
Three of its champions have raced in Formula 1, and the other two are major players in GP2, including last year?s winner Alex Lynn.
For a while over the winter, the driver market appeared uncertain and only eight drivers had been confirmed by the start of March, but a three-week rush after that ensured that all but one of the 24 seats (the grid was reduced to eight teams by Manor's administration) had been secured by day one of pre-season testing.
And despite it taking a while to come together, the final field is a pretty strong one. There?s a large contingent of drivers continuing from last year, including three of last year?s top five, while there?s also a strong rookie crop with promising drivers sourced from ADAC Formel Masters to Formula Renault 2.0 and Euroformula Open.
Undoubtedly though, the headline draw is the arrival of Esteban Ocon and Antonio Fuoco from European Formula 3. With the latter a Ferrari protege and the former now receiving Mercedes support, they add some much needed star quality and demonstrate GP3?s relevance as a stepping stone to higher categories.
The lack of decent racing provided by the current iteration of GP3 car remains a big issue, but in what is the final season of its scheduled life, the prospect of Ocon and Fuoco scrapping with the likes of Marvin Kirchhofer should attract plenty of attention.
Carlin
Last year, Carlin added GP3 titles to their ever-growing haul of silverware from the junior single-seater categories. Alex Lynn led the drivers' points from start to finish, and the squad went on to wrap up the teams' title and halt ART's previously unbeaten record in the series. They're well placed to retain the latter crown this year with a strong trio, even though none of them start as favourite this time around.
1. Antonio Fuoco
Italy, age 18
2014: European F3, 5th

It was something of a surprise at the end of last year when it became clear that Fuoco would be switching to GP3 this season, instead of remaining in F3 for an assault on the title his compatriot and fellow Ferrari protege Raffaele Marciello won in 2013.
It's possible that politics may have played its part but there's probably some method to the move too. GP3 acts as a good intermediate step for drivers looking to go from F3 to GP2 – a direct jump that Marciello hasn't found easy – and this offers Fuoco the chance to sample life outside of Italian team Prema, with which he was Formula Renault Alps champion as a rookie in 2013.
Beating ART's pairing of the best returning GP3 driver and the F3 champion who dominated Fuoco as team-mate last year is a tough ask, but on paper he's the man most capable of troubling them. On his day he can be out front, but he didn't have enough of those days last year.
2. Jann Mardenborough
United Kingdom, age 23
2014: GP3, 9th

Mardenborough has been rewarded for his performances since winning the Nissan GT Academy competition by being named as a full-time driver for the Japanese marque's new LMP1 project, but he'll also get to continue his single-seater career for another year.
Staying in GP3 for a second season, he returns to the Carlin team that he previously raced for in F3 in 2013. His debut GP3 campaign came with Arden but the team struggled in qualifying – all-important in GP3 where races are short and overtaking is tough.
Mardenborough outpaced and outscored two team-mates who had been in GP3 for as long as he had been racing, so if Carlin remains as competitive as it was last year, he could be a real contender.
His pre-season preparation was rocked by a fatal GT crash at the Nurburgring in March. The GP3 schedule has allowed him to get back behind the wheel outside of the spotlight though, and he's looked fast.
3. Mitch Gilbert
Australia, age 20
2014: European F3, 16th; GP3, 8 races

After a tough couple of years, Gilbert heads into 2015 keen to get his reputation back on track. And in a GP3 seat with reigning champions Carlin, the Kuala Lumpur-born Aussie is well-placed to do so.
A race winner in both Formula Renault 2.0 UK and German F3 in his first two years in single-seaters, the step up to European F3 for 2013 wasn't kind to Gilbert.
Last year began more promisingly with a trio of top-six finishes inside the first three rounds, but things soured afterwards and he chose to switch to GP3, doing four rounds with Trident after an initial debut at Silverstone was stymied by a qualifying roll.
With Carlin, Gilbert has what it takes to be a frontrunner, but while his pre-season seemed to start well in Estoril, Barcelona looked to be more of a struggle.
ART Grand Prix

Finishing runner-up in the GP3 teams' standings, less than a victory off first place, is 'great' by most squads' standards, but not by ART's – certainly not after four consecutive titles. And going by a 2015 lineup that features their top driver from last year and an FIA F3 champion, the French team are dead set to retake their GP3 honours.
4. Alfonso Celis
Mexico, age 18
2014: GP3, 21st
Celis was the first driver to announce a GP3 deal for 2015 and has since not only confirmed a concurrent Formula Renault 3.5 campaign, but already scored points in that series' season opener.
He's definitely the least-known driver in ART's lineup, having scored only two points in his first GP3 campaign in 2014. But his CV is reasonable, with podiums in Formula Renault 2.0 and Formula BMW Talent Cup and the two aforementioned points in GP3 coming with a drive from 16th on the grid to seventh.
A fast rise up the ranks has often meant he's lacked experience relative to the competition, so the stability of a second year in GP3 should help him.
His pre-season showing was not bad, if somewhat inconsistent, and a mid-pack presence should be a solid goal to aim for. But the pressure isn't off – he'll absolutely need to score points on a regular basis to help ART's title campaign.
5. Marvin Kirchhofer
Germany, age 21
2014: GP3, 3rd
After titles in ADAC Formel Masters and the national F3 series, Kirchhofer's third place in GP3 last year was the first time the German was beaten in a full-time campaign in cars – and there was no shame in losing to Alex Lynn and Dean Stoneman.
There was some raggedness in his rookie year in the series, but it was well overshadowed by a sublime lights-to-flag win on home soil at Hockenheim and a streak of five consecutive podiums in the second half of the season. And while he wasn't the top GP3 newcomer, those who finished ahead of him were vastly more experienced in cars.
Nothing but the title is likely to suffice for the championship's top returnee in 2015. It won't be an easy task though given the sheer number of highly-rated newcomers, and in particular the Frenchman alongside him…
6. Esteban Ocon
France, age 18
2014: FIA F3, champion

It has long been obvious that Esteban Ocon is the real deal – he's demonstrated it many times in karting and in Formula Renault. But last year's European F3 was where the Frenchman ascended to superstardom, beating junior single-seater's best lineup in his first campaign in F3 cars.
The fact that his brilliant 2014 has failed to lead to a seat in GP2, FR3.5 or even DTM has been well-documented and is unfortunate. Yet the move to GP3 is reasonable and he could hardly be making it with a better team.
His F3 title makes him eligible for an FIA Superlicense, but to get a good chance to use it he'll probably have to take back-to-back championships. And that is one tough ask – not in the least because of his German teammate.
The Frenchman enjoyed a solid pre-season with an especially good showing at Valencia, although he hasn't quite matched Kirchhofer. But Ocon defied a lack of series experience last year – who's to say he won't do it again?
Status Grand Prix

Status recovered from a massively difficult 2013 season to take third in the teams? standings last year. Experienced GP3 driver Nick Yelloly and single-seater returnee Richie Stanaway delivered a race victory each but both have now moved on. The Silverstone-based squad is set to kick off the season with three new drivers but all three are strong, with one of the most experienced drivers in the field joined by two talented rookies.
7. Seb Morris
United Kingdom, age 19
2014: Formula Renault 2.0 NEC, 3rd
Last year, Morris finally moved onto the European scene after four years of racing in British national series by taking part in Formula Renault 2.0 NEC with Fortec, something he had initially planned to do a year before.
Similarly to his preceding campaign in BRDC F4, Morris had to play catch up after an inconsistent start to the season, despite winning at his home track Silverstone. By the end of the year he started to constantly deliver with four consecutive podiums but he still had to settle for third in the standings.
Skipping the obvious step to the Eurocup and instead entering GP3 makes sense, given his five years of experience in car racing.
He is capable enough of being a regular point-scorer from the beginning but he will probably need to work on his consistency if he's to make the most of his pace.
8. Alex Fontana
Switzerland, age 22
2014: GP3, 11th
2015 will the fifth consecutive year we'll see Fontana racing in GP3. It's his third full-time campaign, as in 2011 and 2012 he only made guest appearances for Jenzer.
He finally joined the series full-time in 2013 and although he could only finish higher than tenth three times, one of these occasions saw him stepping on the podium at Silverstone. Switching to ART, everything was set for a great sophomore season, but Fontana failed to score a single point in the first half of the season and his two sprint race podiums later on did not fully make up for the sloppy season start.
Teaming up with two rookies at Status, he will be expected to lead their assault. Going by testing, Fontana does not seem to be ahead of Morris or Stuvik in terms of pace but his racing experience ought to help him in the first half of the season.
9. Sandy Stuvik
Thailand, age 20
2014: Euroformula Open, 1st
After starting his career by winning the Asian Formula Renault Challenge, Stuvik made the move to Eurocup Formula Renault at the age of 16. Ending the year with no points, a 14th place in NEC the following season really stalled his career momentum.
Stuvik then made the switch to F3 Open – now known as Euroformula Open – and impressed, finishing every race in the top five and only losing out on the title due to the championship's dropped score system.
Staying in the series for a second season last year, Stuvik lived up to the expectations of the obvious title favourite and triumphed in a dominant manner, winning 11 out of 16 races.
Although he tested in GP2 at the end of the season, has has instead joined GP3, a sensible step that will still test his abilities. There is no reason why he shouldn?t challenge his team-mates throughout the year.
Koiranen GP

Koiranen's expansion to GP3 has been very productive as the team's blue cars have racked up six wins in two years and became a very familiar presence among the series' frontrunners. And while a teams' championship challenge appears unlikely in 2015, the Finnish squad shouldn't be far from the top, having secured another solid line-up and retained its top scorer from last year.
10. Adderly Fong
Hong Kong, age 25
2014: GP3, 21st
Fong's been around in a junior single-seaters for a long time, but his occasional successes in formulae don't really stack up to his outings in the Audi R8 LMS series in Asia, where he's been champion and runner-up.
So it's a surprise to see him return to GP3 and in a role of a Lotus F1 development driver no less. He's previously done 22 races in the series, scoring a best finish of ninth at Silverstone in 2013.
Having Koiranen behind him will probably give Fong his best chance to bolster his CV with good results in GP3. And, while he was outside the top ten in the Estoril test, he noticeably moved up by Barcelona.
11. Jimmy Eriksson
Sweden, age 24
2014: GP3, 4th
Interestingly enough, the 2015 season will see Eriksson reunited with Fong as a GP3 teammate, the Hong Kong driver having actually outscored the Swede in 2013 at Status.
That was a bad year for the Swede, who seemed off the pace in GP3 after an excellent 2012 saw him claim the German F3 crown. Obviously talented, he proved 2013 was a fluke in no time as he was reinvigorated by a switch to Koiranen, claiming fourth after being Lynn's closest rival for much of the year.
Eriksson should probably be in GP2 by now, but a return to Koiranen might be the next best thing. Right now, the Swede stands among the few drivers who could feasibly give ART's duo a run for their money.
He didn't top any of the sessions in the pre-season although was usually in or around the top five. He may have more up his sleeve for the upcoming campaign, but highly-rated new arrivals could make improving upon last year difficult.
12. Matt Parry
United Kingdom, age 21
2014: Eurocup Formula Renault 2.0, 11th

After back-to-back titles in Intersteps and FR2.0 NEC, Parry had a rather muted campaign in the Eurocup – although, admittedly, so did his usually superb team Fortec. He wanted another try at the main FR2.0 series, but couldn't pass up an opportunity to move to GP3.
Despite his 2014 hardships, the Welshman, a laureate of the prestigious McLaren Autosport BRDC Award, is definitely among the championship's most exciting newcomers, especially paired with a squad as strong as Koiranen.
He's shown steady improvement over the pre-season, culminating in a third-best time on the afternoon of the penultimate day at Barcelona.
Targeting a top-ten result in the standings is probably a realistic goal and it's quite feasible that we'll see the Welshman on the top step of the podium in one of the reverse-grid races.
Arden International

After driver's titles in 2012 and 2013, Arden looked a good shout to dethrone ART in the teams' standings with last year's lineup, but something just did not go right. Their two very capable experienced drivers were both outperformed by rookie Mardenborough and they finished the season only fifth. 2015 brings a similar approach – two proven GP3 drivers alongside a rookie – but the British team can and should aim for a better overall campaign.
10. Kevin Ceccon
Italy, age 21
2014: GP3, 8 races

Having won the 2011 Auto GP title a week after turning 18, the Italian has been bouncing between GP2 and GP3 ever since, struggling to find a permanent home.
He finished an extremely sensible ninth in GP3 in 2012, giving the now-defunct Ocean squad their only podium in the series. He then moved up to GP2 with Trident and was on the podium in the reverse-grid Monte Carlo race, only to be replaced midway through the season.
After eight races with Jenzer in 2014, Arden represents his big break in GP3. He's certainly earned it but the expectations to deliver will be very high indeed. Arden probably don't demand he becomes their next GP3 champion, but they are unlikely to be content with a couple of reverse-grid podiums either.
His pre-season has been extremely inconclusive, although he signed off by finishing runner-up in the final test session.
11. Emil Bernstorff
United Kingdom, age 21
2014: GP3, 5th
Once a close runner-up to DTM star Pascal Wehrlein in ADAC Formel Masters, Bernstorff is not the most well-known racer in the field but is certainly a great signing for Arden.
The Briton, after all, exceeded many expectations with an extremely smooth transition to GP3 last year. He took four races to claim a win, played a vital part in Carlin's title and scored in all but three races.
As the third top returnee from 2014, he's probably not among the title favourites heading into the opener, but he cannot and should not be counted out.
His pre-season got off to a great start at Estoril but he hasn't reached the same heights at the Spanish tracks. One question is whether, given last year's relative form, he can be as quick with Arden as he was for Carlin.
12. Alex Bosak
Poland, age 21
2014: Formula Renault 2.0 Alps

By making his debut with Arden, Bosak has big shoes to fill – every driver, who's run their first GP3 campaign with the team since 2011, has scored at least a podium.
It will be a tough ask for the Polish racer, who has spent all three years of his single-seater career in Formula Renault Alps.
He didn't score points in his first or second season in that championship, albeit a switch to Prema for year three yielded a big improvement, with Bosak finishing 11th as their only full-time entrant.
His best result of the pre-season was tenth in the final session but matching that from the get go at Barcelona will be extremely difficult.
Jenzer Motorsport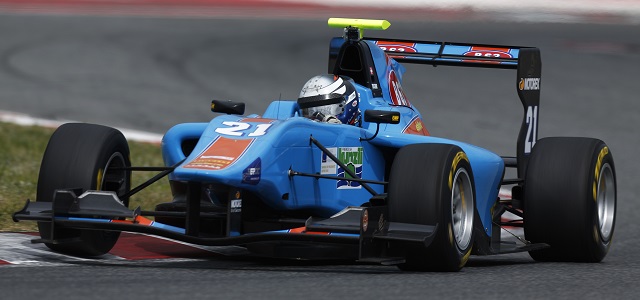 Two-thirds of Jenzer's driver line-up remains the same for this season, but plenty has otherwise changed. The signing of a promising rookie for the third car has brought a vibrant new livery and coincided with a serious upturn in pace over the winter, with the team setting the best time at two of the three pre-season testing. It's not yet clear if the progress is genuine, but the Swiss squad could be about to leave a quiet couple of years behind it.
20. Pal Varhaug
Norway, age 24
2014: GP3, 17th
Five years on from winning the first ever GP3 race at Barcelona, Varhaug continues his series comeback into a second season. He finished further down the standings last year than he did back in 2010, but if his pre-season form is to be believed, he could be returning Jenzer to the top step soon.
He topped a quarter of the 12 sessions of running, including the best time of the final test at Barcelona, and was a consistent frontrunner.
It's not unheard of for such strong testing results to mean absolutely nothing come race day, but if this does translate into an improvement for Jenzer upon last year, Varhaug could yet make something out of a GP3 return that hasn't otherwise shown much purpose other than to simply get him on track.
21. Matheo Tuscher
Switzerland, age 18
2014: GP3, 12th
Entering GP3 last season after a year on the sidelines, Tuscher was quickly able to show the kind of speed that saw him finish runner-up in Formula 2 as a 15-year-old in 2012.
His P2 finish in the second Barcelona race was the first of several missed opportunities to win, though. He was involved in a collision when fighting for the victory at Spielberg, spun out of the lead at Spa and failed to make anything of a reverse-grid pole at Monza.
A package underneath him that's consistently quick would help Tuscher, but although he's remaining at Jenzer for another season, the team look like they might have made the step forward he needs.
Intriguingly, Tuscher was quieter in pre-season than his two team-mates, but it's hard to imagine any scenario other than him leading the line when it matters.
22. Ralph Boschung
Switzerland, age 17
2014: ADAC Formel Masters, 7th

Boschung steps up to GP3 after two seasons in ADAC Formel Masters in Germany, finishing seventh on both occasions. Last year was going better before technical issues began to hamper his campaign.
On the face of it, it's quite a big jump, but it was a sensible one after Boschung acquitted himself well with the GP3 car and the Jenzer team in Abu Dhabi at the end of last year. He went even better at the start of 2015, setting the best time of the opening test at Estoril. He's shown that was no fluke by regularly appearing in the top places since.
With Jenzer looking in good form, Boschung could be possible of springing some surprises against his better known team-mates, and should be a solid rookie at the very least.
Campos Racing

The entry originally held by Atech in 2012 will have a fifth different owner in four seasons, after Hilmer Motorsport pulled out after only one campaign and have been replaced by Spanish outfit Campos Racing. Campos enjoyed a successful return to GP2 last year and their GP3 expansion creates a path from F3 to GP2 within the team. Although the first season is expected to be all about learning, the team?s line-up does not have a lot of experience to support that as it consists of one sophomore and two rookies.
23. Zaid Ashkanani
Kuwait, age 20
2014-15: Porsche GT3 Cup Challenge Middle East, 2nd
The first Kuwaiti driver in GP3?s history, Ashkanani makes the unusual move from tin-tops. Ashkanani first appeared in the Middle Eastern Porsche series in 2012 and a promising debut in racing was followed by the championship title a year later, beating PCC Germany regular Clemens Schmid by one point.
Graduates of closed cockpits haven?t had much success in GP3 in the past, but Ashkanani is clearly no slouch.
With just one guest appearance each ADAC Formel Masters and British Formula Ford in 2013, he's the driver with the least number of single-seater races under his belt and will almost certainly start the season towards the back of the grid.
He'll hope the rumoured addition of a round in Qatar comes to fruition, having done ten Porsche races there in the last three years.
24. Alex Palou
Spain, age 18
2014: Euroformula Open, 3rd
In 2014, Palou made the jump up from karting to Euroformula Open as a protege of Adrian Campos and?they are set to continue together for another season in GP3 after an impressive rookie campaign.
He was on pace from the get-going, being the only rival to the dominant RP duo of Stuvik and Janosz?and only bad luck prevented him taking the runner-up spot. Still, he received more attention than those who finished ahead of him for the way he made the transition from karts (where he was a team-mate of Max Verstappen) to F3 cars look so easy.
His pre-season testing form is more than promising, as he topped two sessions at Valencia before being a regular top ten participant at Barcelona. His lack of experience could affect his overall performance but he seems to be more than capable of stealing the show from bigger names on occasion.
25. Samin Gomez
Venezuela, age 23
2014: 2 races in Auto GP
Gomez is the final addition to the grid. She will be the team?s only driver with GP3 experience as the Venezuelan spent a full season in the series two years ago.
Gomez graduated to GP3 from Formula Abarth with Jenzer but her season went by without any eye-catching results. The best she could achieve in a main race was 16th and she ended up 26th overall with no points. Last year she didn't race in anything except a one-off cameo in Auto GP.
She's done four test days with Campos but she often found herself outpaced by her team-mates. So far the?seat is only secured for the season opener.
Trident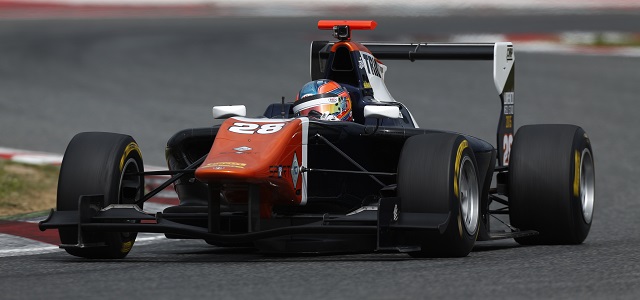 Trident have been part of GP3 for three years now but the Italians are yet to finish a season higher than eighth.? Ten different drivers raced for the team throughout last season but between them they only managed a single point-scoring finish. There is a good chance they are set to begin?their first successful?GP3 season though, having secured a trio of respectable drivers who should hopefully be in for the full season.
26. Artur Janosz
Poland, age 21
2014: Euroformula Open, 2nd
Janosz?s racing career kicked off much later than is usual nowadays – the Pole was about to turn 20 when he completed his first round in Euroformula Open two years ago. He showed massive improvement and he deservedly sealed a contract with leading team RP Motorsport for a sophomore season.
And Janosz did not fail to deliver. Although he couldn?t challenge Stuvik for the title, he still managed to finish more than half of the races in the top ten.
It won?t be a shock to see him spend the first couple of weekends in the back of the grid where he was during the pre-season testing, but if he continues to improve at the same rate he did in Euroformula Open, Janosz could easily start challenging his team-mates by the end of the season.
27. Luca Ghiotto
Italy, age 20
2014: Formula Renault 3.5, 17th
After one season in Formula Renault 3.5, Ghiotto decided to take what is seen as step back to join GP3. However, the FIA?s new Superlicence system does plan to reward the best GP3 and FR3.5 drivers with the same amount of points.
While it?s a cost-effective move, Ghiotto did probably not worry too much about his victory chances either when making the decision as his GP3 guest appearance at Spa-Francorchamps was more than appealing, taking a shock pole position for his first ever race in the category.
He was fast in both the post- and pre-season testing, topping a day in Abu Dhabi as well as regularly making it into the top ten. There is no doubt Ghiotto will be regularly fighting for points and being a contender for victories is probably not out of reach either.
28. Oscar Tunjo
Colombia, age 19
2014: Formula Renault 3.5 22nd
Another FR3.5 graduate, Tunjo was forced change his already announced plans during the off-season for the second year in a row. The Colombian was set to race in FIA F3 with Signature last year but the struggling Renault engine project promoted Tunjo to switch to FR3.5 without any testing.
He did well, taking points on three occasions and more was anticipated from the announced second season. That however collapsed due to apparent financial issues, but this time Tunjo managed to find an?alternative in GP3 in time for a full pre-season programme.
A podium finisher in Eurocup FR2.0 at the age of 16, Tunjo?s experience and speed should be enough to make him at least a regular point-scorer.
Calendar
Barcelona ? 9-10 May
Spielberg ? 20-21 May
Silverstone ? 4-5 July
Hungaroring ? 25-26 July
Spa-Francorchamps ? 22-23 August
Monza ? 5-6 September
Sochi ? 10-11 October
Yas Marina ? 28-29 November
Compiled by Peter Allen, Valentin Khorounzhiy and Gruz David