After reaching something of a low point around 2012, GP2 has been on an upward trend ever since with a yearly improvement in the quality of the field.
In many ways that progress is now complete, because this year's it's almost guaranteed that the 2015 champion will be a driver with a long-held reputation as a talented driver and a Formula 1 prospect.
There are still veterans on the grid, but of the half a dozen or so drivers that look most likely to launch a title campaign, none have spent more than two seasons in GP2 prior to this.
McLaren protege Stoffel Vandoorne starts as favourite after finishing runner-up last year, Red Bull Junior Pierre Gasly looks to be a quick rookie and Ferrari scholar Raffaele Marciello stays on for a second season too. Then there's GP3 champions Mitch Evans and Alex Lynn.
Not everything's rosy though. Hilmer Motorsport has chosen to skip the first round after failing to find any drivers with the necessary budget – making this the first time the entry list for a GP2 round features any less than 26 cars for several years.
The big rule change for this year is the introduction of DRS. It's been an unsurprisingly unpopular move, given that GP2 didn't have much of a problem with overtaking before, but it's been justified by being what drivers are looking for in order to prepare themselves for F1. We can't help but think the top drivers would prefer the opportunity to show off their skills without the use of such an aid…
DAMS
Last year, DAMS took a third drivers' title in four years with the current generation of GP2 car, and claimed the teams' crown too. They repeated that double triumph in Formula Renault 3.5, completing a remarkable clean sweep for their junior series operations. This year they've eschewed their reliance on experienced GP2 drivers and gone for a line-up with a total of just six starts to its name. It's a wise move – speed will be crucial to beating this year's opposition.
1. Pierre Gasly
France, age 19
2014: Formula Renault 3.5, 2nd; GP2, 6 races

The 2013 Eurocup Formula Renault 2.0 champion made a strong impression last year in his first as a Red Bull Junior proper, finishing second to more experienced stable-mate Carlos Sainz in the FR3.5 standings. There were no wins, but it was a mature and consistent campaign.
He dipped his toes into GP2 at the end of the year with the outgoing Caterham squad. Things were tough with no tests and limited practice time, so sixth on the grid in Abu Dhabi was a fine effort. He joined up with DAMS for testing a few days later, setting the pace on his first four days with the team. He set the quickest time in Bahrain earlier this month too.
Despite his rookie status, Gasly looks best-placed to challenge Vandoorne on pace. The question is whether he can repeat his FR3.5 consistency from the off in a series usually unforgiving for newcomers.
2. Alex Lynn
United Kingdom, age 21
2014: GP3, champion

With his GP3 title not being enough to propel him into a Formula 1 seat already, Lynn chose to leave the Red Bull setup after a year with a 100 per cent championship record and instead join up with Williams in a development role alongside a campaign in GP2.
He's shown that he's not afraid of a challenge by choosing to go up against Gasly at DAMS, given the Frenchman's test pace. Lynn's not looked as quick, but his performance has still looked very respectable for somebody coming out of GP3 and some top results should be possible, even though a title challenge is maybe a bit ambitious.
Perhaps his biggest strengths though are his maturity and preparation, and that could well help him get the most from his speed and avoid the pitfalls that usually trap other GP2 rookies.
Carlin

Having conquered much of the rest of the junior single-seater ladder, Carlin took just one season to adapt to GP2 in 2011 and have had multiple race winners since then with Max Chilton, Jolyon Palmer and Felipe Nasr. This year they have continuity in one seat and a quick peddler in the other and both have experience, but it remains to be seen whether there's enough for a title challenge because testing didn't suggest so.
3. Julian Leal
Colombia, age 24
2014: GP2, 10th

The past few GP2 seasons have had numerous series veterans on the grid, but Leal is in something of a minority this season as he embarks on his fifth season in the category. Include the two seasons he did each in FR3.5 and Euro 3000 before GP2, and he's into his ninth year in powerful single-seaters.
It will be Leal's second straight year with Carlin. Last season started very well as he finished both Bahrain races on the podium and twice in the top five in Barcelona. His performance fell away as the year went on though, scoring just two points after Silverstone.
While in theory continuity and another year's experience should help to do better this year, it's hard not to think there's just too much talent in the 2015 field for him to be able to force his way much further up the final standings.
4. Marco Sorensen
Denmark, age 24
2014: GP2, 11th

Sorensen's career was given a boost at a crucial point a year ago with new support from Saxo Bank. That meant that when his third season in FR3.5 wasn't going to plan, he got the chance of a parallel GP2 programme to show what he could do. And he made good use of his chance.
He wasn't at the most attractive of teams in MP Motorsport and he had no testing prior to his debut, but he finished his first six races in the top 10. In Sochi he delivered the team's first GP2 win from the reverse grid pole, and ended up only one place short of the top 10 standings despite missing the first four rounds.
Much more should be achievable now then, having replaced Nasr as Carlin's star driver and had a full pre-season of preparation. He hasn't quite mixed it with the expected title contenders, but it would be a surprise if he wasn't competitive.
ART Grand Prix

After a challenging 2013 season, last year ART returned to the sort of form that helped Lewis Hamilton, Nico Rosberg and Nico Hulkenberg to GP2 titles with the team. The man that delivered the big results last year stays on with the team as the title favourite, while the partnership with McLaren-Honda sees a new Japanese protege appear in the second car.
5. Stoffel Vandoorne
Belgium, age 23
2014: GP2, second

Eurocup FR2.0 champion, FR3.5 runner-up, GP2 runner-up. Those past three years ought to have been enough for Vandoorne to be an F1 driver by now, but something of a driver logjam at parent team McLaren has meant he's having to bide his time with another season in GP2.
It wouldn't be right to say he's got nothing to gain here though, because putting everything together to deliver the GP2 title requires a thorough and mature approach like nothing else underneath F1. He was showing the right kind of form at the end of last year – with a record four straight poles and three wins from the final seven races – now he just needs to do it all season long.
There's also plenty to lose if it doesn't go to plan, but if it does, he'll be much better off for having dealt with such pressure, and his reputation will grow too. And he looks perfectly capable of handling it all.
6. Nobuharu Matsushita
Japan, age 21
2014: Japanese F3, champion

As the Japanese F3 champion moving into GP2 with support from Honda, Matsushita must be the most realistic F1 prospect from his nation since Kamui Kobayashi made his debut in 2009. If Honda add further teams to its new F1 project, he'll be well-placed if he does well here.
He won the entry-level Formula Challenge Japan in 2012 prior to his F3 success, so he arrives in Europe with as good a record as is reasonably possible. Switching continents and making the jump up from F3 to GP2 at the same time will make things tough though, and he may well need a year to settle in and learn the tracks.
If he gets that opportunity though, there'll be no problems and having already topped a pre-season test day, he could well impress early on anyway.
Racing Engineering

After having its second GP2 drivers' champion in 2013 with Fabio Leimer, last year was a slightly lower-key campaign for the team of Alfonso de Orleans-Borbon but although his two drivers struggled for consistency, they both won races. Racing Engineering has two strong drivers again this year so the team should remain among the most prominent in the field.
7. Jordan King
United Kingdom, age 21
2014: European F3, seventh

King's reputation has received quite a boost over the winter, first making the step up from F3 to GP2 with a top team and then being named as a development driver for the Manor F1 team, where his father Justin has taken the position of chairman.
After winning the British F3 title and being the top rookie in the European series in 2013, last year was perhaps a little disappointing from King as he failed to match the leading drivers on a consistent basis or beat them to a race win.
He's been impressively rapid from the start of winter testing in GP2 though, and this is the level where a strong performance is most important. Despite F3 to GP2 having been made to look like a difficult step in recent years, a top 10 championship placing looks to be possible if he converts his testing pace into results.
8. Alexander Rossi
United States, age 23
2014: GP2, 21st

For a while over the winter it looked as if Rossi would be turning his back on the European scene as he chased an opening in IndyCar, but he was instead able to secure a return to GP2. At Racing Engineering he's got a seat worthy of his talents for the first time in a while.
A frontrunner in his GP3 and FR3.5 days, he completed his rookie GP2 season in 2013 with victory in the final feature race of the season but the start of last year was a nightmare and he left the series when backer Tony Fernandes sold his Caterham F1 team. On three separate occasions he looked in line for a debut with Marussia but it never happened.
Racing Engineering is a consistently competitive team, so this is make-or-break for Rossi to prove he deserves that chance. He was one of five expected contenders within a tenth of the pace in a representative-looking test session in Bahrain.
Russian Time

Off-season turmoil with the passing of founder Igor Mazepa, replacement of Motopark with iSport on engineering duties and the signing of a rookie driver meant Russian Time couldn't repeat its debut teams' title last year, but it was a two-time feature race winner and consistent frontrunner with Mitch Evans. There's driver continuity this time, but another change of team with Virtuosi coming in. The speed has still looked good in testing, though.
9. Mitch Evans
New Zealand, age 20
2014: GP2, fourth

It's hard to think that Evans is still the younger side of 21, but he was only 16 when he so impressively won on his second European weekend in GP3. The 2012 title was followed by a difficult rookie GP2 season but last year was impressive with a top four finish.
That included two back-to-back feature race wins in the middle of the year and regular podiums after that. With Vandoorne staying on, it would probably take a slip up from the Belgian or his team for Evans to get ahead and be champion, but he was right there with Gasly and Vandoorne in testing.
Evans would be deserving of an F1 chance but that won't be easy with next to no funding and no formal ties to F1 teams. With that in mind, mentor Mark Webber has sensibly got a Le Mans debut lined up for him this year.
10. Artem Markelov
Russia, age 20
2014: GP2, 24th

The step up from German F3 to GP2 was predictably challenging for Markelov last year, but the Russian Time protege did put in some impressive drives when he kept it all together, most notably when taking his only points of the season for seventh in the wet Spa feature race.
Nailing qualifying with little track time was often a hurdle he struggled to overcome, but his race pace was frequently strong and he's certainly aggressive in racing situations. If he can get himself further up the grid, the evidence is there to suggest that Markelov can impress on a more regular basis this year.
The new Virtuosi-led setup has brought in Jonathan Moury from BMW's DTM efforts to engineer Markelov, who began working with the Belgian at his M2 Competition team in the Toyota Racing Series earlier this year.
Trident

Trident became a force again in GP2 last year under the leadership of new team manager and ex-racer Giacomo Ricci, with a gamble on Johnny Cecotto paying off to bring two wins and sixth in the teams' standings – matching its previous best from its debut season in 2006. That's convinced Ferrari to place their protege at the team and give it probably its highest-profile driver since signing ex-Minardi driver Gianmaria Bruni for that maiden campaign.
11. Raffaele Marciello
Italy, age 20
2014: GP2, eighth

Marciello showed impressive pace in his rookie GP2 campaign last year, but couldn't match fellow F1 team protege Vandoorne's ability to collect results. There was one exception, when he overhauled the Belgian to win the Spa feature race in wet conditions.
The rest of his season was certainly affected by bad luck, but Marciello didn't help himself at times either and suggested there's some work to do yet if he's to become the finished article and go on to be Ferrari's great home-grown hope.
The Scuderia has shown its commitment to him by securing him a free practice role at Sauber, and although Trident is no DAMS, the tools are certainly there for Marciello to improve upon last year and pre-season suggested as much. If Trident could extract good results from Cecotto, it can do the same with its compatriot.
12. Rene Binder
Austria, age 23
2014: GP2, 25th

After an unremarkable three-year stint in German F3, Binder's first steps in GP2 in late 2012 were relatively encouraging. He's failed to kick on though and was pretty anonymous last year with Arden, not scoring once after the opening round in Bahrain.
Trident's cars were more competitive last year though and in Marciello, Binder's certainly got a quicker team-mate than anything he's had before which could help him move forward, even though there's obviously a risk of it showing him up at the same time.
Pre-season testing performances have been relatively decent in comparison to Marciello and the rest of the field, but we have been there before with Binder. This time he must get results.
Campos Racing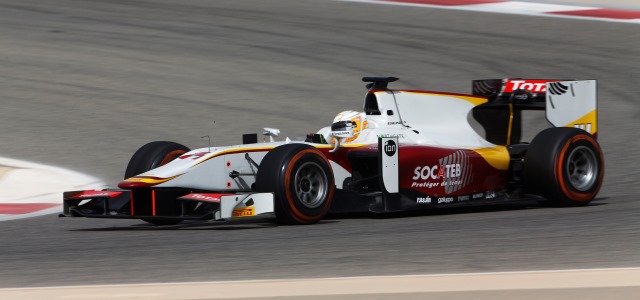 Adrian Campos and team enjoyed a strong return to GP2 last year after five years under the guise of Formula E boss Alejandro Agag's Addax operation. Arthur Pic enjoyed a very solid start, was a surprise feature race winner in the middle of the year and often one of Vandoorne's closest rivals later in the year, particularly in qualifying trim. Campos retains the Frenchman and brings in an experienced GP2 racer alongside him to hopefully boost the second car's results.
14. Arthur Pic
France, age 23
2014: GP2, seventh

After three years in FR3.5 with one win, Pic didn't take long to get the hang of GP2 last season despite being with a team returning to the series. A regular top-six finisher during the opening rounds, he then took a strategic victory in the Hungaroring feature race.
Later in the year he showed frontrunning speed, joining Vandoorne on the front row at Monza and in Sochi and even tying times with the McLaren man on the latter occasion. With continuity of team and a full off-season's testing, there's in theory no reason why he can't carry that kind of form into 2015.
The biggest obstacle will be dealing with increased competition from quick rookies like Gasly and Lynn and he's? quite literally not made any headlines in pre-season testing, but Pic should be capable of surprising the big names again this year.
15. Rio Haryanto
Indonesia, age 22
2014: GP2, 15th

Haryanto enters his fourth season in GP2 having failed to fulfil his promise so far. A three-time race-winner across two years in GP3 after being Formula BMW Pacific champion, he really should have managed more than just a couple of podiums by now.
It's often been a case of right place, wrong time when it comes to team choice. 14th in his rookie season with Carlin was decent (and could have been better) but that's been his highest-scoring season so far. Addax was a struggle without a decent team-mate, and Caterham failed to build on their testing pace last year. Haryanto showed what he could do with a podium in Monaco but failed to repeat that.
Is Campos the team to solve these problems? It is the old Addax team but the atmosphere must be more positive now and he has a far better team-mate in Pic.
MP Motorsport

MP Motorsport scored its maiden GP2 victory towards the end of last year thanks to Marco Sorensen. Perhaps surprisingly, his performances hasn't made it any easier to find a well-budgeted and fast driver to pair with long-time driver Daniel De Jong. So while it's duo for the start of 2015 both have over 50 starts in GP2, neither is likely to trouble the frontrunners.
16. Sergio Canamasas
Spain, age 29
2014: GP2, 14th

Canamasas enters his fourth year of competing in GP2 having got a decent points haul last year for Trident, with the majority of that coming on a fine Monaco weekend when he finished fifth in the feature race and then second in the sprint.
There were still moments when the Canamasas of old returned however, most notably at Monza where he was black-flagged after a number of incidents in one race.
At the moment he's only confirmed at MP Motorsport for the opening round but should he remain in the seat for the season, we'll have to see whether he is strong enough to lead the team. Staying out of trouble would only help.
17. Daniel De Jong
Netherlands, age 22
2014: GP2, 28th

De Jong begins his third full season in GP2, remaining with the team owned by his father once more.
He's scored just five points in the series so far, and last year didn't show on paper a particularly notable step forward in his form. So this year may well be no different, even though he has another season's experience.
Having a fast team-mate to learn and get data from can only help him, but at the moment he hasn't really got that. His qualifying results did get slightly better last year after Sorensen joined the team, producing a best-yet of 13th at Spa and scoring a point as a result.
Rapax

Last year was the first since the Rapax team was born in 2010 that the squad failed to win a GP2 race.?In race pace they were as competitive as most but were let down in qualifying. Pre-season form suggests that might be different this year, as the team fields an all-rookie, all-Eastern European line-up with two drivers who competed against each other in Formula Abarth as 16-year-olds reconverging.
18. Sergey Sirotkin
Russia, age 19
2014: Formula Renault 3.5, fifth

After two seasons in FR3.5, Sirotkin makes the move to GP2 hoping to become known for something more than just his attempts to race for Sauber. He won a race in FR3.5 last year but didn't quite fulfil the promise shown as a teenager in Formula Abarth and Auto GP.
Vandoorne and Pic made the FR3.5 to GP2 switch look relatively straightforward last year and the same looks possible for Sirotkin going on his testing form, which has been impressive.
But he had a strong pre-season 12 months ago, and getting the maximum performance when it actually mattered proved to be another matter. Still, that consistency won't be expected from a rookie anyway and he could claim some stand-out results.
19. Robert Visoiu
Romania, age 18
2014: GP3, 13th

Much of what can be said about Sirotkin can be applied to Visoiu: promising in FAbarth, but maybe then took a few too many steps in one go and never quite progressed as expected – this time in a three-year stint in GP3 which yielded finishing positions of 14th, 11th and 13th.
The time was right to move on, but can he be competitive in GP2? It could well be tough for him, and he hasn't shown Sirotkin-rivalling form in testing to suggest otherwise.
Qualifying definitely held him back in GP3 – he did win twice from reverse grid poles – and it would handicap him in GP2 too, but at least he could have the opportunity to show off in races even if it might be a long way to the points.
Arden International

The team founded by Christian Horner has generally looked a shadow of its former self in recent years. Its package proved to be quick enough for Luiz Razia to finish runner-up in 2012 but it hasn't won a race since. Driver choice has often appeared to be the problem, but attracting well-funded drivers with the ability to get some good results is a vicious cycle of a task. This year's duo is solid and both should be in the midfield – can they punch any higher?
20. Andre Negrao
Brazil, age 22
2014: GP2, 12th

Negrao sticks with Arden for his second season in GP2. His first started quietly and it took him until Spa to score points but he scored in six consecutive races including two fifths at Monza and two sixths in Sochi. That enabled him to finish a very respectable 12th in the final standings.
If he's been able to maintain that kind of form through the winter, then there's most certainly a top 10 berth up for grabs. That will be easier said than done though with the amount of quality towards the front of this grid.
Having a quicker team-mate this year than last could help Arden have a more competitive package more often and push Negrao up the order as a result.
21. Norman Nato
France, age 22
2014: Formula Renault 3.5, seventh

Nato is another to make the FR3.5 to GP2 move – the same as Negrao did last year – and does so after a mixed couple of years in the Renault series with DAMS. For much of the time he was anonymous and eclipsed by team-mates Kevin Magnussen and Carlos Sainz.
But there were a couple of standout days last year when he won races – from pole on the morning of the Monaco Grand Prix and then again in Hungary. He's certainly got talent – he was Vandoorne's nearest rival in F4 and nearly beat Daniil Kvyat to an FR2.0 title.
That ability means he ought to be capable of matching Negrao from the off, and when he gets things together he could manage much more.
Status Grand Prix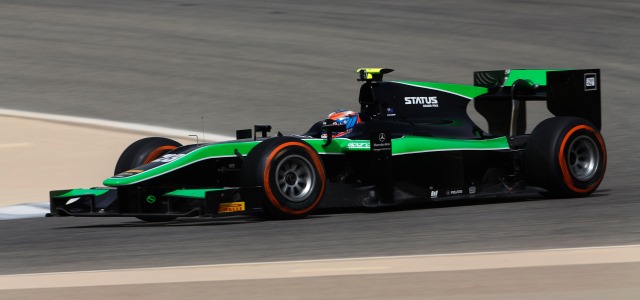 The old Caterham team went through a bit of a painful death last year with a pretty nightmare season following the promise of a feature race win at the back end of 2013 and some lightning pace in the off-season. Regular GP3 frontrunners and ex-A1 Grand Prix champions Status will provide some stability now, and hopefully the engineering nous to move the team up the order.
22. Marlon Stockinger
Philippines, age 24
2014: Formula Renault 3.5, ninth

Like Sirotkin and Nato, Stockinger is another to make the move into GP2 after spending two years in FR3.5. He does so with Status, the outfit with which he scored the biggest result of his career to date – the rather rare achievement of a GP3 victory in Monaco.
He was a twice podium finisher in FR3.5 last year, so he should be on the pace here as long as his team is.
It should help to have a quick team-mate who he raced alongside briefly last year, and who is part of the same Gravity/Lotus F1 pool of drivers.
23. Richie Stanaway
New Zealand, age 23
2014: GP3, eighth

For the second year in a row, Stanaway gets to prolong his single-seater career thanks to Status Grand Prix. This time they've given him a GP2 seat, which is no mean feat given the costs but also a necessary step when there's not enough funded drivers on the market.
It's very much well-deserved though, as Stanaway was a title contender in GP3 last year until things went awry in the final few rounds, and he proved his pace in a couple of FR3.5 rounds too after two years away. He's shown his speed in pre-season testing and he's got what he needs to get the most out of the Status package.
At the moment it's only a race-by-race deal, but his performances should be good enough that all parties will be doing what they can to extend it for as long as possible.
Lazarus

Lazarus begins its fourth season in GP2 off the back of its highest points tally yet last year, although that wasn't enough to lift it off the bottom of the teams' championship table. The only time it wasn't last was 2012, but that was only because Coloni forfeited its points. They may be confident about breaking that record this year though, after keeping hold of its lead driver and bringing in a second who should be solid and be able to see out the season.
24. Nathanael Berthon
France, age 25
2014: GP2, 20th

Berthon continues with Lazarus for a second season, despite last year being his lowest points haul from three previous campaigns in GP2. It repeated his 20th place from his 2013 season with Trident, which included a reverse grid win but was otherwise a disappointment.
He's not looked as good as he did in his rookie year in GP2 back in 2012 for Racing Engineering, when he scored 60 points compared to last year's 17.
Some progress seemed to be made with Lazarus towards the end of last year but it's difficult to see what he's got to gain in GP2 this year. Particularly when he's starting to make a name for himself in sportscars.
25. Zoel Amberg
Switzerland, age 22
2014: Formula Renault 3.5, 11th

Amberg is the last of the drivers making the switch from FR3.5 to GP2 for this season, doing so after three years in Renault's championship. The first two of those included just one points finish each but last year was an improvement.
He started off as a regular points scorer and finished second to Sirotkin at Moscow but things tailed off after that and he ended up just outside the top 10 in the points.
FR3.5 experience should mean GP2 isn't a difficult step for him, but it's hard to see whether he'll make much of an impression either. Like Berthon, he's sensibly got an LMP2 programme lined up for this year.
Calendar
Bahrain ? 18-19 April
Barcelona ? 9-10 May
Monaco ? 22-23 May
Spielberg ? 20-21 May
Silverstone ? 4-5 July
Hungaroring ? 25-26 July
Spa-Francorchamps ? 22-23 August
Monza ? 5-6 September
Sochi ? 10-11 October
Yas Marina ? 28-29 November