The final year of Formula Renault 3.5 as we know it delivered another impressive champion. Peter Allen reviews the season and its leading contenders.
Formula Renault 3.5's own star might have gradually faded – to the point where it has now lost its backing from the French car firm – but it has continued to produce star drivers and 2015 was all about its latest, Oliver Rowland.
Already a frontrunner as a rookie last year, Rowland was always supposed to win the title at the second attempt but that didn't mean that watching his command over the field increase as the year progressed was not a joy to behold.
For a long time something of a rough diamond, the Racing Steps Foundation protege has now matured into top performer and undoubtedly has a great future if good opportunities fall his way.
On paper the field was not as strong as in previous years, but Rowland was not allowed to have it all his own way.
Matthieu Vaxiviere was a stubborn rival, who has come on leaps and bounds himself, while promising newcomers Egor Orudzhev, Tio Ellinas and Nyck de Vries took their chances to add victories as the season went on. The competition was tough enough that big-name arrivals Dean Stoneman and Tom Dillmann were left empty-handed.
It still remains to be seen how the series will fare under the name Formula 3.5 V8 and the leadership of its enthusiastic founder Jaime Alguersuari Sr, but in 2015 it remained a valued alternative at the top of the junior single-seater pyramid.
1. Oliver Rowland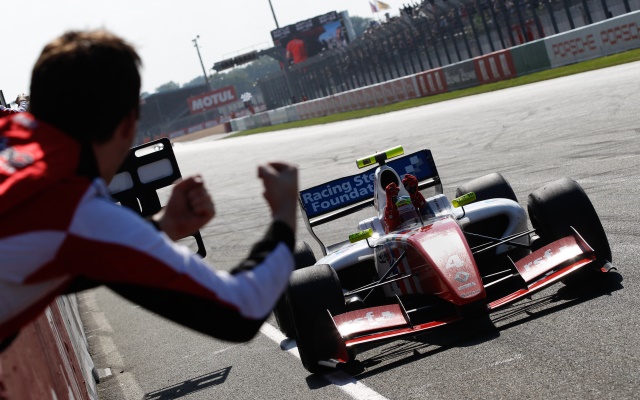 United Kingdom, Fortec Motorsports, age 23
307 points, 8 wins, 13 podiums, 7 pole positions, 4 fastest laps
Rowland was only living up to expectations by winning the title in his second season, but it was impossible not to be impressed by the way in which he achieved it.
He took the form he showed to win twice last year and demonstrated it every single weekend. The result was a win at every double-header round (in Monaco he had to settle for the most stunning comeback drive to sixth).
The one negative was his failure to dominate a weekend ? an opportunity he spurned with a first-lap off in the final race at Jerez.
But that was the only significant mistake in a season in which he regularly got the most from his pace, whether that was enough to win or not.
It?s been long road to this point, but this year Rowland turned his potential into a first major championship. There?s much in common with predecessors Kevin Magnussen and Carlos Sainz then, yet he surpassed their records.
And just like them, he wouldn?t look out of place in Formula 1. But relying on RSF's support instead of an F1 team's backing (there is contact, though), 2016 seems to be a toss-up between GP2 and DTM. Season rating: 9/10
2. Matthieu Vaxiviere
234 points, 3 wins, 10 podiums, 5 pole positions, 5 fastest laps
A promising end to 2014 and an even stronger showing over winter testing meant that Vaxiviere started the season tipped to be one of Rowland?s toughest rivals.
His status as the only real competitor has undoubtedly boosted the Frenchman?s reputation.
Indeed, it is perhaps not surprising that the Anglo-French relations appeared to be so strong despite the rivalry. Vaxiviere provided competition that Rowland needed, while his ability to push the highly-rated Briton as hard as he did possibly leaves Vaxiviere in a better place than if he had won a Rowland-less ?easy? championship.
That he exceeded the 2014 points tally of Sainz says everything about how strong Vaxiviere was, even though he couldn?t take the title fight down to the wire.
He matched Rowland win-for-win at three of the opening four double-header weekends, and continued to make life difficult for his rival after that.
There were some ragged moments but it would be unfair to label him inconsistent. He is more than two years younger than Rowland, after all.
It remains to be seen what he does next, and uncertainty around the future of Lotus F1, Gravity and Renault doesn?t help, but he would surely go well in GP2. 9/10
3. Nyck de Vries
160 points, 1 wins, 6 podiums, 1 pole position, 1 fastest lap
De Vries followed Robin Frijns, Stoffel Vandoorne and Pierre Gasly in stepping up as Eurocup Formula Renault 2.0 champion with three years in single-seaters under his belt, and then finishing in the top three in the standings as top rookie.
Measure his season like that, plus a convincing first win in the final race, and it looks like a success.
However, while Frijns was champion, Vandoorne was a title contender and Gasly was also a runner-up, de Vries was always some way adrift.
It could have been quite different. De Vries could have been a winner on his debut at Aragon, but was outfoxed by Vaxiviere with just two corners to go in an embarrassing slip up.
DAMS struggled to be in a winning position again, but de Vries drove well to pick up a four further podiums and impressed under pressure at Jerez to clinch third in the standings in style.
That positive finish could give his backers McLaren yet another difficult decision. Under normal circumstances, the victory should have secured de Vries another season in 3.5 at least, but can McLaren justify the expenditure when it clearly has more pressing issues? 8/10
4. Tio Ellinas

Cyprus, Strakka Racing, age 23
135 points, 2 wins, 3 podiums, 2 pole positions
After being limited to a handful of GP2 events in 2014 due to a lack of funds, Ellinas was deservedly given a full season in FR3.5 by Strakka.
Expectations were high once his strong past record was combined with a promising pre-season, but the first half of the season was a bit of struggle ? he?d failed to even finish on the podium after the first nine races.
But things suddenly clicked after the August break, to dominate the first race at Silverstone from pole.
Another win followed a week later at the Nurburgring in difficult conditions, but although a second pole at Le Mans didn?t yield a win after poor race pace, fourth in the final standings was still a good return after the so-so start.
The proof of his season of two halves? Prior to the summer holiday he qualified in the top six just twice out of nine attempts, afterwards he made it eight times out of eight.
It would be great to see Ellinas back next season for a title challenge but Strakka may have other plans, with an LMP2 test lined up. 8/10
5. Egor Orudzhev

Russia, Arden Motorsport, age 20
133 points, 2 wins, 4 podiums
While those ahead were meeting expectations with their strong seasons, Orudzhev was a revelation.
We had seen his potential before in FR2.0 and the Toyota Racing Series, but for him to win twice and challenge for third overall was an overachievement.
After a modest start to the season ? although fourth in Monaco was a fine effort ? his Hungaroring win was a big surprise.
He was aided by the twisty circuit making it near impossible for the queue of cars behind to pass, but he did well to qualify on the front row and get into the lead and defended like a seasoned pro.
It still felt like a fluke though until he got to Le Mans, and capitalised on track knowledge that many rivals lacked to finish second in the first race and win again in the second.
It was another tight track, but once more he did a fine job to get to the front and stay there under pressure. Another second place followed at Jerez.
His form with Arden seems to have convinced backer SMP to opt for continuity ahead of 2016. He should start as a favourite but mustn?t repeat his disappointing second FR2.0 season. 8/10
6. Dean Stoneman
130 points, 4 podiums
Stoneman arrived in FR3.5 as a Red Bull Junior four years after his fight with cancer denied him a seat alongside Daniel Ricciardo. The move to replace Carlos Sainz at DAMS came off the back a storming GP3 campaign. If there was anybody Rowland should have been worried about, it was Stoneman.
Things got off to a bad start with a big testing crash, but he brushed that off with a podium in the first race. A strong second in Monaco and a third at Spa followed, but a second place to Rowland in Austria would be his final podium.
There was at least one non-score on six weekends, and two at Jerez relegated him from third to sixth in the standings.
There was lots of contact, particularly at starts, but his qualifying record was also poor, mustering a best of fourth, once. The latter undoubtedly contributed to the former.
For many reasons it?s hard to see a future for Stoneman as a Red Bull Junior, but he didn?t need this year to prove his talents. His GP2 debut in Sochi matched Rowland?s achievement of points from the back of the grid, and he could go even better if he keeps the seat. 7/10
7. Tom Dillmann
122 points, 2 podiums, 1 pole position, 1 fastest lap

While a total newcomer to FR3.5, Dillmann?s experience as a top-level single-seater racer made him a logical recruit for Sean Gelael and family as they moved up from F3.
It was also a good move for Carlin, who had skipped the 2014 season after an uncompetitive showing in the season before.
The team had some catching up to do and so for the most part, Dillmann?s results were not as strong as would normally have been expected. A good driver can outperform his equipment in Monaco and Dillmann bagged a podium there, but fifth place was otherwise a common position in qualifying and races over the first half of the year.
Progress was clear to see by the end of the season, however, with his first four top-four qualifying results across the Nurburgring and Le Mans weekends before pole on the Saturday at Jerez, but a puncture denied him victory.
Despite his prolonged single-seater career, Dillmann?s been on the lookout for other opportunities and got one in the World Endurance Championship with Signatech-Alpine. He won on his debut but a particularly generous status as a silver-grade driver helped and is unlikely to last the winter, reducing the number of possible openings. 7/10
8. Jazeman Jaafar

Malaysia, Fortec Motorsports, age 22
118 points, 1 win, 4 podiums, 1 pole position, 1 fastest lap

Jaafar stayed in FR3.5 for a third season, and after campaigns with Carlin and ISR fell flat, surely joining Rowland at Fortec would move him to the front?
It certainly did to begin with. He was second to his team-mate in the first race at Aragon, then won from pole at Monaco, improving on his two previous podiums there.
He was now the points leader, a position strengthened by another second place in the first race at Spa. But a late qualifying exclusion on Sunday would put an end to his leadership, despite recovering to sixth.
His form went south from there. He was often nowhere in qualifying and the races he did start near the front were best summed up by Silverstone, where he shot to second off the line but then lost the tip of his nose against leader Ellinas.
Plenty more bad luck meant he was probably better than he looked, but he also wasn?t regularly quick enough compared to his team-mate.
Jaafar could try GP2 next but it may be time to move into another discipline. Petronas backing could open doors with Mercedes in Europe, or in Japan with top team TOM?S. 6/10
9. Gustav Malja

Sweden, Strakka Racing, age 20
79 points, 2 podiums
Two low-key seasons in FR2.0 meant his 2012 title challenge in ADAC Formel Masters was a bit of a distant memory when Malja made the step up to FR3.5. The move came after promising tests though, and two podiums and ninth in the standings proved he wasn?t out of his depth.
Taking the flag in the Jerez finale in fifth with Dillmann, Orudzhev, Jaafar and others cooped up behind him but with his team-mate Ellinas nearly 10 seconds up the road was quite a fitting end to the season for a driver whose results probably flattered his pace.
He was quick enough though to frequently qualify in the lower half of the top 10, and for a rookie he did well to avoid incidents with just one non-finish.
When he got into a good position he usually kept it, such as his third place in Hungary, 20 seconds behind the mighty Rowland and Vaxiviere. The other podium was almost a win, briefly getting ahead of Ellinas on the last lap as conditions worsened at the Nurburgring.
A second season in the series would make sense but, with good backing, he may be tempted into GP2 after scoring on his debut at Spa. 7/10
10. Pietro Fantin

Brazil, International Draco Racing, age 23
61 points, 1 podium, 1 fastest lap

This was Fantin?s third season in FR3.5 and his second with Draco, and in a way it was the same as 2014 with his best finish being a third place.
This time the solitary podium finish was achieved at Silverstone, but over the season he did score nearly twice as many points as last year thanks to also taking a fourth in Austria and a fifth in Monaco.
He could have been a winner. From a front row start at the Nurburgring he led the race by some margin but a safety car then eliminated his chances. He was fourth at the finish, but a penalty for pitting outside of the allowed window dropped him to ninth.
He promptly quit the team with two rounds remaining, but held onto the final place in the top 10.
Given Draco was never a pacesetting team with the latest FR3.5 car, Fantin put in some very respectable performances in his time there.
On the whole though, his spell of nearly three years in the series was underwhelming and it remains to be seen where he surfaces next. 6/10
11. Nicholas Latifi

Canada, Arden Motorsport, age 20
55 points, 1 fastest lap

Latifi committed to a full season of FR3.5 after getting a promising second-place finish at the end of a three-round stint at the end of last season.
He struggled to make any more of an impact than he did in Formula 3 last year though, and finished one place further back in the points.
There were no more podiums, but while he spent most of the time in the mid-pack, he did enjoy a few days among the frontrunners.
He was the frontrunner in the Saturday race at Spa after qualifying on the front row and then making a better start than poleman Vaxiviere, but he was pushed back to fourth as the race wore on.
He would match that result in Austria, and a final strong run came when he qualified third at Silverstone and finished fifth.
Latifi showed what he could do on occasion, but the pace was often not sufficient to make the most of his chances. Six non-finishes cost him too.
Further GP2 appearances suggest his heart may be set on that, but he?s also dabbled in Porsches. 6/10
12. Aurelien Panis
42 points
The son of Olivier Panis was another to make the step up from FR2.0, in his case after three years in the category with a best Eurocup position of ninth last year.
With Tech 1 having struggled in 2014 and with two unfancied rookies it was always going to be a challenging season, and in that context Panis actually did a pretty decent job.
His first points came with seventh in the attritional Monaco race, a result he repeated at the following events at Spa and the Hungaroring with more top 10s coming in Austria and Britain.
His best weekend was undoubtedly on home soil at Le Mans, taking fifth and sixth in the races. The first result came from ninth on the grid after a good opening lap, while the second came after a fine fourth in qualifying.
That was his only top-eight starting position of the year with qualifying something of a weakness, but he made pretty good progress in races.
An LMP2 team his father's formed with Tech 1 seems purpose built for Panis, and though he's carried on testing in 3.5 since the end of the season, a dual programme could always be possible. 6/10
13. Roy Nissany
27 points, 1 podium

Much of what was said about Panis could be valid for his team-mate Nissany (whose father Chanoch?s F1 exploits were not quite as successful).
Nissany?s total points tally was a bit lower, and he did come from Formula 3 rather than FR2.0, but he did get a standout podium finish.
He?d secured fourth on the grid for the second Spielberg race on a drying track in qualifying, moved ahead of de Vries to take third on the opening lap and had no trouble holding the position until the end despite a dry race.
That had been Nissany?s first top 10 start of the season but better was to come at the Nurburgring when he qualified third ? this time in normal conditions ? only for the race to be mixed this time and he quickly fell to the rear.
His podium aside, his best results were a pair of eighths and a pair of ninths.
Testing at Aragon suggests Nissany is eyeing another year in the series in 2016. 6/10
14. Roberto Merhi
26 points, 1 podium

After running compatriot Carlos Sainz close to the 2014 title, a lack of budget forced Merhi to do a deal to continue in FR3.5 with Pons. He was then given a last-minute Formula 1 debut by Manor, but unsure how long that would last, he remained faithful to Pons and its sponsors.
It was a challenging start, though. His car was uncompetitive and Merhi scored just two points in his first four races.
Feeling no progress was being made, he walked out on Friday night in Hungary but was convinced back after an engine change. He promptly finished second.
That speed carried onto Spielberg, but after finishing fourth on the road in race one he slowed abruptly and was hit by Latifi. Merhi was punished with exclusion from the weekend. He had qualified on the front row for the second race.
After a date clash prevented him from being at Silverstone, Merhi chose not to return ? soon before learning he had to start sharing his F1 drive. He may have decided he had nothing to gain from continuing, but Pons has shown speed since with far less qualified drivers. 6/10
The rest

Meindert van Buuren began the season as Vaxiviere?s Lotus team-mate. Or more precisely, he began the season by leading the opening race after forcing his polesitting team-mate down to fourth, having jumped the start. The fifth place he was left with once relegated by a time penalty would be his best result before a contractual fall-out preceded a one-off return to his 2014 team Pons at Spielberg.
Marlon Stockinger made a comeback with the Lotus team in van Buuren?s place and qualified for his first race in second, but all he had to show for his eight races was a sixth and a seventh. Nick Yelloly occupied the seat on home soil at Silverstone and after a difficult start to the weekend he was third in Sunday qualifying, but a grid penalty forced him to settle for seventh.
Alfonso Celis continued his accelerated career path with a full season for AVF alongside a second GP3 campaign. He scored only at Aragon and the Nurburgring, but finished fourth in the mixed conditions in Germany. The first driver to commit to 2016, good progress could be made if he gets an experienced team-mate.
He outscored his 2015 team-mate Beitske Visser by 17 to three. That?s not really representative of their relative speeds but the Dutchwoman did struggle to build upon the occasional promise of 2014. The step up from F4-level, though enforced by commercial reasons, evidently hasn?t worked out but big potential remains if she can get an alternative opportunity in 2016.
The other driver to do the full season was Sean Gelael. He did well to take eighth in Monaco but scored points on just two other occasions. Despite him still only being 18 when the season ended, the focus is now on GP2 where things won?t get any easier.
Gelael?s fellow Indonesian Philo Paz Armand was one of eight drivers used by Pons during the campaign. He got a single point from nine starts, also in the Monaco race, one place behind Merhi's substitute for that weekend, Alex Fontana.
Taking over the Armand car for the final three rounds was Euroformula Open regular Yu Kanamaru and the Japanese driver was pretty impressive, on the pace immediately and a fine sixth at Le Mans.
In the Merhi car, Pons called up Will Bratt at Silverstone for his first single-seater drive for more than four years. GP2 regular Rene Binder stepped in at the Nurburgring and was eighth in race two before Auto GP refugee Nikita Zlobin took over for the final two rounds.
At Draco, Bruno Bonifacio had a dire rookie campaign with just a single point at Aragon, but can take inspiration from his former Prema FR2.0 and Abarth team-mate Luca Ghiotto, whose stint in the very same car in 2014 wasn?t miles better and evidently didn?t harm him.
Bonifacio left Draco at the same time as Fantin, leading to Andre Negrao being drafted in for the final two events before his father Guto sold the outfit.
Propping up the championship table was Louis Deletraz, who used an off weekend from dominating FR2.0 to make his 3.5 debut at Spielberg (and enable Comtec to make its only appearance of the season). The Eurocup crown slipped through his fingers but he?ll almost certainly step up full-time next year.