The BRDC Formula 4 Championship quickly made a name for itself in the crowded UK junior single-seater marketplace in its inaugural season last year, as six young British racers battled for the title.
Series bosses will now be hoping to continue that momentum this season, and things are looking good with a 22-car field primed for this weekend's opening round at Silverstone – a considerably greater number than their rivals can boast. After the home-grown talent shone last year, there's been an influx of international racers joining the fold over the winter, to form a grid made up of second-year drivers, exciting rookies and proven winners from other series.
Much of the strength of the grid is down to six squads each fielding quality three-car line-ups, and they are backed up by a trio of smaller teams. PaddockScout looks at the class of 2014.
Lanan Racing
Lanan Racing emerged from the relative wilderness in junior single-seater terms to win the inaugural BRDC F4 title last year with Jake Hughes, and their activity in the driver market has put them in a good place to retain their position at the head of the field with two title favourites in their ranks.
Struan Moore joins Lanan after finishing ninth with Hillspeed last year, claiming one win at Snetterton in June and then three other podium finishes in the final two weekends of what was his first full year of car racing having focussed on his schooling during previous seasons in Ginetta Juniors and Protyre Formula Renault. Managed by fellow Jersey resident and former Formula Renault 3.5 race winner James Walker, Moore topped the official pre-season test day at Snetterton – just as Hughes did for Lanan last year.
George Russell missed that test due to a clashing commitment in his parallel Formula Renault Alps campaign, but is unlikely to let that hinder him. Theoretically it will be tougher for rookies this year than in the inaugural season with some good second-year contenders around like Moore, but the double European KF3 champion absolutely has the talent to follow in the footsteps of Hughes and has proved his pace in testing across Europe.
Completing the Lanan trio is Arjun Maini. In 2011 he was the winner of Force India's scouting trip in the Asian nation, but went his own way and moved into single-seaters last year, when he finished second in the national JK Tyres Racing Series and won the Super 6 Formula BMW event at Sepang. He's unlikely to match his team-mates over the season, but completes a very strong three-car line-up for Lanan.
HHC Motorsport

A highly successful team in the Ginetta Junior series, HHC enjoyed a strong debut single-seater campaign last year with their own protege Charlie Robertson, who finished third in the final standings. Like Lanan, they have got a strong trio for 2014 who could all win races.
Their assault is led by Raoul Hyman. The South African enjoyed a promising maiden year in car racing last year, finishing seventh as the best of the rest behind the title-fighting crop of six Brits, and is the highest-placed driver to return. That puts him firmly among the pre-season favourites, and he was just 0.006s slower than Moore in the test day. He's yet to win a race, but it would be a surprise for that to remain the case for long.
Joining HHC for 2014 is Sennan Fielding following a strong run to third in the Winter Championship last November with the team. Runner-up to Robertson in Ginetta Juniors in 2012, Fielding was beginning to show potential with the Douglas team last year before running out of money after just three rounds. He seems in a stronger position now and could be another title contender.
Another race-winner for the team in the Winter Championship was Will Palmer. Son of BRDC F4 boss Jonathan, Palmer impressed thoroughly with his performances in his early single-seater performances after two years in Ginetta Juniors with HHC. He's up against tougher competition in the main series, but should be able to record similar results as he develops and is certainly worth keeping an eye on given how far his older brother Jolyon has gone.
Hillspeed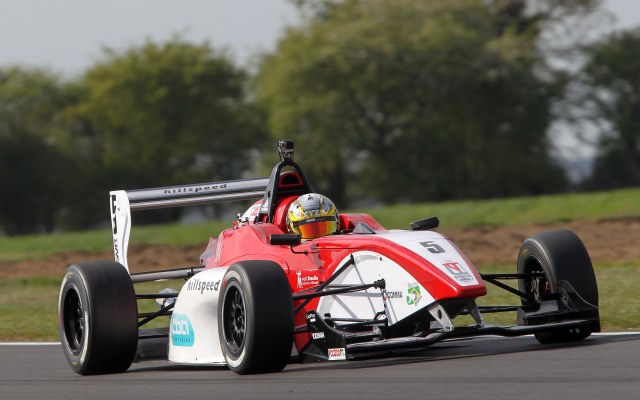 Champions in Ginetta Juniors and Formula Renault BARC, Hillspeed enjoyed some immediate success in BRDC F4 with Seb Morris taking second in last year's standings. Repeating that form this year however will require three relatively unproven drivers to step up to the mark.
Having lost Moore to Lanan, Hillspeed's hopes will mostly lie with Gustavo Lima. The Brazilian makes the switch from HHC, for whom he finished 14th last year. He showed improvement at the end of the year however, with a podium at the final round at Donington. He went on to do well against an international field in the Toyota Racing Series too at the start of this year, claiming a best result of fourth.
Rahul Raj Mayer continues with Hillspeed for a second season. The Malaysian failed to score a point last year, but should at least be able to improve upon his best result of 12th and force his way into the top ten on occasion now that he's got a year of experience under his belt.
Completing a very cosmopolitan line-up at Hillspeed is Alfredo Zabalza – one of three Mexicans on the grid this year. The 17-year-old is new to single-seaters but arrives with three straight titles in the national Rotax Max Karting championship as well as international experience.
Sean Walkinshaw Racing

F3 racer Sean Walkinshaw followed in the footsteps of his late father Tom to run the family firm's entry into BRDC F4, and the squad was a frontrunner with British former karting aces Matty Graham and Jack Barlow winning five races between them.
SWR's 2014 line-up is led by Danish driver Nicolas Beer, who is a surprise arrival to the UK junior scene after finishing a fine fourth in ADAC Formel Masters in Germany last year. Having no experience of the British circuits or the F4 car will put him at a disadvantage compared to the likes of Moore and Hyman, but he certainly has the track record to be a leading contender.
Another overseas recruit for SWR this year is Diego Borrelli. The Venezuelan has been picked up by Adrian Campos and has been testing the Spaniard's F3 cars over the winter, linking up with Walkinshaw. He has good pedigree having raced for ART Grand Prix's official international karting team last year, although results were low-key so it remains to be seen how he goes in his first season in single-seaters.
Jordan Albert completes the SWR line-up, having initially signed up to the series with a new privateer entry. Although this will be his first full championship campaign, the Silverstone resident raced a number of different club-level cars last year including Formula Ford 1600, Mazda MX5s and even the Beetle-based Fun Cup. He was in the top eight on the test day, so could be one of the surprise packages this season.
Mark Godwin Racing

MGR led the championship standings early last year with Jake Dalton – a product of their successful Formula Renault team. The team looks as if they're replicating that recipe this year, with their two leading drivers also making that same move.
Chris Middlehurst won the Protyre title at a canter for MGR last year, and is therefore something of a coup for BRDC F4 organisers in terms of the British single-seater market. Last year the McLaren Autosport BRDC Award finalist had a year's experience over many of his rivals, but now he's got a new car to learn and he might have work to do after only managing 11th on the test day.
David Wagner finished fourth in Formula Renault BARC (as it was then) in 2012 with MGR, but sat most of last year out aside from a single Formula Ford appearance. The Glaswegian should make a formidable team-mate to the similarly experienced Middlehurst and help the team if they have lost their way at all with the car.
Completing the MGR trio is little-known Dutchman Michael Claessens. He has little race experience but has already tasted success, winning the Lotus Six Hour race at Brands Hatch last November alongside renowned sportscar ace Sam Hancock, only two weeks after his first ever race weekend.
Douglas Motorsport

Douglas Motorsport had a quiet time in the first BRDC F4 season, but tasted success at the end of the year when they ran Matty Graham to the Winter Championship title. That has led to them being the team of choice for the Escuderia Telmex programme for this year, with the Mexican scheme famous for backing Sergio Perez and Esteban Gutierrez bringing two of their younger drivers to Douglas.
Diego Menchaca is now in his third year of racing in the UK, and needs to improve upon the single podium he scored?last year. He didn't finish far behind Hyman or Moore in the standings though, so ought to be capable of becoming a frontrunner this time around.
17-year-old Rodrigo Fonseca is a new addition to the Telmex roster this year for his rookie car racing season, after winning their KF2 Karting Challenge last year.
Another karting graduate Charlie Eastwood completes the Douglas line-up. The Belfast-based driver has a strong CV behind him, having won the Rotax Max World Final in 2012 and claimed titles in Europe and Florida last year. He is another with a strong winter behind him having confirmed his plans in early December, and is the driver most likely to offer Russell a challenge for top rookie honours.
Chris Dittmann Racing

Chris Dittmann was the 2012 F3 Cup champion as a driver, but his team only competed at half of the BRDC F4 rounds in the 2013, so they have effectively only done half of the running of their rivals.
They've done plenty of running in the off-season however with new signing Tom Jackson. The 17-year-old steps up to single-seaters after two years in Ginetta Juniors, where he finished fifth last year – two spots behind Palmer. That form suggests he could go well, but may struggle on his own in a team lacking experience in the series – he was over two seconds off the pace on the test day.
Enigma Motorsport

Enigma only joined the BRDC F4 fold for the Winter Championship in November, but have got good previous experience in F3 and Formula Ford.
Their F4 entry has seen them renew a relationship with Falco Wauer that goes back to 2012, when the Norwegian took six wins from eight starts in the 750 Motor Club F4 series. He claimed two podiums from a five-round stint in BRDC F4 last year with the KBS team before switching his focus to the F3 Open. Upon his return for the Winter Championship with Enigma, he took three second-places from the four races at Snetterton.
PetroBall

PetroBall are a new team arriving in the UK with the aim of easing the way for Brazilian youngsters coming over to Europe to race. They might lack any experience over here, but they have come across so far to be a serious and well-planned operation.
Only one of the team's two drivers is Brazilian. Gaetano Di Mauro is a protege of Rubens Barrichello, and claimed victory in the 500 Milhas de Beto Carrero kart race with Barrichello, Tony Kanaan and Felipe Giaffone as team-mates. He is a two-time Brazilian shifter karts champion and also claimed the title in the regional Sprint Race prototype series last year.

Dan Roeper also makes the trip from the other side of the Atlantic. The American is coached by experienced Brazilian driver Oswaldo Negri, a former competitor in British F3 and long-time Grand-Am racer. Roeper is a double South Florida Rotax Max Champion.
Calendar
Silverstone – 26/27 April
Brands Hatch – 17/18 May
Snetterton – 21/22 June
Oulton Park – 18/19 July
Silverstone – 16/17 August
Brands Hatch – 30/31 August
Donington Park – 20/21 September
Snetterton – 25/26 October