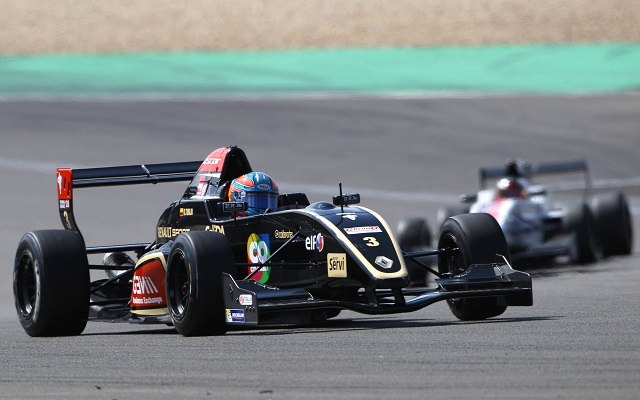 Photo: Chris Schotanus
Lotus junior Oscar Tunjo secured pole position for the second round of the 2013 Formula Renault 2.0 NEC, topping the qualifying timesheets on his return to the category where he had a part-time campaign in 2011.
Despite his allocation to Group A, Tunjo:s best time was good enough to beat Group B:s leader, Gustav Malja, who ensured his maiden front row start in Formula Renault.
In the faster Group A, Matt Parry took second ahead of current champion Jake Dennis. Aurelien Panis was fourth ahead of Nicolas Jamin, while Ed Jones narrowly bested Shahaan Engineer. Ryan Tveter, Louis Deletraz and Kuba Dalewski rounded out the top ten.
Roman Mavlanov was second to Malja in Group B, ahead of Esteban Ocon, Mikko Pakari and French F4 champion Alex Baron. Dennis Olsen and Victor Sendin followed, with Raoul Owens, Andrea Pizzitola and Jack Aitken closing out the top ten.
Parry will be on pole for race two.
Qualifying results
| | | | | |
| --- | --- | --- | --- | --- |
| Pos. | Driver | Team | Group A | Group B |
| 1 | Oscar Tunjo | Josef Kaufmann Racing | 1:56.872 | |
| 2 | Gustav Malja | Josef Kaufmann Racing | | 1:56.932 |
| 3 | Matt Parry | Fortec Motorsports | 1:56.969 | |
| 4 | Roman Mavlanov | RC Formula | | 1:57.504 |
| 5 | Jake Dennis | Fortec Motorsports | 1:57.163 | |
| 6 | Esteban Ocon | ART Junior Team | | 1:57.525 |
| 7 | Aurelien Panis | RC Formula | 1:57.390 | |
| 8 | Mikko Pakari | Fortec Motorsports | | 1:57.544 |
| 9 | Nicolas Jamin | ART Junior Team | 1:57.678 | |
| 10 | Alex Baron | ART Junior Team | | 1:57.672 |
| 11 | Ed Jones | Fortec Motorsports | 1:57.684 | |
| 12 | Dennis Olsen | Josef Kaufmann Racing | | 1:57.763 |
| 13 | Shahaan Engineer | Fortec Motorsports | 1:57.688 | |
| 14 | Victor Sendin | AV Formula | | 1:57.794 |
| 15 | Ryan Tveter | Fortec Competition | 1:57.819 | |
| 16 | Raoul Owens | Mark Burdett Racing | | 1:57.794 |
| 17 | Louis Deletraz | Josef Kaufmann Racing | 1:58.385 | |
| 18 | Andrea Pizzitola | ART Junior Team | | 1:57.891 |
| 19 | Kuba Dalewski | JD Motorsport | 1:58.523 | |
| 20 | Jack Aitken | Fortec Motorsports | | 1:58.053 |
| 21 | Tanart Sathienthirakul | ART Junior Team | 1:58.594 | |
| 22 | Alfonso Celis | Fortec Competition | | 1:58.371 |
| 23 | Fran Rueda | AV Formula | 1:58.708 | |
| 24 | Erik Johansson | KEO Racing | | 1:59.220 |
| 25 | Cedric Freiburghaus | SL Formula | 1:58.944 | |
| 26 | Roman Beregech | Fortec Competition | | 1:59.360 |
| 27 | Julio Moreno | JTR Racing | 1:59.002 | |
| 28 | Jakub Smiechowski | Euro Interpol | | 1:59.586 |
| 29 | Andres Mendez | Mark Burdett Racing | 1:59.594 | |
| 30 | Juan Branger | JD Motorsport | | 1:59.599 |
| 31 | Miika Laiho | PositiOne Motorsport | 2:00.033 | |
| 32 | Patric Armand | Fortec Motorsports | | 1:59.617 |
| 33 | Simon Stoller | SL Formula | 2:01.294 | |
| 34 | Corinna Kamper | Fortec Competition | | 2:00.107 |
| 35 | Christian Malcharek | Krenek Motorsport | | 2:01.368 |