Part three of our end-of-year countdown of the best performers beneath F1 in 2016.
30. Ralf Aron
Down 4
Estonia?? age 18
Seventh in FIA F3 European Championship
Aron made the step up from winning the Italian Formula 4 title to European Formula 3 with Prema look easy, claiming a win and a second from just his second event at the Hungaroring to briefly sit second in the standings, ahead of team leader Lance Stroll.
A shunt on his way to the grid for race three in wet?conditions?must have been shrugged off at the time, but somewhat surprisingly, he never even made the podium again.
During the middle of the year he struggled to match the performance of the other Prema drivers, and it wasn't until round eight of 10 at the Nurburgring that he topped the rookie podium in a race again, as Ben Barnicoat, Anthoine Hubert and Joel Eriksson took turns to outshine?him.
The good thing is that he got on top of this slump before the end of the year, notching up four fourth places in the space of six races, including completing a Prema sweep at Hockenheim.
The bad news is he won't have one of the Italian team's Dallaras?underneath him next year, but a?move away from the big names there and over to Hitech (where mentor Marko Asmer claimed?his British F3 crown) could actually?see him flourish.
29. Santiago Urrutia
Up 2
Uruguay ? age?20
Second?in?Indy Lights
Urrutia was cruelly denied the Indy Lights title on the last lap of his rookie?season when Carlin's drivers switched positions.
The Uruguayan had four wins to Ed Jones' two, but inconsistency hampered him.
He took the points lead with a fine double win at Mid-Ohio, but couldn't?to capitalise on pole position next time out at Watkins Glen, suffering a tyre failure after struggling to keep others behind.
That left him only a point ahead going to the Laguna Seca decider, and his fifth place finish in the first race meant second in race two was not enough.
It was still a fine effort however?in a first season that proved his class. But while the title would have guaranteed him an IndyCar debut, now he's fighting to save his career, as he searches for the funds for a second Indy Lights season without the scholarship he won with his?2015 Pro Mazda title.
28. Anthoine Hubert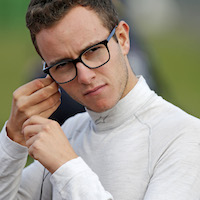 No change
France?? age?20
Eighth?in FIA F3 European Championship

Hubert moved from Formula Renault to Formula 3 on the back foot without as much winter testing as the competition, but was able to make strong progress as the year went on.
During the opening four rounds he was an inconsistent scorer in the bottom half of the top 10,?but then came the Norisring, where he capitalised on the strength of Van Amersfoort Racing around the Nuremburg circuit (a legacy of Max Verstappen's domination there in 2014?) to take a surprise win and follow it with a second place.
Such highs were hard for him to repeat, but he was a consistent scorer there on, finishing inside?the top 10 in every race except the one he failed to finish.
His performance levels were also now frequently?on a par with team-mate Ilott – who had earlier been?Lance Stroll's closest challenger – suggesting it was only VAR's struggles that were preventing him from fighting for further wins.
An uncertain winter hampered Hubert into this year, but he's been much more confident going into this off-season, and has been tipped for a GP3 seat with ART. That would give him his best chance yet to show what he's worth.
27. Oliver Rowland
Down 25
United Kingdom?? age?24
Ninth in GP2
Somehow Rowland's commanding run to the Formula Renault 3.5 title didn't yield a top GP2 seat, but he did well with MP Motorsport during the first half of the year.
His Monaco prowess was on show to earn a feature race podium there after hassling for the lead, he was a contender in both Baku races, and the tricky conditions in Austria.
A sublime Prema-rivalling performance on home ground at Silverstone to make the podium twice put him into the championship lead, having been more consistent than most so far in spite of his rookie status.
But from there, the Prema pair found another gear and Rowland and MP went backwards, with neither qualifying nor race pace good enough to trouble the frontrunners again.
A big year from Rowland would have proven?a point to F1, and in mid-July he was doing a fine job. Having been unable to arrest the slide that followed, his role?next year is likely?to be to help DAMS overturn its own slump in form, in a deal that may be funded?by sponsors of?Enstone colleague Nicholas Latifi.
26.?Norman Nato
Re-entry?(47th in 2014)
France ? age?24
Fifth?in GP2
This was the best we've seen yet from Nato, who began the GP2 season making an unlikely title bid.
He'd looked quick in testing, but that was mostly on Racing Engineering's home track of Jerez, yet Nato was the year's first winner after a bold pass on Pierre Gasly in the Barcelona feature race.
The man?from Cannes was unlucky not to repeat the feat?next time out in Monaco, denied a 'home' win only by the vagaries of the virtual safety car system and Artem Markelov's remarkable pace on old tyres.
Thereafter, the?title bid faded, but he had the speed to take pole at Silverstone, and win the Monza sprint race from fourth on the grid.
The inconsistency that plagued previous seasons was still there, but only through incidents, mechanical woes and missed opportunities, and not through bafflingly off-pace weekends like before; he never once qualified outside of the top 10, and scored nearly twice the feature race points of team-mate Jordan King.
Stoffel Vandoorne's closest rival in Formula 4 probably won't be joining him in F1 any time soon, and may move on from single-seaters next year, but he will do so having proven his quality.
25. Alex Lynn
Down 8
United Kingdom?? age?23
Sixth?in GP2
Lynn began the year?with the same joint-favourite tag as Pierre Gasly and Sergey Sirotkin, but while they made life hard for themselves early on with clumsy errors, the Brit and his DAMS team simply?never had the pace to challenge.
Third on the grid at Barcelona was as good as it got in qualifying, and his sprint race win there gave a false impression of his form.
That said, he did score?another two of those at Hockenheim and in Abu Dhabi, able to capitalise?fully on the only two occasions he lined up on the front row. His only feature race rostrum?came?when a screw pierced Nato's radiator ahead of him, and the remaining one?of his five podiums?was a magnificent sprint drive in the wet in Austria.
From his Macau victory to his?GP3 title and promising?rookie GP2 season, Lynn had already done enough in the previous three years?to prove his own speed. That he and the team?couldn't solve the lack of pace in the car was?the only fault in his season, because he drove free of obvious errors and was way clear of his team-mate.
He has also stayed professional throughout, and is?taking a pragmatic approach to the?F1 dream. Rapid in early World Endurance Championship outings and linked?to a role in Formula E, he's still got a great career ahead of him.
24. Dorian Boccolacci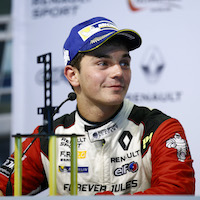 New entry
France?? age?18
Second in Eurocup Formula Renault
Third?in Formula Renault NEC
After his challenging move from French Formula 4 to European Formula 3, Boccolacci did what he should have done 12 months earlier and headed for Formula Renault, and was unsurprisingly a frontrunner.
He?was rarely the best in the field on any given day, with?only three wins?across Eurocup and NEC, but he scored well with the pace he had, which wasn't a match for that of Lando Norris or Max Defourny.
Second place in the Eurocup is never a result to be sniffed at, and although he?wasn't officially a rookie, he was still new to the car, and stepping down?is harder than?it sounds with the resultant?reduction in downforce.
Perhaps the best signs of his ability came post-season in a guest outing in Euroformula Open at Barcelona, where he won on the road, and in Formula V8 3.5 tests, where he was frequently fastest.
Boccolacci was seen as the next Esteban Ocon whilst they were together on?the Gravity management scheme, but since?that collapsed, funding has been a concern.
The amount of post-season testing he's been doing in both FV8 and GP3?is a positive sign, though, and perhaps, having?now lost its stake in Ocon,?Renault will support its Eurocup runner-up as a fast Frenchman for the future.
23. Mick Schumacher
New entry
Germany?? age?17
Second in ADAC Formula 4
Second in Italian Formula 4
Beyond a reverse-grid win on his debut weekend, Schumacher?s first season in cars in 2015 failed to live up to the hype, but he made genuinely impressive progress in season two, flourishing after an off-season switch to Prema.
Headlines concentrated on him missing out on two titles, but it would be unfair to cast either result as a serious failure.
In Germany, he pushed an older, more experienced rival in Joey Mawson to the wire. In Italy, he was unbeatable on his day, and despite missing a round, would have beaten Marcos Siebert (again, older and more experienced) to the title were it not for some costly mistakes.
More so than his results, the impressive thing about Schumacher in 2016 was his racecraft. He frequently had to work his way through the field and did so in impressively combative fashion.
Occasionally he got into trouble, but at 17 it?s the things a driver does well that are more notable than the instances where they get it wrong.
In both championships his title chances were ended before the final race, but both times he picked himself up and shone in the finale ? grabbing a last-lap win at Hockenheim and charging from 27th to second at Monza. Now he moves on to F3 with Prema, where he should just develop even more.
22. Jake Hughes
Up 7
United Kingdom?? age?22
Eighth in GP3
Hughes didn't get the results he hoped for from his move into GP3 with new entrant DAMS, but still proved his quality during 2016.
Pole on his debut at Barcelona would have surprised many, but not those aware of the Formula Renault graduate's speed, and it wasn't a huge shock that DAMS could get to grips as well as anyone with a new car.
It was more surprising that this form was not continued, but DAMS struggled for qualifying pace at circuits where it hadn't tested beforehand, and its lead driver Hughes was rarely a threat in Saturday races again.
The exception was Monza, where great tyre management?helped him to charge to third from eighth?past the ART quartet.
These skills were on show again in Abu Dhabi, where he came from a pitlane start to seventh in race one, then took victory in the sprint race, his second of the year after one at Hockenheim. Elsewhere, there was plenty of bad luck.
The Yas Marina performance completed a superb end to the year, in which he was right at the sharp end on his F3 debut at Hockenheim, then raced to sixth – as the top rookie – in Macau having been among the frontrunners throughout.
Having got the F3 bug he will now race there full-time next year, which is?seen as a step backwards by some, particularly given his age, but his deal?with Hitech could have been?too good for him to refuse.
21. Niko Kari
Up 20
Finland?? age?17
Tenth?in?FIA F3 European Championship
Why is a driver that placed only 10th in European F3 this high up our list? Because on his day, Kari was as good as anyone.
That was impressive because?he had less car experience than anyone else, with only a year in the centrally-run SMP F4 series under his belt, and therefore no previous race weekends on any of the European F3 circuits.
The newly-signed Red Bull Junior was immediately quick in an F3 car, qualifying third for his debut, and he got a second place in just his fourth race between (more experienced) fellow F4 graduates Ralf Aron and Joel Eriksson at the Hungaroring.
These were quickly followed by more podiums at the Red Bull Ring and the Norisring, and showed?progress later in the year.
First he pushed the otherwise-dominant Lance Stroll hard for second in the final race at the Nurburgring, then beat him to victory in the next race at Imola with an audacious pass around the outside. By now he was challenging for seventh in the standings, before engine failures?wrecked the end of his campaign.
His speed?was inconsistent and he had?more incidents than most, but?these things can?be worked on.
He's set for a switch to GP3 next year with Arden, and the last Red Bull Juniors that did?that have done pretty well for themselves.