After Stoffel Vandoorne's impressive domination of 2015, this GP2 season looks like it might be very different. Men?who spent last season in the Belgian's shadow but who are fine drivers in their own right – Sergey Sirotkin, Mitch Evans, Alex Lynn and Pierre Gasly – could all be champion at the end of it, and it's near-impossible?to split them before the action begins.
Sirotkin was the best of this year's crop?in last year's standings and now he's got Vandoorne's car, but it remains to be seen whether team and driver will combine to be unbeatable. Lynn has continuity at DAMS, and was quick enough already last year, needing only to work on tyre degradation and cutting out mistakes. Gasly has a new team in Prema, but Vandoorne's old engineer should make his car quick. Evans has vastly more GP2 experience than those three, but how he will go at Campos is unclear.
The depth on the grid runs a lot deeper than that, too. Raffaele Marciello, unshackled from Ferrari, cannot be discounted. Sirotkin's ART team-mate Nobuharu Matsushita and Rapax signing Arthur Pic are both race winners, while Racing Engineering's Jordan King and Norman Nato have both looked quick in testing.
Then there's a pretty strong rookie crop, consisting of FR3.5 champion Oliver Rowland, GP3 graduates Luca Ghiotto, Marvin Kirchhofer and Jimmy Eriksson and European Formula 3 runner-up Antonio Giovinazzi, but they'll be doing very well just to get a look in.
It could be a classic year.
ART Grand Prix
As well as Vandoorne, ART?has lost his engineer?Guillaume Capietto to the big-spending Prema, but in Sirotkin and Stuart King – who comes?from engineering Frijns, Vandoorne and Rowland at Fortec in FR3.5 – it has very capable replacements, complementing a Matsushita with a year's experience to add to his speed.
1.?Nobuharu Matsushita
Japan, age 22, ninth in GP2?in 2015 ??That Honda protege Matsushita was as strong as he was at times last year despite a total lack of experience of the tracks bodes well for this term. He undoubtedly?benefitted from the strength of the team and his team-mate, but that won't really change this year. He's been pretty quiet in pre-season, but it's hard to imagine him not taking a big step forward. He'll need to find consistency to fight for the title, though.
2. Sergey Sirotkin
Russia, age 20, third?in?GP2?in 2015 ??Sirotkin surprised all with his rookie campaign last year, particularly as?it came with a relatively unfancied team in Rapax. So as the?returning driver who placed highest in last year's standings jumping into the champion's car,?the pressure's on, particularly with an SMP-backed foot in the door in F1 with Renault. The questions are whether he can thrive?in the?ART environment as well as he did at Rapax, and whether he can step up to win?more than just one race.
Racing Engineering
Always a competitive force, the Spanish squad took second in both standings last year thanks to?Alexander Rossi. On paper its 2016 pairing doesn't appear as strong, but it's?been pretty quick in pre-season, and not just at its home track of Jerez where it was dominant.
3. Norman Nato
France, age 23, 18th?in?GP2?in 2015 ??A former rival of Vandoorne in F4 and of Daniil Kvyat in Formula Renault, Nato has underperformed relative to his ability in recent years, particularly in a rough rookie GP2 campaign last year. He showed good speed on occasion though, and his pre-season form suggests?that moving from Arden to Racing Engineering could help him turn it into consistent results. A dark horse.
4. Jordan King
United Kingdom, age 22,?12th?in?GP2?in 2015 ??King did a good job last year after making the fairly large step up from F3, finishing the year equal?on points with 10th place. There were some good race drives, but feature race results never matched fourth in the opening race, so it's clear where he can?improve. Title ambitions seem a little optimistic considering?the opposition, but a top-six berth is a good target if the pre-season pace is genuine.
DAMS
DAMS remained among the very quickest teams in qualifying trim last year, but struggled to maintain that speed in races, something?that could be put down to an unusually inexperienced line-up. Bringing in another rookie won't solve that problem, but focussing its efforts on a clear lead driver may have benefits compared to last year's equally-matched pairing.
5. Alex Lynn
United Kingdom, age 22, sixth?in?GP2?in 2015 ??Lynn impressed with his speed in his rookie campaign last year, putting in a much more competitive showing than previous GP3 champions had done. After wins in Spain and Hungary, big points went missing to some uncharacteristic errors, but it's easier to cut out mistakes than to have to find lap time. Having the continuity that his rivals lack could be crucial in the title fight.
6. Nicholas Latifi
Canada, age 20, 27th in GP2?in 2015 ??Funding has clearly played a part in Latifi bagging a top seat at DAMS, and the same can be said for his role with the Renault F1 team, but both gigs should help him to extract the potential he showed earlier in his career after a couple of?low-key seasons in F3 and FR3.5. He's yet to score from nine starts in GP2, but with a full winter with DAMS under his belt, that shouldn't remain the case for long.
Campos Racing
The Adrian Campos-led outfit has been a frontrunner since returning to GP2, and a strong season with Rio Haryanto last year has secured some big Indonesian backing for 2016, and with it a top lead driver in Mitch Evans. Can it provide him with a?car to win the title?
7. Mitch Evans
New Zealand, age 21, fifth in GP2?in 2015 ??If you combine ability and experience at this level, Evans is arguably the strongest driver on the grid. He could have given Vandoorne a much harder time in 2015 if the first half of his season wasn't plagued by technical problems. It remains to be seen?whether the Indonesian-funded switch to Campos pays off; as great as Evans?is in races, will he start them far enough up the grid to win?
8. Sean Gelael
Indonesia, age 19, 30th in GP2?in 2015 ??Gelael's step into GP2 in the middle of last year came needlessly early in his development (he'll only be just out of his teens when the season ends) but given that his Indonesian backers – led by his father's KFC concern – are also supporting three other?drivers on this year's grid, it's hard to be too critical. Sportscar successes at the start of the year show he's no slouch.
Russian Time
Once changes were made last summer, including the return of?iSport's Gavin Jones, Russian Time's was as strong a package as anything, particularly in races. If that is maintained and new lead?driver Marciello gets what he needs, it could be a good season, but only if.
9. Raffaele Marciello
Italy, age 21, seventh in GP2 in 2015?– A very muted second season in GP2 last year gave Ferrari enough cause to drop Marciello, but his personal sponsors have remained on board. His European F3 title and solitary GP2 win at Spa in 2014 seem a long time ago, but second to Vandoorne in Abu Dhabi last November was?evidence?of a potential?post-Ferrari revival. However, if Russian Time continues to be best?in race trim, does he have the Evans-esque racecraft to capitalise?
10. Artem Markelov
Russia, age 21, 13th?in GP2 in 2015?– Markelov grew considerably last year after his difficult 2014 rookie campaign, and would?have finished the year in the top 10 had his car not stopped out of a fine second place in Abu Dhabi. In theory more progress should be made this year, but the low turnover at the front of the grid and arrival of some fast rookies means that any improvement will have to be worked hard for.
Rapax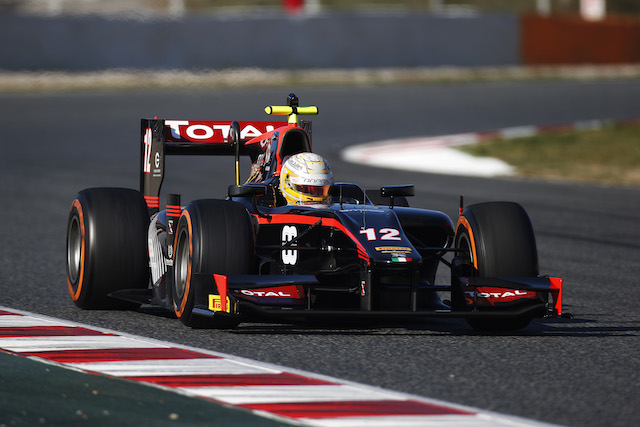 The team that took Pastor Maldonado to the 2010 title reminded all what it was capable of with Sirotkin last year. That hasn't automatically made it one of the more fancied teams over the winter, but the ingredients are still there for a positive season.
11.?Gustav?Malja
Sweden, age 20, ninth?in FR3.5?in 2015?-?Despite his number, Malja very much arrives as number two at Rapax – after all, he's only a year out of Formula Renault 2.0. This is season six of his single-seater career though, and he nabbed a point on his GP2 debut at Spa last year with Trident despite no prior running?in the car. Decent progress was made on two later appearances with Rapax, and the pre-season pace has been good.
12. Arthur Pic
France, age 24, 11th in GP2?in 2015?– A Pic-Rapax combination is something of a surprise, but he'll be hoping to repeat some of Sirotkin's 2015 form after his own campaign failed to build on the promise of his rookie season, when he was sometimes?the closest thing to Vandoorne. One-lap speed is definitely his strong suit, and using it will be key to him getting anything out of the decision to stay?in GP2.
Trident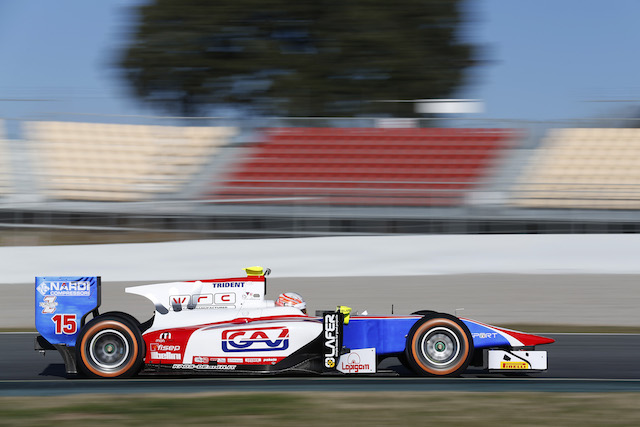 After its wins with Johnny Cecotto in 2014, more would have been expected of Trident's partnership with Marciello last season. The team?was key to Luca Ghiotto's form in GP3 last year but it's pretty doubtful that it will make?his GP2 car similarly quick.
14.?Philo Paz Armand
Indonesia, age 20, 26th in FR3.5?in 2015?– Going from?a quiet couple of years in FR2.0 to?GP2 via just nine starts in FR3.5 isn't the best?way of doing things, but Armand is looking to capitalise on the wave of popularity for GP2 back home following?Haryanto's 2015 wins. Ultimately, like Gelael, he won't have the speed yet to generate similar headlines.
15. Luca Ghiotto
Italy, age 21, second?in GP3?in 2015?-?When talk of?F1?backing fell flat, there was a concern that Ghiotto's stunning GP3 season wouldn't be rewarded with a GP2 graduation. Fortunately, Trident has facilitated that, but?the fact that he's the most experienced driver in a team that struggled a little?last season is far from ideal.?In a deep field, being top rookie might be the most realistic aim, but even that won't be easy.
Carlin
From helping Felipe Nasr towards F1, Carlin's GP2 programme went into free fall last year when a promising deal to run Marco Sorensen turned sour and Julian Leal's long career in the series petered out mid-season. Turning to Marvin Kirchhofer is a good move, but it won't be an easy season.
18. Sergio Canamasas
Spain, age 30, 15th?in?GP2 in 2015?– It looks like Carlin kept its options open for as long as possible over this seat, but there was an inevitability that it would go to Canamasas. If there's one round the team?will want to keep him for it's Monaco – where he's found the podium twice in two years – but that's always an event that attracts drivers from other series.
19.?Marvin?Kirchhofer
Germany, age 22, third?in?GP3?in 2015?-?Finishing?only third in GP3 for two years running, even though he broke the series win record, could have derailed Kirchhofer's career, but he's secured a deserved step up to GP2 with Carlin. Like with Ghiotto, it's not an ideal scenario, given the team's tough 2015 and his lack of a proper team-mate, but he's good enough to shine when things come together.
Prema Racing
Prema's here, and unsurprisingly it means business. It's recruited big names from other teams to join its own people, and after a torrid debut test at the end of last year, it's looked right on the pace in pre-season. There's no reason to think it can't win from the off.
20.?Antonio?Giovinazzi
Italy, age 22, second?in European F3?in 2015?-?Giovinazzi's another driver whose future looked uncertain after missing out on a title last?year, with no opening in the DTM and an F3 return being banned, but Ricardo Gelael stumped up for a GP2 seat with Prema, for whom he was a thorn in the side in 2015. On paper, this isn't an easy year for rookies, but Giovinazzi's looked quick in testing, and a top-six place is not impossible.
21. Pierre Gasly
France, age 20, eighth?in GP2?in 2015?– Gasly's first season in GP2 didn't live up to the expectations set by his rapid testing pace, and means he's spent two years in the Red Bull Junior Team without winning a race. That's undoubtedly played a part in him having to leave?multiple champions DAMS for newcomers Prema, but linking up with Vandoorne's engineer and compatriot?Capietto means it?might be not be a bad thing whatsoever.
MP Motorsport
MP Motorsport has had limited success since arriving in GP2 but that could change this year, having secured the services of?Oliver Rowland after his promising appearances at Silverstone and Spa last year.
22. Oliver Rowland
United Kingdom, age 23, FR3.5 champion?in 2015?– One?might have expected Rowland to have earned a seat in one of the bigger-name teams – particularly after he tested?with ART, DAMS and Prema – but there's sense in joining MP too. He knows the team, and engineers Tony and Sarah Shaw, well from his Formula Renault stint with it and proved?its speed at Silverstone and Spa last year, as did Marco Sorensen two years ago.
23. Daniel De Jong
Netherlands, age 23, 23rd in GP2?in 2015?-?De Jong stays on for another season with the family-owned team, but he insists this will be his last. After 2015 was interrupted by his back-breaking crash at Spa, this season could be a good opportunity for him with a particularly strong team-mate in Rowland, who he already gets on with?from back when the Briton worked at the MP factory during his Formula Renault campaign.
Arden International
The team established by Christian Horner has struggled to perform in recent times, often not helped by a lack of driving strength. This season may be no better, with a rookie pairing only confirmed shortly before?the opening round. If that was the best?option, a gamble on its GP3 star Emil Bernstorff would have been good?to see.
24.?Nabil Jeffri
Malaysia, age 22, 26th?in European F3?in 2015?– Having focussed his testing efforts on GP3 at the end of 2015, Jeffri's step up to GP2 seems?to be more because there was a seat available more than anything else. His test for Tony Fernandes' F1 team at 16 was a long time ago, and he failed to make in impression in European F3 last year after coming second in the German series.
25. Jimmy Eriksson
Sweden, age 25, fifth in GP3?in 2015?– After two years towards?the sharp end in GP3, Eriksson's step up to GP2 is a deserved one. He's already a relative veteran in single-seater terms, but as another series rookie leading an inexperienced line-up at an out-of-form team, this won't be an easy season for the man who may start to become better known?as 'Joel Eriksson's older brother'.