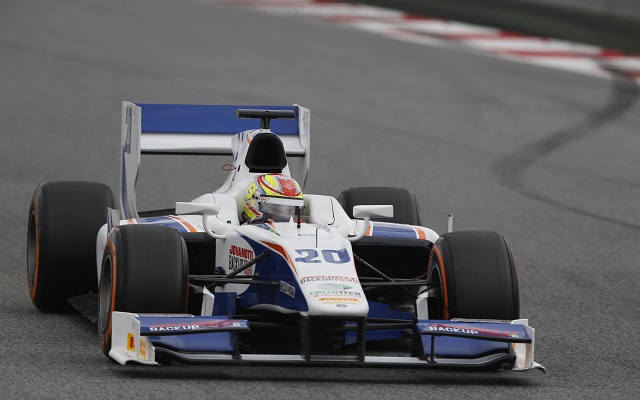 Photo: GP2 Media Service
Formula Renault 3.5 champion and Sauber F1 test driver Robin Frijns is poised to make his GP2 debut in round two of the series at Sakhir, having struck a deal with Hilmer Motorsport, as reported by the Dutch site RaceXpress.
The 21-year-old Dutchman started his started his single-seater tenure in Formula BMW Europe in 2009, finishing third in the series. From that point on, his record is flawless, as he won three titles in the next three years. In 2010, Frijns stayed in Formula BMW Europe with Josef Kaufmann Racing and took the title, winning six races out of 16. The next year saw him switch to the Eurocup Formula Renault 2.0, which he was also triumphant in.
In 2012, Frijns joined Fortec in World Series by Renault and proceeded to win it in his rookie year after a season-long battle with Jules Bianchi and Sam Bird. At the end of the year, he tested with Sauber F1, while the beginning of 2013 saw him participate in GP2 testing with Russian Time and Trident. However, he was not able to secure the finance required to do the whole season.
In the GP2 season opener at Sepang, Hilmer ran Conor Daly and Pal Varhaug. Frijns will be replacing the former, with Daly being close to a GP3 campaign with ART and also driving in the Indy 500 later on in the year.
The opening round saw Hilmer score their first points in GP2, courtesy of Daly, who finished seventh in the sprint race.