It has lost a little?of its sparkle along with its Renault backing, but the renamed Formula V8 3.5 will remain a series worth?watching when it begins this weekend.
We haven't hidden our desire and belief that the series formerly known as Formula Renault 3.5 would survive?minus the French firm's support, but the list of teams that have quit the category (or failed to make the grid for round one)?doesn't make for pretty reading.
DAMS, Strakka, Carlin, Tech 1, Draco, Pons and Comtec will all be missing, but a key point is that – with the exception of strongly Renault-affiliated DAMS – all committed to?and believed in?the renamed series, only to struggle to find competitive drivers with a budget.
Driver?interest was always going to?be the deciding factor, but with the loss of the Renault name being pretty much?the only difference (OK, there's?its marketing input too) to a?series that has run successfully for years, surely it would remain popular?
The fact is that – in spite of the arrival of three new two-car teams with good?funding – only 15 drivers?will line up for the first round. A telling statistic is that of those, 10 competed in at least one round last year. Of the five complete newcomers, only three are under 26.
Clearly, those already involved were happy enough?to return, but young newcomers were less convinced. That one January week in which top FR2.0 drivers?Jack Aitken, Jake Hughes and Kevin Jorg all defected to GP3 was pivotal – all three?spent last year in the FR3.5 paddock, did full post-season testing programmes in the series and showed?competitively, but ultimately took their business?elsewhere.
But that's enough of the 'pre-mortem'.
That high proportion of returning drivers actually means that although the overall grid size?has dropped, the quality at the front has not. Is there a driver of Oliver Rowland's ability?in there? Maybe not. A Vandoorne, or a Sainz? No. But Rowland alone did not make last season, even though?he was its star.
The driver that spectacularly pushed him hardest is back, as is another who took two wins and ended the season?as its surprise package. Matthieu Vaxiviere and Egor Orudzhev are joined by an experienced and for once well-prepared Tom Dillmann as the three title favourites.
Louis Deletraz was one who?did?make the step up from FR2.0 and looks to have raised his pace just in time for the first round. Pietro Fittipaldi is an intriguing?prospect, and so is 17-year-old Matevos Isaakyan. Plenty of others have the potential to fight with the frontrunners on their day.
This won't be the best season in the life of the Dallara-Gibson, but it could well?still be a good one.
Fortec Motorsports
When DAMS pulled out, Fortec was seemingly left as the?one go-to team in the series, and yet there's no expectation on?Richard Dutton's?outfit to repeat its championships of last year. That's because while other teams have secured drivers with proven records?in the category, Fortec lines up with two rookies.
1.?Louis Deletraz
Switzerland, age 18, second in Eurocup Formula Renault 2.0 and NEC champion?in 2015 ? Deletraz has been with Fortec?since the off-season began in October, securing a deal to drive the #1 car early in the winter. He impressed all with his performances at two-litre level last year – even though he ultimately came up short in Eurocup – and contracts with Renault and BMW?and mentorship from fellow Geneva-born racer Romain Grosjean are all proof of?his growing stature. He was quiet for most of testing, hardly replicating?the form?of Fortec alumni Frijns, Vandoorne and Rowland, but?he's hit the front in the final week of the build-up.
2.?Pietro Fittipaldi
Brazil, age 19, 17th in European F3 in 2015 ??There's no doubt this is a big step for Fittipaldi, just one challenging F3 season on from dominating Formula Renault BARC, but it's an understandable move too, as he arguably stacks up just as well against this field as he would the F3 pack. Here, he's got the pick of the teams, too, and one he already knows. Taking?wins early in the year against the experienced opposition would be a pleasant surprise, but he should come on stronger as the year progresses. His MRF Challenge title should give him momentum, too.
Lotus
The Charouz-run team really found its stride last year with Vaxiviere, whose one-lap pace in particular was outstanding. They haven't been particularly popular in the driver market though, possibly not helped by the?uncertain?situation involving Gerard Lopez's?Gravity company with which it has been affiliated. Its new pairing is therefore unfashionable, but?capable of?surprises.
3.?Rene Binder
Austria, age 24, 22nd in GP2 in 2015 ??After a GP2 career that was going nowhere, Binder's hoping to use a strong season here as a springboard into a more prosperous time in Formula 2 should it arrive for 2017. Having entered?GP2 too soon and then never kicked on, he's got an opportunity to stand out a little more, particularly as he's in a team that's got a quick car based on the evidence of last season. Podiums are likely, a win not impossible.
4.?Roy Nissany
Israel, age 21, 13th in Formula Renault 3.5?in 2015 ??Off the back of an uninspiring stint in Formula 3, Nissany certainly didn't disgrace himself in these cars last year, even making the podium on merit at Spielberg. He needs to make a good step forward in championship position this year, but moving from a Tech 1 operation?that had enjoyed?better days to a Lotus team that was as quick as anything in 2015 should be a considerable help, and more podiums look?likely.
Arden Motorsport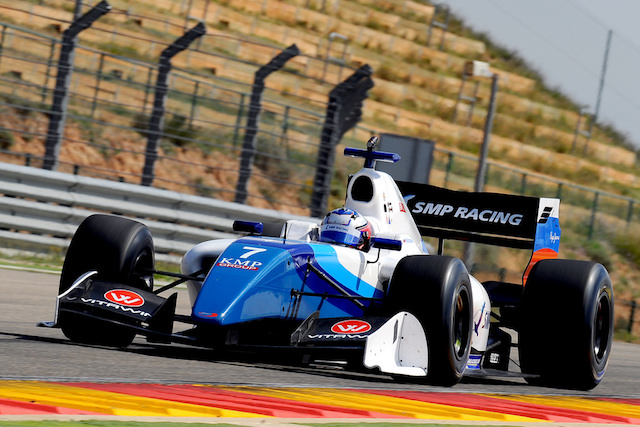 If you go by the championship position of its best driver, last season was Arden's least successful to-date in the category. That doesn't tell the whole story, though.?By taking two wins with rookie Egor Orudzhev and keeping hold of the SMP-backed Russian for this season, it's put?itself in a good position to win its first title.
7. Egor Orudzhev
Austria, age 20, fifth in Formula Renault 3.5?in 2015 ??With an upward end to 2015 and strong support from SMP, any team would have welcomed Orudzhev for this year. In some ways the decision to stick with Arden, rather than switch to?proven champions like Fortec, is a surprise, but on the other hand, why change a winning formula? One thing the impressive Russian must change is his often poor qualifying form; he's got?one hand behind his back if he isn't starting at the front of the grid with his title rivals.
8. Aurelien Panis
France, age?21, 12th in?Formula Renault 3.5?in 2015 ??With a fairly uninspiring record thus far, it's easy to dismiss Panis as only getting where he has thanks to his name. However, one key statistic to consider is that he finished just a solitary point behind Orudzhev in two-litres?in 2014. Therefore, if Orudzhev is considered a title favourite, Panis cannot be discounted from some top results either. His first day of testing with Arden at Barcelona last month, where he topped both sessions, is proof of that.
AVF
The team of Adrian Valles – runner-up to Robert Kubica at this level in 2005 – has been a bit-part player for the past two seasons but retaining the services of the free-spending Alfonso Celis has set it up very nicely for this year, with veteran Tom Dillmann showing fine?pace?in testing – better than he managed?at Carlin last year.
15. Alfonso Celis
Mexico, age 19, 16th?in Formula Renault 3.5?in 2015 ??Doing?a host of F1 practice sessions when he hasn't even remotely earned the opportunity is just the latest in a line of questionable career choices for Celis, but remaining in this series for a second season is a wise call.?Dillmann is showing the speed of the AVF car and will have plenty of advice for Celis (he's a pretty experienced coach now too), and with the thinning of the field, he?has to have a good year if he's to gain?any credibility.
16. Tom Dillmann
France, age?27, seventh in?Formula Renault 3.5?in 2015 ? After 12 years, Dillmann has had a fair old run in the junior ranks, but nobody can blame him for taking up the offer of racing a fast?car, particularly when he drove it so quickly in his first test. Something immediately clicked between him and AVF's machine, and the consistent speed he's shown throughout testing makes him a certain favourite. Would?it help the series' fortunes if a 27-year-old who's long given up on F1 was to win the title? It won't matter to him.
Durango Racing Team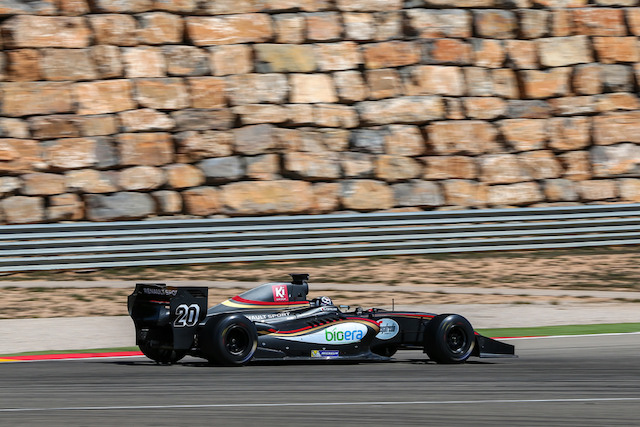 20. Giuseppe?Cipriani
Italy, age 50, seventh in Auto GP?in 2015 ??It's adding an extra car to the grid but it's hard to otherwise say anything positive about having a 50-year-old restauranteur on the grid of a leading junior series. Cipriani's presence in Auto GP always seemed far more reasonable – it never solely targeted young?drivers and he was competitive enough to score a podium – but judging by testing he'll be a way off the back of the pack here. Adding?a second seat for?an underfunded driver would add some?value to this entry.
RP Motorsport
Having been the leading team in Euroformula Open over recent years, expanding into Formula V8 3.5 is a natural move. Some good backing for this new project has allowed it?to promote its?latest champion and pair him with a relative veteran at this level, but testing performances have been muted.
21. Johnny Cecotto
Venezuela, age 26, 10 starts in GP2?in 2015 ??Cecotto declared his career over when he failed to retain government support last year, but he continues to get opportunities to race single-seaters. The team has admitted that it hasn't yet secured his?services beyond the early races, and him staying on board will surely depend on an upturn in speed relative to what's been seen in pre-season. If things do come good, he's obviously capable of good?results.
22. Vitor Baptista
Brazil, age 18, Euroformula Open champion?in 2015 ??Having only just turned 18 last month and with only a year's European experience under his belt, there's no doubt this is a big step up for Baptista. It's a deserved one though after some great performances, grabbing three outright Brazilian F3 wins in a 13-year-old Class B car before taking a title in his first season abroad. This will?be a more difficult season, but hopefully he can show his skills?on occasion.
SMP Racing
The team set up?by successful sportscar entrant Amato Ferrari has adopted the name of his existing backer SMP Racing, but the identity of the Russian firm's protege in the line-up?has changed at the last minute after the tall Vladimir Atoev's leap up from Formula 4 was halted by back problems. This team has its roots in the old Draco squad, but hiring last year's runner-up should improve the speed.
23. Matthieu Vaxiviere
France, age 21, second?in Formula Renault 3.5?in 2015 ??Vaxiviere considerably boosted his reputation by pushing Oliver Rowland hard for the title last year, but it wasn't enough to earn him an opportunity in a higher series. Thus, he's back in 3.5s for another season but?whatever happens, linking up with Mr?Ferrari and SMP will only help his prospects of a professional career. It remains to be seen how competitive the team will be but Vaxiviere will get the most out of his car, particularly over one lap.
24. Matevos Isaakyan
Russia, age 17, 10th?in Eurocup Formula Renault 2.0 in 2015 ??Isaakyan's debut has been a last-minute affair, but it's a bit of a surprise it came to that, so quick was he in early tests with Pons at the end of last year. OK, so he doesn't turn 18 until next week, but that doesn't seem to be holding him back. There are clashes with his GP3 programme, but his chances look stronger here. A top-six?placing is a definite possibility.
Teo Martin Motorsport
The team that took over the entry and equipment of DAMS did not hit the track until last month, but has already shown good speed, while former Pons team manager Emilio de Villota Jr provides plenty of series experience. Its drivers will not be title contenders, but could both spring surprises.
25. Yu Kanamaru
Japan, age 21,?18th?in Formula Renault 3.5?in 2015 ??Kanamaru showed strong form when he arrived in the series for the final three rounds of last year and carried that into the winter, when?he's followed his Euroformula Open boss de Villota across from Pons to Teo Martin. He's been an under-the-radar driver up to now in his single-seater career, but could have a break-out season here if he makes good on the promise he's shown.
26. Beitske?Visser
Netherlands, age?21, 23rd?in?Formula Renault 3.5?in 2015 ??Visser's step up to the series two years ago from ADAC Formel Masters has not yet worked out, with a second season that was harder than her first, but she undoubtedly remains one of the most promising female racers around. It's been a disrupted winter after a move to Pons fell through, but the pre-season pace with two different?teams has been positive and a step forward could be in store.