The Toyota Racing Series remains a strong championship during?the European off-season, and you could make a compelling?case?to say the 2017 campaign was actually the best yet.
After the domination of M2 Competition in the two previous editions with the latest-generation car – thanks in part to the driving efforts of Lance Stroll and Lando Norris – the title was fought for much of the five weeks by Victory's Thomas Randle and Giles Motorsport driver Richard Verschoor. M2's Pedro Piquet then drove himself into contention for?the final round and set up a remarkably close contest, with three points separating the three drivers from three different teams going into the final race.
For the drivers, TRS is?chiefly about learning and keeping race-sharp, and one has to?be careful when analysing the results of drivers who may not be operating at their peak. Still, here are five things we could?learn about some of the leading contenders.
Randle?s single-seater career shouldn?t end here
When the contest?got underway, Randle?s name was probably not among many?people?s list of most likely champions.
That?s not to say his potential hasn?t been visible before, though. His first assault on TRS two years ago, with his experience limited to an Australian Formula Ford title, was a promising effort, while his dominance on the Surfers Paradise and Homebush street circuits in Australian Formula 4 suggested he may have been the biggest talent there. Fourth in BRDC British Formula 3 last year was a strong season given his total lack of circuit experience compared to the competition.
Upon heading back to TRS, Randle was more consistently quick than anybody else, and achieved that despite driving for Victory Motor Racing ? evidently a capable operation, but not as fashionable as M2 Competition and without the same level of strong team-mates.
Early on, he struggled to convert that speed in qualifying into race results, but drives like the one in the second race at Manfeild (where he fell outside of the top 10 early on but fought back to fourth) earned him a deserved title.
Realistic about his F1 chances, Randle has already committed to racing in the new British LMP3 Cup this year, but when he?s beaten several proteges of F1 teams and other prospects to win TRS, it would be a shame if he doesn?t race a single-seater again this year. He?s proven he would be capable of mixing it in European F3 or GP3. If backing simply can?t be found for that, a return for an assault on the BRDC British F3 crown would still be nice to see.
Piquet provides a reminder of his potential
With two Brazilian F3 title under his belt and those successful racing genes, it?s fair to say a lot more was expected of Piquet in his first European F3 season last year.
However, since the end of that campaign, which yielded just 19th in the standings, there have been more positive signs, beginning with a rather unexpected but commendable ninth place in the Macau Grand Prix.
That result was achieved by staying out of trouble ? no mean feat on a first visit to the notoriously tough street circuit ? and a similar approach put him incredibly close to netting the title in New Zealand, where the points system rewards consistency but the narrow circuits and off-season?mentalities contribute to?plenty of on-track incidents.
Things didn?t start brilliantly for Piquet at Ruapuna, but the penalty that relegated him from victory to 17th in race two for blocking seemed?harsh to say the least, and thereafter he was never lower than fifth. The way he built his title challenge was so stealthy it was easy to disregard him against Randle and Verschoor heading into the final round, but he quickly became a factor?with a win in the first race.
Given he held the grid advantage in the final race, Piquet could be criticised for eventually losing out to Randle in an on-track battle, but in summary his TRS campaign was still a positive which like Macau demonstrated a level of maturity that belied the scrappiness of his 2016 efforts in Europe.
That?s a good sign, but there are still question marks over his ultimate pace, which were visible with the deficit to M2 team-mates Jehan Daruvala and Marcus Armstrong when they were on-song. In a European F3 grid that will be stacked with quality again this year, that could prevent him getting the big results he undoubtedly needs in his second year.
Verschoor is the real deal?
It would be easy to look back on Verschoor?s TRS as a failure, what with Red Bull?s Dutch teenager (no, the other one) finishing up third overall having looked comfortably clear at the top after only the second event.
But while he was one of the more exciting names making the trip to New Zealand, he was the youngest in the field and a total newcomer to the series, up against relative TRS ?veterans? like Randle, Piquet, Daruvala and Ferdinand Habsburg.
That complete lack of experience of the cars or the circuits made Verschoor?s performance over the first two weekends all the more remarkable. He was inside the top four in all six of those races, and only off the podium once. And these were results achieved very much through strong race drives, not qualifying speed, as he only started two of those six races inside the top three.
Things began to unravel at Hampton Downs, where he couldn?t match the pace of double polesitter Randle, and a clumsy clash with Armstrong in the final race meant an advantage of 58 points had been whittled down to 22.
That left him with no margin when he had a dreadful time at Taupo, where he spent the entire weekend outside of the top five. The Giles team was struggling, but Verschoor wasn?t afraid to admit he was too, even though he couldn?t place why. From there, he did a good job to be within two points of the points lead into the final race at Manfeild.
He might have had 28 wins in his first year of car racing, but Verschoor had yet to get?any against established opposition. In TRS he took?three, so he?s got every right to be ?so happy? about his campaign.?
?And so is Armstrong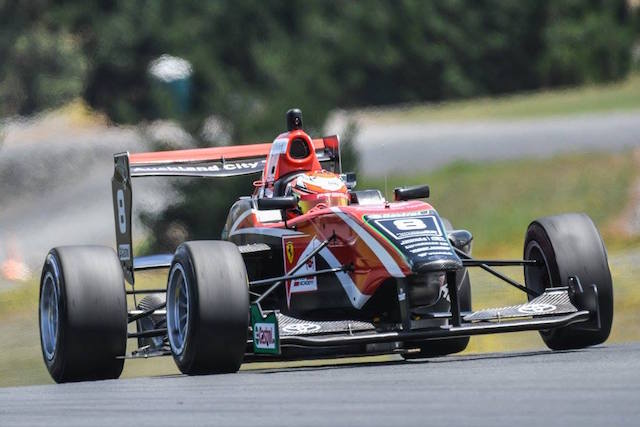 While Verschoor came to TRS with his experience limited to Formula 4, he still had a lot more single-seater races under his belt than Armstrong.
Announced as a member of the Ferrari Driver Academy in December, the Kiwi began TRS with the hype around him already ramped up pretty high. But the Christchurch native managed to push that further with his display in his first race in Ferrari colours, at his local Ruapuna circuit.
Armstrong had narrowly missed out to M2 team-mate Daruvala in qualifying (the difference was only 0.001 seconds in the second session), but wasn?t going to just play back-up to the man tipped as team leader and title favourite in Norris? absence.
He pursued Daruvala closely and pounced at a safety car restart, but had to complete the pass the hard way, around the outside of the first corner.
An incident-filled final race of that weekend dented his title hopes and he never recovered them, but he did tie with Verschoor and Piquet on three wins, and was the top scorer over the final two rounds when ? just?like Verschoor in the first two events ? he was only off the podium once.
With home advantage, Armstrong?s outright pace in TRS needs?to be taken with a pinch of salt, but his impressive consistency and racecraft show he?s truly one to watch.?
It?s tough in Lando?s shadow
When Norris withdrew plans to return to TRS in order to focus on commitments back in Britain, the other drivers must have breathed a sigh of relief, and perhaps none more so than Jehan Daruvala and Ferdinand Habsburg, who just happen to be his team-mates at Carlin for European F3 this year.
With Norris out the way, both headed to TRS with big expectations upon them. Force India protege Daruvala had been runner-up to Norris 12 months earlier, while Habsburg was returning for a third straight TRS campaign and had finally linked up with the same all-conquering M2 team.
Unfortunately for Daruvala, being mugged by Armstrong in that first race set the tone. Although he ended that Ruapuna weekend with a defence of the Lady Wigram Trophy, a race two spin cost him points, and being outside of the top six in four of the following five races contributed further to a lowly fifth in the final standings.
Winning the New Zealand Grand Prix meant he returned to Europe on a positive note, but he had already squandered pole positions in two of the previous three races. With five poles he picked up the qualifying mantle from Norris, but the race results needed to be better after his 2016 Formula Renault campaign tailed off badly.
For Habsburg, the move to M2 didn?t yield a step forward in pace ? in fact, he often had to fight back from some lowly grid positions. He did that pretty well, but when he was closer to the front of the grid, he frequently had to race in defensive mode with a lack of pace compared to those around him.
Norris might not have been in New Zealand, but that didn?t seem to make it any easier for those trying to burst?out of his shadow. It's a place?they may need to?get used to in 2017: while the hugely-talented?Briton is tipped to feature right at the sharp end in European F3, the sheer strength in the series this year means it will be a tough place for the other rookies.