Alex Lynn goes into his home round of the GP3 Series at Silverstone this weekend leading the championship after winning the main races at the opening two rounds of the campaign.
The 20-year-old racer from Essex is on something of a winning run that, since the chequered flag fell on his 2013 season, has seen him emerge from all the young talent out there in the junior single-seater ranks to become one of the most prominent names of the moment.
It began with Lynn's victory in the Macau Grand Prix last November. The annual street circuit spectacular can always be counted as a driver's biggest win to-date, but few drivers can have received as much of a career boost from it as Lynn has done.
The last ever Formula Renault UK champion in 2011, Lynn then had two seasons in Formula 3 (one in Britain with Fortec and one in Europe with Prema) that were, for the most part, more solid than spectacular. Fourth in the British series was decent enough, but it took him until race 25 of 28 to net his first win. He demonstrated what he was capable of though in Macau that year when he claimed pole position – the day after signing with Prema for 2013 – and finished up third.
Alex Wurz had worked with Lynn in his role heading up the FIA Institute's Young Driver Excellence Academy, and at the start of 2013 took over his management. At Prema he was in the shadows of Ferrari-backed second-year campaigner Raffaele Marciello, but Lynn still got the better of team-mate Lucas Auer in their fight for third, and took three victories during the season. He seemed poised to return for another year, but his win at Macau would change everything.
One month and one day later, he was announced as a new recruit to the Red Bull Junior Team. It was a shock move, particularly as Lynn already appeared to enjoy strong backing. But, while many other drivers have used Red Bull support to obtain funding they would otherwise not have, Lynn's justification was simple. In moving to GP3, he would have the chance of following in the footsteps of Daniil Kvyat, who went straight into Formula 1 as GP3 champion with Red Bull.
In terms of Lynn's title hopes, it's so far so good. In Barcelona and Spielberg, his weekends followed a similar trend. He claimed pole position, by nailing a hot lap late on to see off a number of his rivals, and then led the Saturday race from start to finish. Both his Sunday races have seen him visit the pits and finish up well down the order. This means his points advantage isn't as big as it could be given his dominance – he has just 13 points in hand over Jimmy Eriksson.
This week, he has put his Spanish race two result down to being too cautious in damp conditions on the first lap – resulting in him falling down the order and gambling on a change to wets that didn't work out – and labelled being hit and getting a puncture on the opening lap as "bad luck".
But Lynn is definitely not reflecting too much on the negatives, and is instead pleased with the way things have gone so far in the context of his title ambitions.
"I would say that my season has got off to a great start, and I wouldn't say it was what I was expecting, but rather what I had been hoping for because of the work I had put in at the start of the year," he explains to PaddockScout in the gap between his backer's home race weekend in Austria and his own at Silverstone.
Lynn has been keen to place emphasis on hard work by him and the Carlin team in being key to delivering the performance he has so far, and when asked if anything in particular has contributed to his winning run, it becomes clear he has taken steps to ensure he makes the most of his opportunity.
"I think my strong form that started in Macau has been a culmination of different things… but mainly down to a different approach to my racing. Now I try to be very extremely meticulous with every aspect of my racing, because I know that winning on the Red Bull Junior Team could lead to?biggest prize in motor racing."
Despite the fairly hurried nature of his deal to move into GP3 with Red Bull, he was the first driver to have a seat in the series officially confirmed – the only one before the end of 2013 and nearly a month before anyone else. Was he able to use this extra time to his advantage?
"Yes I think confirming my seat early was a great positive," he says. "It allowed me to get straight to work with my engineer and like I said before, we are working meticulously to leave no stone unturned when it comes to performance, and I believe this is why Red Bull did the deal with Carlin quickly to allow me to work straight away."
Lynn previously spoke of his excitement at the chance to work with Carlin for the first time, with their reputation as one of the go-to outfits in junior single-seater racing, and for nurturing numerous Red Bull proteges. But despite their widespread success across numerous categories, they have yet to win a title in GP3.
But with Lynn winning twice and team-mate Emil Bernstorff the reverse grid race in Austria, Carlin's GP3 squad is certainly a match for any other at the moment. Despite this, Lynn rejects the notion that the team has made a significant improvement.
"I think it would be unfair to Carlin to say they have made a step forward this year in GP3 because I believe they have always been extremely good in the category, with a great team of mechanics and engineers, and this year I feel an extreme desire to succeed from the whole team on all the cars and in a way everyone has just found another gear to kick into."
With his Barcelona win having backed up Lynn's status as title favourite and his eagerness to make the most of the Red Bull opportunity, was the pressure on to win at their home circuit?
"I would say I didn't feel any more pressure from Red Bull's side but I think I put more pressure on myself, because it would be really special to win their home race for them… and it did feel great."
Lynn is part of a streamlined Red Bull Junior Team for 2014, joining Carlos Sainz and Pierre Gasly. And with all three doing so well (Sainz and Gasly lie first and second in the Formula Renault 3.5) and not enough room in F1 for all of them, does he try to outperform his stable-mates or just concentrate on himself?
"Great question… I think Carlos, Pierre and myself would be lying if we said we didn't look for each others results, because it's no secret what we are all aiming for. So in a way, yes, I must always focus on myself, but at the same time I always have an eye on the surrounding situation."
And on the subject of keeping an eye outside of GP3, Lynn says he has no aspirations to join those that continue to go back to Macau after their F3 years.
"Because it was such an incredible incredible feeling that I don't think could ever be replaced, I would like to leave Macau with that amazing warm feeling I have for the city and the race itself," he says.
Back to GP3 and to this weekend, where Lynn hopes to continue both his own recent form and the strong record that British drivers have had in the category on home soil, with one UK winner in each of the last three seasons.
"I think we are in very good shape for Silverstone," says Lynn, who has raced at the circuit in every year of his single-seater career to-date. "In a way I must be mindful that its just another race, but in the same token I think I will end up ignoring that and going flat out for the win! To win the British GP support race would be amazing and I will be trying my hardest to do it!"
The rest of GP3's Brit Pack
Emil Bernstorff


The Anglo-Dane was runner-up to Pascal Wehrlein in ADAC Formel Masters in 2011, and then spent two years in F3 – one in Europe and one in Germany, where he finished third in the standings. Was also third in the Zandvoort Masters behind team-mate Lynn, and emerged from his shadow to win race two in Austria to make up for a disappointing run in Barcelona.
Dean Stoneman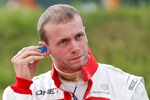 The FIA Formula Two Champion in 2010, Stoneman was then sidelined by cancer. After success in powerboats, he returned to the track in the Porsche Carrera Cup UK in 2013 and made a triumphant single-seater comeback in GP3 in Abu Dhabi, coming within tenths of the race two win. Got that victory in Barcelona, but chances of a strong result in Austria were ended when he was hit at turn one.
Dino Zamparelli


Champion in Ginetta Juniors in 2008 and Formula Renault BARC in 2011, his career was boosted last year by investment from his native Bristol. He scored points in half the races in his rookie GP3 campaign with Marussia Manor last year. A move to ART Grand Prix immediately produced a podium in Barcelona, before he salvaged a point from a tough Spielberg weekend.
Nick Yelloly


A podium in a wild Silverstone race was the highlight of an otherwise tough first attempt at GP3 in 2011, before he finished fifth in the super competitive 2012 Formula Renault 3.5 season against several bigger names. A return to GP3 with Carlin last year yielded no wins but four podiums. A switch to Status has brought four points finishes from four races, but only a best finish of fifth so far.
Jann Mardenborough


A product of the Nissan GT Academy in 2011, he did European F3 last year and although a GP3 switch with Arden hasn't produced results yet, he's already showed promise. Despite struggling like his veteran team-mates in qualifying, he held seventh in the damp in Barcelona until an embarrassing spin at a restart, and was sixth in Austria when inexperience got the better of him again.
Ryan Cullen
Of Irish and Cypriot parentage but officially racing as British in GP3, he jumped in at the deep end last year after just one year in Formula Ford. He has made visible progress since then, qualifying 16th in Barcelona and scoring his best result yet of 13th in Spielberg.
Photos: GP3 Media Service