Photos: Renault Sport/DPPI
With the first round of the new Formula Renault 3.5 season taking place at Monza this weekend, PaddockScout previews another top quality grid.
The depth in quality of this year's Formula Renault 3.5 Series field doesn't quite match that of 2012, but the grid still has plenty of top promising names on it.
After his remarkable form at the end of last year, Antonio Felix da Costa begins as the title favourite, but it might not be as one-sided as some might think. Stoffel Vandoorne has been a rival for the Red Bull man during testing and could follow Robin Frijns by taking the Eurocup Formula Renault 2.0 and Formula Renault 3.5 titles in consecutive seasons, driving for the same Fortec team that Frijns did. Then there is the Danish duo of Kevin Magnussen and Marco Sorensen, both looking to build upon promising debut seasons with a title assault.
Here is a look at all 26 drivers taking part at Monza.
Tech 1 Racing


1. Mikhail Aleshin
Age: 25
Nation: Russia
2012: 13th in Formula Renault 3.5
The 2010 series champion continues his comeback, for what will be a sixth campaign in the category. Last year the motivation was understandable, joining his compatriots at Team RFR to help them get a foothold in the championship. Results were hard to come by until he claimed pole and a second-place finish in what would be RFR?s final race.
Now the veteran has taken up the plum #1 seat at reigning teams? champions Tech 1, seemingly still trying for an F1 opportunity. New sponsorship from SMP (more on them later) could help him to get that chance.
With his previous title success having failed to attract much attention, he doesn?t have much to lose, but with his level of experience he will need to show he can match the best young talents. He definitely needs to improve upon his pre-season showing, where he was far from the pace. But perhaps he knows better than to chase headline times.
2. Nigel Melker
Age: 22
Nation: Netherlands
2012: 19th in GP2 and 19th in Formula Renault 3.5
Melker made a brilliant debut in FR3.5 at Silverstone last year, keeping his Lotus on-track in difficult conditions to take a podium. After that he returned to concentrating on his GP2 campaign, where the struggles of the Ocean team meant he could only score points in the rain-affected races at Silverstone at Hockenheim.
It seemed he would be set for a move to a top team in GP2 for 2013 before eventually deciding on an FR3.5 switch. With the FR3.5 field having greater strength in depth than GP2 and Melker not having the full year?s experience many of his rivals have, it won?t be easy.
In Tech 1, he has a team who showed themselves to be frontrunners last year with the latest car in the hands of Jules Bianchi, but like Aleshin he?s looked quiet in testing and will hope for better in Monza.
Arden Caterham
3. Antonio Felix da Costa
Age: 21
Nation: Portugal
2012: Third in GP3 and fourth in Formula Renault 3.5
After his heroics at the end of the 2012 season, Felix da Costa rightfully comes into 2013 as the pre-season favourite. After being called up by Red Bull for the Nurburgring, he scored more points than anyone else in the remaining races, ending the year with a dominant double victory at Barcelona with an Arden Caterham team that began the year struggling.
He and the team had found something special by the end of last season but although they?ve been fast in testing, they?re not the only ones, and so it remains to be seen whether they can maintain their advantage.
Many have guessed he will get an F1 call-up mid-season, but with Toro Rosso?s pair doing okay and a Red Bull Racing seat seemingly up for grabs for 2014, he may have to wait. The Caterham link could provide a chance, but Red Bull would have to outbid one of their existing paying drivers.
4. Pietro Fantin
Age: 21
Nation: Brazil
2012: Seventh in British Formula 3
Fantin forms an all-Portuguese-speaking pairing at Arden Caterham. With Alexander Rossi having been moved on and no immediate replacement from within Caterham?s own junior ranks, it is Fantin who came up with the goods to secure the seat in the green-liveried machine.
He comes off the back of a disappointing campaign in F3 last year where he showed little progress after some promise the previous season, despite a move to top team Carlin. But it was perhaps that he struggled for attention in a five-car team alongside some bigger names.
This year he shouldn?t have that problem, and in Felix da Costa he not only has a driver who speaks the same language but one he can learn a lot from. Going by testing form, he should be in the pack fighting over the lower points places.
Fortec Motorsports
5. Stoffel Vandoorne
Age: 21????????????
Nation: Belgium
2012: Eurocup Formula Renault 2.0 champion
Vandoorne takes the place of last year?s champion Robin Frijns at Fortec, having succeeded his fellow Dutch speaker as winner of the Eurocup feeder series. And if testing is anything to go by, he will be just as fast as Frijns.
He?s been a thorn in the side of Felix da Costa throughout, with newly-recruited McLaren young driver Vandoorne topping two of the five days ? just like his Red Bull rival. 12 months ago Frijns was fast and most dismissed it, but now everyone knows that Vandoorne is a definite threat.
Given just how highly-rated Felix da Costa is, it would be something special if Vandoorne could continue that competition into the season despite his deficit in experience. That rawness could hamper him, but at the same time he?s already a mature driver who rarely gets himself into trouble. He is the real deal, and McLaren may have played a blinder.
6. Oliver Webb
Age: 22????????????
Nation: United Kingdom
2012: Seventh in Indy Lights
Webb has pulled a surprise u-turn on his move to the United States after just one year and returned for a second crack at Formula Renault 3.5. When he began his first attempt in 2011 he arrived from a promising campaign in British F3, finishing third in his debut year in the category.
Moving to FR3.5 with Pons however, he struggled, mustering just four points finishes and coming a lowly 21st in the standings. That earlier promise means he certainly is deserving of a second chance, but teaming up with Fortec again he has no excuses. The team are proven to be one of the fastest with the latest-spec car and he knows them well.
It?s already clear that matching a teammate of Vandoorne?s talent isn?t going to happen, but he needs to make sure he makes the most of his machinery to take podiums and finish the year in the top ten.
ISR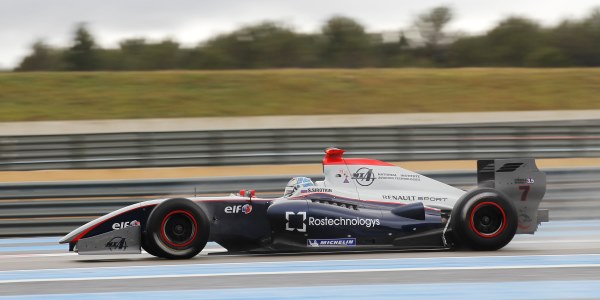 7. Sergey Sirotkin
Age: 17????????????
Nation: Russia
2012: Third in Auto GP, fifth in Italian F3
Sirotkin has been one of the revelations of the past two years, first with his Formula Abarth title and then his precocious displays in Auto GP despite the massive step in power. Now comes his biggest challenge yet, putting himself up against a truly competitive field rather than the rather thin one he faced last year.
His Auto GP experience means he?s already used to the power, and in ISR he has a team with a record of winning at this level. While victories are unlikely to happen for Sirotkin this year, he certainly should be competitive.
Testing signs have been promising, and on the basis of those he should contend for the honour of second-best rookie behind Vandoorne, and finish up in the top ten overall. Such a result would only improve his stock as a future F1 star.
8. Christopher Zanella
Age: 23????????????
Nation: Switzerland
2012: Third in Formula Two
Zanella?s ISR deal was relatively late by recent FR3.5 standards in that it wasn?t done until the final test, but he?s already done a fair amount of mileage in the car and had a chance to get used to his new team, so should still be fairly prepared come the season opener.
Zanella makes a step up after two years in Formula Two. His 2011 campaign never quite delivered upon the promise of a shock double victory at Magny-Cours even if he did finish the year as runner-up, while in 2012 he failed to deliver upon the subsequent title favourite tag, and was made to look a bit average by teenage compatriot Matheo Tuscher.
He?s still earned a chance at the next level, though he will likely have to play second-fiddle to another teenager in his new teammate Sirotkin. For Zanella, a solid midfield berth is more likely than regularly troubling the top ten.
Lotus
9. Marco Sorensen
Age: 22????????????
Nation: Denmark
2012: Sixth in Formula Renault 3.5
Sorensen is now a fully-fledged member of Lotus F1?s junior team after what could be seen as a trial last year. He certainly impressed, and with a bit less misfortune he would have claimed more than his single race win and been challenging the three title contenders in the final standings.
Remaining with the Charouz-run Lotus team gives him some continuity, and he starts the year in the group of four title favourites. Sadly for him, on winter testing form he?s the last of those four, unable to repeat the same impressive showings that Felix da Costa, Vandoorne and Magnussen have managed.
Still, it?s the races that count and Sorensen showed last year that he can be as quick as anyone on his day. And if he delivers on his promise and mixes it with that top three, he?s a very good driver regardless of the outcome.
10. Marlon Stockinger
Age: 22????????????
Nation: Philippines
2012: Tenth in GP3
Stockinger was something of an unusual addition to Lotus? roster of junior drivers, and the commercial opportunities of his dual Filipino-Swiss nationality must have played its part (a Filipino broadband provider adorns the sidepods of both of the team?s cars).
After a pointless maiden season in GP3 in 2011, his 2012 campaign began well with a second place in the season opener followed up by a reverse grid win in Monaco, but he was pretty quiet for the rest of the campaign.
Making the step up is a fair enough move though, and Stockinger should be another of those drivers chasing the lower points places on a regular basis. With the Enstone setup used to aiding young drivers, he now has a great environment in which to develop his skills and prove he deserves such an opportunity.
Carlin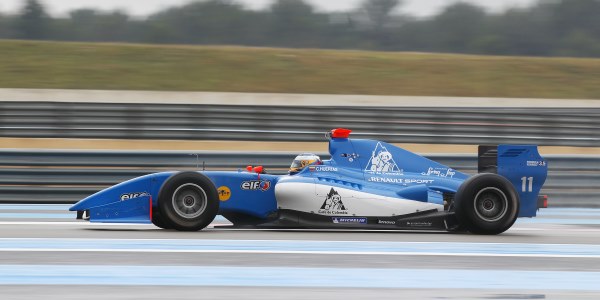 11. Carlos Huertas
Age: 21
Nation: Colombia
2012: 16th in Formula Renault 3.5
After a surprisingly good start with fourth in the opening race of the season at Aragon, the rest of Huertas? debut FR3.5 campaign last year was a disappointment compared to the achievements of his then-Fortec teammate Frijns.
This year he returns to Carlin, with whom he took third place in British F3 in 2011. He knows what he?s getting there and, like Fortec, it?s another team who know what they?re doing. Even if Carlin were a little quiet last year by their high standards, Huertas does not really have anywhere to hide.
He must move up the order this year, and with a season?s experience over many of the drivers in the midfield, should push himself into the top ten. Pre-season testing form has suggested that feat should be possible.
12. Jazeman Jaafar
Age: 20????????????
Nation: Malaysia
2012: Second in British Formula 3
Jaafar impressed last year by remaining in the British F3 title hunt until the season finale, even heading the points going into the final round. His performance was certainly more down to greater experience in the category over his rivals than any sublime speed, but he must now maintain that momentum.
Nobody is expecting him to fight for the title this time, but he should make sure he shows well against his fellow rookies. In testing that was the case, joining Huertas in the lower reaches of the top ten.
Spending his fourth straight year with Carlin, he has got continuity on his side, and once he?s found his feet in the championship he could well get the upper hand on his more experienced teammate.
SMP Racing by Comtec
15. Daniil Move
Age: 27????????????
Nation: Russia
2012: 17th in Formula Renault 3.5
Series veteran Move returns for a seventh season in FR3.5, switching to Comtec as part of the team?s title sponsorship deal with Russian bank SMP, who are launching a significant motorsport campaign by backing teams and drivers across numerous series.
Last year with the P1 team he lost out in the more competitive field, scoring only 29 points to the 54 he had the year before.
Comtec are a similarly midfield team to P1 and Move has generally been placing in the middle of the pack, though he could continue to use his experience to spring the occasional surprise like he did with his podium at Paul Ricard last year. Such an opportunity though is more likely to come out of a race with unusual conditions than on outright speed alone.
16. Lucas Foresti
Age: 20????????????
Nation: Brazil
2012: 23rd in Formula Renault 3.5
Foresti had a somewhat lacklustre maiden season in FR3.5 last year, scoring points on only three occasions. He had far too many retirements, quite often down to needless collisions, and the pace wasn?t really there either in comparison to his (albeit more experienced) teammate at DAMS.
A race-winner in British F3, he does have some speed inside him. Hopefully with that year under his belt and the experience that comes with that, he can begin to push further towards the front.
Pre-season testing has been largely positive for him and, like his new teammate Move, he should be fighting in the midfield.
International Draco Racing
17. Andre Negrao
Age: 20????????????
Nation: Brazil
2012: 15th in Formula Renault 3.5
Negrao continued to be something of a bit-part player for much of his second season of FR3.5 last year. There were occasions when he shone though, with memorable performances coming in mixed conditions at the Nurburgring and Paul Ricard.
At the former, he played the right strategy and came away with a podium, even if he wasn?t the quickest. In France, he mastered the treacherously slippy conditions at the start to get the better of title contender Bianchi and take the lead, and would probably have finished with another podium had his car not faltered on him.
Staying for another year with the team owned by his father, he?s been a surprise package in testing, nearly matching his highly-regarded teammate and heading the best-of-the-rest fight behind the top six drivers. It remains to be seen whether he can carry that into the season, but the signs are positive.
18. Nico Muller
Age: 21????????????
Nation: Switzerland
2012: Ninth in Formula Renault 3.5
Muller enjoyed a solid if quiet and unspectacular rookie season in FR3.5 last year, but probably still got the most out of what he was given by a Draco team that is maybe not as strong as it once was. He showed promise early on with some consistently good results, but was unable to keep that up until the end of the year, although unreliability played its part in that.
Budget limitations have constrained the GP3 race-winner to another year at the team, rather than him being able to land a seat with one of the top teams. As a result, he seems like a dark horse for the title at best.
Testing form has backed up that theory. He?s firmly in that previously-mentioned top six, but hasn?t looked capable of matching Felix da Costa or Vandoorne on speed. Of course the real proof of that will come once things get underway for real.
DAMS
19. Norman Nato
Age: 20????????????
Nation: France
2012: Fourth in Eurocup Formula Renault 2.0, second in Alps
If it wasn?t for Vandoorne, Nato?s early performances after making the jump up from 2.0 to 3.5 litre Formula Renaults would have been deemed to be very impressive. But as per their three years together on the single-seater ladder so far through French F4 and FR2.0, Nato will remain in the Belgian?s shadow for another year.
But just because he doesn?t rank as quite such a super-talent, Nato?s ascent up the ladder should not be ignored. His fourth place in the Eurocup last year was still some achievement given the extreme competitiveness of the field, and he nearly denied an equally-experienced Red Bull protege the Alps title.
He?s been fast since first stepping into an FR3.5 car, and on pre-season testing pace he?ll be the second-best rookie and, once he?s truly found his feet, could top that battle we?re anticipating for seventh spot in the standings.
20. Kevin Magnussen
Age: 20????????????
Nation: Denmark
2012: Seventh in Formula Renault 3.5
Magnussen?s 2012 campaign didn?t quite live up to expectations, partly down to the continuation of the bad luck that dogged him back in British F3, and partly because he and Carlin were not always on the pace with the new car. On a good day though, the speed was clear.
He also impressed McLaren on his first day in an F1 car as he enjoyed an expanded role in their young driver programme. And he was near-unbeatable when he switched to DAMS for post-season testing at the end of the year, making a 2013 deal obvious for both sides. The team had little to show on the results side last season, but certainly know what they?re doing with a powerful single-seater.
Magnussen hasn?t been top-dog pre-season, but remains amongst the title favourites. The greatest threat to his future however comes from new Woking recruit Vandoorne ? he mustn?t lose to the rookie.
P1 Motorsport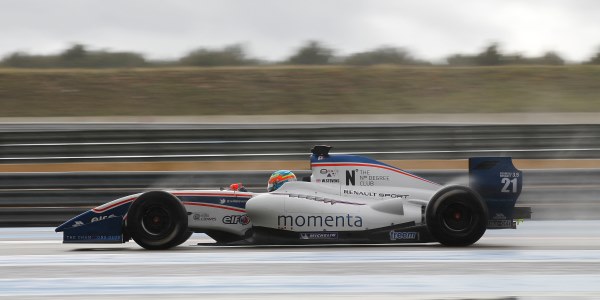 21. Will Stevens
Age: 21????????????
Nation: United Kingdom
2012: 12th in Formula Renault 3.5
Magnussen?s teammate at Carlin last year, Stevens had a decent rookie season at this level after stepping up from FR2.0. His highs weren?t as high as the Dane?s, but he came on as the year progressed and was mixing it towards the sharp end in Barcelona.
12 months ago he had gone well over the winter with P1 but couldn?t turn down Carlin. He was P1 with P1 again at the end of the year and this time ensured he did sign with the team. That speed has continued into the pre-season tests, where he?s often mixed it with the title favourites.
A fairly quiet three years in the two-litres makes it easy to underestimate Stevens, but the karting achievements that saw him snapped up by the Honda F1 team shouldn?t be forgotten. It?s hard to see him winning the title, but a top-three berth is certainly within his reach.
22. Matias Laine
Age: 22????????????
Nation: Finland
2012: Fifth in GP3
Quite possibly the most improved driver in any category last year, Laine picked himself up after an abysmal, pointless 2011 to become a GP3 race-winner, four-time podium finisher and end up as the top guy in the standings behind the four main title contenders.
With his Kimi-like style, he remained under the radar and outside of most people?s conscience, but his ability shouldn?t be ignored. He enjoyed a strong karting career before his early single-seater years were hobbled by making unnecessarily early jumps up the ladder.
FR3.5 is a sensible next step for Laine though. Stevens will show that P1 can be a competitive force when armed with a good driver. While he won?t be at the sharp end, Laine must compare well against other rookies, particularly as he?s making less of a step in terms of horsepower than some of them.
Zeta Corse
23. Mihai Marinescu
Age: 24
Nation: Romania
2012: Fifth in Formula Two
Marinescu actually makes a return to a championship he previously raced in back in 2009. Then, driving for two different struggling and since-departed teams and suffering from a disjoined campaign as a result, he failed to score points. He was however making the whopping step up from Formula BMW.
He never quite managed to impress in his three years of F2 since then. There was promise towards the end of the first one, winning from pole at Monza. But he only fared slightly better than that last year, failing to live up to his status one of the title favourites.
With Zeta ? the new identity of the old BVM-Target team ? slightly under-prepared, Marinescu?s second attempt at FR3.5 is unlikely to be plain sailing either. Having a stable teammate would help matters.
24. Emmanuel Piget
Age: 29
Nation: France
2012: Nothing
With Zeta?s place on the 2013 grid being confirmed quite late and a definite air of uncertainty over their situation before then, they?ve found it rather difficult to find any drivers. Even still, the hiring of relative unknown Piget for the season-opener came as a bit of a surprise.
He last raced in the F3 Open back in 2010, but did manage two podiums in just six starts, so he is certainly a capable pair of hands behind the wheel of a racing car. Furthermore, he?s racked up mileage in the meantime in his own first-generation GP2 car, so shouldn?t find the FR3.5 car too daunting.
He was close to the rest of the field in Thursday?s mini-test at Monza, but he will surely be a bit rusty should he find himself in any wheel-to-wheel racing situations. It remains to be seen whether he will stay in the car beyond Monza.
Pons Racing
25. Zoel Amberg
Age: 20
Nation: Switzerland
2012: 26th in Formula Renault 3.5
Amberg continues with Pons for the second year of his deal with the team, needing to improve his results. After just one (pointless) season, the step up to FR3.5 was always going to have come too early, and this time he managed just one point, in the first race of the season.
There were promising signs in testing in late 2012 when he was somewhat closer to the front, but he hasn?t quite managed to maintain that in 2013, indicating his advantage was down to rookies getting used to the car or others trying out new teams.
He should still be in that midfield fight and score points on multiple occasions this time around, but really needs some standout results to add to his 2010 title in Swiss Formula Renault.
26. Nikolay Martsenko
Age: 19
Nation: Russia
2012: 20th in Formula Renault 3.5
After two very quiet seasons in German F3, Martsenko pulled off quite a shock result when he claimed fifth on his FR3.5 debut at Motorland Aragon last year. He was unable to repeat that sort of performance for the remainder of the year, only scoring again in the two Spa races, but he certainly wasn?t helped by the revolving door that was the second seat at BVM-Target.
Moving to Pons he should at least get some stability, but Amberg isn?t the experienced driver that could help bring Martsenko on. Also, Pons will likely continue to struggle slightly having not had a truly quick driver work with them on the latest generation car for more than a test.
Martsenko should join his new teammate in the midfield and fight over some occasional points finishes, but could even get the better of the Swiss driver.
AV Formula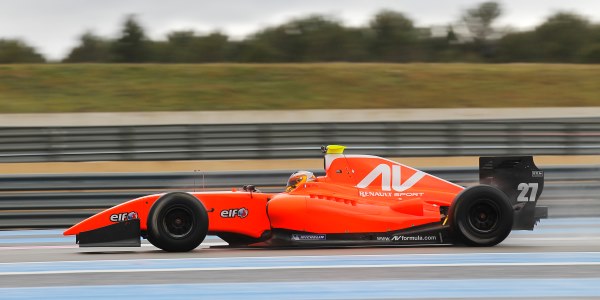 27. Arthur Pic
Age: 21
Nation: France
2012: Eighth in Formula Renault 3.5
It was easy to assume that Pic would follow the path of his older brother Charles and follow two seasons in FR3.5 by moving onto GP2. However, he instead remained in FR3.5 with a surprise switch to category newcomers AV Formula, set-up by former racer Adrian Valles.
Key to that move has been the appointment of Philippe Gautheron as technical director. The Frenchman engineered Pic?s brother at Addax in GP2. If he can make Arthur has fast as some of the drivers he?s worked with in recent years, the younger Pic will be a definite frontrunner.
There have been some occasional signs of such form in testing, but on other days the team has struggled. When things do come together, Pic could add more pole positions to his record, but as during last season with DAMS, he could struggle to do as well in the races.
28. Yann Cunha
Age: 22
Nation: Brazil
2012: 29th in Formula Renault 3.5
While Pic has the ability to put AV Formula right at the sharp end, the same won?t be expected of Cunha. He was rock-bottom last year as the only full-time driver not to score a point.
The lack of anyone to learn something from at Pons wouldn?t have helped him, and Pic might help in that regard. However, a switch to a team still finding its feet isn?t going to make life easy for him.
Scoring at least a point has to be his aim, but even with a year?s experience he?s still one of the weakest drivers in a high-quality field, and might need a bit of luck to go his way to trouble the top ten.