The second part of our countdown of the year's junior single-seater stars includes another handful of F4 drivers, some promising F3 youngsters and a pair of GP2 reverse-grid masters
Click here to check out the first part and drivers 50 to 41
40. Joel Eriksson
New entry
Sweden ? age 17
Second in ADAC Formula 4
The younger brother of GP3 frontrunner Jimmy finished runner-up in ADAC F4 in his second year in single-seaters, after taking seven victories including three double wins.
Sticking with the family?s favoured team Motopark after taking fifth in the final ADAC Formel Masters season, Eriksson was always likely to be among the title contenders and quickly set out his stall.
At both round two at Spielberg and then round three at Spa, he won the two feature races to pull out a gap in the standings, which he held onto with another win at Lausitz.
However, an off-colour weekend at the Nurburgring dropped him back behind Marvin Dienst, and even another double at Oschersleben couldn?t bring him back onto level terms.
Despite the fluctuating form and speed, it was still an impressive campaign from the Swedish youngster, and an expected move into European F3 with Motopark could see him repeat the promise shown by previous ADAC series frontrunners.
39. Mikkel Jensen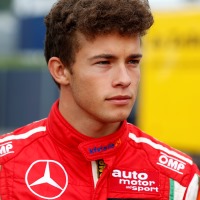 Down 13
Denmark ? age 20????????
Ninth in FIA F3 European Championship
Jensen didn?t enjoy the highs of his 2014 ADAC Formel Masters title-winning campaign this year, but he still had a promising first season in Formula 3.
The undoubted peak was at Monza when ? as other rookies lost their heads behind ? he pushed rapid Prema pair Felix Rosenqvist and Jake Dennis hard and came away with a second and a third.
He was then a polesitter and win contender next time out at Spa before being taken out by a wayward Lance Stroll.
Jensen and Mucke?s form was never that strong again, but the Dane still showed his quality thereafter with some consistent showings, scoring points more often than not, even if he couldn?t match the tally of team-mate and Formel Masters rival Maximilian Gunther.
With the Monza showing as proof of what he?s capable of, the Mercedes-backed Jensen ought to be a more frequent frontrunner next year if he can secure a return.
38. Rio Haryanto
New entry
Indonesia ? age 22???????
Fourth in GP2
After the promise of his early career, Haryanto?s GP2 stint had been a slow-burner but a move to Campos for his fourth year in the category paid off and has put him on the brink of a Formula 1 opening.
He was a surprise rival for Stoffel Vandoorne in the opening round in Bahrain, finishing second in the feature race and then getting his maiden win in the sprint from alongside the Belgian on row four of the grid.
That level of form wasn?t maintained and any title hopes quickly faded but he marked himself out as a reverse-grid demon with more wins at Spielberg and Silverstone, even if those did come from the front row.
He was unlucky not to add another in Sochi, when the race was neutralised just as he was diving down the inside of Stanaway for the lead. He was unfortunate too not to end up third ? he likely would have done had the Abu Dhabi finale not been called off.
On feature races alone he wouldn?t have placed so highly, a poor qualifying record meaning his Bahrain podium was not repeated.
Aways well-supported back home, Haryanto's improved season has provided the impetus for a bid to get him to F1 for 2016, even if it wasn't good enough for him to meet the superlicence requirements.
37. Richie Stanaway
Down 17
New Zealand ? age 24
10th in GP2
Three years ago, Stanaway?s single-seater career seemed to have come to a sad, injury-triggered end but this year he was a two-time race-winner in GP2.
Like in GP3 last year, the chance came courtesy of Status Grand Prix, which drafted him in as a capable, lead driver for its new GP2 operation.
Unfortunately, the old Caterham team?s struggles carried over to its successor, but Stanaway still grabbed his opportunities like in Monaco (always a good leveller) where he beat Raffaele Marciello to win the sprint race.
At Silverstone he qualified third before fading, at Monza he took a pair of fourth-places, and then in Sochi he grabbed another reverse-grid win. His season ended there when Oliver Rowland took over his car, but conversely that only underlined the job Stanaway had done as the Formula Renault 3.5 champion toiled down the order.
Stanaway has an established sportscar career with Aston Martin and interest from LMP1, but this year reinforced his single-seater talents. To win twice and finish in the top 10 is a fine result for a GP2 rookie, but when you factor in the circumstances, it?s outstanding.
36. Kevin Jorg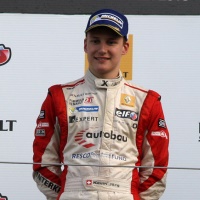 New entry
Switzerland ? age 20???
Third in Eurocup Formula Renault 2.0, second in NEC
Jorg was very much the quiet man of the six leading Eurocup contenders this year both off track and on it, yet he came pretty close to stealthily nicking the title.
With just one win, his campaign was built on typically-Swiss efficiency but he was tied with Louis Deletraz for the lead with one round to go.
He was still level with Deletraz at the end of the Jerez triple-header, but this time for second. Had it not been for a baffling call for wet tyres in the deciding race, he could have snatched the big prize.
He couldn?t match his team-mate and compatriot in the NEC, where he had just two wins to the dominant Deletraz?s nine.
Although consistency is commendable in a category as competitive as FR2.0, that lack of stand-out days holds him back relative to his peers here. He's shown no lack of speed in promising Formula 3.5 V8 and GP3 tests, however.
35. Will Palmer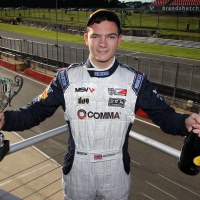 New entry
United Kingdom ? age 18
BRDC Formula 4 champion
Palmer becoming BRDC F4 champion didn?t raise many eyebrows but by the end of a dominant campaign he?d won half of the 24 races and claimed two victories at every event in the second half of the season.
The son of series founder Jonathan and younger brother of Jolyon had already established himself as a frontrunner in his rookie 2014 campaign before winning the winter title.
This time he was 35 points down after a nightmare round two at Rockingham but was near-perfect from then on, winning all but two of the remaining 12 ?feature? races.
How good is he? Unlike his predecessors Jake Hughes and George Russell, he had that prior year of experience and his competition didn?t seem as strong.
He went well though in a Eurocup Formula Renault 2.0 one-off, then took a surprise win in the McLaren Autosport BRDC Award after an on-track assessment against some esteemed opposition.
He?s therefore certainly one to watch when he steps up to either GP3 or F3 next year.
34. Nick Cassidy
Up 14???????????????
New Zealand ? age 21
Japanese Formula 3 champion
Cassidy has been ever-present in these lists since 2012 but only this year did the double Toyota Racing Series champion get a full-season programme.
He certainly made the most of it, winning the Japanese Formula 3 title as the first overseas champion since Marcus Ericsson.
The chance came thanks to his 2014 Macau Grand Prix podium, catching the eye of the Toyota-backed Tom?s team.
Winning it was never an easy task. His team-mate was last year?s runner-up Kenta Yamashita, and the duo?s title scrap began by them coming to blows in the opening race.
It was nip-and-tuck between the pair all year long and they went into the final round tied on points and with five wins each, but after a strong two-round cameo in the European series with Prema, Cassidy returned to nail the deciding weekend with two wins.
After that it would be a surprise if he wasn?t offered the chance to progress with Toyota but a European return can?t be ruled out, undertaking further Prema running just this week.
33. Marvin Dienst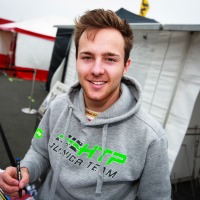 New entry?????
Germany ? age 18???????
ADAC Formula 4 champion
While other ADAC Formel Masters stars Mikkel Jensen and Maximilian Gunther moved on, 2012 Formula BMW Talent Cup champion Dienst was given the chance to contest the inaugural ADAC F4 season by former Mercedes DTM chief Gerhard Ungar and his HTP Junior Team.
Dienst grabbed the opportunity with both hands by winning the title, taking eight wins including three double victories.
After a fine start at Oschersleben, poor weekends at Spielberg and Spa dropped him over 50 points behind Eriksson, but he quickly moved ahead again thanks to dominant runs at the Nurburgring and Sachsenring.
There?s no doubt that the HTP team was strong (it locked out qualifying at all but two events) and that Dienst has a lot of experience at this level, but he?s also shown year-on-year that he?s a top driver, culminating in his 2015 success. And remarkably he?s still only 18.
He might lack the budget to progress in single-seaters, but Dienst is good enough for a future somewhere in racing.
32. Maximilian Gunther
Re-entry (29th in 2013)
Germany ? age 18???????
Eighth in FIA F3 European Championship
Having finished runner-up in ADAC Formel Masters in two consecutive seasons, Gunther stepped up to Formula 3 with Mucke Motorsport and demonstrated his potential on a wider stage by winning a race in his rookie season.
In a competitive field it was far from guaranteed that Gunther would be able to shine but he was quickly on it, and qualified third for six consecutive races across the Hockenheim and Pau events in May.
Some ragged races meant it took until the last of those for Gunther to finally make the podium, but he proved he could race when he won at the Norisring from 12th on the grid in arguably the race of the season.
His form with Mucke quickly dropped off after that and he left the team with two rounds to go before resurfacing with Prema for the final round, confirming his speed by qualifying on the front row immediately. Understandably, he wants to keep the seat for 2016.
31. Santiago Urrutia
New entry
Uruguay ? age 19
Pro Mazda champion
When promising seasons in Formula Abarth and Euroformula Open were followed by a nightmare non-scoring GP3 campaign with Koiranen, and with funding limited, it was not a surprise to see Urrutia head to the US.
What was a surprise – to himself at least – was his instant results despite limited pre-season mileage; he was second on his debut and won at round two.
By round four he was into a points lead he would never lose. Three wins was one fewer than rival Neil Alberico, but his consistency was outstanding, finishing outside the top four just once excluding ovals.
His Laguna Seca crowning carried extra significance, 16 years and one day since his hero Gonzalo Rodriguez lost his life at the same venue in a Champ Car accident.
Now graduating to Indy Lights, Urrutia?s on the way to becoming his nation?s second driver to reach the pinnacle of US racing.