Our annual countdown of the best drivers below F1 will be revealed in five parts?this week, beginning with positions 50 to 41.
50. Yifei Ye
New entry
China ? age 16
French Formula 4 champion
To be racing in French Formula 4 for a second season is always a considerable advantage, since so few do it, but Ye rammed that advantage home with a level of dominance rarely seen at this level.
He won all but three of the first 17 races, allowing him to wrap up the title in the 18th despite a non-finish. A fourth place would be his only top-10 finish from the final six races, but it didn?t matter. He was almost unbeatable in qualifying, bettered only at the final round.
The level of competition in French F4 this year was probably not the greatest, and Ye failed to make a significant impact in a parallel campaign in the Italian series, scoring just two podiums, but he?s proved he?s more than a one-trick pony with top test showings in Formula Renault, where he?will drive?for top team Josef Kaufmann Racing next year.
He doesn?t yet have the F1 affiliation that fellow Chinese racers Guan Yu Zhou and Sun Yue Yang have, but with the form he?s already showing aged just 16, Ye has to be considered just as decent a prospect.
49. Arjun Maini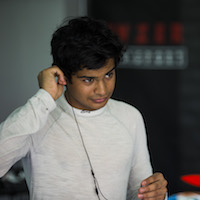 New entry
India ? age 19
10th in GP3
For Maini, an attempt at a second season in European Formula 3 (switching to T-Sport after a strong run in Macau last year) didn?t work out, and he managed just a couple of lowly points finishes in the first four rounds before pulling the plug.
He impressively recovered his season however with a move into GP3, where he was immediately competitive despite no testing whatsoever, while driving for the relatively unfancied Jenzer Motorsport outfit.
He came eighth in his first race ? having qualified third ? and scored in five of his first six, including second in the Hungaroring reverse-grid race.
A top 10 finish overall was impressive in a season where there were around 15 potential race-winners. The nine ahead of him are all very good and all older, yet he regularly mixed it with them.
A full winter testing programme and a move to one of the top teams ? he placed in the top four with both Trident and ART in post-season testing ? could yield much more in 2017.
48. Gustav Malja?
New entry
Sweden ? age 21
13th in GP2
Malja is a man making some fine progress: in two years, he?s gone from the end of a lacklustre stint in Formula Renault to notching up eight consecutive points finishes (including two podiums) in the second half of his first full GP2 season.
From scoring on his debut at Spa last year to qualifying sixth at the opening round of 2016 at Barcelona, he has been quick from the off in GP2 machinery.
It took a while for him to start stringing results together, with just three points on the board after 12 races, but he then scored 50 in the next eight.
At Spa he was best of the rest in qualifying behind the Prema pair, and was passed only by?Giovinazzi from pole in the sprint race. That he came third in the next race at Monza was thanks to a big slice of luck from the safety car bungle, but he was on the pace too.
He'll?move from Rapax to Racing Engineering for 2017, when this well-supported Swede will have more GP2 experience under his belt than many of those driving for?top teams.
47. Ed Jones
Down 2
United Kingdom ? age 21
Indy Lights champion
Jones? title-winning Indy Lights campaign wasn?t a classic, but it was enough. Just.
The Dubai man did a lot of the groundwork in the first part of the season, or at least after a dreadful opening round in St. Petersburg, where and Carlin had won twice on their debuts Stateside 12 months earlier.
With two wins and two second-places from the next four races, Jones went 23 points clear at the top of the standings, but he wouldn?t win again. Despite five further pole positions, there would only be four more podium finishes in 12 races, yet he was only outside of the top six twice in that same period.
His championship was summed up by the deciding race. He started from pole, made a good start, but was shuffled back to fifth later in the opening lap. When team-mate Felix Serralles moved over on the final lap (the only sensible thing to do), fourth was enough for him to win the title.
Jones has found it easier to get the funding in place for a full-time IndyCar graduation than many past Lights champions, and it will be interesting to see how he gets on. He's a driver with good speed, even if he doesn't?turn?it into results as often as he maybe should.
46. Aaron Telitz
New entry
United States ? age 25
Pro Mazda champion
The top three USF2000 drivers of 2015 all stepped up to Pro Mazda for this season, and it was the last of them that made the most successful move.
Telitz joined Pelfrey team-mate Pato O?Ward as a winner on the opening weekend in St. Petersburg, before the second-year Mexican went on a fine winning streak while not having his budget confirmed to see out the season.
O?Ward would be able to complete the campaign, but back-to-back doubles on the fabled Road America circuit and the streets of Toronto in the middle of the year brought Telitz level with him.
Telitz then had the better of the Mid-Ohio event to pull a lead, and won the final race at Laguna Seca to secure the crown.
Having turned 25 last week, Telitz was a late-starter on the Mazda Road to Indy, but he?s making up for the lost time. Next stop: Indy Lights.
45. Sacha Fenestraz?
New entry
France/Argentina ? age 17
Fifth in Formula Renault Eurocup and NEC
Fenestraz had already caught the eye as a car racing rookie in French Formula 4 last year (finishing second), and did so again in 2016 with a strong first season in Formula Renault.
His year actually began pretty poorly, with a seventh place his only top 10 finish from his first seven races across Eurocup and NEC.
Then came the Monaco race. Having taken two of his three F4 wins on the streets of Pau, Fenestraz went there as a dark horse, and once Lando Norris was disqualified and Ferdinand Habsburg took a grid penalty, the Franco-Argentine had pole, then held the lead through a messy and shortened wet race.
He didn?t get another chance to show his street circuit pedigree, but did show more wet weather class with his two further wins, in the final NEC and Eurocup rounds at Hockenheim and Estoril respectively.
He ended both series fifth overall, and top ?non-Norris? rookie. From there, he hopped into Norris? Josef Kaufmann Racing car and topped the post-season test day, sounding a warning for 2017, when he?ll hope to join brother-in-law Jose Maria Lopez as the winner of a Formula Renault Eurocup title.
44. Sergio Sette Camara?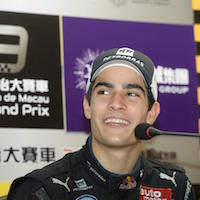 New entry
Brazil ? age 18
Third in Macau Grand Prix
Sette Camara had always seemed a bit of a left-field choice as a Red Bull Junior Team member, and for most of 2016, he struggled to justify the status. He climbed just three championship positions ? from 14th to 11th ? merely matched his podium tally (of two), and was heavily overshadowed at Motopark by his rookie team-mates.
OK, so he was twice denied pole positions to 10-place engine change penalties, but when he was free of those, he couldn?t produce the goods.
Then came Macau, where after a late deal to join Carlin he repeated his?strong pace from last year, and progressed from sixth in first qualifying to third by the end of the qualifying race.
In the main event, he flew into the lead by the second corner, and it was only safety car restarts ? which a) he had no experience of, and b) are a lottery in Macau anyway ? and the tough, professional competition that denied him of a rather famous first car racing win.
After a performance like that you could forgive him for aiming high, but to have leapt?into a GP2 seat with MP within a week, aged 18 and without a single win on his CV is brave to say the least. It?s hard to see Red Bull getting behind it, just when he might have convinced it that he was worth keeping.
With clear promise and a bevy of Brazilian backers led by Petrobras, he remains worth watching, but?how long can he wait for?results?
43. Kenta Yamashita?
New entry
Japan ? age 21
Japanese F3 champion
For a while, it looked as though Yamashita would come up short in Japanese F3 for a third straight year, but he produced a perfect final weekend at Sugo to overhaul Jann Mardenborough for the title.
On paper, he should never have been troubled by the talented Welshman, who was mostly new to Japanese circuits despite his Nissan patronage. But Mardenborough ? and the local experts that came in and took wins off the two title rivals during the year ? had an ace up their sleeves in the Volkswagen engine, superior to the Japanese units such as Yamashita?s TOM?s-Toyota.
Nick Cassidy?s struggles in Macau in 2015 had made the current weaknesses of the Japanese entries clear to see, and the decision was made to place Yamashita with British outfit T-Sport in its Tomei-engined car for 2016.
Yamashita was designated a dark horse and he lived up to that almost too well, spending the entire weekend in the top five, but not quite managing to make it onto the podium.
Still, second among the true juniors was a very strong effort, and proof he could do well in Europe. Toyota is more likely to deploy him on the domestic scene, though.
42. Egor Orudzhev
Down 20
Russia ? age 21
Third in Formula V8 3.5
Orudzhev should have won the Formula V8 3.5 title this year. Experienced competition like?Tom Dillmann and Matthieu Vaxiviere meant he didn't start as an overwhelming favourite, but it wasn't the strength of the opposition that made life difficult.
Instead, it was just a disastrous start that wrecked the Russian?s hopes. Crashing out of the lead on the first lap of the very first race set the tone, and after four races he had just two points to Dillmann?s 76.
Orudzhev went on to win five times (compared to twice each by Dillmann and Louis Deletraz) and salvage third in the final standings, only 40 points off the top. And that?s a gap he could have wiped out with better consistency: only twice?did he pair one of his wins with a top-six finish at the same circuit.
Qualifying was already a clear weakness last season, and after that fateful first race, he wouldn?t score another pole. Near the end of the year he found a novel solution to this: rocket starts, which vaulted him from position five?on the grid to first by the first corner for three wins in four races across?Monza, Jerez and Barcelona.
Having now taken seven wins in the series in all (tying for second on the all-time list with Carlos Sainz and Antonio Felix da Costa) a move to GP2 would make sense for 2017, but he could yet stay where he is: a signal that backer SMP Racing may well be?preparing?him for?its upcoming LMP1 project.
41. David Beckmann?
Up 5
Germany ? age 16
15th in FIA F3 European Championship
Beckmann?s decision to effectively step up to European F3 before he was even old enough was always going to put him up against it this year.
It meant missing the first two rounds and debuting on the narrow streets of Pau, but he impressed in just his second event in Austria, racing into the top seven and coming fifth in second qualifying. He made the podium in his fourth round, at Zandvoort.
A rougher period followed, but Beckmann demonstrated his class before the year was out. He edged out an otherwise dominant Lance Stroll for pole at Hockenheim, only to lose it for a floor infringement caused by kerb damage, before picking himself up for his second podium in race two of the weekend. He went well on his Macau debut, running inside the top 10 before an incident.
Beckmann?s 2016 won?t stand out on his CV as much as a title tilt in F4 would have done, but if?it makes him better in 2017 – and his performances made him hot property on the driver market before he signed for Van Amersfoort Racing – it will have served its purpose.