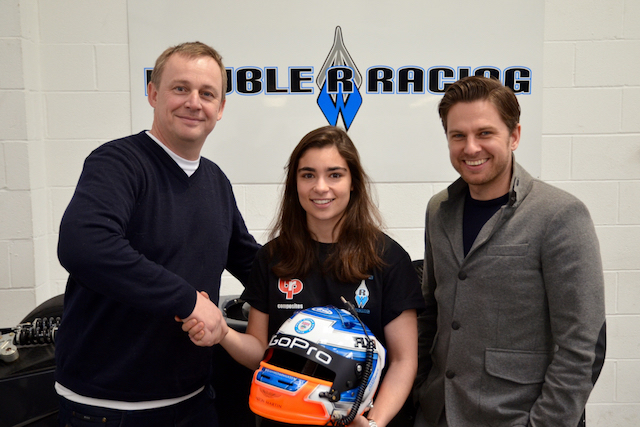 British GT champion Jamie Chadwick is to?switch to single-seaters in the BRDC British Formula 3 Championship with Double R Racing.
The 18-year-old won the British GT4 title in 2015 alongside former BRDC Formula 4 racer Ross Gunn after competing in the Ginetta Junior series.
Having tested the BRDC British F3 car on several occasions, she will now race in the series with Double R, the team that took Matheus Leist to the 2016 crown.
"Whilst there were options to pursue the GT route, there is no doubt about the value of a top-level single-seater series to further develop my technical ability and credentials as a racing driver," she said.
"It will be a fascinating learning curve and we have set out a two-year programme for me to establish myself and make my mark in the series.
"I'm also hoping to compete in a few GT events this year, but my main focus will be Formula 3."
Chadwick is Double R's first signing for the 2017 BRDC British F3 season, which will support British GT for seven of its eight events.
"We're all absolutely elated to have signed a deal with Jamie for British F3 this year, she's a fantastic talent, an extremely quick and professional driver, and has a very mature head on her young shoulders," said team boss Anthony Hieatt, pictured above left with Chadwick.
"Jamie's achievements in British GT speak volumes and while the F3 car is an entirely different animal to the Aston Martin GT cars she has been racing the past couple of years, she's adapted to the driving style very impressively."
Elsewhere, former champion Lanan Racing has?made Aaron Di Comberti – who made one-off appearances in the French and Italian F4 series last year – its first driver for 2017.