GP3's relevance for spotting future Formula 1 stars continues to increase. After Valtteri Bottas went from GP3 to F1 via a year as a third driver, Daniil Kvyat made the jump immediately over the winter after winning the 2013 title and, like Bottas, has shown himself to feel pretty at home immediately in the big league.
Costs mean that even progressing onto GP2 has proved to be tough for a lot of GP3 drivers, but coming out on top here can take you a long way.
A full 27-car grid is in place for the first event – no mean feat when other series are struggling for numbers and GP3 teams are required to only field two of their three cars. As is usually the case in GP3, a large number of these are filled with drivers capable of winning races – we had eight winners from the first eight races last year, and Kvyat wasn't even one of them.
PaddockScout guides you through the 2014 GP3 field.
ART
ART continued their dominant streak in the GP3 teams' championship last year, extending their unbeaten streak to four titles. Added to five consecutive Euro F3 titles before that, and that's a pretty invincible record. However, they did miss out on the GP3 drivers' title for the second year in a row last season. Their 2014 trio lacks a real well-known name from the sub-F1 ranks, but all three could be title contenders.
1. Alex Fontana
Switzerland, age 21

2013: 17th in GP3
A Silverstone podium aside, Fontana's first full GP3 campaign last year failed to build upon the points-scoring promise of one-off appearances in the previous two seasons as the Jenzer team struggled with the revisions to the car and tyre compounds.
The Lotus F1 Team continues to show faith in Fontana's abilities though, and they were quick to move him to top team ART for testing at the end of last season. He hasn't made any headlines during the winter running, but ART don't tend to chase the quick times and like his team-mates, he's been consistently there or there abouts.
Across his F2 campaign and his rookie GP3 season, it's been a quiet couple of years for the 2011 F3 Open champion. Being with ART means there are now no excuses – he must prove why he's rated highly at Enstone and elsewhere.
2. Marvin Kirchhofer
Germany, age 20

2013: German F3 champion

Kirchhofer will be an unknown to some GP3 viewers and excite others. If you're reading this, chances are you are in the latter camp and are well aware of his performances in his two seasons in car racing to-date. We ranked him as our fifth best driver of 2013.
He followed up winning the competitive ADAC Formel Masters series at the first attempt in 2012 with a dominant run to the German F3 title last year against more experienced but very quick team-mates. He was poised to make the GP3 step with Russian Time until they split with the Motopark Academy setup that has nurtured Kirchhofer to this point. Landing at ART gives him a great chance to shine – but puts him firmly in the limelight too.
You can't really do better than two titles from two years, but Kirchhofer now needs to test himself at European level against much tougher competition. He's suggested in pre-season that he's at least a match for his more experienced team-mates, but can he beat them? If so, he should be a serious title threat.
3. Dino Zamparelli
United Kingdom, age 21

2013: 18th in GP3

Zamparelli was perhaps an unexpected choice for ART but he could well be a surprise package of the 2014 season. A double champion in the UK in Ginetta Juniors and Formula Renault, new backing from his home city of Bristol rescued him from years of funding strife.
They got him into GP3 last year with Marussia Manor, and his rookie season was solid if unspectacular – aside from a big error at the start at Monza that got him sent home early. Although he never once troubled the top six, he did score points in half of 16 races – a more consistent record than anyone outside the top seven.
With that solid base to progress from, this year he needs to make a step forward in pace. He may have been expected to play second-fiddle to his team-mates, but he's actually been the quickest of the ART trio on average at all three tests. It's only testing, but it bodes well. The pressure's on though, as no ART driver has finished outside the top six for the past two years.
Arden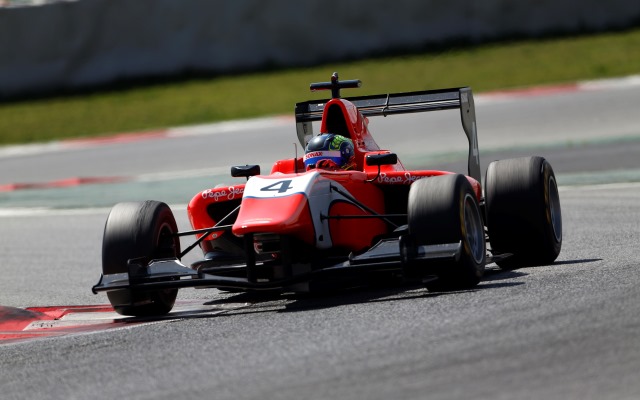 Arden have won back-to-back drivers' titles with Mitch Evans and Daniil Kvyat, and signing two third-year drivers with two GP3 victories each to their name gives them a couple of chances of extending that run should they go as well as they're capable of going. It also gives the squad a good base upon which to steal the teams' title away from ART for the first time.
4. Robert Visoiu
Romania, age 18

2013: 12th in GP3
Visoiu is now entering his third year of GP3, but incredibly he only turned 18 earlier this year. He certainly had the budget to move up to a bigger category but it was a wise decision at his age to stick in GP3 with Arden.
He led the second highest number of laps last season, but he never ran higher than eighth during a Saturday race, instead benefiting from the reverse grid pole and the difficulty of overtaking to win Sunday races in Valencia and Hungary.
He was overshadowed in the team last year by the presence of Red Bull Juniors Daniil Kvyat and Carlos Sainz – this year he should be looking to lead the squad. He showed his pace was good enough when he led from the front of the grid – now he needs to nail qualifying to pick up the big points on Saturday and become a title contender.
5. Patric Niederhauser
Switzerland, age 22

2013: 13th in GP3
Niederhauser shone in 2012 as the top true rookie in his first season out of Formula Abarth, winning twice and finishing seventh in the standings. Last year was a nightmare though, falling back to 13th in the final standings.
He began well enough with two podiums in the opening round but he and the Jenzer team struggled badly once the tyre compounds were made harder for the rest of the season, and his best finish after round one was eighth. In 2012 he excelled in low grip in mixed weather, but the harder tyres and unusually dry summer took away that advantage.
He found speed when he joined Arden for post-season testing and secured a 2014 deal with the team, joining up with his former Jenzer team-mate Visoiu. Both have got big seasons ahead, needing to deliver on past potential shown. His pre-season has been quiet, only finding the top ten on the last two days.
6. Jann Mardenborough
United Kingdom, age 22

2013: 21st in FIA F3 European Championship

Mardenborough's move to GP3 and associated Red Bull simulator deal kicked up quite a fuss in the media for someone with just four points finishes in FIA F3 last season. His pace was promising for a single-seater rookie though, and he was far from out of his depth.
It was felt that GP3 would make it easier for him to get results from his undoubted ability, particularly after he'd finished in the top six on his testing debut in Abu Dhabi. He built up his racing experience in the Toyota Racing Series at the start of this year and narrowly missed out on the title, showing some much-improved maturity along the way.
He's been further down the order in pre-season testing than he was at Yas Marina last November, but on the other hand he hasn't been too far away from his experienced team-mates, and even been quicker than them on occasion. It's tough to call where he'll stack up, but he could be capable of some impressive results for someone in his second single-seater campaign.
Koiranen

Previously successful in Formula Renault 2.0, Koiranen expanded into GP3 last year and were immediately on the pace. While much of their first season success was down to two strong drivers in Kevin Korjus and Aaro Vainio, the team's 2014 line-up consists of two drivers who didn't score points last year and an inexperienced rookie. However, two of their trio are definitely capable of springing a surprise.
7. Carmen Jorda
Spain, age 25

2013: 30th in GP3

Jorda returns for her third season in GP3, hoping to make a positive impression at last having spent her first two campaigns rooted fairly firmly to the back of the grid. If she could claim one thing on her side for the past two years, it's the teams that she has driven for.
Both Ocean and Bamboo arrived for one season and then departed again, and neither were the strongest of squads. By moving to proven race winners Koiranen, that excuse will not wash any longer.
Unfortunately, pre-season doesn't appear to suggest she'll be much closer to the pace this year. We don't wish for her to do badly, because we want to see GP3 drivers warranting their place, but Jorda just hasn't been up to the necessary standard so far. It's a particular shame when many other female racers are doing a good job against their male peers.
8. Jimmy Eriksson
Sweden, age 23

2013: 24th in GP3

Eriksson had a shocking rookie season last year as he went from German F3 champion to scoring zero points in GP3. The Status team had an awful season with the upgraded car from the get-go, although Eriksson cannot be completely blameless for his non-score.
He looks set to make up for his 2013 woes this year, however. After an attempted return to Motopark fell through when the Russian Time relationship collapsed, he landed the role of lead driver at Koiranen.
His pre-season has been extremely positive, topping several sessions and being one of the very quickest drivers on average. It's hard to believe that a change of team can make quite that much difference so it remains to be seen where he stands in competitive trim, but the signs are certainly there. He's pretty experienced at this level now, with three F3 seasons under his belt in addition to his GP3 campaign.
9. Santiago Urrutia
Uruguay, age 17

2013: Fourth in F3 Open

This will be Urrutia's first year in one of the premier junior categories but he has showed good promise so far in his campaigns in Formula Abarth and the F3 Open, finishing fourth in both series and claiming five race wins across the two years.
Without much more to prove at that level, the time is now right for him to step up into a more competitive arena. While the competition level is much higher than he's used to, his year in the F3 Open means he shouldn't find the GP3 car too big a step.
His pre-season hasn't been on the same level as Eriksson's, but the Koiranen car appears to be quick and won races last year so once Urrutia gets up to speed in the series, he could well be capable of some strong results.
Carlin

Carlin's GP3 team hasn't yet hit the heights that the British squad's other operations have done. But the pace has been strong in the hands of the likes of Antonio Felix da Costa, so it's driver signings that have perhaps restricted their potential in previous campaigns. There's little chance of that being the case this year though, with two quick new recruits having led the way in pre-season testing.
10. Alex Lynn
United Kingdom, age 20

2013: Third in FIA F3 European Championship

You're only as good as your last race, they say. Well, Lynn's career has taken off since his last race – victory in the Macau Grand Prix. He was unexpectedly recruited to the Red Bull Junior Team, and switched into GP3 with Carlin.
He doesn't really need the financial support, but is aiming to follow Daniil Kvyat and use a GP3 title as a springboard to get into F1 on merit. His pre-season form has looked good in that sense, setting the pace on just his second day in a GP3 car at the opening test in Estoril and placing inside the top five in all but two sessions over the entire running.
After his Formula Renault UK title in 2011, Lynn's two F3 seasons in Britain and Europe were quiet for the most part. But having been the only driver with a seat confirmed in 2013, he's prepared, on a roll, and it would be unwise to bet against him. His greatest challenge could be mentally under the pressure of pre-season favourite, but he's always come across as having a mature attitude.
11. Emil Bernstorff
United Kingdom, age 20

2013: Third in German F3

Bernstorff's career was appearing to stall last year, having been forced to retreat from European F3 to German F3 where he then finished third in the standings, behind his two team-mates in the dominant Motopark squad.
However, securing a GP3 drive with Carlin has certainly given him some forward motion again. One highlight last year was a guest appearance in the F3 Masters at Zandvoort in Raffaele Marciello's Prema car, following new team-mate Lynn in qualifying and the race as he finished third. He's continued to shadow his fellow Briton in pre-season testing, and topped a couple of sessions himself.
If Carlin's pre-season speed is legitimate, Bernstorff looks set for a great season. Successful F3 drivers have always gone well in GP3, and although beating Lynn looks unlikely, he'll hope he can continue to follow him to the runner-up spot.
12. Luis Sa Silva
Angola, age 23

2013: 23rd in GP3

Sa Silva remains with Carlin in GP3 for a second season, providing continuity that should enable him to take a step forward after failing to score points last season. After abandoning F3 after a single season to move to GP3, it's wise to stay where he is for a second year.
Despite that year of experience under his belt he's not going to be troubling his new team-mates, but he ought to be able to move himself further away from the back of the grid. Things actually began positively last year with a pair of top 13 finishes at Barcelona but he was unable to improve on that as the year went on. The low point was taking himself and one of his team-mates out on the first lap at the Nurburgring.
Pre-season has seen him nudge into the top ten on occasion, particularly at the opening test at Estoril when Carlin seemed to focus on performance and his team-mates were blowing the opposition away. He'll be doing very well if that sort of form is replicated.
Marussia Manor

Marussia Manor have finished somewhere between third and fifth in every season of GP3 so far, and although they're always there or there abouts, they've yet to really take the fight to ART or Arden for a drivers' title. Tio Ellinas has carried their hopes for the past two years, now it's time for somebody else to step up to the mark.
14. Patrick Kujala
Finland, age 17

2013: 20th in GP3
Kujala's off-season move from Koiranen to Marussia Manor came as something of a surprise. He'd made to step up from Formula Renault 2.0 to GP3 with his fellow Spanish-based Finns, and his major sponsor was funding all three drivers.
His rookie season looked pretty decent from the outside, too. Having only turned 17 after the opening round and up against a majority of drivers who had far greater experience, he found the going tough early on but progressed well during the year to score Saturday race points at Monza and Abu Dhabi.
Despite the loss of continuity by switching teams, he should be able to carry on where he left off and be a regular contender for points in 2014. He showed well in pre-season, running in the top half for most of the time and in the top ten for all of the last five sessions. At his age, scoring regular points will be a good place to be in his development.
15. Ryan Cullen
Ireland, age 23

2013: 29th in GP3
2013 had to be written off as a learning year for Cullen as he made the massive step up to GP3 from just a single season of Formula Ford, managing a best race result of 17th. Remaining with Marussia Manor for a second season should allow him to build on the experience.
He's shown good progress in pre-season, appearing closer to the pace and much further up the order than he was 12 months ago. He gained extra racing experience in the MRF Challenge over the winter and showed well later into the campaign, claiming a best result of fourth.
Reaching such heights in GP3 seems rather unlikely, but he may be able to push himself into the midfield if some of his more promising testing performances are truly representative.
16. Dean Stoneman
United Kingdom, age 23

2013: 16th in GP3 (one round)

2014 marks a full-time return to single-seaters for Stoneman and the latest stage of his recovery from being forced out of action by testicular cancer after winning the F2 crown in 2010. He had been due to partner Red Bull star Daniel Ricciardo in FR3.5 the following season.
After winning a powerboat title in 2012 and returning to the track in the Porsche Carrera Cup GB last year, Stoneman secured a GP3 seat for the final round in Abu Dhabi with Koiranen. He certainly impressed, finishing sixth in race one and then finishing second in race two, just behind winner Tio Ellinas. He went on to top testing the following week, paving the way for a full-time ride in 2014 for a title assault.
He opted to sign with Marussia Manor, whom he will be hoping he can deliver their first GP3 crown. His pre-season was quiet, running outside of the top ten more often than not and only topping the very last session when the field was concentrating on race runs, but after his impressive debut it would be a surprise for him to be uncompetitive with a team that's a proven frontrunner in the right hands.
Hilmer

Hilmer have expanded into GP3 this year, one year after the squad was formed to compete in GP2. The deal has come together late, only happening after the collapse of fellow new outfit Russian Time's GP3 expansion plans. The lack of any drivers with experience at this level could hold them back, but winning GP2 races with three different drivers last year was down to strong engineering and talented racers rather than experience, and their Force India tie-up should help them in the long-term.
17. Ivan Taranov
Russia, age 19

2013: 12th in Protyre Formula Renault

Taranov makes the step up to GP3 after three years in Protyre Formula Renault. He was the token Russian in the line-up for Russian Time's solo GP3 test last November, and although he wasn't in Motopark's plans, quickly signed with Hilmer when they took over the entry.
He showed promise at times in the UK, but wasn't able to shine on a consistent basis. Never driving for the very best outfits, he improved from 14th in season one to tenth in season two. He began 2013 well with a round one podium, but later missed six races. On his return for the season finale at Silverstone, he won both races.
Josh Webster showed last year that the step up from Protyre to GP3 is tough with an unprepared team. His pre-season pace hasn't been good, finishing outside of the top 20 in all eight sessions he did. Without anybody in the team with any GP3 experience to help him, he may just have to consider this a learning year.
18. Nelson Mason
Canada, age 26

2013: Third in F3 Open

It took until he was 25 to land a full-time single-seater drive in Europe, but Mason impressed. With only a few previous Italian F3 weekends under his belt from 2010, he claimed a trio of race wins to finish third in the F3 Open standings.
With that performance, he fully deserves to make the step up to a more competitive arena in GP3. Mason being the most experienced driver at Hilmer says something but he managed to show well in pre-season, nudging into the top ten on a couple of occasions.
It's clear that Mason has good natural ability, so once he can pair that driving talent with some more experience and the team also finds its way, he should be capable of upsetting the establishment and scoring some strong results as the season goes on. In the early rounds, simply scoring points would be a commendable achievement.
19. Beitske Visser
Netherlands, age 19

2013: Eighth in ADAC Formel Masters

Visser is a last-minute addition to the GP3 field, participating in the season opener with Hilmer alongside her Formula Renault 3.5 programme with AVF. Although nothing is yet planned, the team have said they are keen to give her further opportunities during the year.
The reason? Visser is rightfully considered to be the most talented female driver on the junior single-seater scene. A champion at international level in karting, she then made an immediate impression in cars and claimed three wins in two years in ADAC Formel Masters. The step up to FR3.5 from there has been tough, and was seemingly influenced by exposure for her new sponsors.
GP3 will be at a more realistic level for her amount of experience, but she'll be in at the deep end in the first weekend having never driven the car before. If she's competitive, it will be a sign of her talent. If she's not, she shouldn't be written off as a result. If she impresses the team, Force India may be wise to snap her up before somebody else does.
Jenzer

Perhaps taking after their fellow Swiss outfit Sauber, Jenzer were great underdogs in the early years of GP3 with Nico Muller and then Patric Niederhauser, but they struggled to get to grips with the tyre compound revisions that were made after round one last year, mustering just one further podium during the year. As a result, they haven't been a go-to team over the winter and have at present only confirmed their line-up for the opening round, but it contains a couple of drivers who could again upset the higher-profile teams.
20. Pal Varhaug
Norway, age 23

2013: 31st in GP2 (two rounds)

It's hard to see what Varhaug is going to achieve in terms of career progression by stepping back to GP3 after three years away. It should at least have him racing on a regular basis, which is more than he could manage last year.
He'll also be hoping to use his experience to win races for Jenzer, just as he did in the first ever GP3 race in 2010. He's well-known to Jenzer after winning the Italian FR2.0 title for them in 2008 and then stepping up to Formula Master. After his surprise win in the GP3 opener, he didn't score again that season, a streak he continued through an early step up to GP2 alongside champion Romain Grosjean at DAMS. Runner-up in Auto GP in 2012, his 2013 return to GP2 with Hilmer ended after two rounds.
He's appeared to help Jenzer progress in pre-season, coming from the bottom of the top 20 at Estoril to claim a pair of P2s on the final day in Barcelona.
21. Matheo Tuscher
Switzerland, age 17

2013: 30th in FR3.5 (one round)

Tuscher makes a well-deserved return to racing after being forced to settle with just one appearance in FR3.5 last year. He won the Formula Pilota China title with Jenzer in 2011 and tested with their GP3 team shortly afterwards.
GP3 would have been the ideal step into a more competitive series after finishing runner-up in the last year of F2 in 2012, aged just 15. However, a lack of budget has made a deal difficult, which is sad in a wealthy nation where far less talented drivers have no such issues finding sponsors.
Tuscher still doesn't have a full-time seat confirmed for 2014 and only rejoined Jenzer for the very last pre-season test, but he did figure unsurprisingly close to the top of the times. His relative lack of pre-season preparation could hold him back, and so could the team if they are still struggling as last year, but Tuscher has the raw talent to make a good impression and be the team's top performer despite his relative youth.
22. Adderly Fong
China, age 24

2013: 21st in GP3
Fong made a good account of himself last year in a Status team that was struggling badly, being the only one of the squad's regular drivers to score any points. That wasn't really a fluke either, as he was often the quickest of the trio.
He proved his talents by winning the Audi R8 LMS Cup in his native China against a number of other well-known drivers, and found when he tested Koiranen's GP3 car at the end of last year what he had been missing out on in terms of equipment.
Judging by their form last year, Jenzer isn't going to be the massive step forward he would have hoped for, but he should at least be able to show some improvement over 2013. He didn't help his chances with some unnecessary collisions last year – hopefully he will avoid those this time around.
Trident

Trident acquired a strong line-up of Italian talent last year but couldn't live up to expectations, particularly after a strong pre-season. They claimed one reverse-grid race win at Silverstone, but otherwise struggled to even score points most of the time. If they couldn't succeed with their 2013 driver trio, their 2014 chances look no better with a team pieced together from three corners of the globe.
23. Victor Carbone
Brazil, age 21

2013: 14th in Indy Lights (1 round)

Carbone makes a surprising move to Europe having contested the entirety of his career to-date in North America. After winning the F2000 Championship title in 2010, he moved onto Indy Lights and did well, finishing sixth in the standings for two years straight.
He only did one round last year though, so it's probably those lack of opportunities that has prompted his move across the Atlantic. He committed without driving the GP3 car first, and if he'd waited, he may have thought twice because he was rooted towards the bottom of the timesheets for most of pre-season, only moving up to eighth in the final race-focussed session.
His pedigree in America is good but the European setup, competition, cars and tracks are all very different and he may find it hard to make much of an impression in season one, particularly without any experienced team-mates to learn the ropes from.
24. Roman de Beer
South Africa, age 19

2013: N/A
Perseverance has paid off for de Beer to allow him to take part in GP3 with Trident this year having previously tested with them at the end of 2012. This time he managed to raise enough budget, and impress the team with some strong testing performances.
Budget constraints have hampered his career so far. After finishing ninth in his rookie season in Formula Abarth in 2010, he could only manage part-campaigns in that and Italian F3 in the following two years, running with an unproven team throughout. He then sat out last year entirely, meaning he starts 2014 somewhat race-rusty.
He certainly seems to have the pace to lead the Trident assault, but GP3 is a big step up from what he's used to and that lack of experience may make life difficult in a team that struggled with seasoned campaigners last year.
25. Denis Nagulin
Russia, age 21

2013: 19th in F3 Open

Nagulin's presence on the grid is only confirmed for the opening round at present, with Trident probably keen to evaluate his performance on a race weekend before committing to taking him for the full season.
He's far from set the world alight in two years in the F3 Open – a series hardly known for having a field deep in quality even if grid numbers are high. In his first year he scored a couple of top tens at the end of campaign, but failed to build upon that in 2013 when his only top ten finish was a sixth on the opening weekend.
Despite that record he actually tested in GP2 at the end of last year, before setting his sights lower in GP3. He did the latter two pre-season tests with Trident and his form was hard to read – appearing inside the top 20 in some sessions and over a couple of seconds off the pace in others.
Status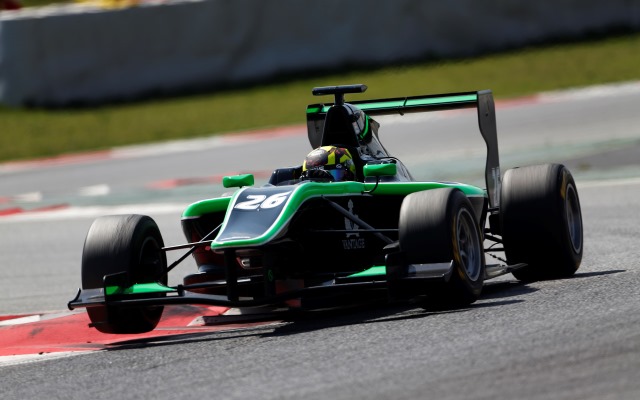 Status had a nightmare season with the new GP3 car last year. Formerly title contenders with Robert Wickens and Alexander Sims in the early years, they slipped to the back of the pack with their regular drivers scoring points on just one occasion between them. The team has taken action over the winter, and with Sims having suggested the speed was okay when he jumped in for one round, two top-line drivers have been recruited for 2014. Judging by their pre-season form, that's done the trick.
26. Nick Yelloly
United Kingdom, age 23

2013: 7th in GP3
Yelloly's move to Status Grand Prix for 2014 appeared risky when it was announced, but his pace in pre-season – topping three sessions – suggests that he should be right at the sharp end. And that's where he needs to be, as the only one of last year's top ten to return.
Having not set the world alight across two years in FR2.0 UK and his rookie season in GP3, Yelloly had a breakthrough year in 2012 as he won twice in a very competitive FR3.5 season, finishing fifth in the standings (two spots ahead of Kevin Magnussen). A tight budget saw him return to GP3 last year with Carlin, where he was consistently fast but unable to win a race.
Staying in GP3 for another year means he really needs to do well to make a positive impression. If Status can be back to where they were in 2010-11, he's easily capable of fighting for the title. He'll need to break that win duck, though.
27. Richie Stanaway
New Zealand, age 22

2013: 12th in Porsche Supercup

It really is great to see Stanaway back in single-seaters this year. His career was gaining momentum when he was injured in an FR3.5 crash at Spa in 2012, ruling him out for the rest of that season. Once fit, his managers at Gravity moved him into the Porsche Supercup.
From there he gained a factory Aston Martin GT deal, which is a great opportunity for any young driver without his own money, but it definitely felt like there was unfinished business in single-seaters. He had quietly won back-to-back titles in ADAC Formel Masters and German F3 with ease, and burst into mainstream conscience with a win on his GP3 debut at Spa in 2011. It was unnecessary for that progress to end because of an injury a few months later.
Credit should go to those that have made it possible for him to return for 2014, including Aston Martin. His pre-season was lower-key than Yelloly's, but he was quick on his first day in the car and then consistently there or there abouts in the final two tests.
28. Alfonso Celis
Mexico, age 17

2013: 14th in Formula Renault 2.0 NEC

Alongside his proven team-mates, it's easy to single Celis out as the driver bringing the money to Status, but it would be unfair to completely write him off in that way. GP3 is the latest phase of an accelerated development, with only two single-seater seasons behind him.
After taking part in the Formula BMW Talent Cup in 2012, he moved onto Formula Renault 2.0 NEC last year and although much of the year was quiet, he demonstrated his progress by qualifying on the front row and finishing third at the final round. He also took part in rounds of European and British F3.
GP3 is a big step up from where he's come from, but he's been decently on the pace in pre-season testing. It's unlikely he'll be troubling his team-mates, but he might still be one worth keeping an eye on.
Calendar
Barcelona, Spain ? 10-11 May
Spielberg, Austria ? 21-22 June
Silverstone, United Kingdom ? 5-6 July
Hockenheim, Germany ? 19-20 July
Budapest, Hungary ? 26-27 July
Spa-Francorchamps, Belgium ? 23-24 August
Monza, Italy ? 6-7 September
Sochi, Russia ? 11-12 October
Abu Dhabi, United Arab Emirates ? 22-23 November