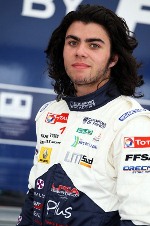 French youngster Victor Sendin will step up into Formula Renault 2.0 in the Alps series this year after signing with AV Formula.
17-year-old Sendin competed in French F4 in his rookie car racing season in 2012. He was a match for champion Alexandre Baron early on, winning at the opening two rounds at Ledenon and Pau. He only scored two further podium finishes however, finishing the campaign in fifth place in the final standings. A protege of A1 Grand Prix champions Alexandre Premat and Nicolas Lapierre, Sendin also entered the Toyota Racing Series.
Run by former racer Adrian Valles, the AV Formula team began competing in Formula Renault 2.0 Alps at the end of 2012 and will also enter Formula Renault 3.5 this coming season, running Sendin's compatriot Arthur Pic and Brazil's Yann Cunha.
Sendin will join a number of former French F4 competitors in Alps, including Joffrey De Narda, Simon Gachet and Darius Oskoui of ARTA Engineering and Egor Orudzhev with Tech 1. He is AV Formula's first driver announced for the coming season, which begins at Vallelunga in Italy on the weekend of 7 April. Six of the seven rounds will take place in Italy along with a trip to Spa in Belgium.